Tamiya mini cooper
03-18-2010, 04:12 AM
Tech Adept
Join Date: May 2009
Location: Hillerod, Denmark
Posts: 105
03-18-2010, 04:57 AM
Tech Master
Join Date: Feb 2009
Posts: 1,920
03-18-2010, 08:33 AM
Tech Adept
Join Date: Aug 2007
Location: Ottawa, Ontario Canada
Posts: 159
---
We have just started a mini class locally, and most of us are buying the M05.
some the PRO kit, some the basic kit

What are the best upgrades for the kits to be durable, and competitive.

We are running the TCS rules.
03-18-2010, 01:12 PM
Tech Master
Join Date: Aug 2001
Location: SoCal
Posts: 1,155
---
which lipo do you guys run on the M05?
03-18-2010, 01:17 PM
Tech Master
Join Date: Feb 2009
Posts: 1,920
---
it was a standard M05 mini
till i went to town on it
and now it goes like a train
quick reliable and fun to drive
i dont thnk there is much more i can buy for it now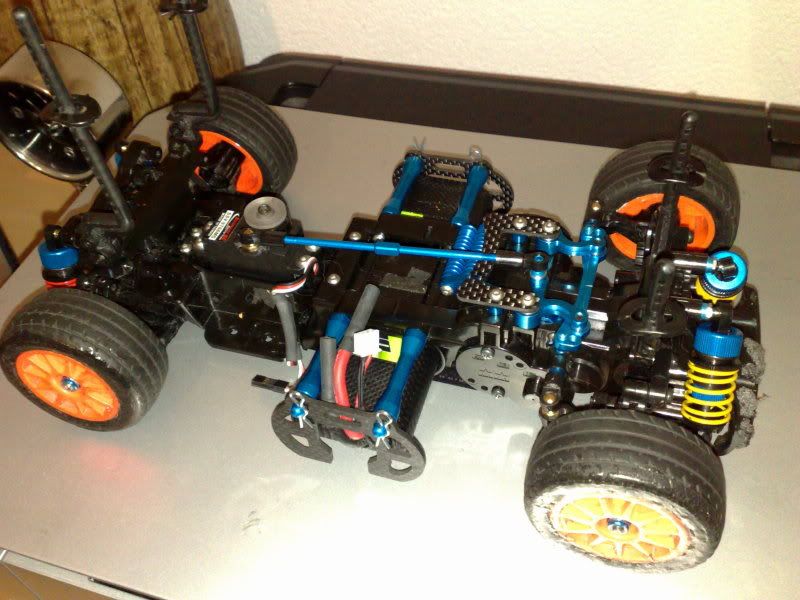 03-18-2010, 01:24 PM
Tech Adept
Join Date: Jan 2008
Posts: 242
03-18-2010, 07:43 PM
Tech Adept
Join Date: Aug 2007
Location: Ottawa, Ontario Canada
Posts: 159
03-19-2010, 04:14 AM
Tech Adept
Join Date: Jan 2008
Posts: 242
---
It's OK man, I got the infos about your track on a french forum!

thanks anyway,

Best regards
03-19-2010, 07:23 PM
Tech Regular
Join Date: Jan 2010
Posts: 291
---
I ordered a HPI Datsun 510 body and need to get some wheels/tires so I have a few questions.

1. Are the HPI wheels that come on their cup racers strong? I like the ones that come on the 510. What offset should I get? They come in 0, 3, and 6.

2. I like the way the 60D radials (50683) work on carpet but can't find them in stock anywhere. How do they compare to the 60D super grip radial tire (53254)?

3. Are there any other tires I should consider for carpet racing? We have a rather long straight so the larger diameter tires make a big difference.

Thanks
Andy
03-20-2010, 11:12 AM
Tech Addict
Join Date: Oct 2007
Location: San Dimas, CA
Posts: 598
---
With all the discussion going on about ball diffs, I thought I would add a little info discovered in building my m05. I recently bought the Tamiya 54194 m05 ball diff, appearantly this is a new part offered by Tamiya. This one is built with aluminum outdrives already dialed to accept, and includes the 416 blades and thrust bearing. I did change the diff screw to the 416($5) one due to the kit T nut being plastic vs. the 416 metal one. The only modification needed was on the screw side of the diff, I had to add a short piece of fuel tubing to keep the dogbone in the outer axle. This setup is really nice, adjustable with the removal of the upper link like any TC and it is still TCS legal.

**I forgot to mention the included Tamiya TUE-104BK esc has low voltage cutoff for lipos.
---
Last edited by JustMe2; 03-21-2010 at

12:25 AM

. Reason: Added info
03-20-2010, 06:27 PM
Tech Addict
Join Date: Aug 2009
Posts: 692
---
For those of you planning on using the 3Racing ball diff, there are actually two models and two versions. One model is made of aluminum and the other is made of steel. For both models the new version 2 comes with blade protectors.
03-20-2010, 09:05 PM
Tech Elite
Join Date: Mar 2005
Location: Michigan
Posts: 3,265
---
03-21-2010, 02:10 AM
Tech Elite
Join Date: Jun 2003
Posts: 4,521
---
Hi, just sharing. A large Corporation recently held their Employees Day celebration, and one of the featured events was a Tamiya Mini RC race. It was a fun day and exposed the hobby to thousands of people, especially kids throughout the entire day.
Front view of the track... yes those are robots. They did the marshalling
The drivers stand was cramped with spectators. It was fun and a challenge to drive when you have kids squeezing under your legs during the race in order to get a better view of the racing action.
Writeup, photos and video of the Tamiya mini race
.
Hopefully more corporations do this. Thanks for reading.
---
Last edited by rccartips; 03-21-2010 at

02:33 AM

.
03-21-2010, 06:20 AM
Tech Adept
Join Date: Jul 2007
Posts: 232