Lipo Legalization
05-18-2007, 10:28 AM
---
Originally Posted by Scrubb
No, the niche cars followed the rules, LIPO has to adapt.
No, it doesn't. We can work to find creative ways to make them fit, but batteries are borrowed technology for our hobby, and especially for some obscure brand of 4x4 off-road car that's run by maybe 100 people around the world.
The companies will adapt, and will design their cars to work with both, or fail. Losi and Schumacher understand that, which is why both new sedans are perfectly capable of using both types of battery thanks to minor engineering provisions. They didn't wait, and now they're selling more kits because of it. Do you really think LESS people are going to start using LiPo? It's already popular enough that major companies are making sure people can use it, and that trend is going to continue.
The rules are fine, and it's great those cars followed them. But those cars are a response to the market and its demands. The market doesn't cater to the cars, the cars cater to the market. It's just that simple.
05-18-2007, 10:47 AM
---
We had 84 entries of 4wd offroad at the Cactus Classic. It was the biggest class. My guess is that about 75% of them used saddle packs as the Losi XXX4 and Kyosho Lazer are the only ones that didn't need them. Plus anyone that happens to still use the old BJ4.

Top ten in the a-main.... 9 of them required the use of saddle packs.
05-18-2007, 10:53 AM
---
Gesss...
Its not like you can`t put together a saddle Li-Po battery ....
I would if I consider racing a 4w ...
05-18-2007, 10:58 AM
---
Yawn, I'm bored with this thread.

Good luck dudes...
05-18-2007, 11:01 AM
---
See, people talking about something they don't know about causes more problems. Oval IS running lipos and have been for well over a year. The current lipo fits like a glove.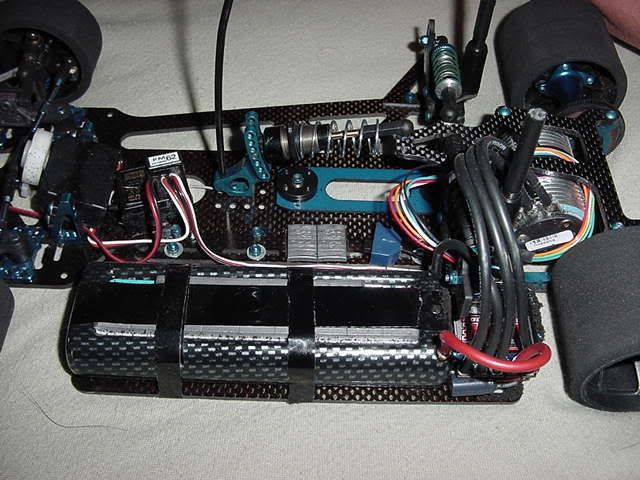 When
most
people talk about using lipos they are talking about Peak/Orion 3200 and 4800 packs. There are saddle pack for 12th scale out there. The only problem is that the voltage goes to 7.4....Oh wait, there isn't a problem because Novak is testing motors to run with lipo that will give you the same speeds as 4 cell/ stock right now. See another thing that some people who are supposed to be in the know, don't know.
05-18-2007, 11:01 AM
Tech Elite
Join Date: Jun 2005
Posts: 2,668
---
I'm pretty sure that you can purchase lipos as loose cells or as saddle packs. I'm pretty sure that if you go to maxamps.com you will see 4k and 5k mah saddle packs for around $100. The last time I checked that is about 1/4th the money you will spend on a set of good batteries for a season. If you want to run 20 minute mains then go and make a 8k mah saddle pack. The reason these packs come pre-built is because there is no way to ballance these packs and if you dead short them there is a very high chance they will catch fire. Got any more questions?
05-18-2007, 11:05 AM
Tech Master
Join Date: Sep 2001
Location: West Palm Beach
Posts: 1,372
---
There are places that will build you a 7.4v saddle pack, had one made for a mini inferno about 2yrs ago. It can be done. Orion hasnt done it because saddle pack chassis make up such a small market share......But as I said earlier ther are now 10-12 manufactures making 4wd offroad, mostly saddle chassis. It would appear 4wd offroad is making a comeback.
As for 6v in offroad I read of only one major race last year (cant remeber which one) the drivers ran 5 cells, but kept in the 6th as a dummy only because traction was so poor. I race electric offroad buggy and truck, unless I run a really low wind motor, or BL some obsticales just wont be cleared using 6v. Ya, i know everyone would be in the same boat.....but the whole point of offroad is to race the track, clear obsticles, or crash hard trying!
I hope the 6v debate never comes up again.
05-18-2007, 11:06 AM
05-18-2007, 11:12 AM
---
Originally Posted by Orange
Yawn, I'm bored with this thread.

Good luck dudes...
good luck with the Nk-Ml cell`s or your i had said "sell"...
05-18-2007, 11:15 AM
---
You guys, will love the announcement that will be on the ROAR website very soon that has to do with electirc Nationals....

I will keep you tuned in!
05-18-2007, 11:17 AM
---
Don`t matter what roar does ...
All that matter`s is I can race my Li-Po almost anywhere....
05-18-2007, 11:19 AM
---
Could it be possible for someone here to list me the names of the Lipo manufacturers that people use for racing r/c cars?
05-18-2007, 11:20 AM
---
I'll start

peak and orion
05-18-2007, 11:24 AM
---
Originally Posted by Wild Cherry
Don`t matter what roar does ...
All that matter`s is I can race my Li-Po almost anywhere....
It has to do with everything you like about brushless and lipo.
Does that get your attention?
05-18-2007, 11:24 AM
---
Originally Posted by gezer2u
I'll start

peak and orion
Got that one figured out already. Notice my sig.