Transponder Design
12-21-2012, 06:15 AM
Tech Elite
Transponder Design
---
I've been playing with my own transponder design, and thought a few of you might be interested in learning about it. Here's a picture of the second breadboard, constructed to try out the PC layout (the connections are located in the same places as they would be on the PC layout). It is through-hole rather than surface-mount, so it is easier for me to construct: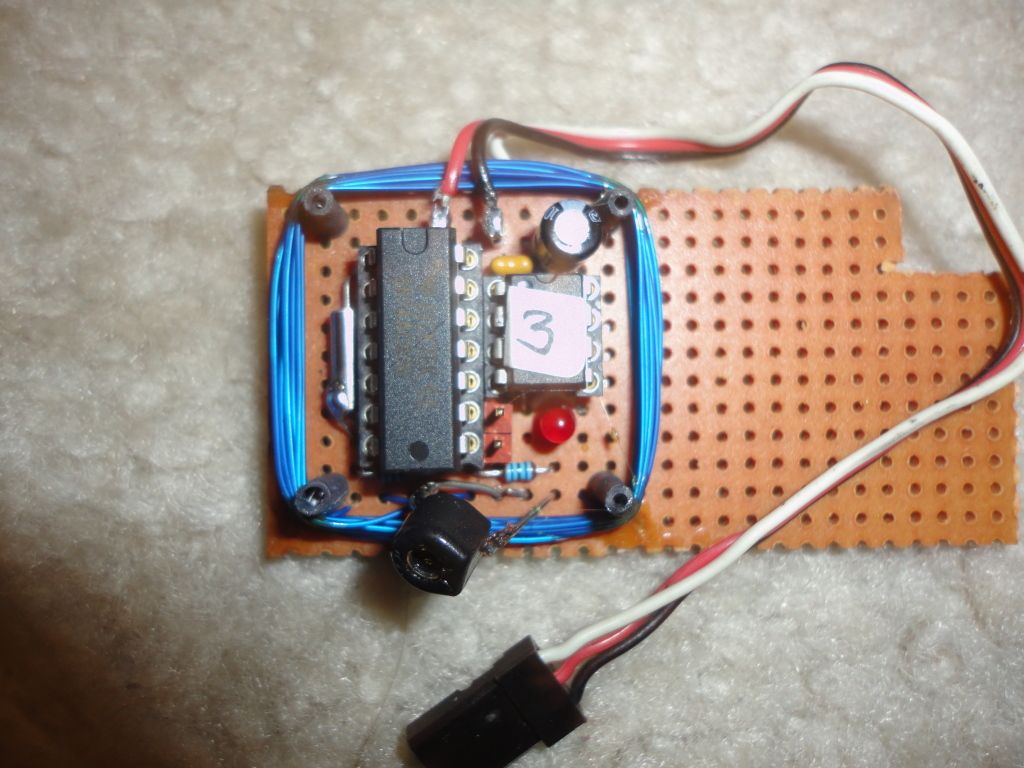 I have not made any PC boards yet, as it's still too early in the design process (and I'm too cheap to spend the money, at least right now).
I have tested the prototypes on the AMB system at my local track to prove the concept. The transponders use a 5MHz carrier frequency and Binary Phase Shift Keying (BPSK), with the bit spacing at one per four carrier cycles.
To illustrate the modulation scheme, here's a scope shot of the output from an AMB transponder, using a single-turn loop pickup fed into my oscilloscope. The bottom trace is a loop directly over the transponder, and the top trace is a loop a small distance away with a -6db per octave RC filter.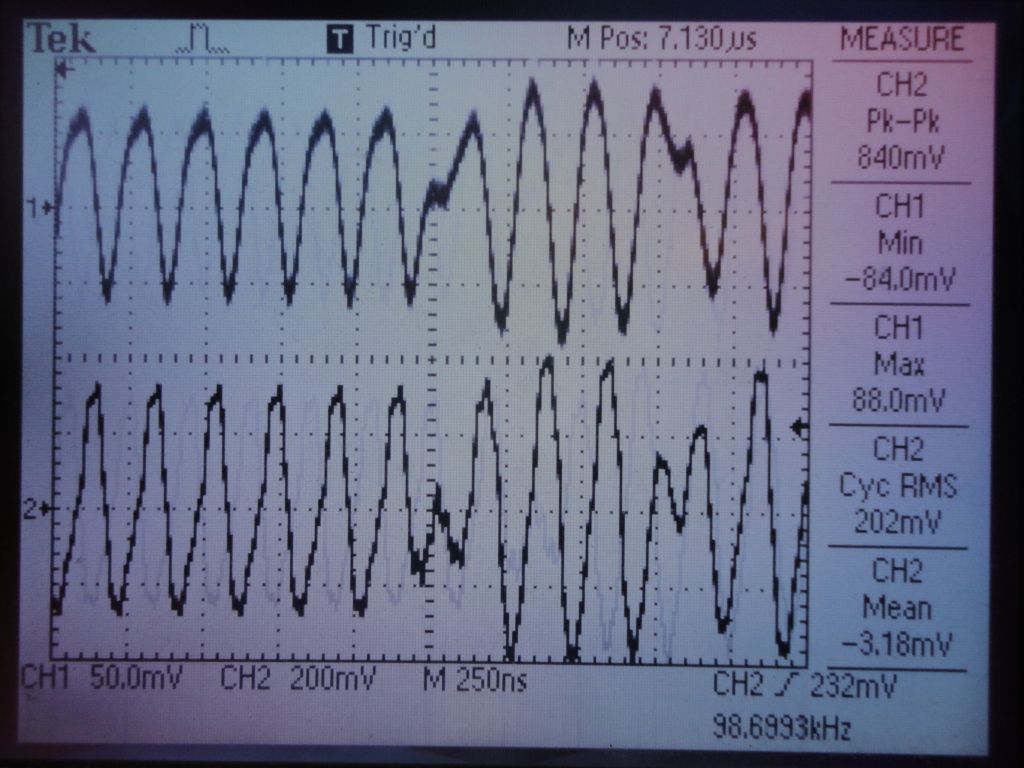 As you see, the tuning and Q of the output tank (coil) within the transponder rings a bit, so there is a small, extra blip in the waveform where the phase is inverted in the modulating waveform.
The spectrum of the output is also interesting: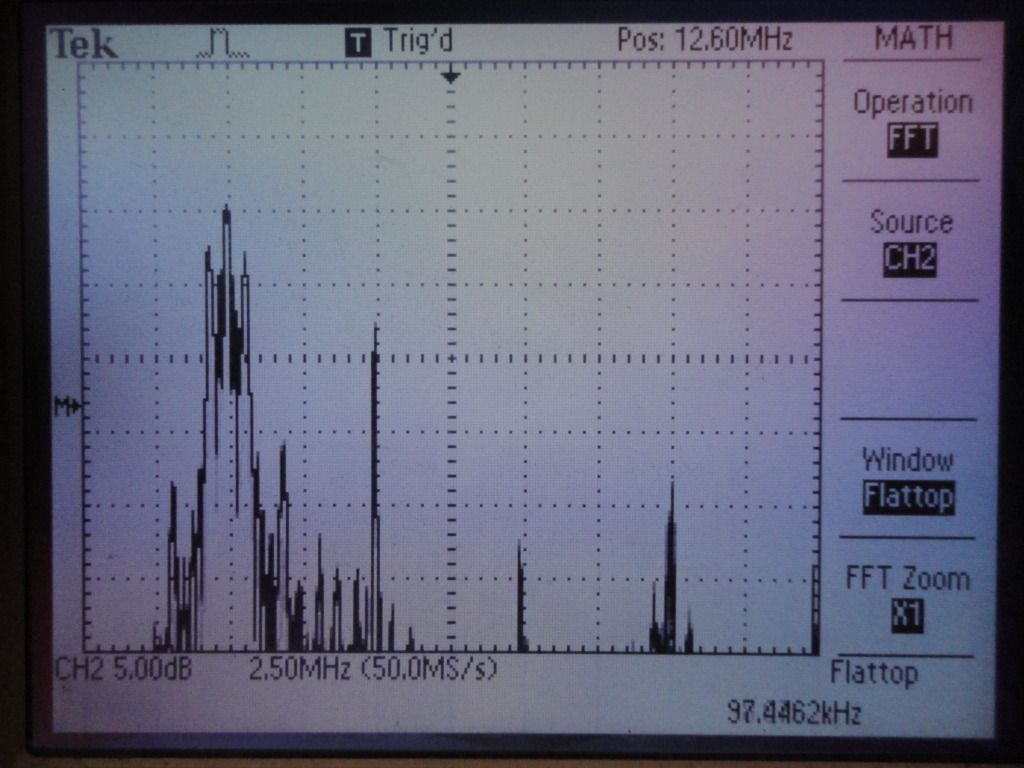 You can see that the Upper Side Band (USB) and Lower Side Band (LSB) are about the same amplitude, which means that the output tank is tuned nominally at the carrier frequency. Also interesting is the rather large second harmonic spike at 10 MHz, indicating that the drive to the tank circuit is asymmetrical. Although this is probably of no significance in the operation of the unit, it can make it more difficult to meet FCC emissions regulations.
An MRT transponder shows a similar output waveform, although the slightly different tank drive, tuning, and Q has eliminated the extra blip where the phase inverts: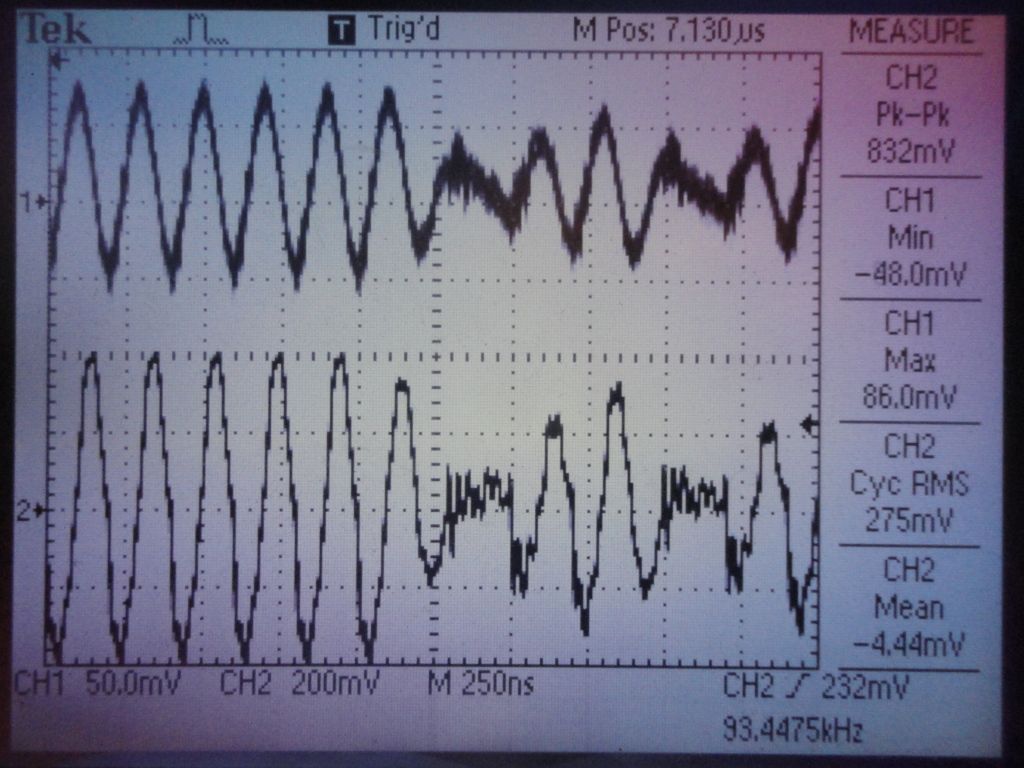 The MRT spectrum has less harmonic content than the AMB, most likely due to a higher tank circuit Q: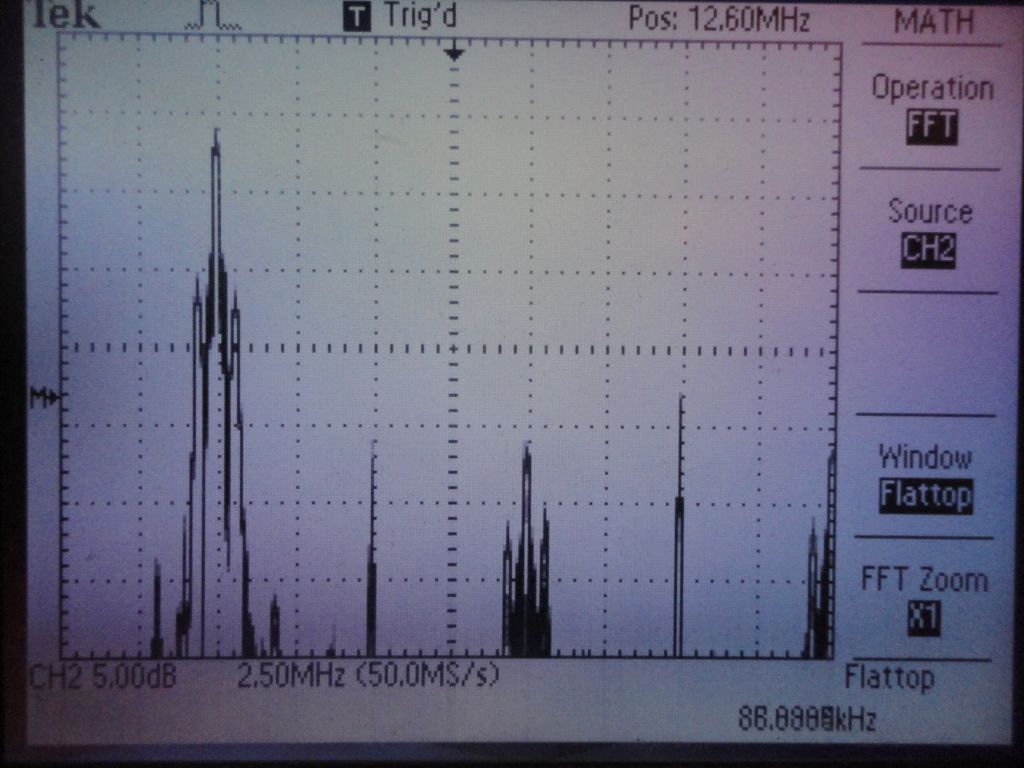 The LSB is a bit greater than the USB, so the tank circuit is tuned somewhat below the carrier frequency. (Other transponders I have show tuning both above and below the carrier frequency, so it doesn't appear to be critical to operation.) Both sidebands are much lower in amplitude than the AMB, due to higher tank Q. The effect of the higher Q can also be seen in the MRT waveform, which takes longer to ring up after a phase inversion.
Finally, here are three sets of scope shots from my breadboard transponder. The first set is with the tank tuned at the carrier frequency: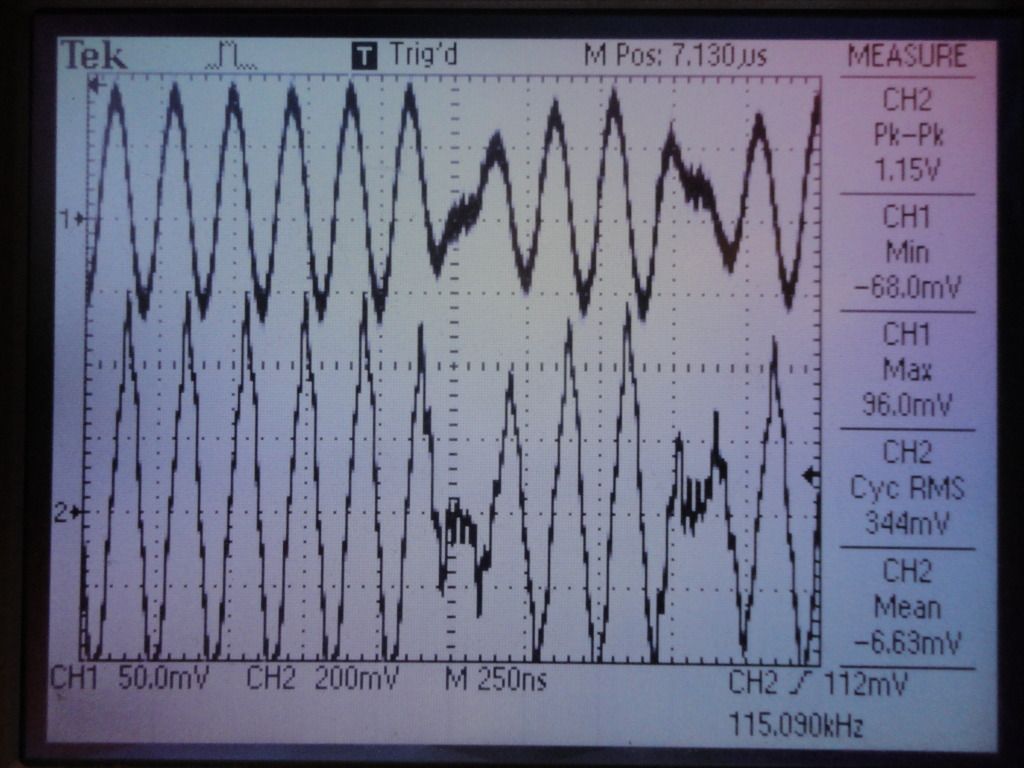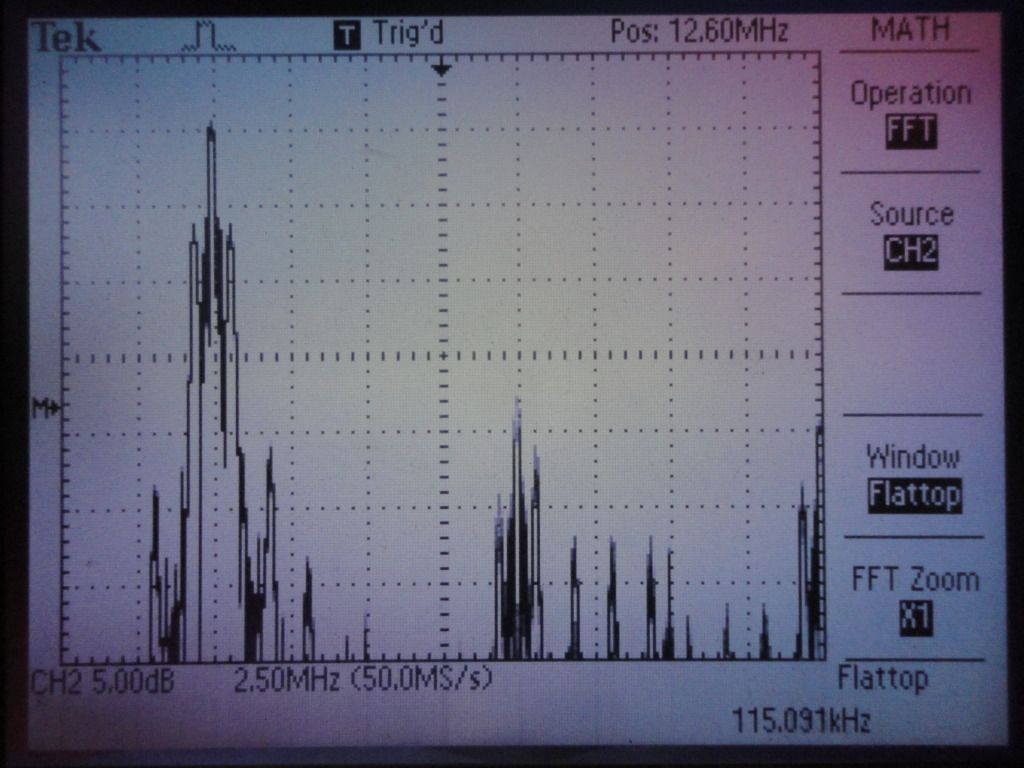 This set is with the tank tuned below the carrier frequency. You can see how this pretty much eliminates any extra blip when the phase inverts: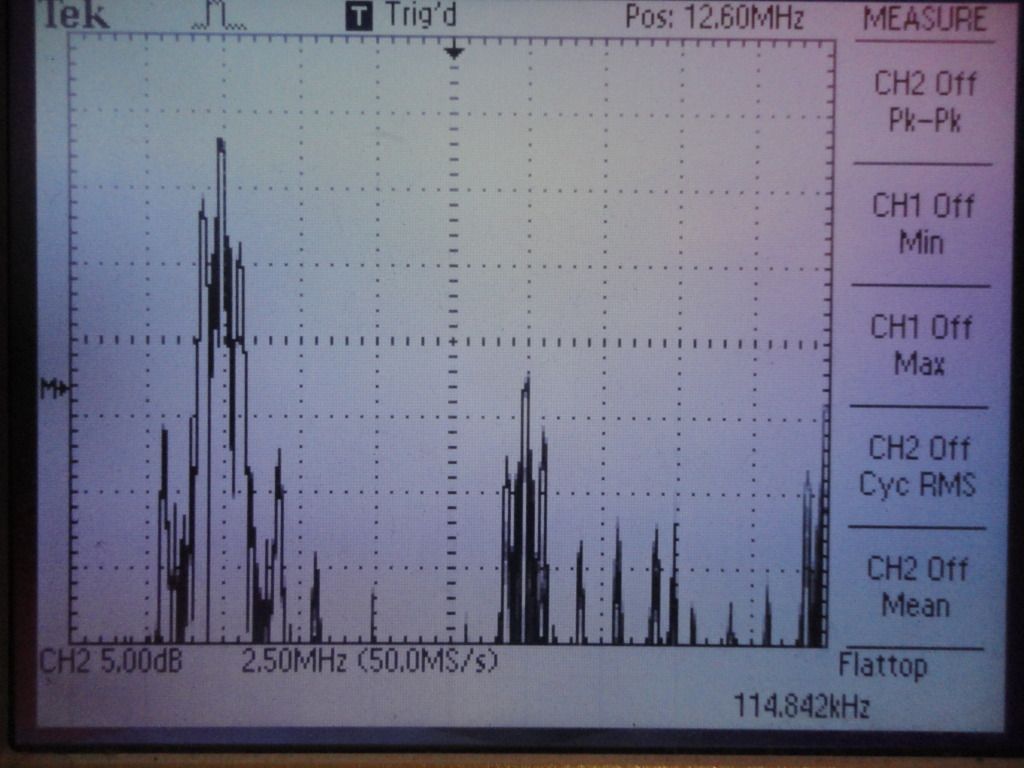 Finally, a set with the tank tuned above the carrier frequency. This accentuates the extra blip: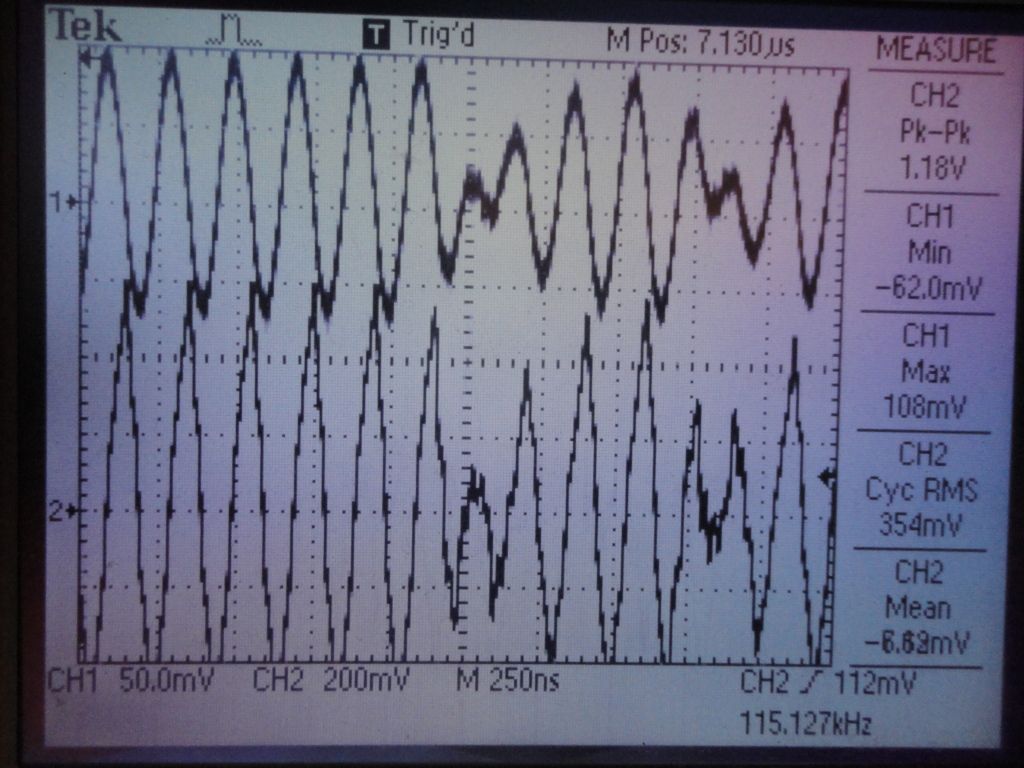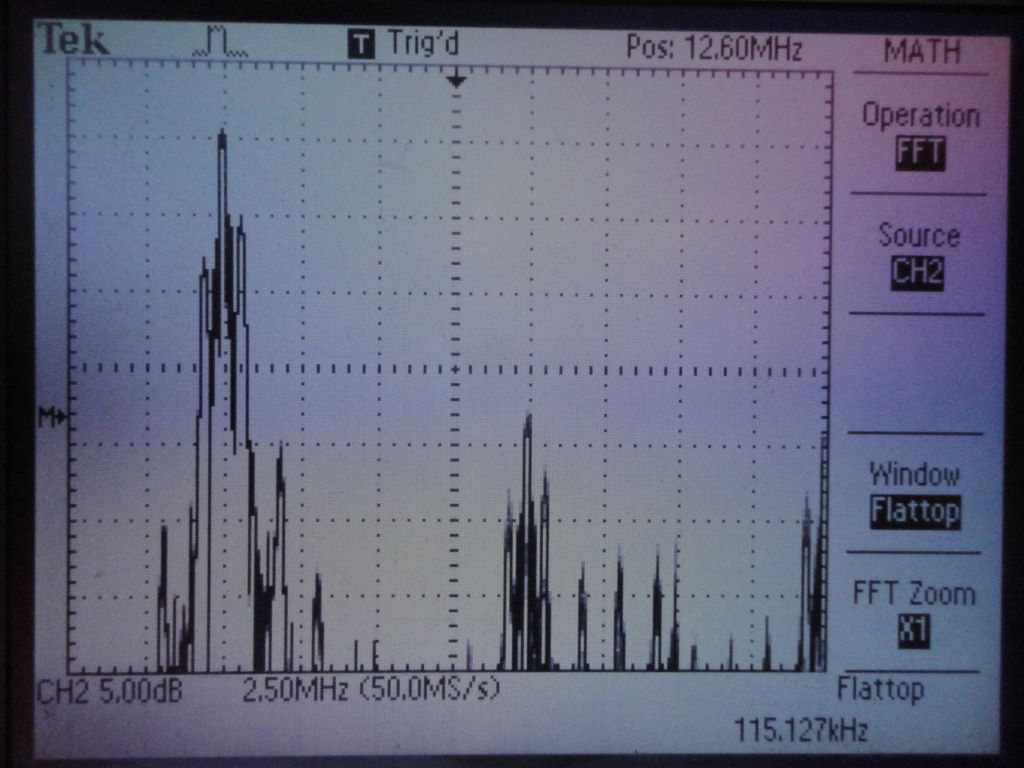 One obvious thing about my design is that the spectrum shows virtually no second harmonic spike, because I drive the tank symmetrically. While this is not necessary for operation, it does make it easier to meet FCC requirements, and appeals to me aesthetically.
I am starting on a decoder design. The first try will use a PLL to detect the phase inversions from modulation. If I use simple zero-crossing information to feed the PLL, the output should indicate a phase change on either of two conditions: an increase in frequency due to the extra blip present in the output waveform of some transponders, and a decrease in frequency from those transponders not having the blip. This sounds pretty simple to do.
---
Last edited by howardcano; 12-21-2012 at

11:24 AM

. Reason: Corrected spelling of "asymmetrical".
12-21-2012, 08:16 AM
Tech Master
Join Date: Jun 2011
Location: Plymouth, MN
Posts: 1,055
---
Love it. Subscribed. If you get far enough along... I'd contribute to a kickstarter for this in return for a transponder
12-21-2012, 01:35 PM
Tech Apprentice
Join Date: Jun 2010
Location: AZ
Posts: 98
---
About time an electronic geek tried to figure this out
12-21-2012, 02:24 PM
Tech Master
Join Date: Feb 2005
Posts: 1,254
---
Cool, glad to see you are moving forward with this.

best of luck
12-21-2012, 07:02 PM
---
I say design a complete system if feasible and give some competition to AMB. When they are charging $$$$ for track owners and $$ for users it's always nice for a small startup to rock the boat. I know if transponders were more like 40-50 I'd have them for all of my track cars. But over $100 a pop I just swap the one I have.

Good luck and subscribed.
12-21-2012, 09:49 PM
---
More tech spec than I'll admit I'm capable of understanding, other than the general gist of it, but seems highly interesting.

And club transponder dude, someone badly needs to make a new club rechargeable transponders, with end user replaceable batteries of some type, it sucks that at some point most the existing ones will die off for good, and the batteries are such a pain to replace.
12-22-2012, 03:19 AM
Tech Elite
---
Thanks for the encouragement!
Selling these (or most other digital electronic devices) requires that they be tested to meet FCC regulations. This costs far more than I want to spend. Right now the project is for my own entertainment and edification, but when the design is finished, I might sell the manufacturing rights to an individual or company that is both better funded and better at business than I am! I've done that before.
12-22-2012, 03:21 AM
Tech Elite
12-22-2012, 03:35 AM
Tech Elite
---
The transponder is compatible with AMB, just like the MRT transponders.
The decoder, should I complete it, would also be compatible with MRT and AMB transponders (the ones currently used, not the new AMBs that are causing the ruckus.) One difference is that the decoder would show different numbers than are printed on the AMB transponders, since I don't know the data encryption format. But that is of no significance to the user, as each would still show a unique number that can be associated to a individual car/driver.
---
Last edited by howardcano; 12-22-2012 at

11:00 AM

.
12-22-2012, 03:42 AM
Tech Elite
---
---
Last edited by howardcano; 12-22-2012 at

05:43 AM

.
12-22-2012, 03:47 AM
Tech Elite
---
12-22-2012, 05:05 AM
---
Encased in a heap of epoxy and silicone, with a plastic outer and a mounting nub, you basically have a AMB PT of some type (likely very simular to the original unique ID AMB PT), though they add in some specific charging circuit with indication leds, and attached at a different point on the boards is a small 80mAh NiMh 1.2 volt button cell.
They require a specific 3.3volt per output charging rack to charge (that takes like a 12v or 24v power source from memory), AMB likely made a killing off them at some point, cause I'm told they once cost more than $300 per transponder, and the racks used to cost over $1500 just for the rack, entire systems were absurdly expensive.
Also the original batteries in them used to last 2-3 years, and like I said are epoxied and siliconed in place under a cap not designed to be removed, AMB basically would charge you $150 for new transponders to replace dead ones.
Of course now MyLaps discontinued them, and seems to have no plans to replace them, so it's just guys levering them open and grinding out the old cells and siliconing in new ones, and it's a painful chore.
At some point though they all seem to fail from abuse or some such thing, meaning there surely has to be a market for a clever replacement when that happens.
Even if that is just someone coming up with a new rack system and mounts, that you can slip an existing RC4 Hybrid PT into one slot, and rechargeable battery into another?, I thought about it, but coming up with like charging circuits etc is not within my own abilities, I just always have though if someone created a new sort of charging case design of some sort, they could profit selling them, or maybe not?, I guess the market would be limited as such.
12-22-2012, 05:41 AM
Tech Elite
---
Forgive me, I misunderstood. I thought you needed transponders that were compatible with the original AMB decoder (which only recognized the original, rechargeable transponders).
If your decoder recognizes personal transponders, why do you want to use a separate battery for them? A servo extension cable from the receiver makes it pretty easy to use personal transponders as "handouts".
---
Last edited by howardcano; 12-22-2012 at

05:51 AM

.
12-22-2012, 02:16 PM
Tech Elite
---