How to solder correctly (a not so brief lesson)
11-11-2018, 09:59 PM
Tech Master
Join Date: Oct 2008
Location: North Jersey
Posts: 1,187
---
The one thing I didnt see posted in this thread (didnt read every page, but did read the whole first post) which I feel is the most important part is:



PATIENCE!!!!!

I have seen so many times people perform one good joint and then everything goes to crap. You have to let the Soldering iron heat up again for a few seconds after soldering a joint. I have a $15 Radio shack 60 watt iron that I keep in my pit bag, Had it forever. It works fine, I just need to make sure I let it heat up thoroughly between joints.

I used to have a roll of 61/36/3 solder that needed a touch more heat than 67/33, but the joints were always super shiny. I need to find some more of that stuff.
11-16-2018, 08:00 AM
Tech Adept
Join Date: Jul 2012
Posts: 130
Soldering comms, most suitable solder.
---
Need advice on most suitable solder for this purpose. Just ordered some with 305c melting point not sure of make up. Any advice welcome.

Rob
11-18-2018, 07:36 PM
Tech Regular
Join Date: Feb 2013
Posts: 420
---
11-19-2018, 11:52 PM
---
Always 63/37

There are other viable formulas of solder, but 63/37 is just easier to work with and it's performance is very good overall.

​​​​​​It tends to cost less than an equivalent amount of other formulas that perform as well or a bit better.

I've used various formulations through the years, and found a few that work well, but none are as well balanced, relatively low cost, easy to work with, or all of those combined.
11-20-2018, 12:51 AM
Tech Adept
Join Date: Jul 2012
Posts: 130
---
I meant commutator, is very hot spinny bit, normal solder no good, all melty.

11-20-2018, 04:23 AM
Super Moderator
Join Date: Jun 2013
Location: Michigan
Posts: 976
---
11-20-2018, 07:15 AM
Tech Master
Join Date: Jul 2009
Location: Deep South Texas
Posts: 1,416
---
Silver solder... different percentages... but a real good IRON is needed.. aka lower resistance inside of solder connections...

my advice.. if you get into silver soldering.. do not use THAT iron on regular solder ... mark it just for silver soldering...
11-20-2018, 09:47 PM
---
Unless you are getting very expensive extremely high silver content solder, or very special alloy mixes... The difference in electrical conductivity is at best a few percent. (of the IACS standard)

Typical silver solder found in electronics supply shops or online, have only 0.4% better electrical conductivity. They do have increased physical strength, at around 10-15% higher tensile, and can solder to silver plated contacts better. They tend to be eutectic, with formulas around 62/36/2 tin, lead, silver. The cost increase isn't that much, and some may find it worth it for a stronger joint. Lead free formulations are not eutectic, and need around 50-60*F higher temps.

If you are willing to spend 4x as much for solder than the cost of typical 63/37 you can get solder that has 4.5% better conductivity. It's a 96.5/3.5 tin and silver alloy... It has a significantly higher melting point, close to 100*F higher. It is eutectic though. It is stronger than 63/37, but not as strong as common silver solder formulations.

If you want 10% better conductivity, and want to spend around 10x as much on your solder... 90/10 Indium/silver solder will get you there. It is expensive and basically impossible to find outside of industrial supply. Melting temp is over 100*F higher, and it is far from eutectic... With its solidification point about 170*F lower than the melting point. It is also very weak, at about 20% the strength of 63/37 solder.

If you are getting anything other than common silver solder from the electronics store, I question your sanity... The cost and the difficulty in use of those special formulations, plus the potentially damaging levels of heat needed makes them not very viable, especially for the small gains... And the formulation of typical silver solder from the hobby store is so close to 63/37 there is little need to have a dedicated iron, if you clean the tip off well each use.

When it comes to conductivity... we are talking small numbers... Pure copper is 17.2 nano ohms per meter... 63/37 is 145 nOhm/m... Typical silver solder is around 130 nOhm/m... and the indium/silver is 78 nOhm/m...

And considering the thickness of the solder in a typical joint is much less than a millimeter thick... I don't think the conductivity difference between them matters one bit in high energy systems like R/C, where amps are very high. We are not working with small voltages at very small amps, like in an IC chip.


Go buy some 63/37 and be done with it... If you must go lead free, typical lead free silver bearing solder works, if not as easy to use, and needing more heat.
11-20-2018, 09:55 PM
---
Soldering to a commutator...

If you have reached that point... Something has gone wrong... Very wrong.

I can't see a reason to be soldering to a commutator... Why are we opening up the motor? Did something break? (Maybe there is good reason to do this, that I just don't see)

Are we talking about soldering the brushes that make contact with the commutator? If so, then a silver solder is stronger and has a higher melting temp, which would be best.


Very high temp solder is likely best, and one with a high strength is needed. The manufacturer would be the people to ask what is best... Or ask about getting a repair or warranty replacement if that is still an option.

Commutators and brushes... You are looking at a high temp and high stress area, one where soldering is likely not going to work. I have a feeling that the internals of a motor are ultrasonically welded, mechanically crimped, or otherwise fused directly together without some kind of intermediary component like a solder or welding material used.
11-22-2018, 09:35 PM
Tech Regular
Join Date: Feb 2013
Posts: 420
---
If I had to guess he may be winding his own motor. I will be surprised if any solder works. I tried winding my own motors back in the day and the solder always melted after just a couple of minutes. If I remember right the tabs that hold the wire to the comm were either spot or sonic welded. I would try those methods before I tried to solder it.
12-28-2018, 09:33 AM
Tech Addict
Join Date: Jun 2009
Location: RC Track
Posts: 689
---
Just an FYI
I was looking for something on the HobbyKing site and saw this
https://hobbyking.com/en_us/solderin...warehouse.html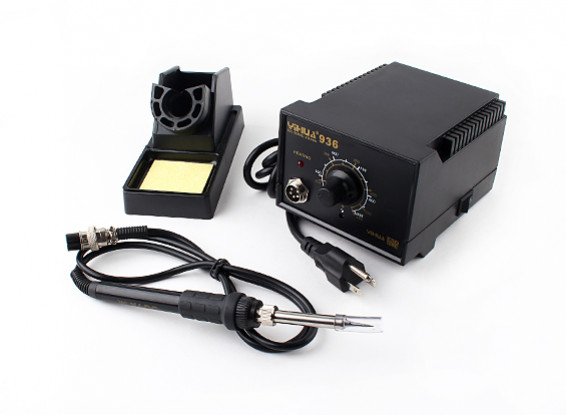 It looks exactly the same as the TrakPower TK-950 that I bought a few months ago.
12-28-2018, 11:12 AM
Tech Elite
Join Date: Aug 2016
Location: Detroit
Posts: 3,272
---
Originally Posted by
sebtarta
Just an FYI
I was looking for something on the HobbyKing site and saw this
https://hobbyking.com/en_us/solderin...warehouse.html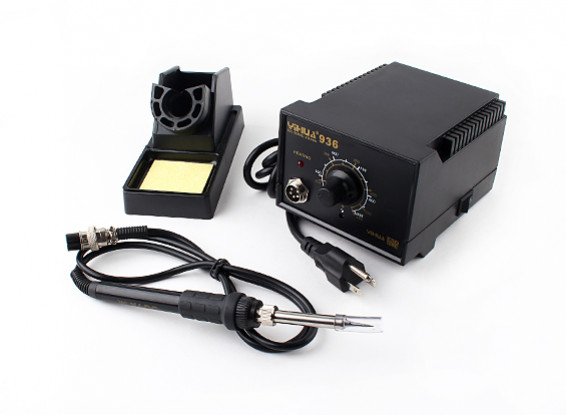 It looks exactly the same as the TrakPower TK-950 that I bought a few months ago.
$19.95 looks good and 60 watts.id buy
12-31-2018, 09:15 AM
---
Hakko clones are pretty widespread. The quality will vary between them, but it is hard to know if spending $50 on one version is better than $25 on another.

Fortunately, the tech isn't difficult to clone, and it's down to the components and build quality. Poor soldering inside can be fixed... Yes the irony of that is palpable.

The tips are usually not as good of quality, but real Hakko tips are easy to get and not unreasonable in price.

Hakko replacement parts like heaters and other components should work as well.

There is a new iron available that I think would work well... TS80, it is an open source design from a Chinese company, that is branded a few ways, Amazon is a good source. Pay attention to the tips that come with it.

It will run off of a fast charge 3 compatible battery pack. Ankler makes the best battery packs at reasonable prices.

Overall you are looking at a price of $130ish with a battery pack for portable use. Direct heat tips small size, and good power delivery makes it a good option though.

You need to adjust the options/settings to get full power, but otherwise it's good out of the box from the reviews online.