1/12th Scale Wiring...(1S)
11-24-2009, 12:26 AM
Tech Addict
Join Date: Jul 2007
Location: East Bay, CA
Posts: 703
1/12th Scale Wiring...(1S)
---
With everyone using boosters, Li-Fe and LiPo batteries, voltage regulators, sensor wires and such, there doesn't seem to be much room on 1/12th scale cars for everything.

Looking for ideas on how to lay out my electronics, and your help would be appreciated. Post pics of your clean wiring job and help inspire me to shorten wires and quit zip-tieing everything.

Cars running 1s lipo/booster/rx packs/brushless are preferred, but all 1/12 scale configurations are welcome.

Thanks!
11-24-2009, 03:37 AM
Tech Master
Join Date: May 2003
Posts: 1,481
---
I think there is already a thread with a bunch of pics somewhere, iwill see if I can post the link on here for ya
11-24-2009, 03:39 AM
Tech Master
Join Date: May 2003
Posts: 1,481
11-24-2009, 06:04 AM
---
you run ko stuff, should be easy to layout your electronics with the smal 408 rx.

I run the speedo on the left and the rx on the right. if you run the length of the rx allong the length of the chassis right up agains the antenna, there is room for your rx pack just to the right of that. with all ko stuff, you just need the rx pack no booster and no regulator. if you run the ko rx, i would put all the motor wires up against the antenna. i run a tekin and i have the motor wires on the 1s lipo side
11-24-2009, 08:51 AM
Tech Master
Join Date: Oct 2007
Posts: 1,515
---
Originally Posted by
whynot
Not one photo has 12th scale with lipo's & liFe. Emailed TEKINS the other day, & they said it is nessesary to run a booster or separate pack for the RX, and useing the Hotwire and set it to 1cell lipo's.
11-24-2009, 09:28 AM
---
11-24-2009, 10:59 AM
Tech Elite
Join Date: Dec 2002
Location: San Francisco
Posts: 2,192
---
Here's a couple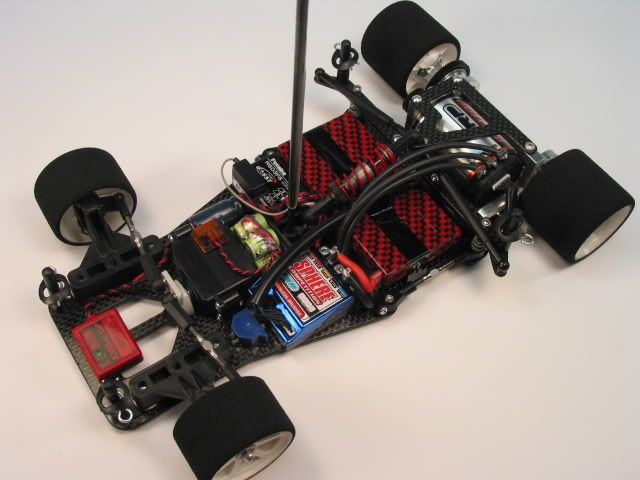 11-24-2009, 12:04 PM
Tech Addict
Join Date: Jul 2007
Location: East Bay, CA
Posts: 703
11-24-2009, 12:29 PM
Tech Regular
Join Date: Jan 2009
Location: Adelaide
Posts: 254
---
Here is a picture of mine. This is using a HobbyCity booster (in black next to the receiver).
11-24-2009, 12:54 PM
Tech Champion
Join Date: Nov 2001
Location: Hawaii, USA
Posts: 7,191
---
Here's mine:
11-24-2009, 01:10 PM
Tech Master
Join Date: Oct 2007
Posts: 1,515
11-24-2009, 02:28 PM
Tech Elite
Join Date: Dec 2002
Location: San Francisco
Posts: 2,192
---
No solder. The wires are cut and crimped with new plug parts. It is important to have a proper crimping tool, but if you do a crimped connection is as good or better than a soldered one