QCRCCC OFF-ROAD RACING
09-25-2006, 09:46 AM
Tech Elite
Join Date: Aug 2001
Location: Q.C.
Posts: 3,676
QCRCCC OFF-ROAD RACING
---
QCRCCC, FELLOW RACERS ETC.
THIS WILL BE OUR CLUB THREAD.
SPECIAL THANKS TO THE MODERATORS :
ROUGH512, ADDICT SA RC, FAFA AFOR ALLOWING US.
LET THE POSTING BEGINS!!!!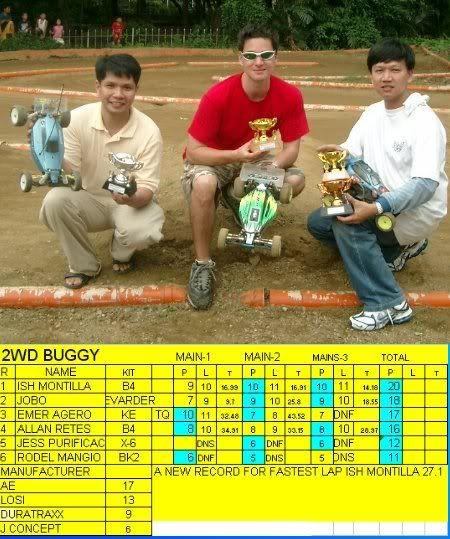 1ST RACE FOR THE X-6, BUT A BROKEN BULKHEAD, SPLITING THE KIT IN 2!
ENDING JESS PURIFICACION ENDING HIS INVOLMENT 1 LAP INTO QUALIFYING.
EMER TQ AND WON 1 HEAT, BUT MECHANICAL PROBLEM STRUCK!
IT WAS SILVER PLATTER FOR ISH MONTILLA WON TOOK
2ND AND FINAL HEAT,AND THE VICTORY.
GREAT RUN ALSO FOR JOBO CONSISTENCY SAW HIM 2ND.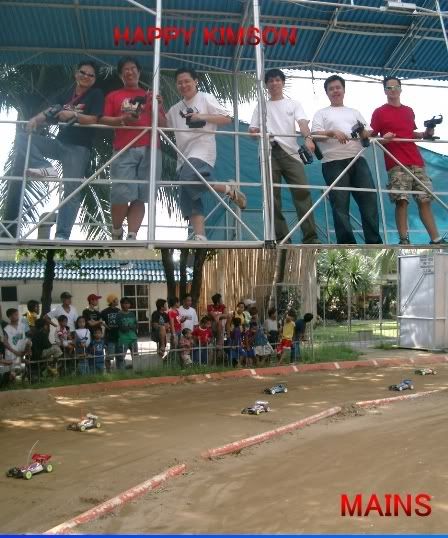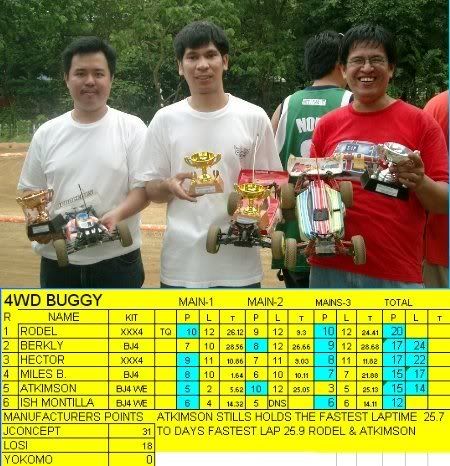 AFTER A DIAPPOINTING LAST RACE FOR RODEL, HE PICKED-UP PACE!
HE WAS TQ! HE WAS CHALLENGE BY, BERKLY, AND ATKIMSON.
MECHANICAL PROBLEM ALSO HIT JCONCEPT TEAM PUTTING ISH AND KIMSON
OUT OF CONTENTION. RODEL 1ST, BERKLY 2ND, PASYAL BOY HECTOR 3RD.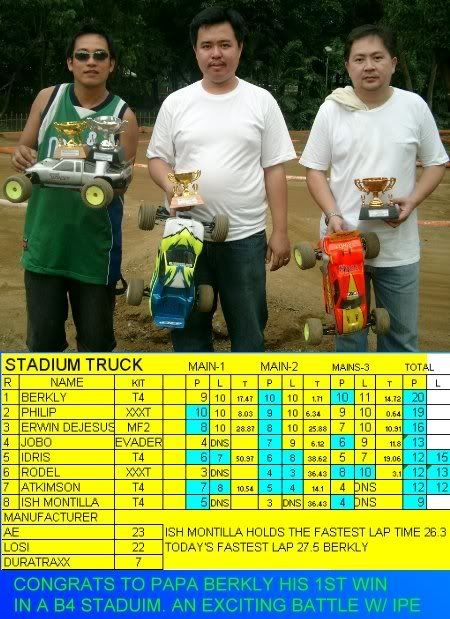 IN THE ST CLASS THE AS EARLY AS THE QUALIFYING STAGE, A NEW RIVALRY
WAS IN PROGRESS! PHILP (IPE) CLICK THE TQ, AND TOOK THE 1ST HEAT
AGANIST RIVAL PAPA BERKLY. BUT BREAK HAD A BREAK WHEN IN THE LAST
LAST TURN, IPE GET STUCK IN THE PIPE, WHICH GIVE THE LEAD TO BERKLY.
WITH BOTH DRIVERS HAD A PIECE. THE FINAL LEG BERKLY COULD SMELL
VICTORY AND DRIVES HIS T4! PHILIP WOULD SETTLE 2ND AND ERWIN 3RD.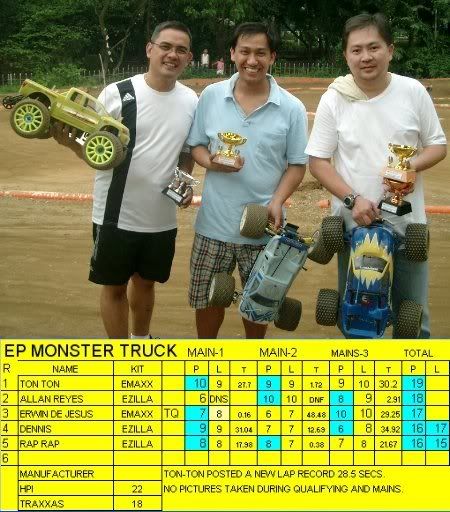 PENULTIMATE RACE FOR THE E.P. MONSTER TRUCKS.
ERWIN TQ, ALLAN, AND TON-TON WHERE THE BATTLING DUDES.
ERWIN AND ALLAN BOTH ALWAY LEADING AND TON-TON ALWAYS
PICK-UP WHAT LEFT OF THE TWO.
SORRY NO PICUTRE OFR THE STARTING I HOPE VEDIOS IS OKAY.
ANOTHER PENULTIMATE RACE! VON TOOK TQ FOR THE MT.
TANTE WHO CAME LATE AFTER (MAKING TAKAS) JOINED THE MAINS STARTED
AT THE BACK OF THE GRID. TANTE AND VON BATTLING FOR THE LEAD BOTH
WIN 1 HEAT, IN THE FINAL HEAT VON DEVELOP ENGINE PROBLEM HE COULD'NT
NOT GET START-UP AGAIN, RETIREMENT WAS HIS ONLY OPTION.
JEFF FINISHES 3RD TO COMPLETE THE FINAL PODIUM.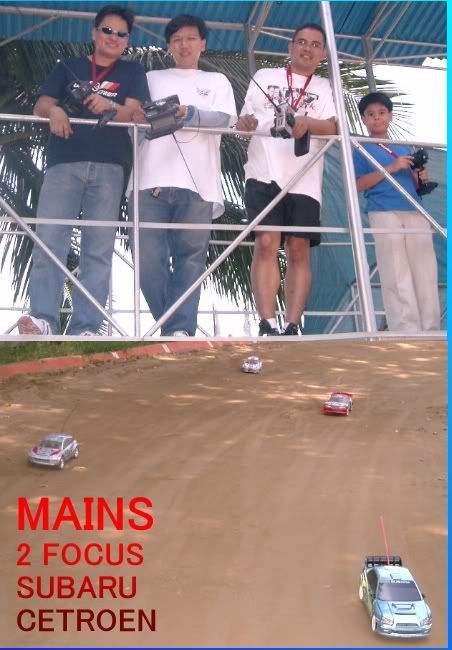 TRUE NICE RACE FOR THE RALLY CLASS.
MILES TQ, HE WON THE 1ST HEAT, WHILE EMER IMPROVED HIS PERFORMANCE.
WINING 2ND AND 3RD HEAT. ALLAN CLAIMS THE FINAL PODIUM.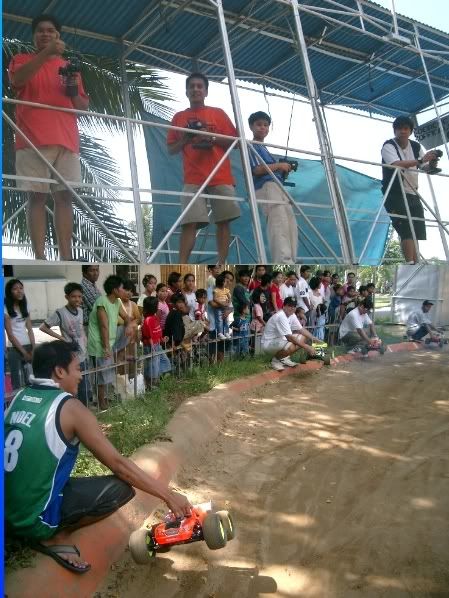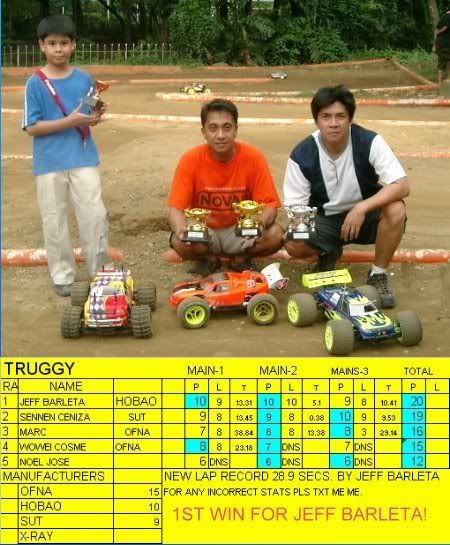 A SOLID PERFORMANCE FOR JEFF BARLETA TQ AND A WIN!
SENNEN HIS 1ST PODIUM 2ND PLACE HIS REWARD.
NEW KID AT THE BLOCK TAKES 3RD "MARC" PLS TXT ME YOUR LAST NAME
0917-8911698.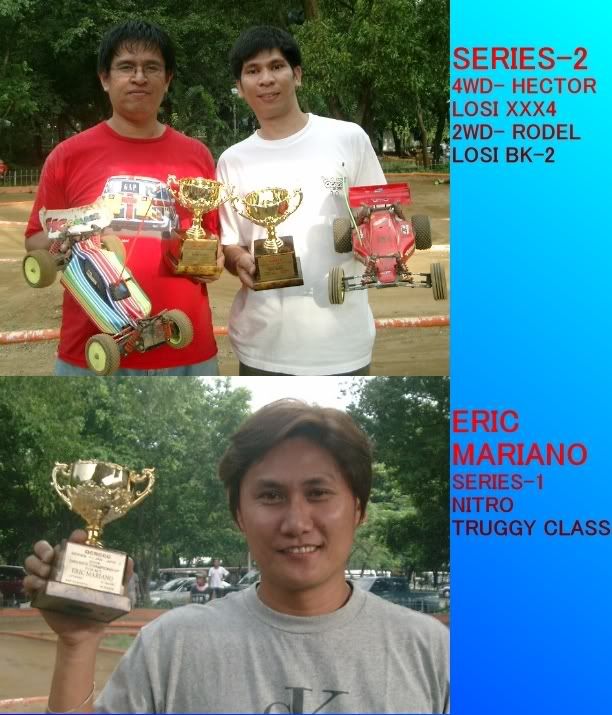 TO WRAP-UP THE DAY.
NEW RULES LIKE DRIVERS STAYING AT THE RACERS STAND IMPOSED.
RACERS ALWAYS RETURN THE TRANSPONDER
AFTER YOUR HEAT. IN-ORDER TO CHARGE,
BECAUSE WE HAVE TOO MANY CLASSES TO RUN
AND THEY ARE NOT GETING ENOUGH CHARGE.
ERIC MARIANO FINALLY RECEIVING HIS SERIES-1 CHAMPION FOR THE TRUGGY.
HE'LL BE BACK NEXT RACE! WATCH-OUT TRUGGY BOYS ITS WAR!!!!
WHERE'S FREDERIC????? NAKA TALI?
RODEL WINNING SERIES-2 2WD AND HECTOR 4WD.
SEE YOU GUYS NEXT RACE
OCT 8, 2006!
09-25-2006, 04:44 PM
Regional Moderator
Join Date: Sep 2001
Location: manila, PI
Posts: 1,287
A new home page
---
Hey QCRCCC Guys:
!! Kudos on the new forum !!
I have not been able to race my b4 due to a delay in my electronics which I ordered over a month ago
Anyway, kita tayo again for an exciting series-- It looks like all classes have complete quorums.
09-25-2006, 04:44 PM
Tech Addict
Join Date: Feb 2005
Location: Q.C.
Posts: 725
QCRCCC OFF-ROAD THREAD
---
FINALLY OUR OWN THREAD!
CONGRATZ TO ALL THE WINNERS IN LAST SUNDAY'S RACE!
THANKS TO ALL THE MODERATORS!
SALAMAT ROUGH512!
09-25-2006, 05:27 PM
Tech Addict
Join Date: Dec 2005
Location: Makati
Posts: 543
---
Hi mga sirs!

pwede ba ang 1/8 sainyo like, hellfire, hyper 7?
09-25-2006, 07:35 PM
Tech Adept
Join Date: Jun 2006
Location: QC, Philippines
Posts: 120
---
home sweet home!
congrats to all the winners... especially to sir tante lapuz. lupit mo magdrive... champion caliber talaga.
also... hats off to jeff barleta with his hyper 8 truggy. wala ako masabi jan. bow.
jake:
read your post in the offroad thread, thanks pare. finally. hehe! wala ka kasi.
cge titingin kita nito...
http://www.tamiyausa.com/product/ite...oduct-id=43530
and shempre...thanks to my champ pitman wowie cosme.
---
Last edited by toadstool; 09-25-2006 at

10:00 PM

.
09-25-2006, 08:10 PM
Tech Master
Join Date: Jul 2004
Location: JP Raceway
Posts: 1,052
---
I would like to Thank QCRCC group for helping us out... MARAMING SALAMAT PO
We will return the favor on your NATS RACE
Hopefully maka-karera na din ng 4wd off-road by then
see you guys next week sa race ninyo i will go there to visit you guys
CONGRATS ON YOUR NEW HOME
Carlo D.
09-25-2006, 09:36 PM
Tech Master
Join Date: Oct 2002
Location: aka Mark V.
Posts: 1,532
---
WOW!!!
Home sweet home for the QCRCCC.
Thanks to the moderators!!!
Paging
jeofrey
absent ka nanaman yata sa race?
09-25-2006, 10:38 PM
Tech Regular
Join Date: Aug 2001
Location: long live OFFROAD
Posts: 403
---
kuya emer,
you want the bruiser wheels and tires?
09-26-2006, 12:59 AM
Tech Adept
Join Date: Sep 2006
Location: Father And Son Team
Posts: 153
---
Congratulations to all QCRCCC Members! (Especially to your newest 9yr old member, Marc) It was great to have your own thread. Now, there are 2 ways to get involve in this great hobby of ours. Having FUN on track & off track - QCRCCC THREAD!
Many thanks also for welcoming us last weekend. Marc is so happy with his trophy.
See you Guys soon.
09-26-2006, 02:39 AM
Tech Master
Join Date: Jul 2005
Posts: 1,196
---
Alright!!!! Our HOME!!! Thanks Master Emer for posting a picture of my
damaged X-6 and me
(Arrrgggh!!, weak lower nose piece kasi!!!
). Sana nagdala pa ako ng extra kits to run. Oh well, there's always next time.
BTW, OK na X-6 and it will race again!!
OUR HEARTFELT THANKS TO ALL THE MODERATORS!!!
MORE POWER TO QCRCC!!!!!!
09-26-2006, 04:57 AM
Tech Adept
Join Date: Jun 2006
Location: QC, Philippines
Posts: 120
---
welcome marc to QCRCCC! 1st race pa lang, nakakuha na ng trophy. very impressive.
john, join the MT class para father and son team na talaga. si marc sa truggy, ikaw sa MT.
jess,
when will we see the LST back in action? any new secrets to be revealed? it would be nice to see veterans ambo,tante & kenneth run in the MT class. it would be a sight to see. cguradong pukpukan yun
see you all on the next race!
09-26-2006, 05:53 AM
Tech Initiate
Join Date: May 2005
Location: Las Pinas City
Posts: 43
WOW
---
WOW naman! Our very own THREAD! Galing talaga ni Sir Emer and Officers. Wala ka nang mahihiling pa.
Thank you moderators and congratulations to all the winners! Miss ko na mag race... INGGIT ako sa inyo lalo na pag nababasa ko ang mga post nyo. Enjoy na enjoy ang lahat. Di bale, soon. I'll be back to race with you guys.
MORE POWER TO QCRCC!!!