JConcepts Thread
12-07-2008, 08:29 AM
Tech Addict
Join Date: Nov 2004
Location: @ JConcepts
Posts: 662
---
It won't be an alternative. It will be a replacement.
12-07-2008, 07:10 PM
---
as usual great work. I like the little yellow lines in the front of that last body. Suddle but different.
12-08-2008, 08:55 AM
---
Has anyone tried the Barcodes in gold compound at an indoor clay track?? How about barcode slicks??
12-08-2008, 09:25 AM
---
WED...New JConcepts bodeez? Is that a JConcepts SLASH body I see there?
12-08-2008, 09:30 AM
---
Hi Andy, I have an update suggestion for you, Some still prefer the illuzion body to the hi-flow for the B4 but the hi-flow comes with bigger wings that we like. Would it be possible to update the older bodies to come with the newer wings?
12-08-2008, 10:07 AM
12-08-2008, 10:45 AM
12-08-2008, 11:11 AM
---
I just noticed the buggy rears are the same on both sides
Thanks for your help...
---
Last edited by d4man; 12-08-2008 at

11:32 AM

.
12-08-2008, 03:22 PM
Tech Addict
Join Date: Aug 2001
Location: Daytona Beach FL
Posts: 565
12-10-2008, 09:00 AM
---
hhaaaha you guys are so witty
http://www.redrc.net/2008/12/jconcep...traxxas-slash/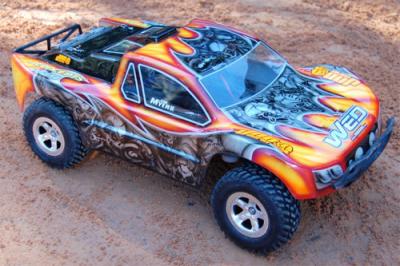 12-10-2008, 09:56 AM
Tech Adept
Join Date: Sep 2007
Location: Trent, So.Dakota.(Miss Texas, however)
Posts: 115
installation problems?
---
Hey folks!
Well, I got the conversion, but have an "issue" with it! I would like to see some INSTRUCTIONS! I know..got the wheels...tires...shorter rods, etc. But...what else needs to be added? The parts-bag..has ah...."things"...lol What do they attach to...etc?? I guess I'm getting too old, for this stuff...lol
I'd like a parts diagram...assembly instructions....something!
Dave
12-10-2008, 08:16 PM
---
Texas Postman, swap out the wheels and tires with the new ones. Swap out the rear camber link turnbuckles and ballcups, using the angled ones outside to clear the wheels under suspension deflection.....Done.
I haven't looked in a while, but I think there are pics on the website, to preserve some trees.
You'll have a ton of fun driving it!!!
...Jim
W.E.D.