Autonomous robotic camera platform
10-04-2015, 11:32 PM
Tech Addict
Autonomous robotic camera platform
---
Building a robotic autonomous rover for competition and canyon crawling. It uses a Zed RGB-D camera to figure out where objects are and how to avoid them. Has a Lidar unit for after dark use. The motors can be controlled with an x-box controller, radio and rx, or serial from the onboard computers. Has WiFi and bluetooth. 2 Nvidia Jetson supercomputers. An Arduino gps inertial motion unit so it knows when its upside down and when its on a hill so you can apply more power etc. The combination of Zed Lidar IMU and GPS allow it to know where it is in the world how fast its moving and what direction its moving in. Has a pair of 720p cams as well and a mast for mounting a DLSR or Video camera or both. The Jetsons run Ubuntu Linux so several camera control programs are available. Looking at FPV units now so I can check it out real time.
First test will be to make it around one of the local r/c tracks. 12 inches of articulation total length 24 inches. Calculated top speed is a shade over 7mph with the 350rpm geared motors I bought. Could go higher but the terrain I plan on using it on will require slow speeds and there will be a couple of thou worth of camera and lens on it so no need to take too many chances. I'll post up some vid when I get it working.
Griz
10-22-2015, 11:03 PM
Tech Addict
Version 2
---
Changed up a lot of things after doing a bit of testing. Came up with a new chassis design that has better ground clearance and is much lighter. All the tubing is carbon fiber now.
Motors are working off the computer now getting close to having the Zed camera driving the thing.
Griz
10-28-2015, 10:31 AM
Tech Regular
Join Date: Oct 2011
Location: Royal Oaks, CA
Posts: 492
---
very interesting!!!
11-18-2015, 09:57 AM
Tech Addict
---
Just bought a Nvidia TX1 for it. 64 bit 8 cores and a 256core GPU. Motor controller boards will be here any day. So I should be up and rolling soon. The TX1 is much better suited to doing the kind of vision stuff I want to do. With the TK1 the res was limited to 720p now I can do 1440p with a much higher frame rate as well on all modes. Just finished putting together the 360 deg lidar scanner for it. The sensor is a Pulsed Light Lidar Lite V2.
Here is a video of the Zed doing 3-D point clouds mounted on a drone.
https://youtu.be/Nun1HXqBEVY
Put voice recognition and speech synthesis on it the other day. I can tell it what to do with a bluetooth headset now.
Griz
12-18-2015, 02:38 PM
Tech Addict
Latest progress
---
Here are the latest pics of the rover. Just waiting on the motor controllers to finally arrive. When you get out on the bleeding edge anything can and does happen
No biggie I'm in the middle of moving to San Antonio. Its 100 miles to any track from where I am now too far to just pop out for a couple of hours and get some shots. Anyways here is what the bot looks like at this point.
The "driver" was part of a gag trophy I was awarded for my distinct driving style on the oval
Looks like mid Jan before it runs under its own power. I'll be sure and post up some video. In fact I'll be starting another Youtube channel just for bot stuff once its running.
Griz
08-28-2016, 07:00 PM
Tech Initiate
Join Date: Sep 2014
Posts: 46
---
A crazy piece of engineering there.
01-18-2018, 09:39 AM
Tech Addict
Latest Rover shots
---
Heading to Canyonlands soon to test out this beast. All my pics have disappeared due to dropbox cutting off links to pics for posting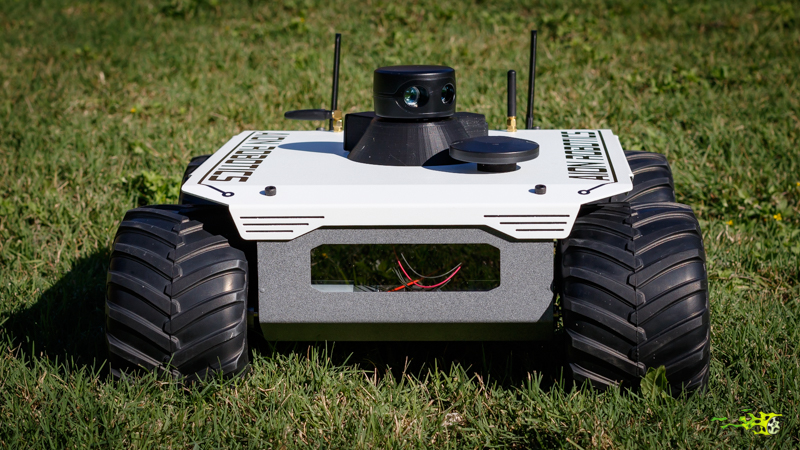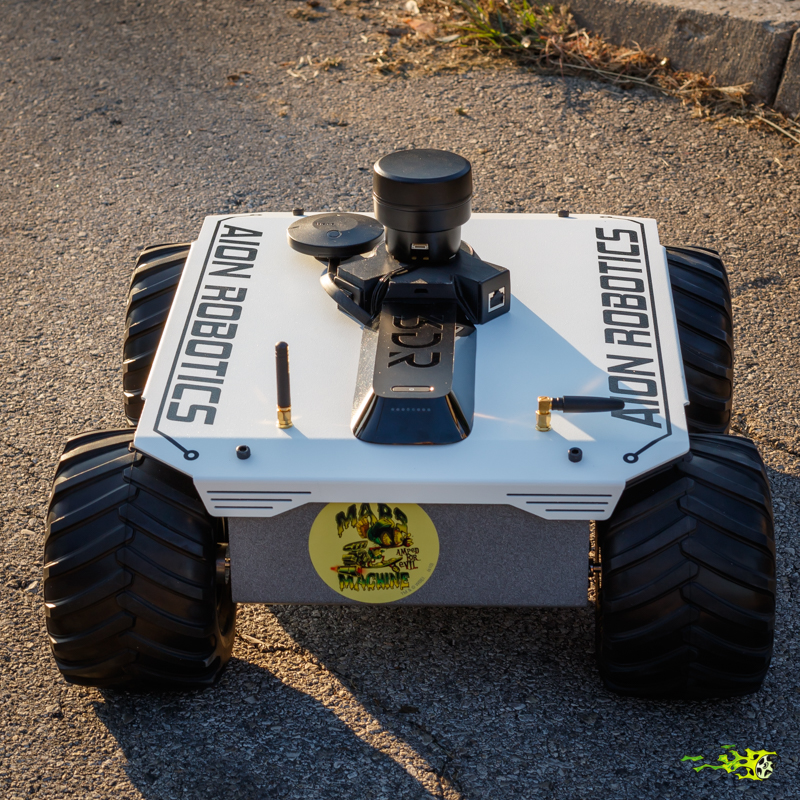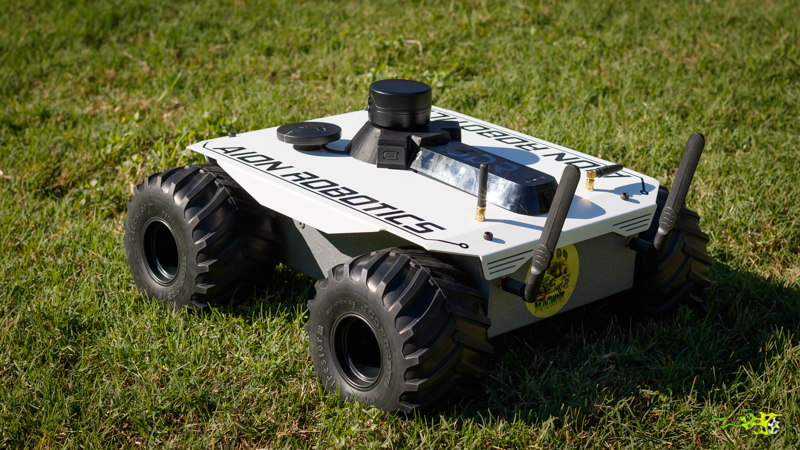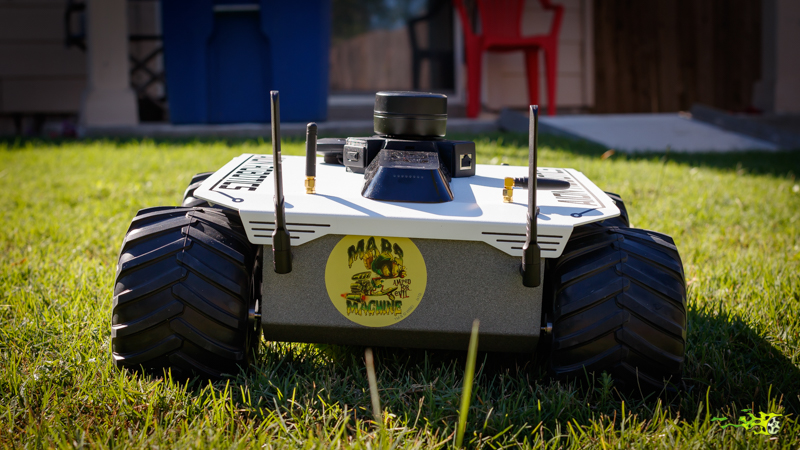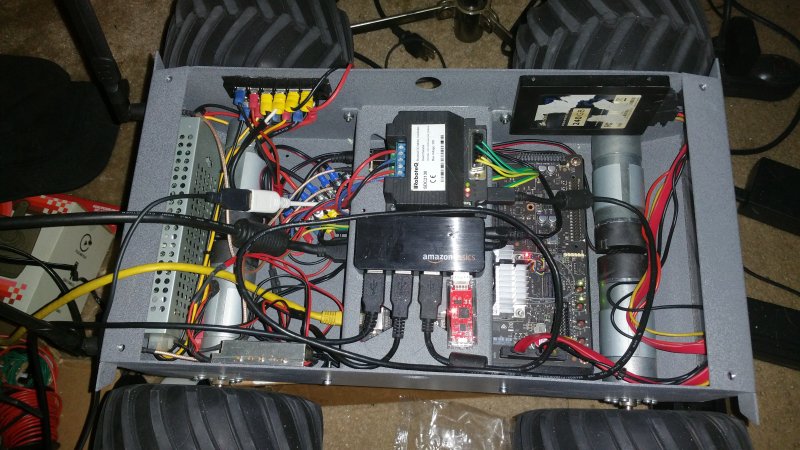 This is the latest version of the rover. Decided to buy a chassis. The other rover is still going as well. Might as well have two right
Almost a self-driver its a little stupid still but I'm working on it. Electronics include a nvidia TX2 Bosch imu Scanse lidar Stereolabs camera Here GPS. No radio this puppy works over wifi or long range radios 10km at the short end of the range. The two antenna on top are for those radios. 2 channel telemetry on one channel and I run dsm packets up the other for control
https://youtu.be/KynW_O0wfHg
Griz
---
Last edited by griz11; 01-18-2018 at

10:29 AM

.
02-04-2018, 10:44 PM
Tech Addict
No more radio
---
Operating on a ROS stack now. One step away from autonomous. I'm giving it commands via the wifi hot spot on the bot in this video. The keyboard method sucks as you will see in the vid. I hooked up my xbox controller for the next test. Used to using it maybe I won't wreck again
https://youtu.be/v32dUqqmvSM
Griz
Currently Active Users Viewing This Thread: 1
(0 members and 1 guests)
Posting Rules
You may not post new threads
You may not post replies
You may not post attachments
You may not edit your posts
---
HTML code is Off
---