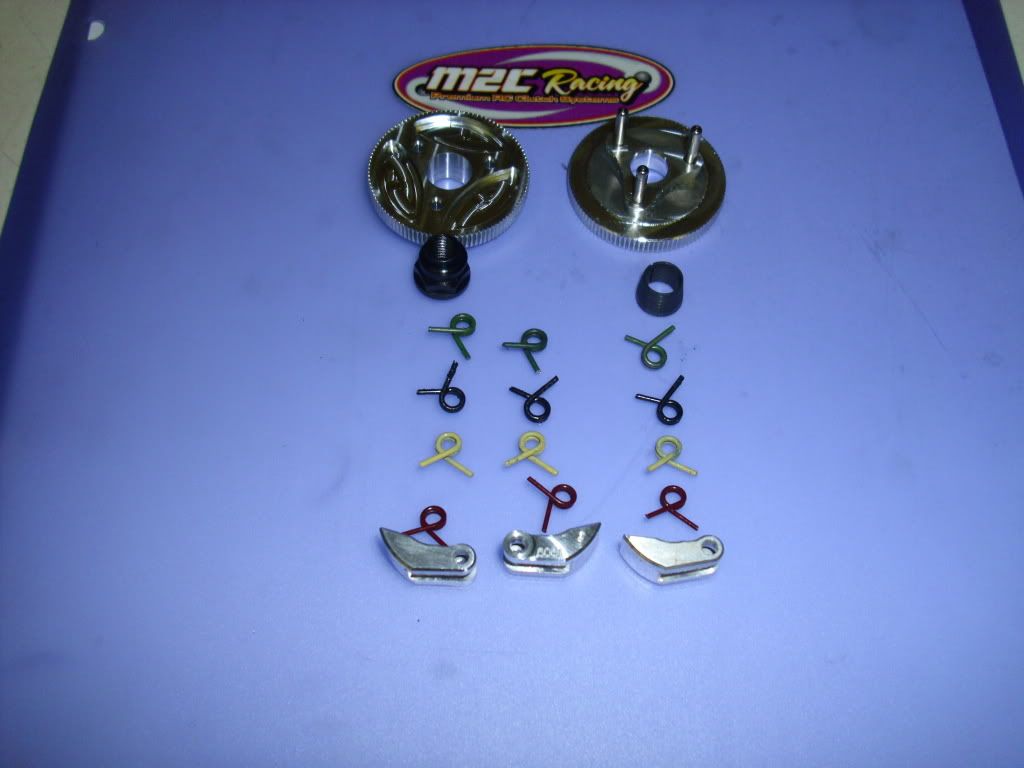 FOR THE GUYS WHO LIKE THE SNAP OF A 3 SHOE : M2C Racing is please to announce the release of our new super light universal 3 shoe 34mm clutch kit The flywheel fits all 1/8 scales including the losi. MADE OF 7075 T6 ALUMINUN FOR LONG LIFE AND T HARDENED TOOL STEEL PINS. AVERAGE pin LIFE 6 TO 12 GALLONS
the flywheel wieghs 10.0 grams as compared with mugen 13.0 Kyosho 16.7 ofna 14.7.
What this will do is allow the motor to spool up faster in the technical sections of the track and be able to get to the power band much quicker. This system is a really big asset for the motors with a weaker bottom end such as the V-Spec Reedy, and Platnuims Or the guys who run 3 port motors.
The solid face clutch shoes is designed to fit all 1/8 scale flywheels except Jammin(different bolt pattern pin bolt circle) and Kysoho (different diamenter pins) but can be drilled to fit). flywheel Associated will require clutch nut (part no. 8005)
Clutch shoes come in soft,(part no. 3051) medium (part no. 3052) and hard (part no. 3053) compounds and comes with (3) 1.0 springs(part no.9002) and (3) .95 springs (part no.(9001) price $24.00. ( that's $5.00 cheaper than most clutch and springs combo) and no more broken springs to worry about. We have had only 1 unconfirmed report of a broken spring in 4 years.
Kit 8050 incudes: price $55.00 1 flwyheel (part no. 8055) 1 set Medium shoes(part no. 8052) 3 .9 spring(part no.9000) 3 .95 springs( part no. 9001) 3 1.0 springs (part no. 9002) 3 1.05 spring (part no. 9003)