Cruizin With RC's Hobbystore & Raceway Waldwick, NJ
11-14-2013, 06:19 AM
Cruizin With RC's Hobbystore & Raceway Waldwick, NJ
---
Welcome to the long awaited Cruizin With RC's Raceway & Hobby Store thread!!!
Northern NJ has been waiting for a local track to race and practice at will and now we have provided that.
Cruizin With RC's is know for its large parts inventory and now we have with two tracks premise:
-Indoor Carpet (40' x 20') - With Pits, Power, Bathroom, & Food.
-Outdoor 1/10th only Offroad Track (105' x 45') top soil dirt.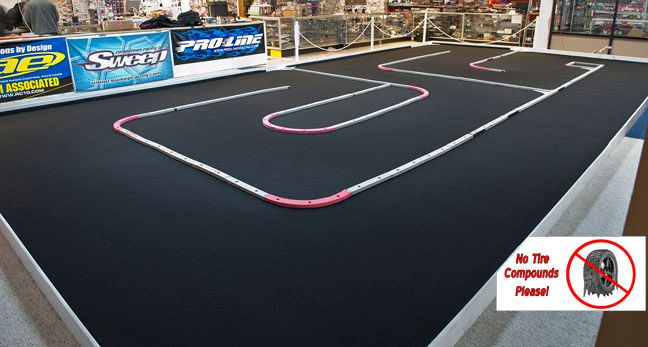 Address:
Cruizin With RC's
10 Franklin Tpke
Waldwick, NJ 07463
201-445-8080
Directions:
http://cruizinrc.com/pages/directions.html
Route 17 north to Hollywood ave exit on right.
Follow exit to the very first left, this will turn you to go over route 17 on Hollywood ave.
Stay on Hollywood ave for .75 miles to Franklin turnpike at the top of the hill.
Make a right onto Franklin Turnpike
In 1/2 mile, look for "Nellies" restaurant on right.
Just after Nellies, turn left into driveway on left. (last left before the traffic light)
Proceed to small strip center in rear, Cruizin with RC's is located on the inside corner of the stores. Outdoor track is covered in parking garage underneath building.
GPS co-ordinates - N41°0.5142, W074°7.11852
Hours of Operation:
Monday - Thursday: 12pm-7pm
Friday: 12pm-6pm
Saturday: 12pm-7pm
Sunday: 12pm-3pm
(Always call in because we never go home...)
Racing on:
Wednesday Nights track opens 4pm racing starts 8pm-Finish
Saturdays: Track opens at 1pm racing at 4PM-Finish
Call if your late we can put you in....
Classes, Rules & Events (TBA)
Race & Practice fees:
$20 1st class
$10 Every other
Practice $10 half day $20 full day.
Spring/Summer Race Schedule:
https://www.facebook.com/permalink.p...d=305564619490
The hobby store is always stocked with every popular RC products and we strive to always have the new manufacturers.
We always try to have in-stock RTR Cars, Kits, Rims and Rubber, Lipos, Motors/ESCs, Servos, Fuel, Chargers, Hop-ups, Glues, Paints, mags etc.
Anything you need that we don't have can be ordered and in-stock in 3 days just remember to pick up in a timely fashion. Support your Local Hobby Stores in the area don't buy online this will help the shop and facility grow as a whole.
The purpose of this thread is to discuss the race track, hobby store, events and to discuss specifics about classes and to share setup information such as suspension, tires etc.
This thread is NOT intended as a place to air or vent dissatisfaction about what happened in a certain race or someone's dissatisfaction over an event, fellow racer or manufacturer. Cruizin With RC's is a Hobby Store and Raceway business and as such any post that violates these guidelines or puts the store or its owners in any negative public light will not be tolerated and will be reported to the moderators of rctech.
---
Last edited by xrayrc; 03-27-2014 at

01:47 PM

. Reason: race days and times...
11-14-2013, 06:19 AM
---
reserved for class info/rules....
11-14-2013, 06:23 AM
Tech Elite
Join Date: Nov 2007
Location: Dirty Jersey
Posts: 4,060
---
Great news Steve and Ron. Can't wait to run offroad
11-14-2013, 06:24 AM
Tech Master
Join Date: Jun 2009
Location: Middletown, NY
Posts: 1,658
---
Great job guys. Let's race
11-14-2013, 06:24 AM
Tech Addict
Join Date: Jun 2013
Location: Upper Makefield, PA
Posts: 691
---
Congrats Ron and Steve! Great work guys, can't wait to race!
11-14-2013, 06:29 AM
---
thanks guys its been a long time coming and tons of hardwork but we are here for the long haul now who's racing Saturday.... :-)
11-14-2013, 06:33 AM
Tech Master
Join Date: Feb 2010
Location: Valley Cottage NY
Posts: 1,984
---
Sweet, cant wait to race. Great job guys
11-14-2013, 06:42 AM
Tech Adept
Join Date: Jun 2011
Posts: 168
---
Looks great! Can't wait to race!
11-14-2013, 06:44 AM
---
Congrats to Ron! This is a long time Dream for him realized. Congrats to Steve help getting it done, even with the many hoops to jump through they got us a track in bergen county!
Gunna be a great time!
11-14-2013, 06:58 AM
---
This is great news! Awesome to have a track 20min away. Subscribing to this thread.
11-14-2013, 07:00 AM
---
Congrats Cruzin Crew the Rc gods answered me finally..looking forward to racing there cya soon..
11-14-2013, 07:08 AM
---
Sweet mama!! Way to go Stevie and Ron. Can't wait to come up and check it out! See ya soon!
11-14-2013, 07:31 AM
Tech Regular
Join Date: Jan 2010
Location: NJ
Posts: 429
---
nice.. congrats
11-14-2013, 07:46 AM
---
---
Last edited by Grandturk; 11-14-2013 at

07:56 AM

.