Road Rage vs Dirt Hawg for a MERV on the Street
12-25-2015, 10:30 PM
Road Rage vs Dirt Hawg for a MERV on the Street
---
I'm looking at some more "Street" tires for my Basher MERV. I want more grip for wheelies on Pavement than the stock wheels provide. Stock are okay when the pavement is hot but horrid when its not.

Not really a huge world of choice, I've narrowed it down to Road Rage & Dirt Hawgs. The Road Rage seem obvious but the Dirt Hawgs name doesn't suggest "Street" but they honestly look more Street then Dirt, & from what I hear they do well on the Street so here I am.

I'm looking at the 2 either on Desperados or Titus Beadlocks.

The Titus look better but that metal beadlock is heavy. The truck has a SV3 & 4 pole 2850 4450kv motor & Twin MA 3s batteries in Parallel, I'm hoping the weight won't be an issue I'm usually 105 ESC & 135 Motor bashing and speed running with the SV3 & Velineon, new motors still in shipping.

I want more wheelie grip and less wheel spin. Anybody have experience with the 2? Do you think the extra weight of the Titus will be a big deal?
12-30-2015, 07:21 PM
Tech Elite
Join Date: Nov 2006
Location: New Jersey
Posts: 4,547
---
I don't know whether it will be a "big deal" for your setup but one thing I am sure of: the additional weight of the Titus will make wheelies easier.
12-30-2015, 08:07 PM
---
Thanks for the input. In the end I opted for RPM revolver 2.2 Crawler Wide Stance rims with Road Rage 2.2 Buggy Editions. I have a set of reverse nuts to mount the wheels, should add an inch or so to the overall stance, lil bit higher stance ought to shift up the CG a bit to help wheelies.
Unfortunately tho Montreal got blanketed with Snow and there is no grip on snow, slush & ice. So I got to wait for things to clear up a bit.
I also have a Proline SV Raptor lid on the way I hope goes well with the new wheels and tires.
At these temps and conditions I realize Road Rage or Dirt Hawgs don't matter, Badlands would probably be the best, but hard to say. I might just have to make due with the Talons till summer lets me run the Road Rage right.
What do people use in these terrible conditions?
---
Last edited by Rac3rX; 12-31-2015 at

05:58 AM

.
01-08-2016, 02:35 PM
---
Got the RPM Revolver Crawler Wheels and Proline Road Rage Buggy tires in today.
I Gorilla tape Belted them, did a tripple breather hole set up on the wheels and mounted them up.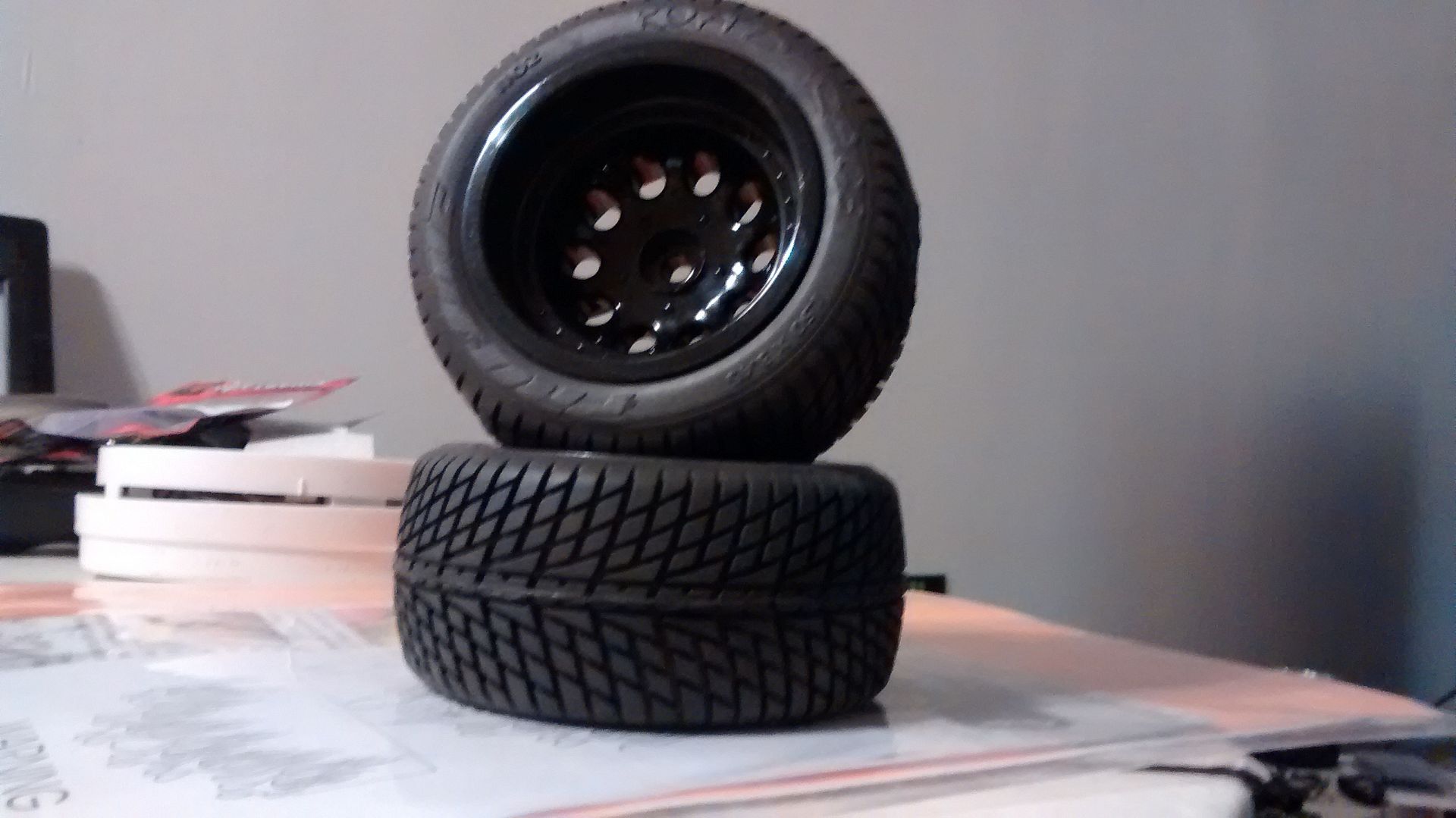 I didn't receive the SV Raptor lid yet, but should be in next week. That should complete the new look with the new wheels & tires.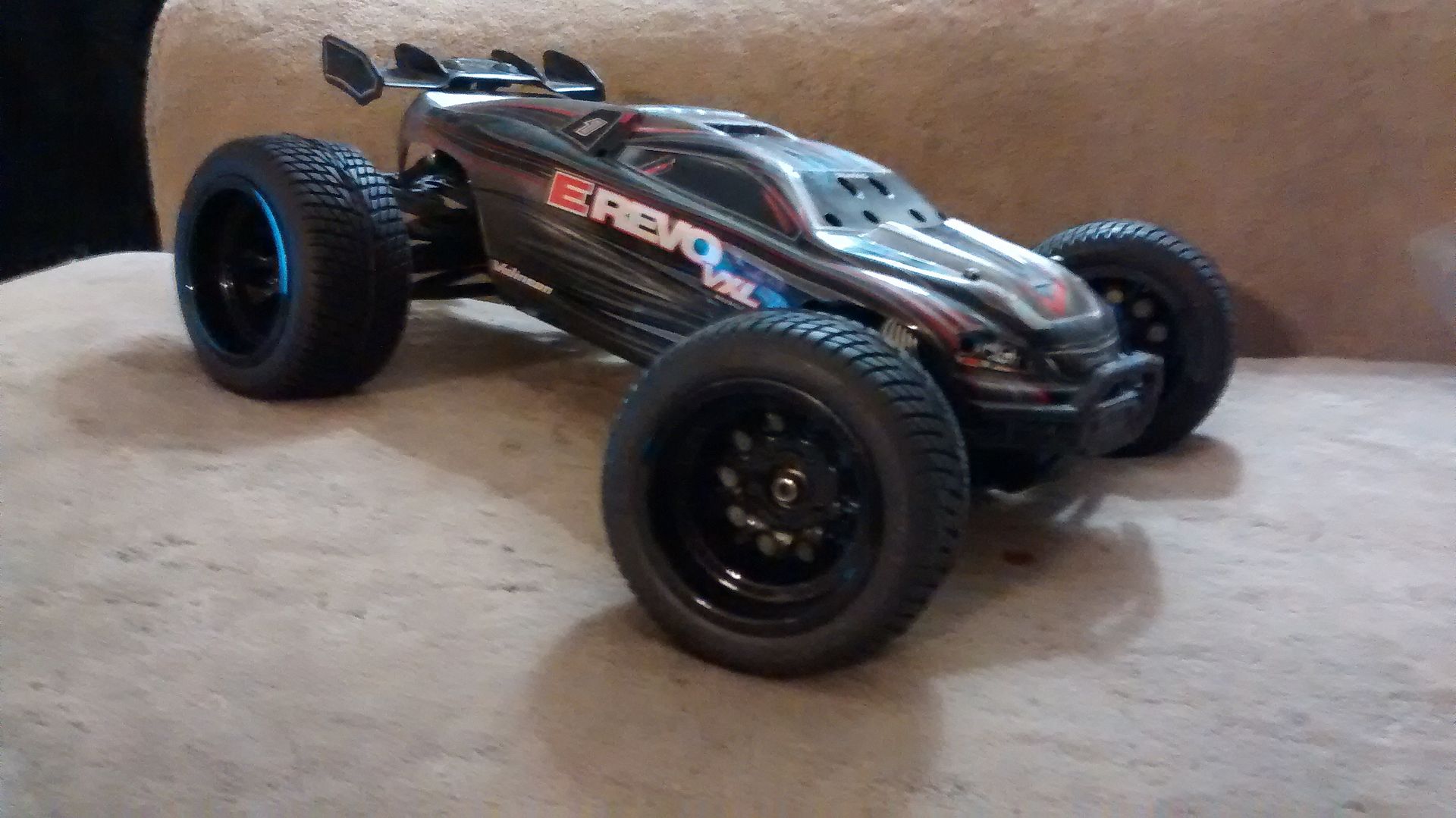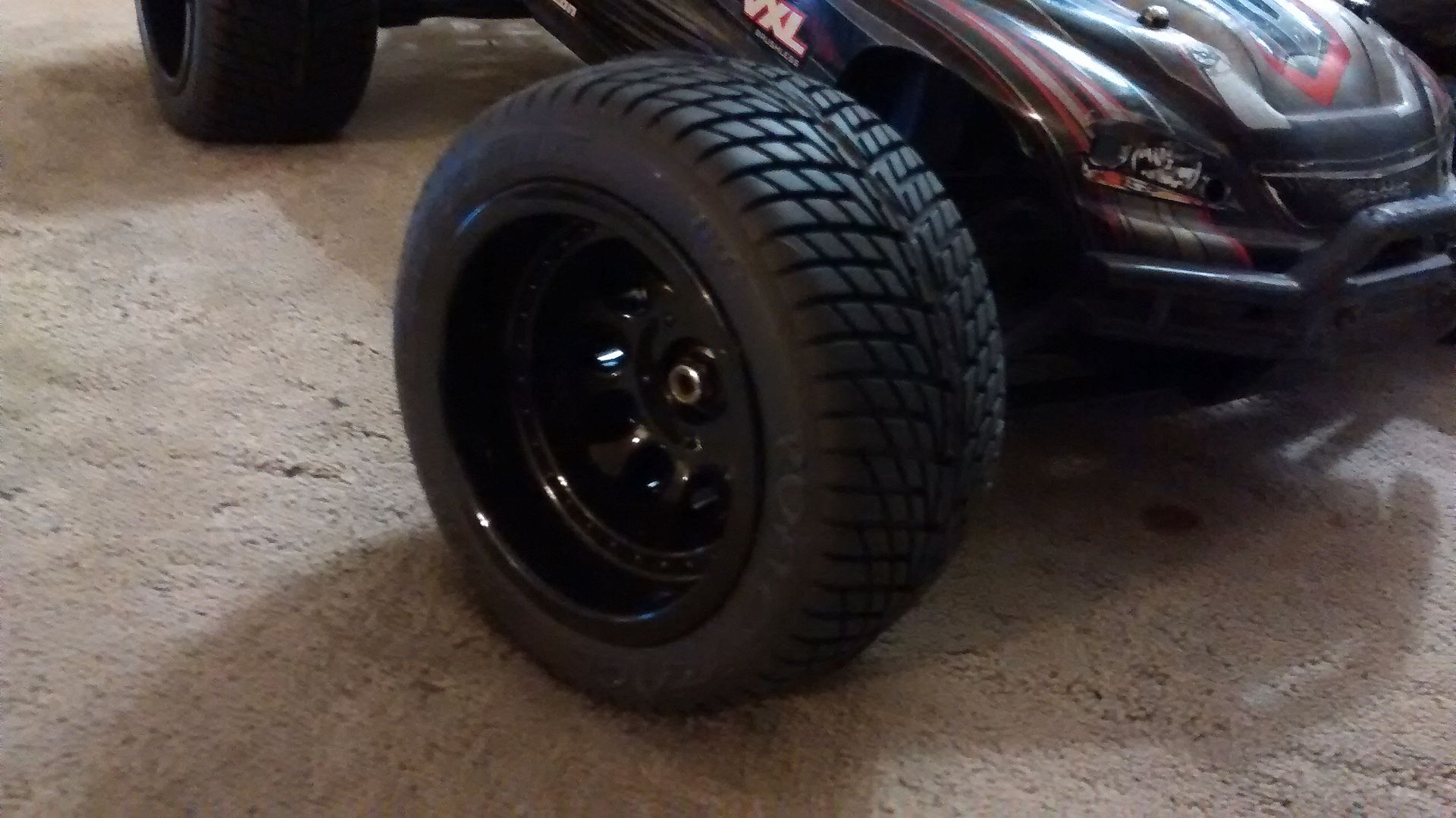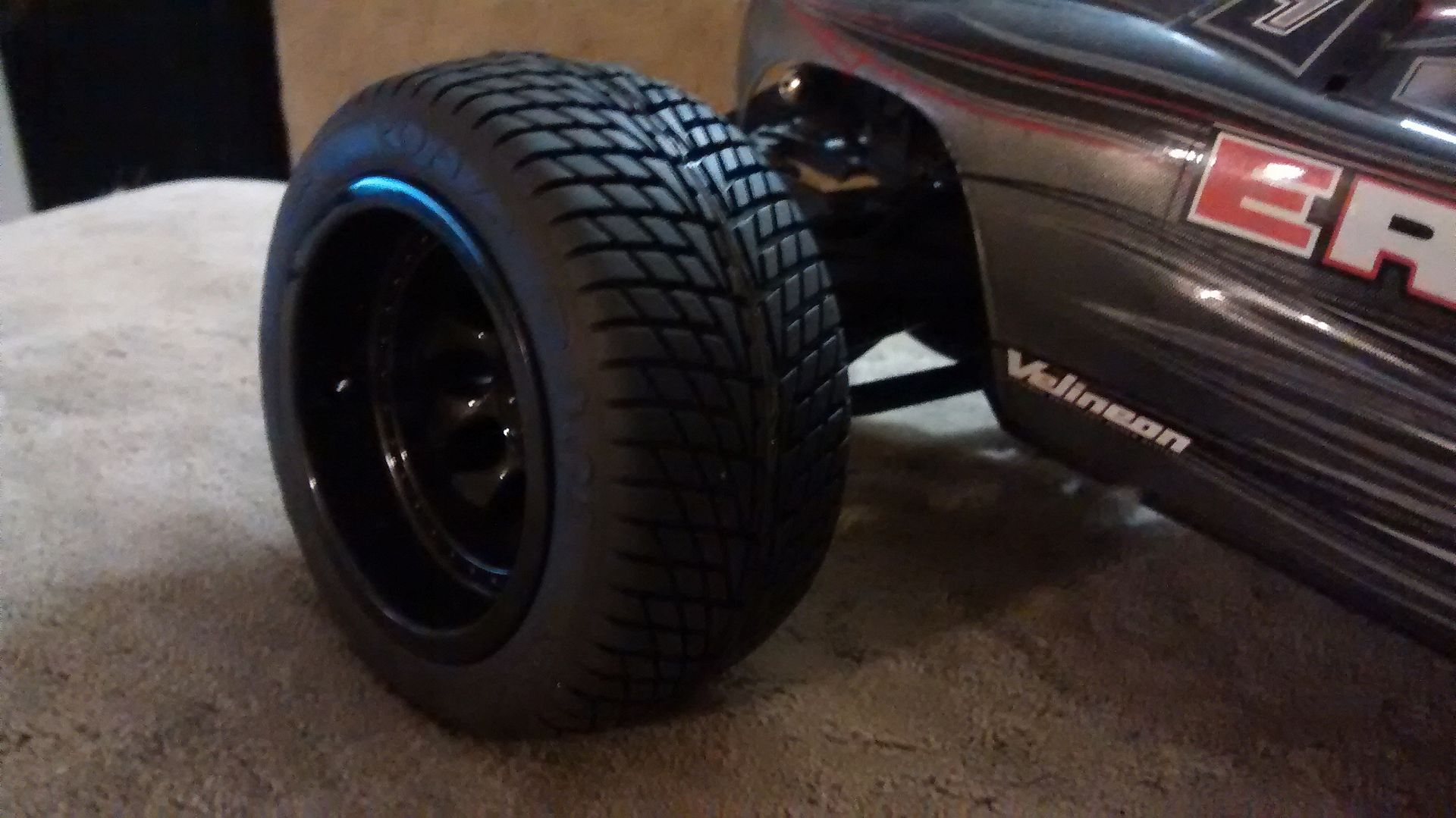 Nice wide stance, larger OD, deep dish and just look sick. I still need my special nuts to mount them up right, hopefully they come early next week. I can mount them but wouldn't be smart to run the kit with the lug nuts only holding by a thread. The wheels are made for crawlers with a much longer axle to thread onto. The nuts I ordered are reversed and sink the nut over the axle when all tight it will all spin as one, the wheel will sit on the nut kinda.
Currently Active Users Viewing This Thread: 1
(0 members and 1 guests)
Posting Rules
You may not post new threads
You may not post replies
You may not post attachments
You may not edit your posts
---
HTML code is Off
---