Atsushi Hara Leaving HB-HPI
08-18-2013, 04:00 PM
Tech Champion
Join Date: Aug 2002
Location: Oxnard, CA
Posts: 6,120
---
08-18-2013, 06:48 PM
---
Yokomo/KM Racing. although I don't think that would happen...it still lacks off-road 1/8th scale but maybe Yokomo is working on one of those....

Ok I pinched myself.
I think Xray/Kyosho is the only place that makes sense regarding classes. If Kyosho is coming out with a new TC I could see that being the jump.

After doing some research Yokomo/Mugen would be a perfect fit......
---
Last edited by NolanP; 08-18-2013 at

07:57 PM

.
08-18-2013, 07:13 PM
---
08-18-2013, 09:58 PM
Tech Master
Join Date: Feb 2005
Location: Texas Baby
Posts: 1,730
---
Hara is a super well known and popular in the community so it no surprise to see him having dinner with his peers.
Money talks and based on Hara's trip to the final round of the ETS held at Hudy Arena it's shouting. Hara also drove Martin Hudy's prototype T4 around the track. THAT speaks volumes.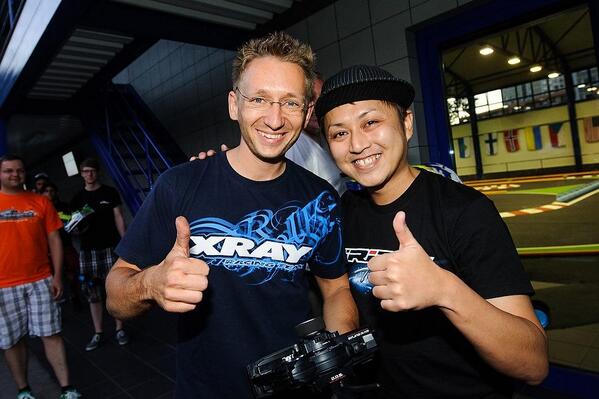 08-19-2013, 12:27 AM
---
It's an interesting move, if anything leaving a contract like that could suggest a few things, one could be Hotbodies/HPI is choosing to move in a different direction, giving both parties the 'out' as such, the other being a loss of market share, also meaning both parties have an out (can't afford him anymore?).

As to where he will end up, based on what I read about Xray, it would seem a strange fit, but the lure of good product is strong, and support in all the classes he may want to run in.

TA?, maybe, behind the rest on development, could be a quick catch up method, maybe.
Serpent?, the product is there, they may also want some more talent in certain areas.

Then it's a case of will he duel sign to get the cross coverage he wants, my bet there could be Durango and Mugen, but then who really knows, I guess it's a case of what he is looking for.
08-19-2013, 12:35 AM
---
Yeah, pretty obvious after HPI/Hot Bodies had financial issues earlier this year. If its anything like a broken F1 contract, they probably made a one time settlement with Hara to break the contract and allow him free reign to sign with another company. I'm sure there is a clause in there in the event that the company bellies up or Hara is injured, etc.
08-20-2013, 08:04 AM
Tech Elite
Join Date: Jun 2010
Location: Southern California
Posts: 2,167
---
Mugen? That's disappointing. Hopefully not his final deal and this is just a fill in.
08-20-2013, 10:27 AM
Tech Addict
Join Date: May 2006
Location: Portugal
Posts: 586
---
Post from Masami at is own FB page:

Atsushi bought Muden car for Off-road and Tamiya car for On-road for this race.
08-20-2013, 11:01 AM
Tech Master
Join Date: Sep 2005
Location: St. Pete
Posts: 1,174
---
Call me crazy but for one I really highly doubt hara "bought" anything. And for 2 seeing hara in a tamiya is not really unexpected for me... being a japanese native*yes I know he has american citizenship* thats where his heart is and I bet he wanted to keep whatever car he ran under a japanese manufacturer.