1/10 R/C F1's...Pics, Discussions, Whatever...
10-20-2008, 11:33 AM
Tech Addict
1/10 R/C F1's...Pics, Discussions, Whatever...
---
1/10 R/C F1ísÖPics, Discussions, Whatever.
Recently Iíve been working on allot of older Tamiya F1 kits. Iíve been posting up pics showing the progress at various stages of the build. A few people have emailed and pmíd me about how I do it. Where I get parts, decals, bodyís etc, etc.
SoÖ I have been toying with the idea of starting this thread for sometime. I know there are independent threads for almost everything out there, but I thought it would be nice to start a fresh one that includes all F1ís. Iím hoping people will post up some pics of their car(s). It can be any manufacture and any year (Tamiya F101, 102 103, F201, Kyosho, MLP, CROSS whatever). Iíd love to see what others have done or are doing with their cars and car bodies. Feel free to post up pics and discuss whatís new, what you like, dislike, or would love to see. This is a thread dedicated to the 1/10 F1 cars of the world, their owners and their fans. I know Iím not the only one out here carrying this passion. I encourage everyone that has an F1 or is a fan of F1ís to participate.
This is one of the cars Iíve recently finished. Itís a Tamiya F103RM with a few hop-ups. I used a Tamiya Williams FW-18 body kit and two aftermarket sticker sheets through D-Drive to get it where itís at. I still have a few more little touches Iíd like to add, but itís done for the most part.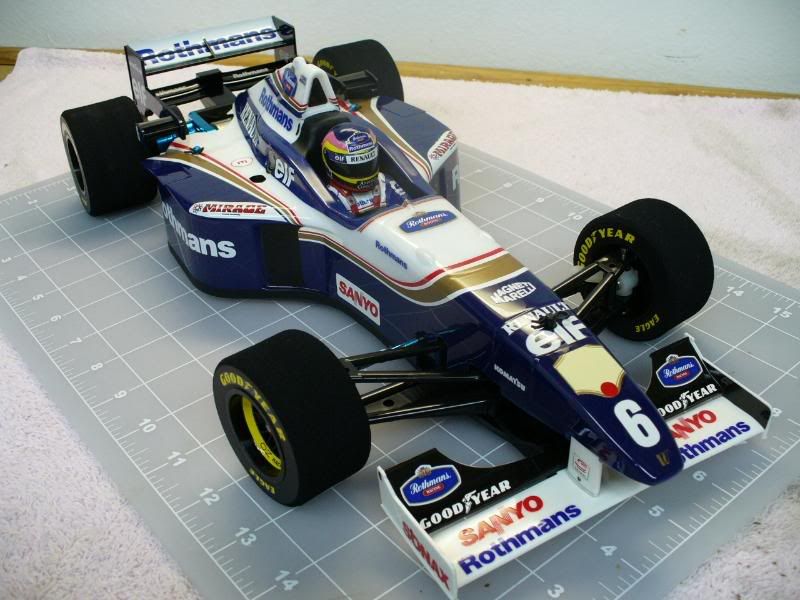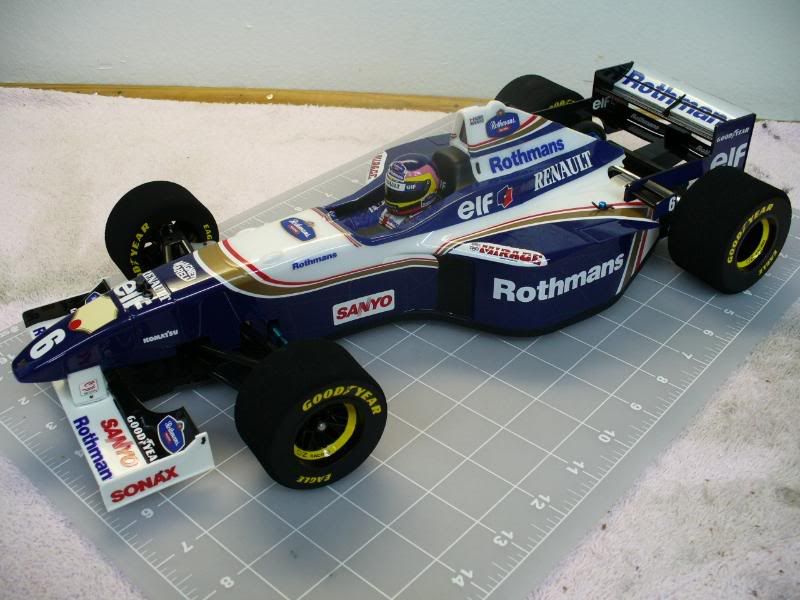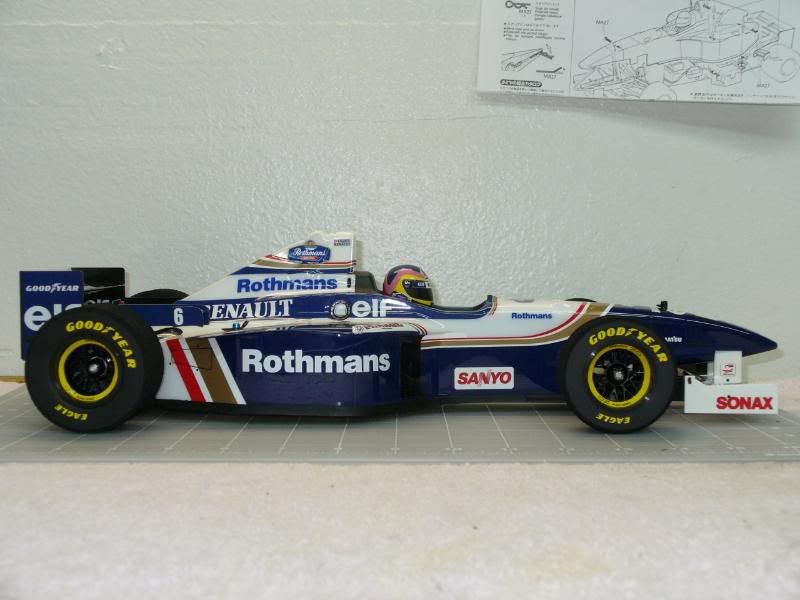 10-20-2008, 12:33 PM
Tech Addict
---
For those that asked, I've decided to give the detailing (loosely used phrase) play by play a shot.
The stuff I use when I'm working on stickering a body. I use a bottle of rubbing alcohol to clean off the finger prints and any oil on the outside of the body, wings, and tires. This really helps the stickers stick. After I wipe it down with alcohol I re-wipe it with a clean microfiber towel. Then it's ready. I also use quetips for applying the stickers in the areas my fat fingers can't reach. Masking tape if I need to paint a nice straight line on the outside or inside before painting. Various tools for building and installing parts. I use allot of exacto blades. I think I went through about a dozen with the Williams FW-18. It's important to keep a sharp blade so you don't tare the sticker, plus it cuts like butter. A couple of very soft tipped paint brushes, one wide and one small. A Sharpe, glue, paint (what ever color is needed, a small metal ruler (this really helps to cut those straight lines), paint thinner. On this note I strongly suggest you use the Testors 1148 thinner. It's safe with lexan (it wont fog or crack it) and cleans the brush easily. And finally get a cutting mat or board. Keep it clean and it will work like a charm and wont dull your Exacto blades. That's basically all the stuff I use. Now onto the Sauber.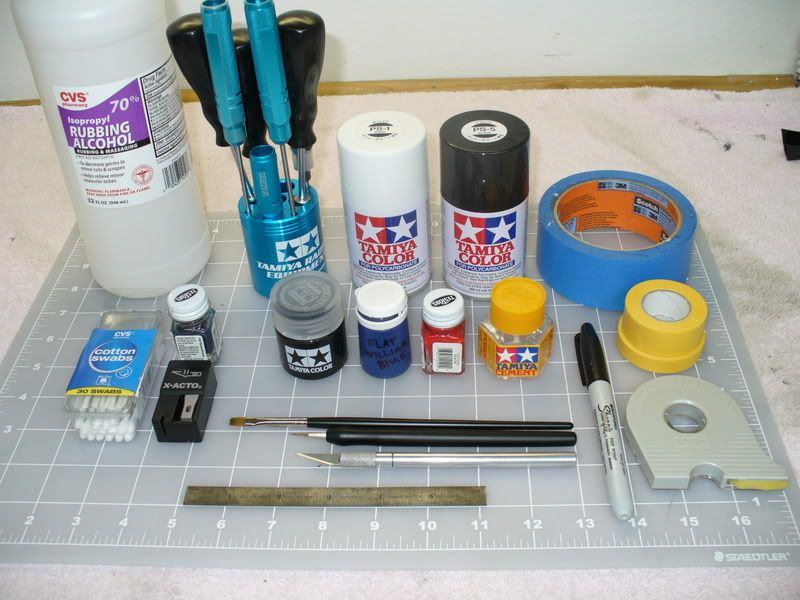 The Tamiya Sauber C12 Part# 50523
Before I started painting I cut the body out to ensure the right fit. I start here to so I can see through the body to the chassis incase I have interference problems with wires and stuff. To me it's easier to indentify problems and make what ever adjustments are necessary. I use lexan scissors and an exacto knife. The knife works well when you're trimming the nose and rear of the car. Just score it on the lines and wiggle back and fourth to remove. Some people prefer to paint first then trim the body. I've never had much luck with this method. I always end up scratching the paint.
Once the body is trimmed I wash it out with soap and water to remove any oils or particles that might keep the paint from sticking. Then I tape off the outside of the body so it doesn't get covered with overspray. If I get any bleeds it's easy to fix with the Testors 1148 Thinner.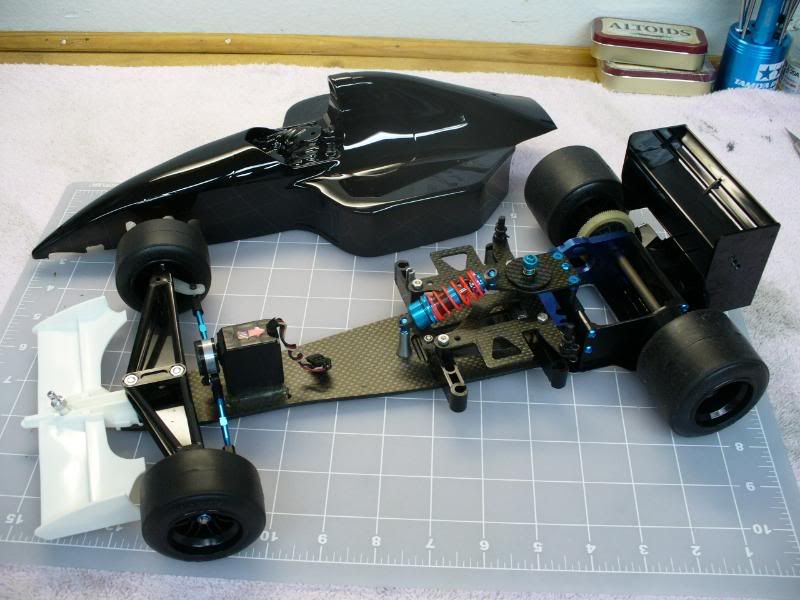 After the paints had time to dry I wiped the car down with rubbing alcohol. Since I'm starting with the interior I gave it a little extra attention. Once I was done with that I gave it one more wipe down with a clean micro fiber towel. Now it's ready to be painted on the outside. I used some flat blue paint I mixed up a long time ago to match the blue of the Williams cars. I used the wide paint brush to get the driver suit with the first coat of paint. I let it sit about an hour then reapplied a second coat.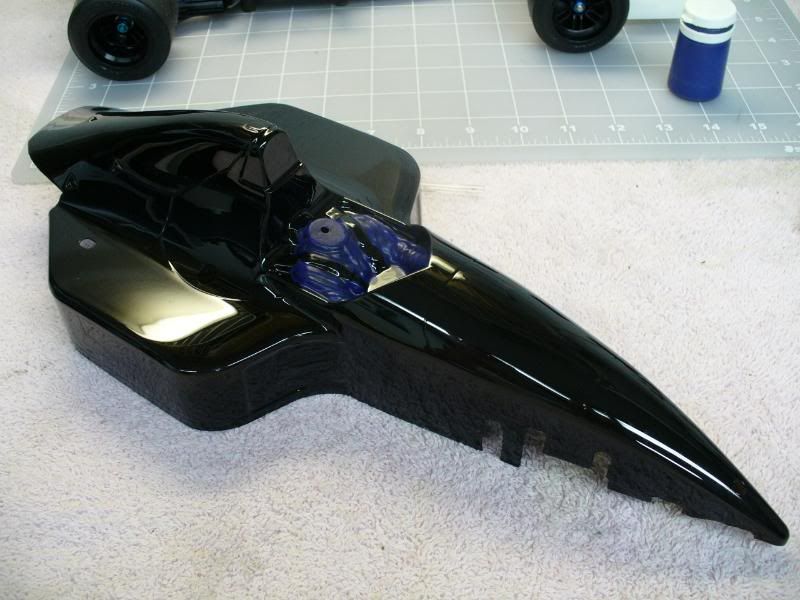 Then I moved to the front wing. Since the wing is white and the body is black I've never liked the way you can see the underside of the wing below the A-arm, where it mounts to the chassis, and below the front nose-overhang. You can see the white in the pics below. I used Testors Model Master Flat Black and my wide brush again to apply the paint.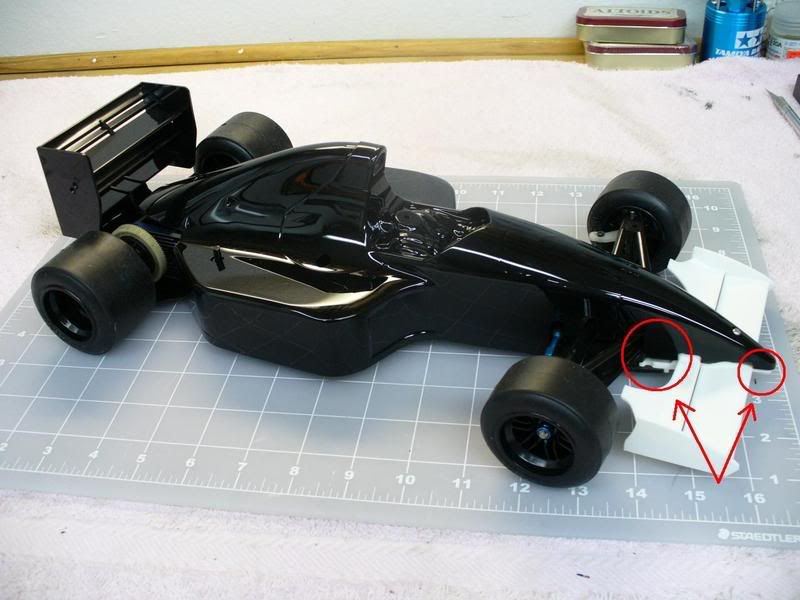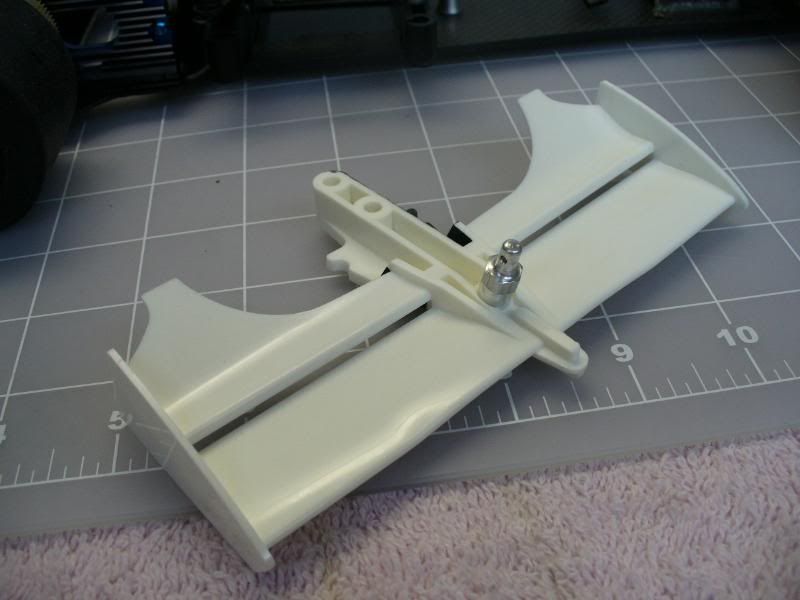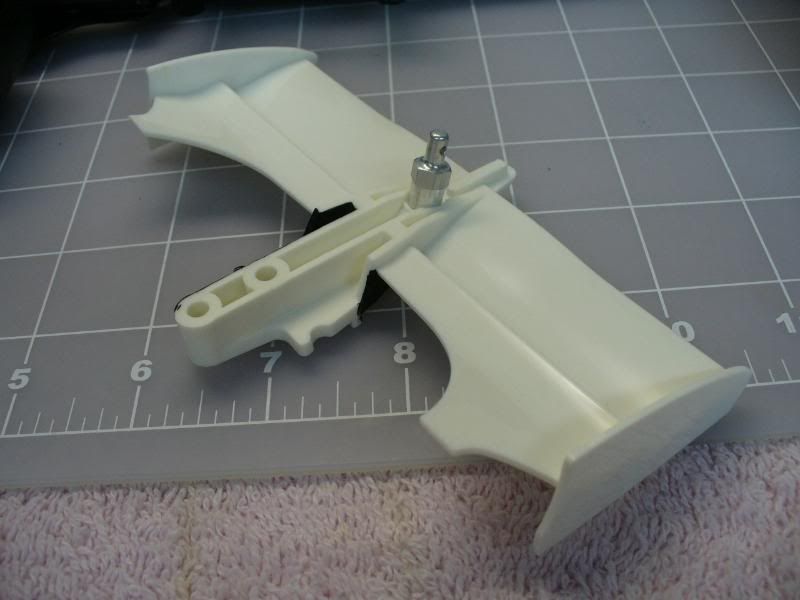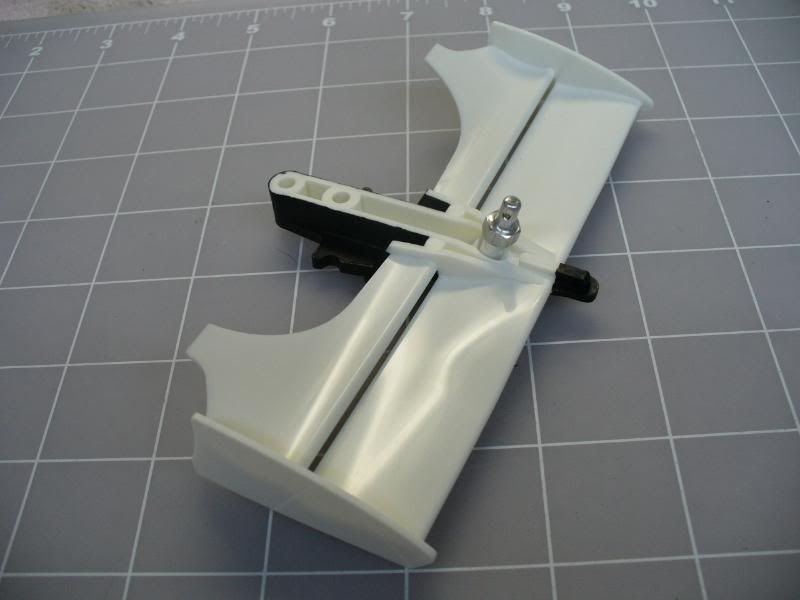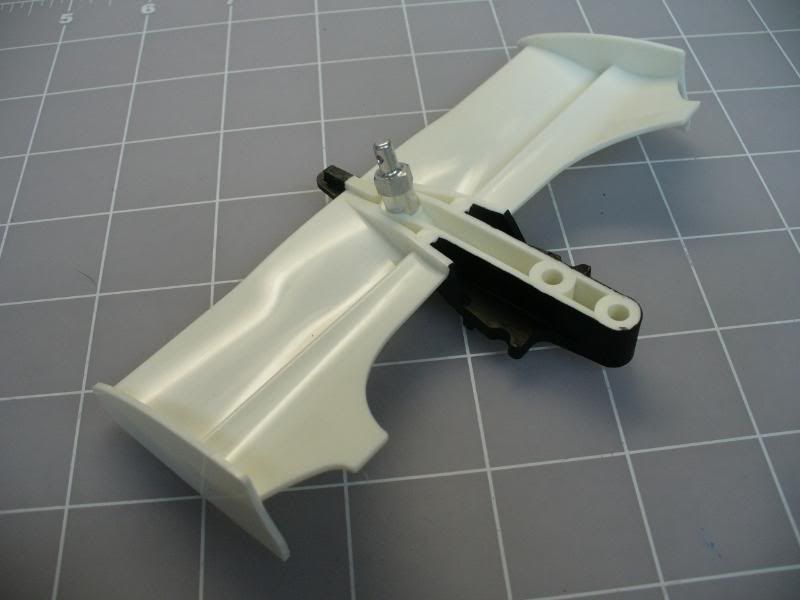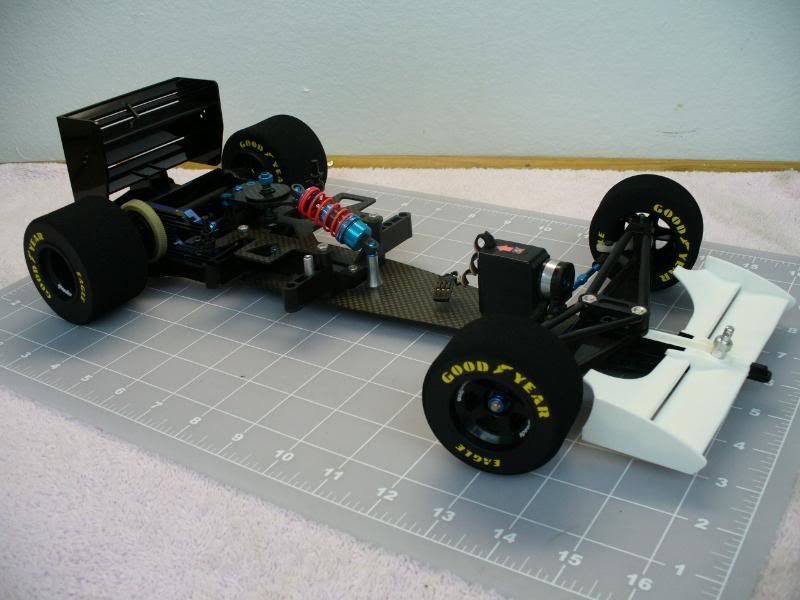 And with the front wing painted with a little flat black the white plastic dissapears...better looking in my opinion.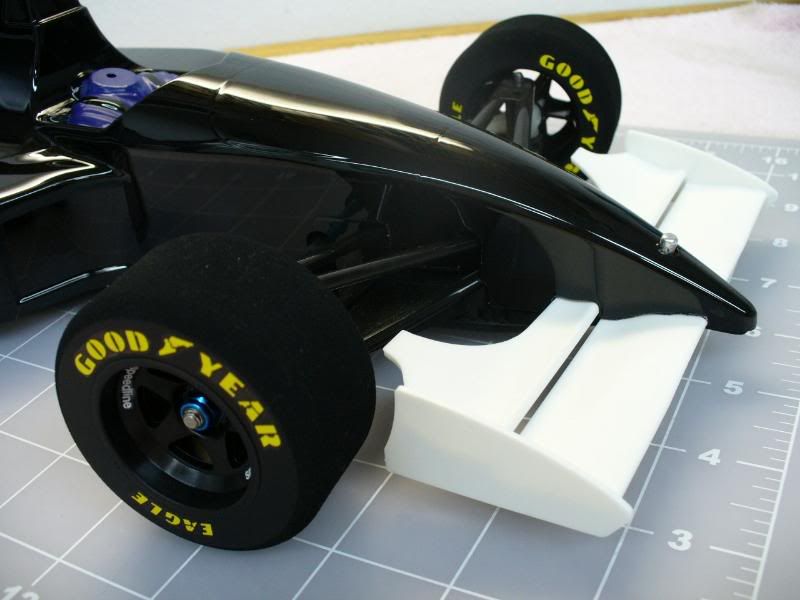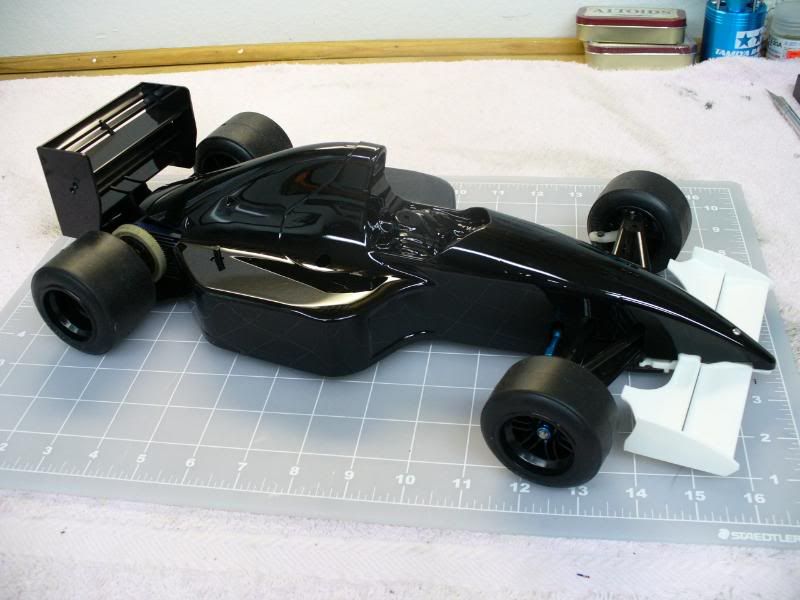 OK, since paint was drying all over the place I moved my attention to the wheels and tires. As I mentioned earlier I wipe them down really well with rubbing alcohol. The side walls seem to have a little dust on them, probably something to help them release from a mold. What ever it is it keeps the stickers from sticking. I always try to cut the decals as close as I can to the edge of the print. This helps them sort of disapear and you don't get that "decal line". That always bugs me.
Keep in mind I said I try to cut it as close as I can. At my age my eyes aren't what they use to be. When I saw this pic of the sticker on the tip of the blade I was like "DAMN! that was close". I use the tip of the blade to lightly apply it to the wheel. Since I didn't press it down I can move it where I need to, carefully.
Then once it's in place I use a Quetip to press it on. I press in the middle and wipe outwards, this keeps the fuzz from the Quetip from getting under the sticker. From here I cut and applied the Goodyear stickers on both sides of the tires. I chose to use the F1 tire sticker sheet from D-Drive instead of the kit supplied stickers. Because there's no white backing, the Tamiya tire stickers aren't as yellow and actually look sort of green once on the tire. However the D-Drive stickers are bright yellow even on the tire, but, they don't have the same arch so I cut them out into three separate pieces and applied each of them separately to get the desired affect.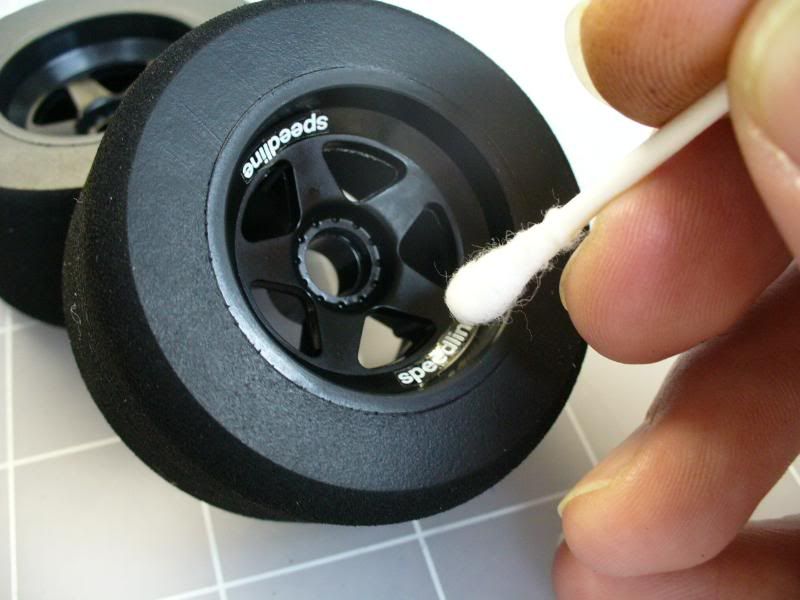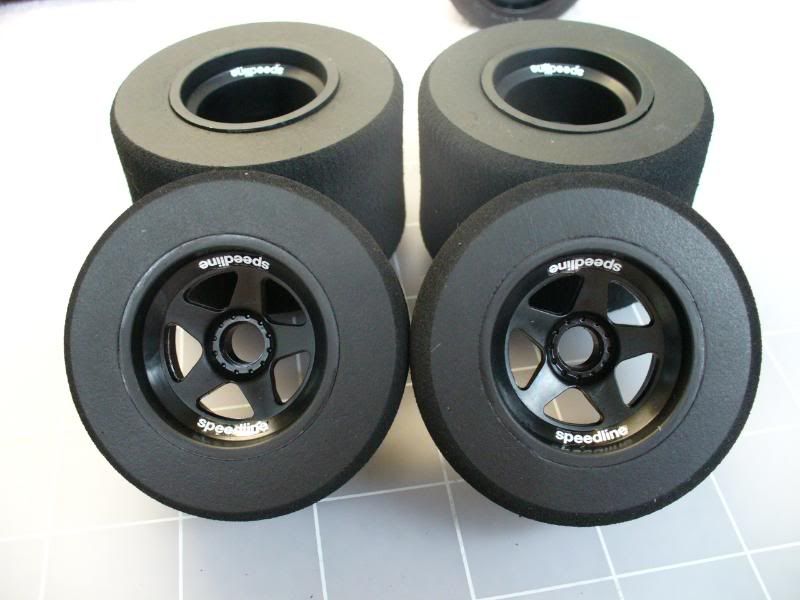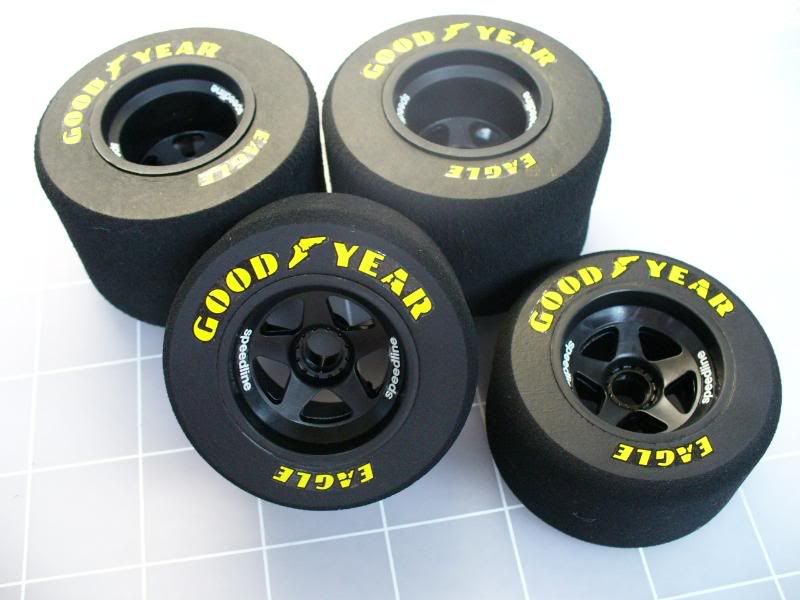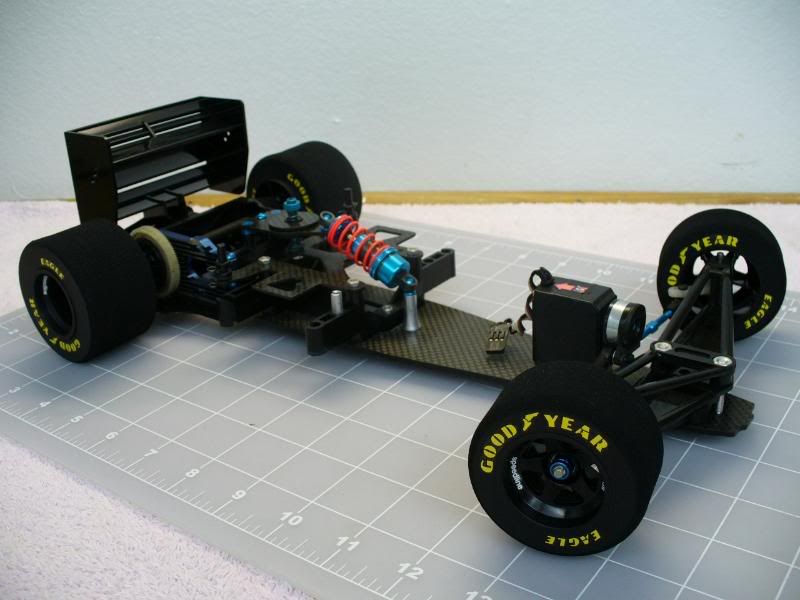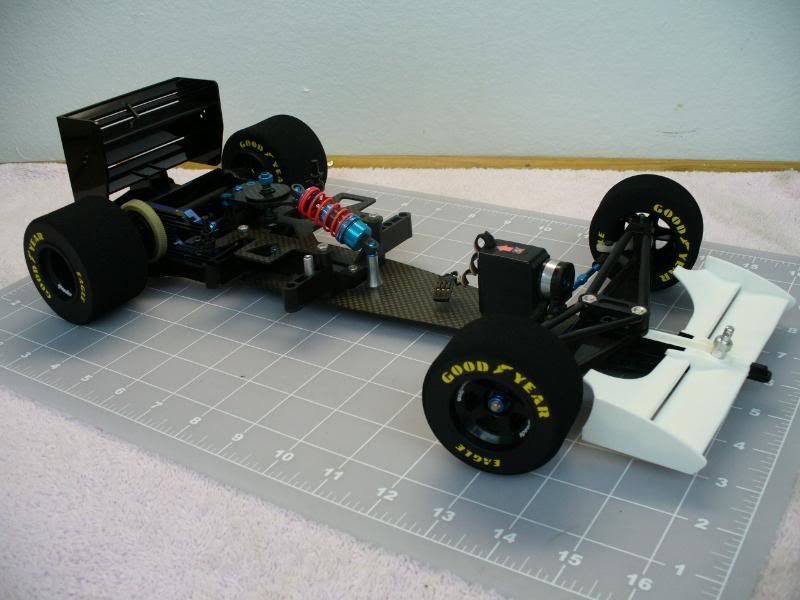 And that's all for now.
---
Last edited by Vyger; 10-20-2008 at

09:42 PM

.
10-21-2008, 11:46 AM
Tech Master
Join Date: May 2006
Location: SoCal
Posts: 1,021
---
Hey man, thanks for the tips! I always have a pain in the butt time trying to cut out the thin F1 bodies. I also noticed you had the tire decals on the inside and outside of the tire like a REAL tire would!
---
Last edited by AWK; 10-21-2008 at

12:47 PM

.
10-21-2008, 12:41 PM
Tech Regular
Join Date: Jun 2008
Location: Washington
Posts: 251
---
The Sauber looks nice, how are you going to paint the white portion of the rear wing?
10-21-2008, 12:52 PM
Tech Elite
Join Date: Mar 2005
Location: the archipelago
Posts: 3,095
---
i have this 'rotten' HPI F1 that sat in my storeroom until i pulled it out few months back.

would love to restore it, does anyone knows in any way if it shares the same parts with F103, i only know that the front/rear wings are direct fit. not sure with suspension arms...
10-21-2008, 12:53 PM
Tech Fanatic
Join Date: Sep 2007
Location: London
Posts: 931
---
Really amazing details on your cars! I love doing the same thing with Tamiya Plastic model cars.
10-21-2008, 02:18 PM
Tech Addict
---
Thank you guys!
I appreciate the feedback.
Regarding the rear wing and it's white portions. It's actually kinda easy. The kit supply's white decals, two small one's that will wrap the center elements and one large that wraps the top. They should lay down pretty easily once hit with a little heat. I'm gonna try to get back on it tonight, so I'll post up more pics.
Dodo, that a sweet little ride. I use to have one of those that I sold and I've regretted that decision ever since. As far as parts go. I haven't seen any. Iíve done a few searches on google and yahoo with minimal results. If I remember correctly the standard F103 frontend should work. But I'm not a 100% on that...maybe about 95%. I think the rear pod is standard 1/10 scale pan car. You should be able to use any associated RC10LSS parts for that and the T-plate.
I hope that helps and good luck.
10-21-2008, 02:19 PM
---
I used to own one of those... unfortunately only the wings and bodies are the only things from the F130 that are compatible. oh.. I think you might be able to swap out the front suspension.
if you want to sell yours... let me know..
10-21-2008, 02:39 PM
Tech Addict
Join Date: Dec 2002
Location: Planet earth
Posts: 535
---
Whow great new topic with helpful tips GREAT JOB,
10-21-2008, 03:07 PM
Tech Addict
10-21-2008, 03:17 PM
---
Hpi parts: Check Sheldon's Hobbies Ebay store, they have a lot of old HPI F1 stuff there. Part #'s help with searches, and HPI should still have the manual on line

The front end can be changed to F103 parts. You can drop the whole front end on there, the bolt and slot pattern is the same. Also, Blade makes a GT front bumper that fits F1 cars so you can run World GT bodies too.
10-21-2008, 08:11 PM
Tech Elite
Join Date: Mar 2005
Location: the archipelago
Posts: 3,095
---
thanks
i'll try the frontend, the rear pod is pretty much in good shape.
10-21-2008, 10:50 PM
Tech Addict
---
OK, I got some time tonight to throw some stickers on the Sauber. I thought I'd start with a clean picture of the car before any stickers get applied. I also decided to take it up a notch from the stock Tamiya supplied stickers.
This is the plain car with just paint.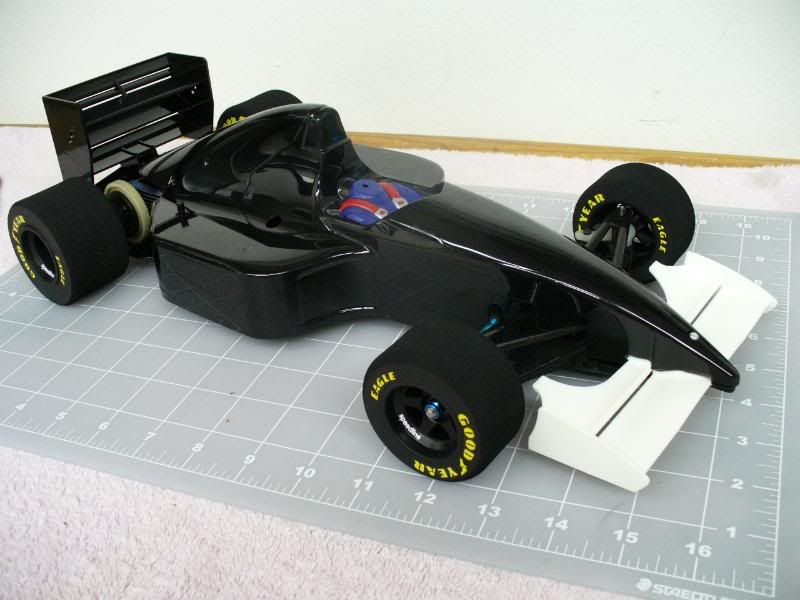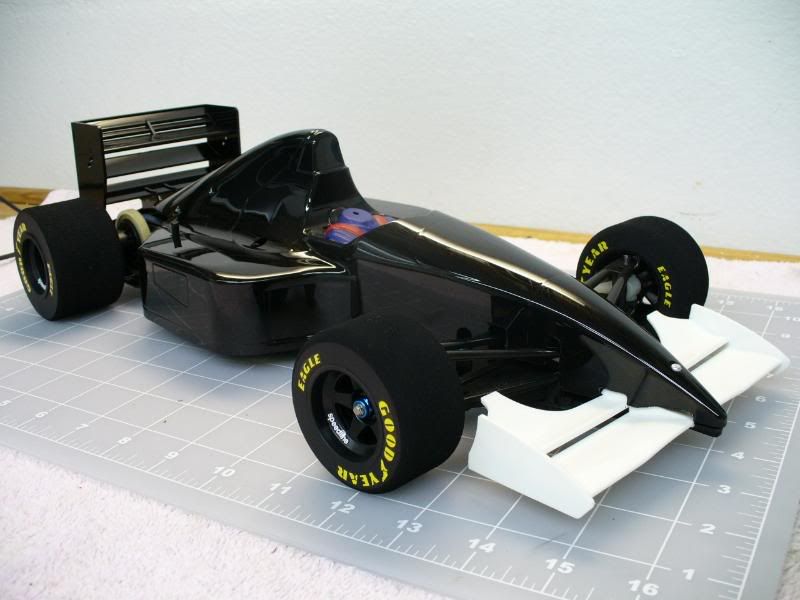 As I mentioned I decided to go a little extra so I opted out of the simple plain black stickers that go on the sides of the front wing. I picked up a sheet of Tamiya's new Carbon Fiber Pattern sticker sheet. It's not completely true to scale but it gets the point across and has a nice effect.
I used some rubbing alcohol to clean the wings off, removing any oils and fingerprints. To get this to work I pealed the backing up and laid each of the wings on its side and pressed down. I used the exacto knife to trim along the edges and cut to fit.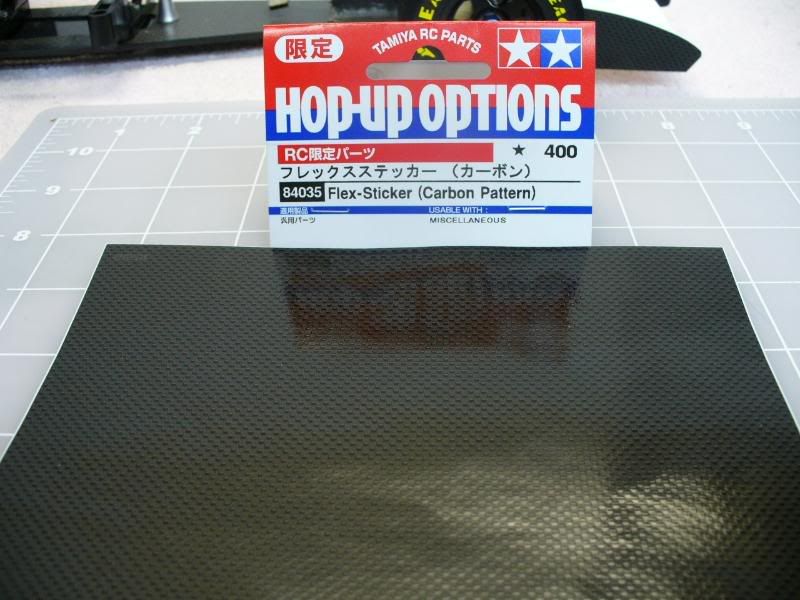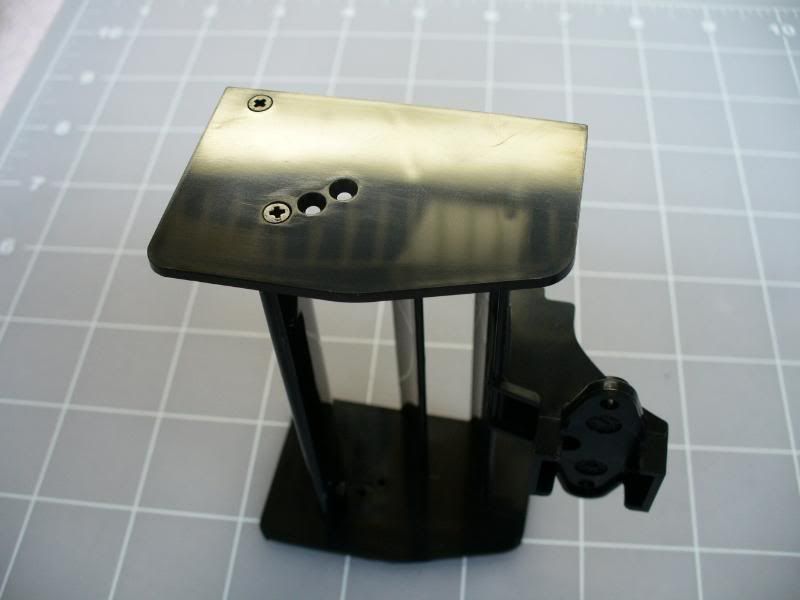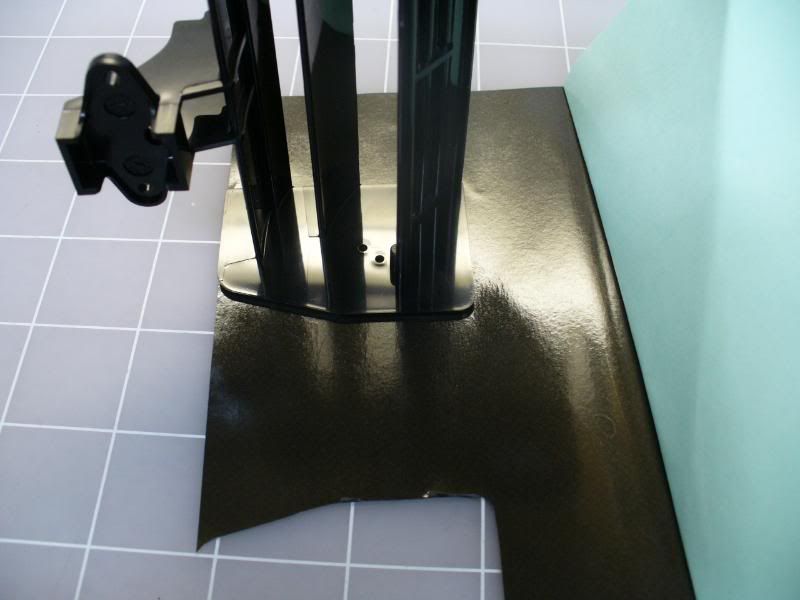 Because the rear wing is adjustable I cut an X pattern in the sticker once applied, then used a quetip to push the sticker in. This helps prevent the sticker from rumpling up when the screws get tightened.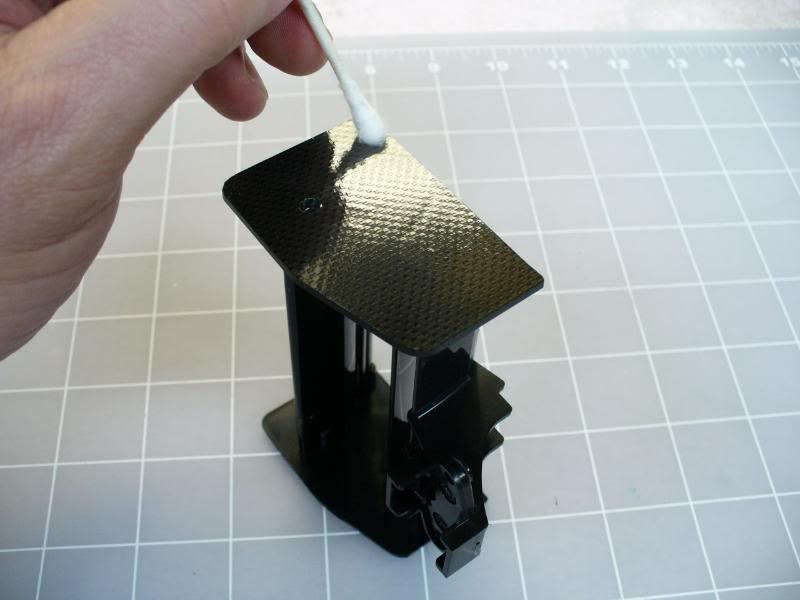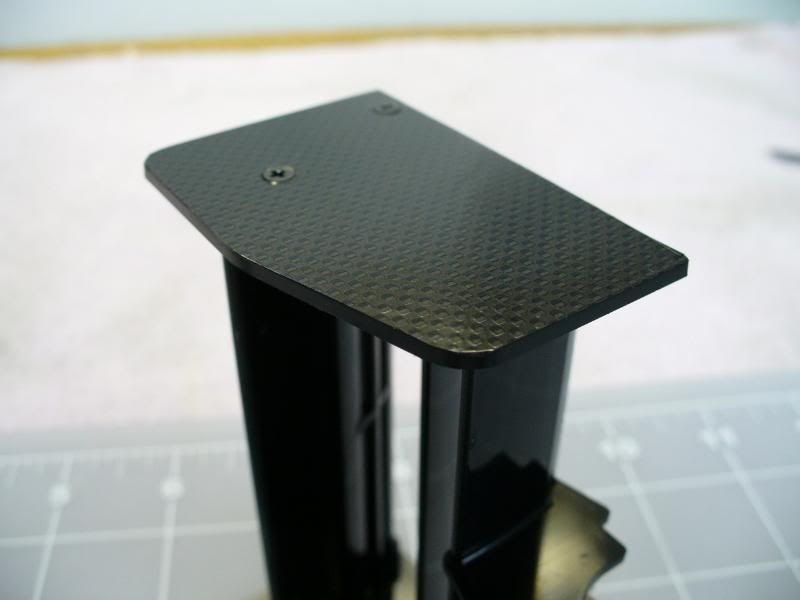 I used the same sticker sheet for the front wing.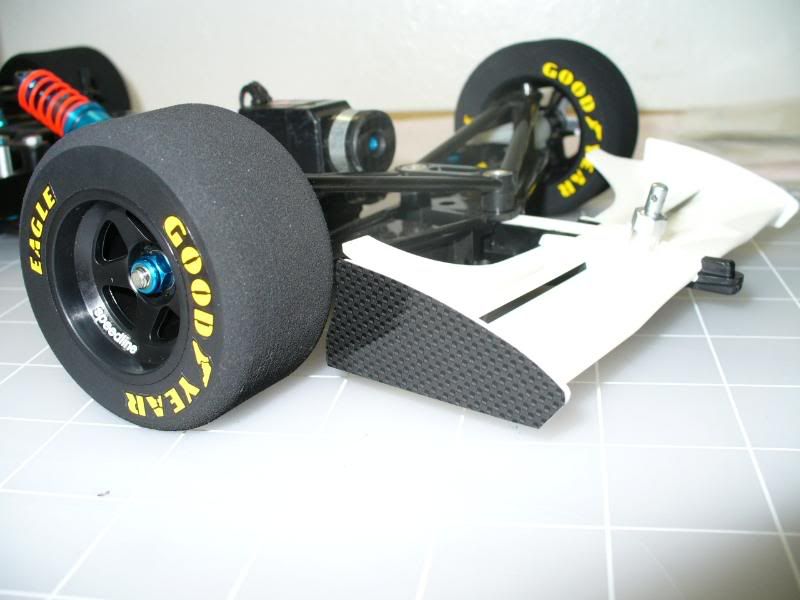 With the carbon backing on I was ready for to apply the kit supplied stickers to the wings.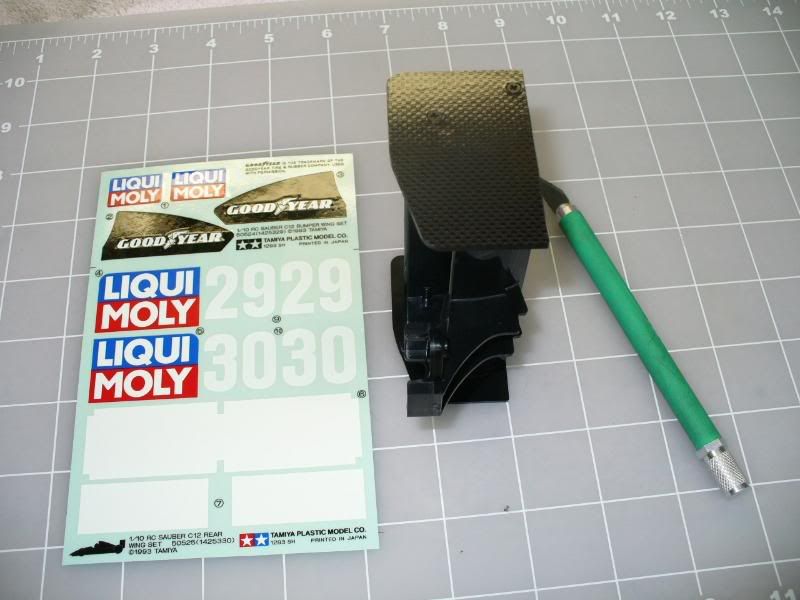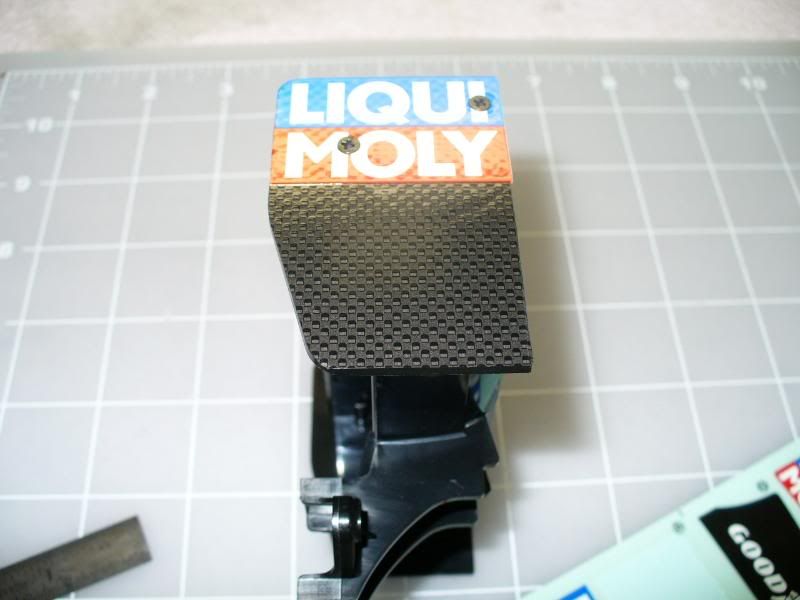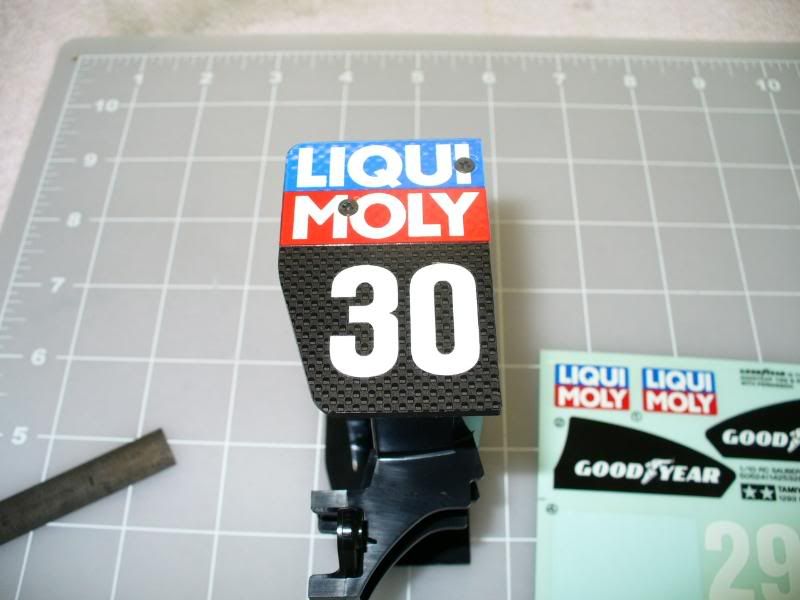 I also decided to throw some paint on the front wing to add that little bit extra to it. I used Tamiya Semi Gloss Black on the inside of the front wing. This should give it enough reflection to simulate that epoxy carbon look. I taped off both wing elements and applied a few coats of paint using the wide tipped brush mentioned earlier.
I didn't get a chance to finish the rear wing. I still have apply the white stickers to the upper wing element. But it's late, I have work in the moring, I'm tired, I'm hungry and I'm done for the night. Below are the pics showing the car with the wings mounted and the cock painted.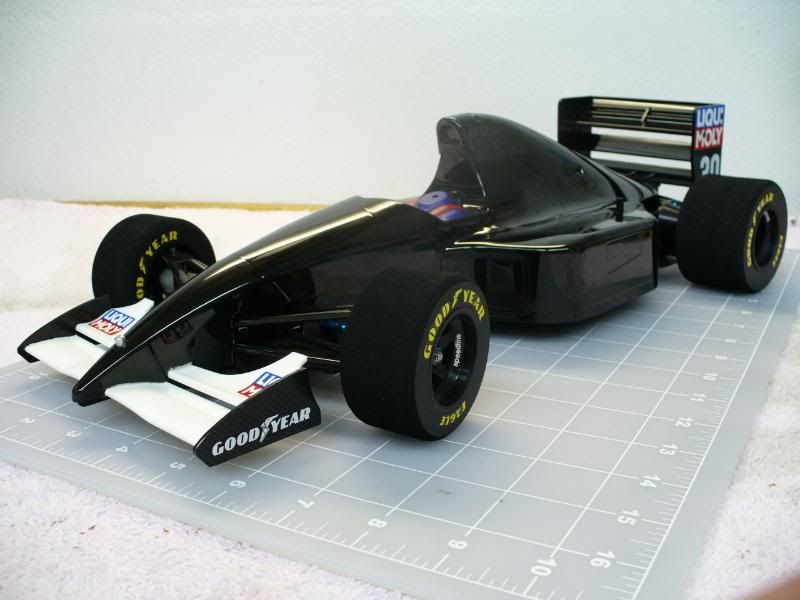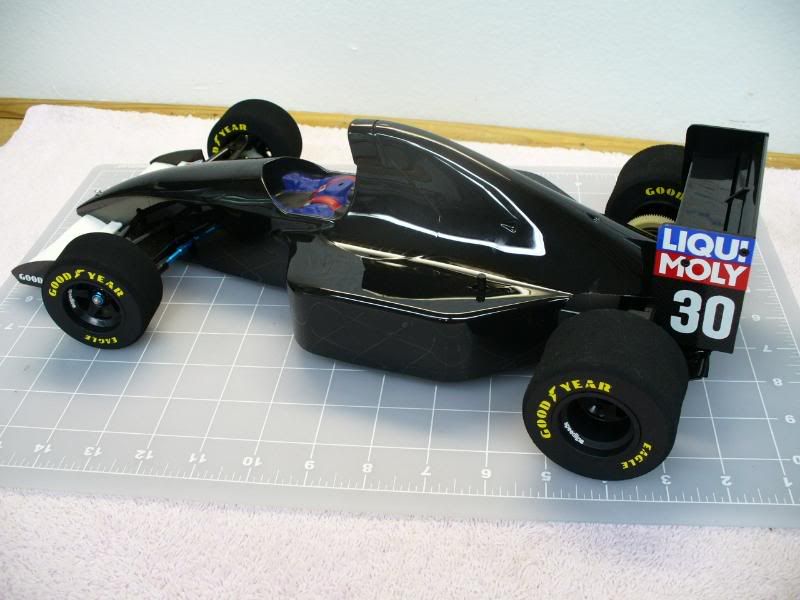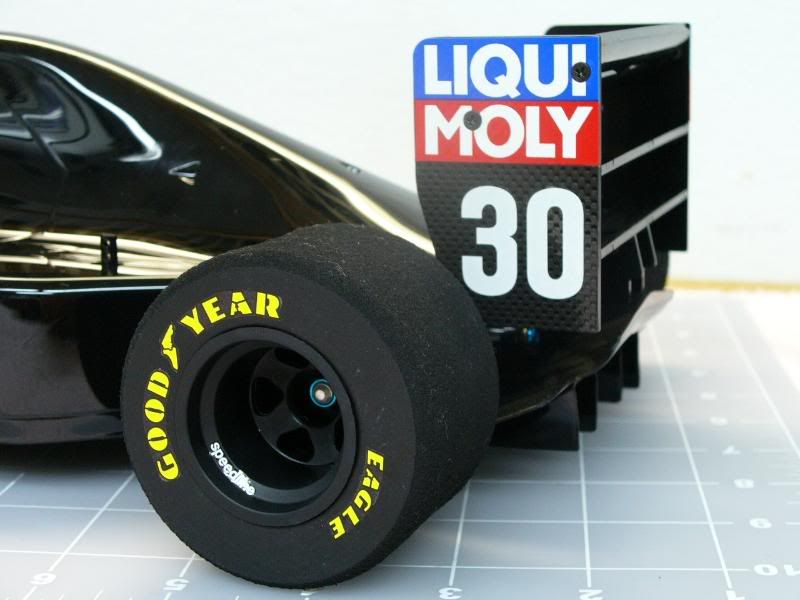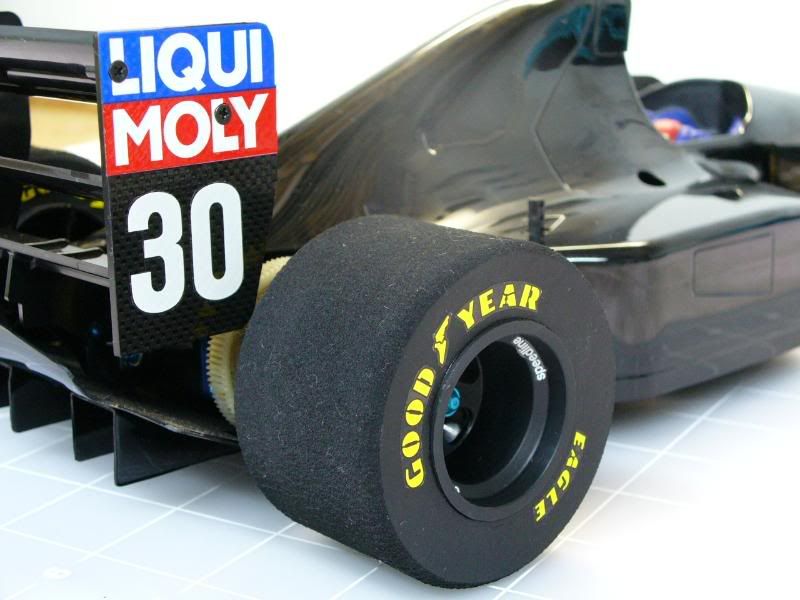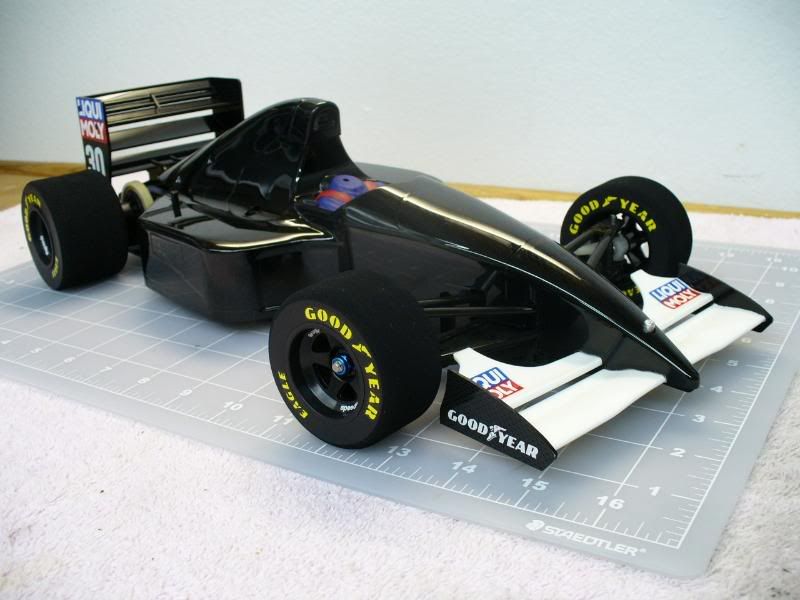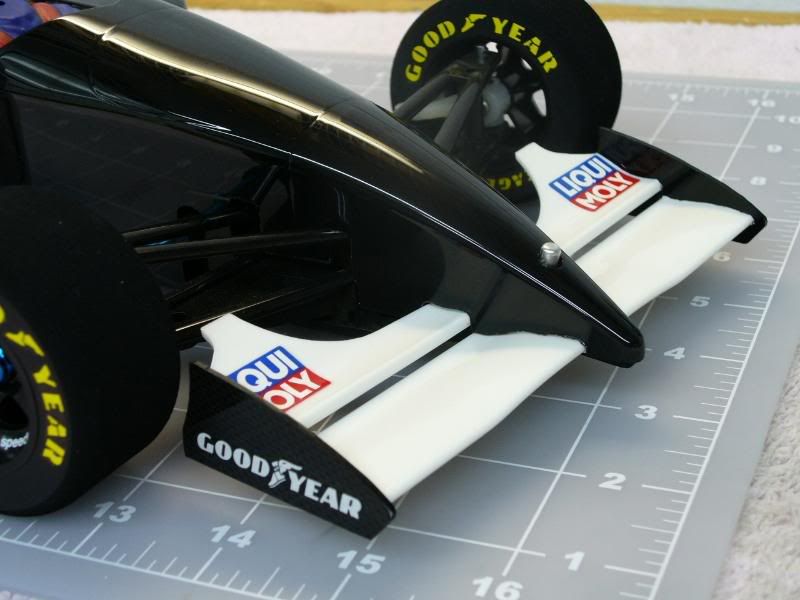 10-22-2008, 10:23 AM
Tech Addict
Join Date: Dec 2002
Posts: 534
---
Wow, Vyger
The Sauber looks really sweet! And thanks for the product tip as well!
10-22-2008, 07:34 PM
Tech Adept
Join Date: Jun 2008
Posts: 172
---
WOW, that good work