1991 Dual VXL Project
02-07-2008, 08:18 AM
1991 Dual VXL Project
---
MRC Electric Thunder King. Built in 1991. World Scale (1/8+). Awaiting parts to complete project. I have one vlx system installed, awaiting the 2nd system. Rebuilt stock aluminum shocks and polished all stock aluminum chassis parts.Will be removing stock body post towers and replacing with aluminum extended body posts. Final weight will be in the upper 10lb range with dual lipo. Here is a partial list of componenets:

Dual VXL 3500kv motor and esc's
Dual 208oz TowerPro MG995's - Traxxas Servo Connector Y Adapter
HPI Savage aluminum suspension arms- front and back - Savage X Axles, Wheel Output Hub Shafts
HPI Savage Aluminum C-Hub Steering Block
HPI Savage Silver Extended 23mm Hex Wheel Adapter Set
XTM Mammoth real axle dogbones 138.6mm
RC4WD All Steel Gears
40 Series 23MM Cheyenne Chrome Wheels
Pro-Line/Proline Masher 40 Series Tires
Deans 12 Gauge Wet Noodle Wire Set
Spektrum DX3.0 DSM Radio w/ 1 SR3000 Rx
2 - 3S/6350 ZIPPY-H 5000mAh 3S1P 20-30C Lipos
Dual Gorilla Battery Straps
02-07-2008, 08:20 AM
---
A few more pics.
02-07-2008, 08:28 AM
---
Here are some updated pics. I received the 40 series tires, 2nd VXL system, 32P pinions as well as the Spektrum DX3 system. I threw the new parts on and did a quick run. I am very happy with the system. It has a ton of torque and great speed. Wasn't able to open it up all the way as it was dark out and the tires are not yet glued. I blew both rear tires clen out of the rims. I have to finish setting up the spektrum and fine tune the suspension. I am still waiting for the steel gears and 2 - 5000mah lipos to arrive. I also ordered the JConcepts Illuzion MGT Heavy Duty Body. Will keep updating. Thanks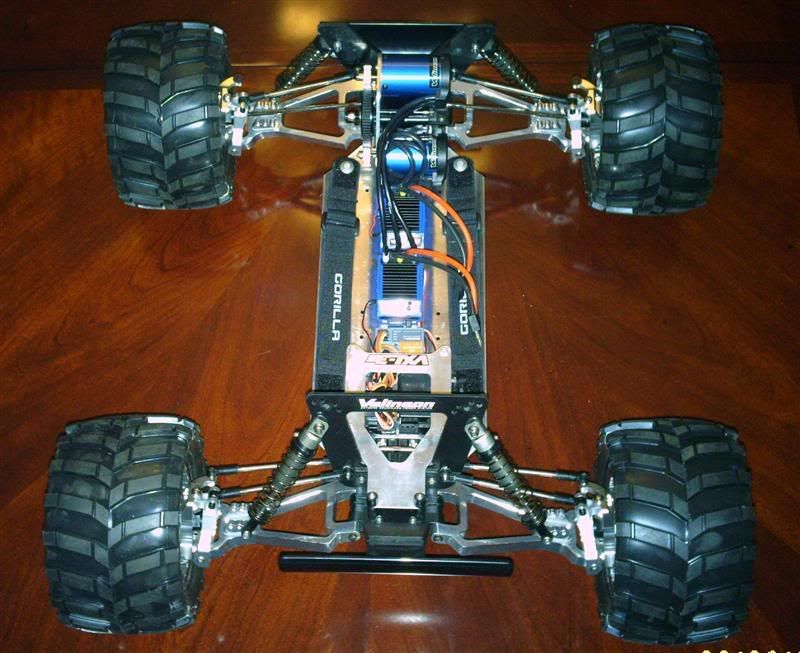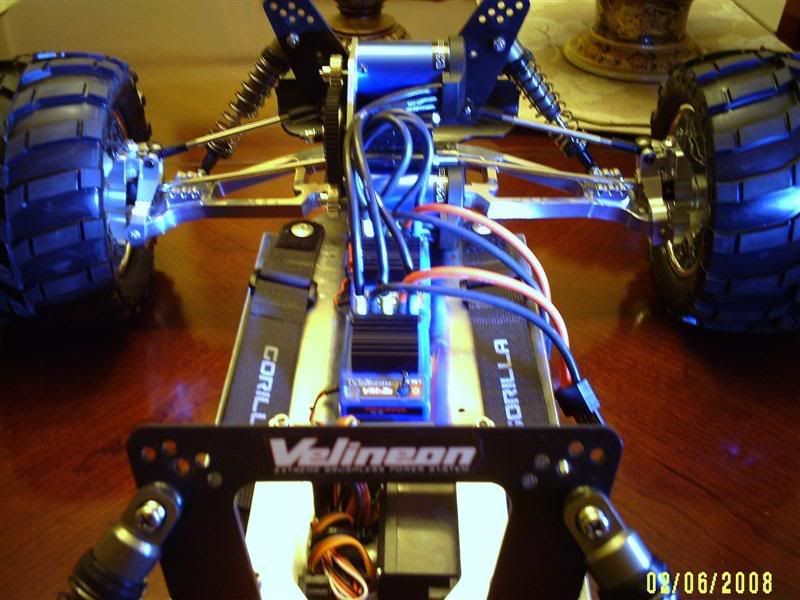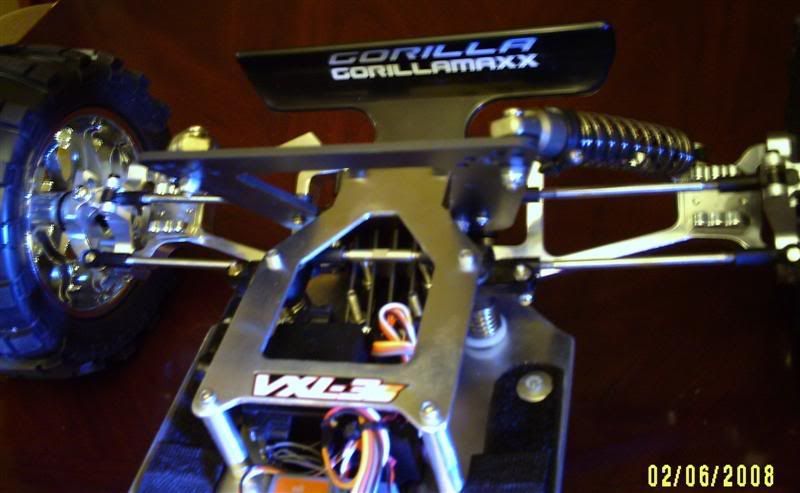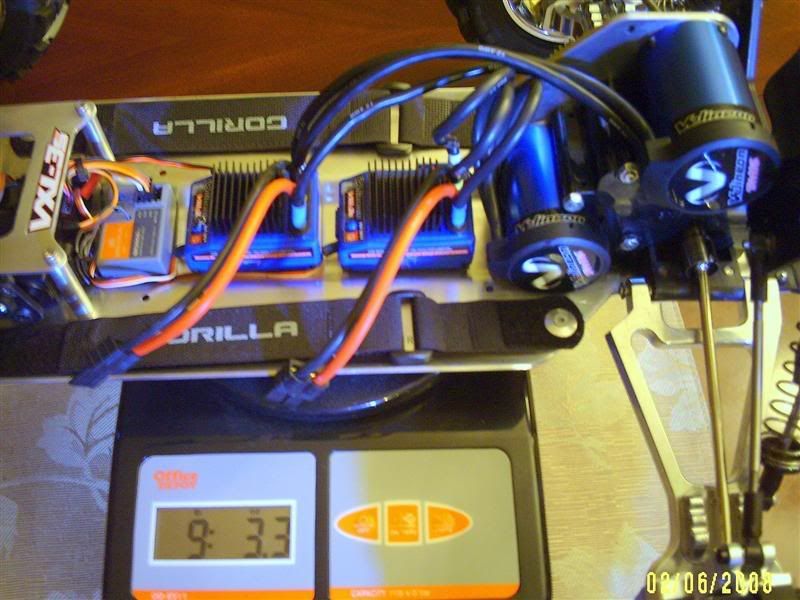 The entire rig came in a 9lbs and 3ozs not inclind twin lipos awating delivery. The whole rig should come in right at 11lbs.
02-07-2008, 09:56 AM
Tech Adept
Join Date: Feb 2007
Posts: 164
---
Can it even handle that much power?
02-07-2008, 10:28 AM
---
Yes. All steel driveline, 32P RRP pinions, XTM Mammoth dogbones, 23MM wheels hexes, 1/8 shocks ect. Did a few test runs yesterday. Just need to fine tune suspension and set radio parameters.
02-07-2008, 10:52 AM
Tech Adept
Join Date: Feb 2007
Posts: 164
---
I'd like to see some videos; how fast is it?
02-07-2008, 11:18 AM
---
Not ready for full speed runs. i am waiting for my 2 11.1V 5000mah lipos to arrive. Also waiting for steel tranny/diff gears coming next week. Once everything is in place and fine tuned i will do a full test.
02-07-2008, 05:32 PM
Tech Addict
Join Date: Nov 2007
Location: Texas
Posts: 592
---
Make sure the gear mesh is good, and the ESC's are set EXACTLY alike. if you're not careful you'll probably strip the spur gear.

Lol, i would like to see this too. it looks like it'll haul some butt!!!

good luck, Cheers!
02-07-2008, 06:37 PM
Tech Regular
Join Date: Nov 2007
Location: Florida
Posts: 298
---
Man that is awsome. All of us TK lovers can thanks teamsix for his work with rc4wd for the tranny upgrades. I NEED a vid of this truck haha they are so big.
02-07-2008, 09:40 PM
---
Thanks for the positive comments. I synched both motors and got the gear mesh as perfect as possible. I did 1/2 throtle runs yesterday and everything looks good. The diff was slipping a bit but it wont be set until I have the steel gears in hand. I will probablu tape the inside tires as the tires were balloning something fierce at 1/2 throtle.
02-08-2008, 05:12 PM
Tech Rookie
Join Date: Feb 2008
Location: Kauai HI
Posts: 5
---
Thats a whole lot of bling baby.

Any way to post video of its maiden run?
02-08-2008, 07:39 PM
---
Sure I can post video when the truck is tuned and ready to go. Still waiting for lipos, steel gears and new upgraded aluminum shocks.
02-16-2008, 01:34 AM
---
Small update while I wait for new lipos, Kyosho aluminum shocks and steel gears. I added aluminum body posts, heat sinks for the motors and vxl fans to both escs. Need to paint the JConcepts Illuzions MGT lid. Also replacing remaining phillips head screws with hexes. Having some "Twin VXL" decals made.
02-16-2008, 10:41 AM
Tech Legend
Join Date: May 2002
Location: West Fargo, North Dakota
Posts: 31,306
---
How much is the chassis weighing in at right now?

Things look good, curious though, have you thought of trying bigger shocks like say the LST shocks? Seems a lot of heft there for the current shocks.

Looking forward to seeing some video.
02-16-2008, 11:02 AM
---
The complete chasis is at 9lbs-6ozs with out batteries. I have some kyosho 138mm threaded aluminum shock on order.