My First Scaler
04-17-2017, 09:35 PM
My First Scaler
---
Hey, thanks for taking a look. I have a question to ask.

I'm a racer guy at heart. I race touring cars and short course trucks (5 in total), and I've never tried true slow scale crawling. I would kind of like to. I've always liked realistic looking cars, that's why I don't race buggies or like pan cars or anything not super scale-looking.

I want to get into scaling, but I would like to not spend more money than I have to. I will never buy anything I can't get on Towerhobbies, Horizon Hobby, or Amain.com. If Associated made a crawler, I would immediately buy that (I'm an AE fanboy, LOL!) but since they don't I have a lot more options that are really confusing.

The best options so far look like the Axial SCX10 DeadBolt ($300) and the ECX Barrage ($180). If I could find an unbuilt Axial SCX10 Dingo kit, I would be more happy. I am much more comfortable with a car if I had built it myself.

I know the SCX10 has infinite aftermarket support and is an incredibly dependable platform, but it's $300. Ouch. And I don't even know if I like scaling yet. That's a big jump.

That's why I'm considering the $120 cheaper Barrage.

I DON'T KNOW WHAT TO DO!

Somebody please shed some light on this subject.
04-18-2017, 05:10 AM
---
Here's my .02 for what it's worth. Ecx looks like a cheap toy to me. Buy the tried and true scx10. You will spend less in the end. More options,support and parts and pieces for the axial. The scx deadbolt is a very capable rig out of the box.
04-18-2017, 06:49 AM
Tech Addict
Join Date: Dec 2010
Location: Douglassville, PA
Posts: 581
---
Take a look at the Ascender kit. It's not on your list, but it's excellent quality, a great trail truck, and a fun build to boot.

The ECX is ok, I've heard good things about it performance-wise, but it looks toy-like to me. Haven't heard anything bad about durability.

The SCX10 is tried and true, but parts supply is a problem right now. Expected to last until late May/Early June. The II kits are becoming hard to find and the gen 1 kits are all but gone.
04-18-2017, 10:17 AM
---
I like building kits more than running them. I leave the running to the kids. I have a Tamiya CR01 for sale (
http://www.rctech.net/forum/r-c-item...iser-cr01.html
) if you are interested. It is not as scale as the SCX10, but it is very capable. I had SCX10, but the kids like running the CR01 better because the SCX10 tips over on turns if you don't slow down.
I just built a RC4WD Gelande 2 D90 kit. With the Tower discount, you can get this cheaper than the SCX10 II. It is much heavier because it's all metal. I don't have the hard body built yet, but it seems more planted than the SCX10.
04-18-2017, 08:43 PM
---
Hey, Hotrod, thanks for the advice, I've ruled the Barrage off my list for now.

OSRC, thanks for the info about the SCX10. That scares me a little.
I've ruled out the Ascender kit (for now) just because it uses a shorty pack. I've never had one of those, but I do have 5 standard size 2s lipos, and I'm not really super exited about buying new batteries. Just sayin'. It is a nice rig, though.

Neospirit, Sorry I'm not really interested in your CR-01. I'm not really a Tamiya guy in the first place (even though my first rc was a Tamiya Rising Fighter), and I'd really like something with a lot of aftermarket support.
I like your idea about the RC4WD, I'll have to look into that. I've never had leaf springs before. I do love the ultra-scale aspect of them, however, and I like how the 1.55" wheels and tires actually match the size of the body.

Thanks for the advice, guys. I appreciate it.
04-18-2017, 11:25 PM
---
The Gelande II does not use leaf springs. It has 3 link front and 4 link rear.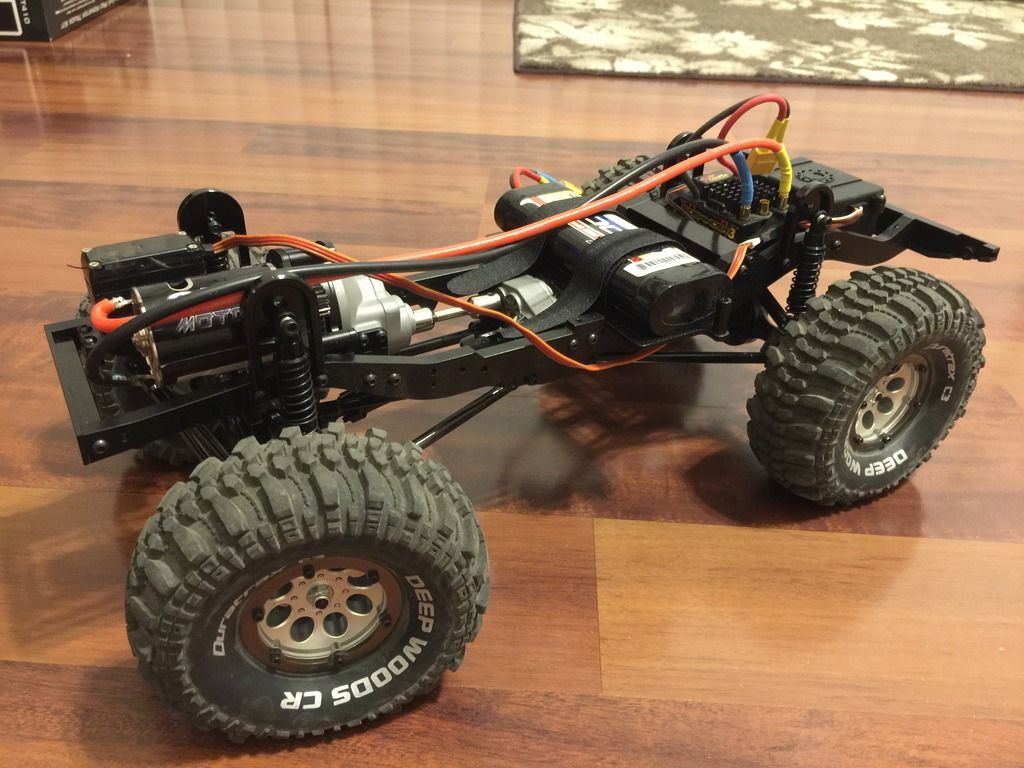 04-19-2017, 05:10 PM
04-19-2017, 05:21 PM
---
It's the Gelande II D90 kit. Those are not the stock tires.
04-20-2017, 05:35 PM
04-21-2017, 05:43 PM
---


Do you know where I can buy a GMade? Are they sold on AMain Hobbies?

RC4WD is a bit too pricey for me right now...

EDIT: ECX Barrage still is tempting, despite what all you guys say, just because it is so cheap, yet still has parts support and decent quality. It's a bit hard to fork over $400 for something I don't even know I'll like that much when I could be getting a great deal for $180. IDK.
04-21-2017, 06:43 PM
---
$269 with free post, your choice of regular or sports model (I'd go the sports, it has better tires and light buckets included).
Gmade 1/10 GS01 Sawback Sports 4WD EP Crawler Car Kit #GM53000 Free Shipping,
Gmade 1/10 GS01 Sawback Full Time 4WD EP Crawler Car Kit #GM52000 (FREE SHIPPING), ,(GM52000)
They're pretty decent out of the box
for a leaf sprung crawler
. Don't expect it to perform like an scx10 though, as they are very different beasts.
Maybe check out the mst cmx or cfx too, similar size and performance to the ecx, but far better support. Can get them for $180 with no body, or $270 with a few different choices, eg.
MST CFX TOYOTA LC40 1/10 4WD Front Motor Crawler Kit #532152 FREE SHIP,
04-22-2017, 08:50 PM
---
Ok...

I don't actually have a frame of reference for crawlers, so really anything goes. I've never been behind the wheel of one. It just looks fun.

I will take that advice and add it to my mental list.

Here's what I have so far.

-Barrage is cheap, has decent performance for the price, but looks toy-like.
-SCX10 and SCX10II won't have good parts support in a short time
-RC4WD is good but a bit to much $$$ for me.
-Barrage can be gotten as an MST for $90 more
-GMade is fine for a leafer, and has good parts support, is on AMain, and isn't -too much $$$.
-I will never buy Redcat.
-Ascender is really good but uses a shorty pack (which I don't like)

I may have forgotten something, but do you guys have anything to add?
04-25-2017, 08:04 PM
---
I'm starting to consider the wraith. Looks good. Anybody have any issues with it?
04-25-2017, 08:12 PM
---
I love my Wraith's, and they would be a contender for my favorite all round rc vehicle I own. I have two, one is built as a scale class 3 crawler, the other a u4rc style basher.
That said, they can be massive money pits...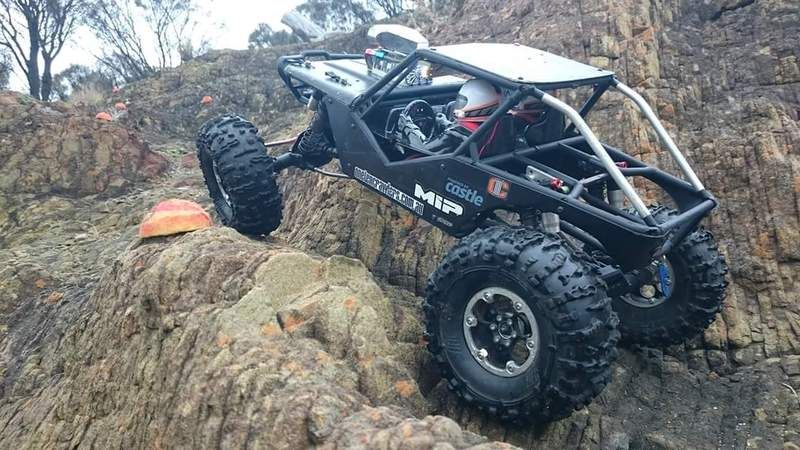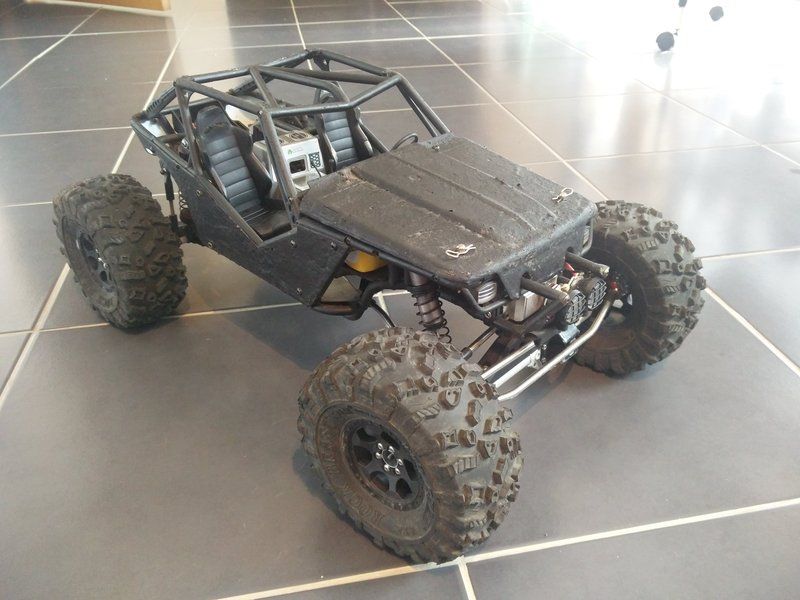 04-26-2017, 02:54 PM
Tech Master
Join Date: Apr 2010
Location: Great Lakes
Posts: 1,187
---
I just got the Gmade Sawback sports and I also got the 4LS kit for it. I really like this Jeep because you can use the leaf spring or 4LS suspension. You can get the sports or 4LS kit (depends if you want leaf springs or 4 link suspension) for about 299 including shipping.