2010 - NSW State Titles (1/8 Off-Road) 20-23 May
12-03-2009, 03:36 AM
Tech Adept
Join Date: Mar 2009
Posts: 127
2010 - NSW State Titles (1/8 Off-Road) 20-23 May
---
As most people would know the 2010 NSW State Titles (1/8 Off-Road) will be held 20-23 May 2010, will be held at Liverpool Radio Rallycross Car Club (LRRCC)
LRRCC would like to confirm the following racers attendance:
Tamiya Factory Driver - Ryan Lutz
European Champion - Savoya
We will also have Carlton Eppes from RC PRO as the Race Director
This should be a great event and an awesome challenge for our Top Australian drivers!!
Look forward to seeing you all there
More info will be posted here and at
http://lrrcc.com
in the leadup to the event
---
Last edited by dvestate; 12-03-2009 at

04:30 AM

.
12-03-2009, 06:07 AM
Tech Master
Join Date: Jun 2009
Location: Sydney
Posts: 1,566
---
I can't wait
01-05-2010, 09:06 PM
Tech Adept
---
Details of this event can be found here -
http://www.lrrcc.com/site_raceevents/2010nswstate.php
Registration is now available on Slyfox -
http://76.164.192.66/dnn/EventRegist...6/Default.aspx
We have confirmed Ryan Lutz & the European Champion Renaud Savoya, will be contending the titles. We are also working on other internationals with VERY strong interest also coming from across Australia & New Zealand.
The Club will be hiring Flood lights to give us the necessary hours needed to accommodate the expected number of entrants. Having said that, there will be a limit to the numbers, so register early.
This will be a great event. We look forward to seeing you there.
LRRCC
P.S. The club is also planning on having, at this event, one of the biggest raffles anyone has even seen. Details will be posted soon......
---
Last edited by Blackie001; 01-08-2010 at

10:44 PM

.
01-06-2010, 09:20 AM
Tech Addict
Join Date: Feb 2007
Posts: 528
---
Greatly looking forward to this event! This was an awesome track when I came to visit last time and I'm really looking forward to an Amazing event!
01-07-2010, 02:11 PM
Tech Adept
---
Thanks Ryan, everyone at the club is looking forward to seeing you again. It was a great pleasure having you at our track last year. At least this time you'll have time to get settled & enjoy Sydney.
I'm really looking forward to seeing this race event! I doubt I'll make the A main, so should be able to sit back with the video recorder & enjoy! It's going to be awesome!
Pete.
01-08-2010, 02:11 PM
Tech Master
---
HI all,
I have a question.
I will only be able to make it to this meet on the sat and sunday, will I be able to race, as I wont be at the track thurs or fri, to marshall, or get scrutinized??
01-08-2010, 03:50 PM
Tech Adept
---
Hey Dallas, the short answer is yes, you can race. With the numbers we are expecting, we'll be running qualifiers Thursday, Friday & one Saturday. So you'll have to bump up through the lower finals. Full racing fees will of course, still be required.
I hope that helps, let me know if you need any more info.

Cheers

Pete.
01-08-2010, 09:57 PM
Tech Master
---
OK thanks, I have entered in truggy, all good.
01-13-2010, 04:36 PM
Tech Adept
1/8th Electric Buggy!
---
LRRCC is happy to announce we'll be running 1/8th electric buggies at this years NSW State Titles.
We'll be limiting the field to 15 entrants, with a minimum of 10 needed to run.
The first 15 paid entrants will secure a place.

This event is going to be awesome, & the raffle prizes are coming along VERY nicely!!!!!!
01-15-2010, 03:31 AM
Tech Regular
Join Date: Nov 2002
Location: brad smith
Posts: 391
---
As Blackie mentioned we are very excited to offer this opportunity to offer the Electric 8th scale buggy class at the AARCMCC NSW Titles. Unfortunately due to time constraints and the fact that this class is a basically a demonstration this class must be limited to 1 heat..I expect next year will be a different story...remember that the first 15 PAID entries will be accepted.

Thank you to the Liverpool club for including this class for this event.

rgds Brad Smith/Paul Wyllie, AARCMCC IC Offroad.
01-15-2010, 05:38 AM
Tech Master
---
I just tried to enter for EP, slyfox said, enties are now closed.
01-17-2010, 07:31 PM
Tech Adept
---
01-17-2010, 08:34 PM
Tech Adept
01-19-2010, 04:07 AM
Tech Adept
---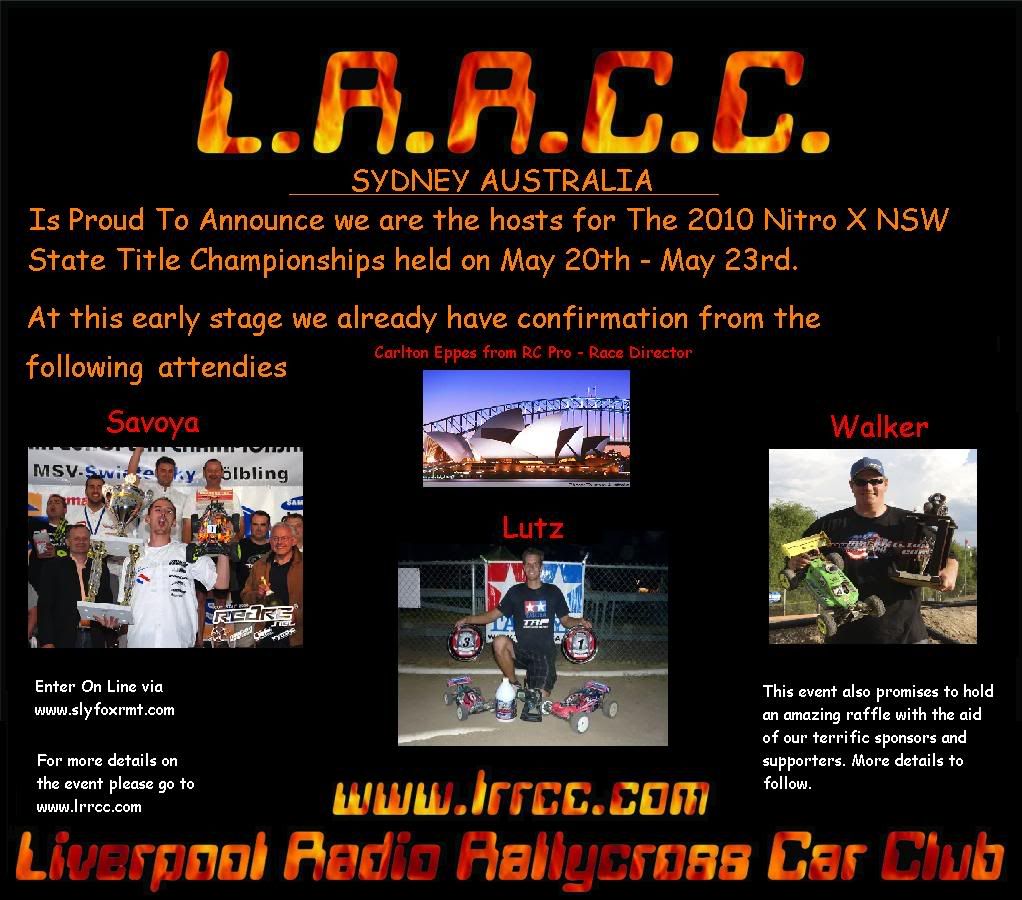 01-26-2010, 01:11 AM
Tech Initiate
Join Date: Jun 2009
Posts: 30
---
A New Zealand contingent is planning on making the trip.
Some of us came to RC PRO last year and loved it so hopefully this one is just as cool!

Slyfox appears to be down at the mo