Cathy Johnson Memorial Shootout
08-28-2013, 07:11 PM
---
rumor has it Rhonda and Adam sent in some autographed stuff also!
09-02-2013, 07:21 PM
Tech Addict
---
Here are some hotels that are less than a mile away. Please book your rooms soon!

America's Best Inn
(309) 764-8712
2359 69th Ave,
Moline, IL 61265

Hampton Inn & Suites
2450 69th Avenue
Moline, IL 61265
(309) 762-1900


Motel 6
6920 27th Street
Moline, IL 61265
(309) 762-1711


Days Inn And Suites
6910 27th Street
Moline, IL 61265
(309) 762-8300

Country Inn & Suites By Carlson
2721 69th Ave. Court
Moline, IL 61265
(309) 797-4249
09-03-2013, 11:53 PM
Tech Initiate
Join Date: May 2013
Posts: 28
---
Just some of cool prizes that are going to be auctioned off from the pro's. Wanna give a huge thanks to Adam and Ronda Drake, Ryan Lutz, lance at rc renew, and Thunder Road Hobbies just some of the bigger prizes you have seen up above.
-As of right now there will be a 100 dollar cash prize winner of 1/8th scale pro buggy thanks to quality motors.
- A sponsorship deal offered to the intermediate 1/8th scale buggy winner for Picco thanks to Lance at Rcrenew/Tritonrc.
- a 50 dollar cash prize winner to the winner of ebuggy thanks to Quality Motors.
- And as is shows currently of Facebook 50 dollar cash prize to the winner of 2wd open sc thanks to Brian Burtan and Jason White. ( don't quote me but that is what is on there lol).
We do also have early sign up at RcSignUp.com. This is for the Saturday September 28th big race day. Friday night we will have a 2 qual and mains race as a warm up. Sign up will be at the track for that.
If you would like to donate early or you can't make it and wanna still help out there is a place were you can go to donate and help us fight mesothelioma in Cathy Johnson's name please head to
www.curemeso.org/fundraising/cathyjohnson
.
Right now Cathy Johnson's husband, Steve Johnson's, work Allient Energy will be matching every dollar up to 10,000 so our goal is raise that 10 grand so we can double that and make it 20 grand!!!.
I wanna give a shout out to Garry Wright and the Midwest Nitro/Electric series for making us famous on Live Rc. I truly appreciate your hard work helping us advertise and get the word out there. If you would like to see the press release you can go to
http://www.liverc.com/news/announcem...rial_Shootout/
I really wanna thank all our sponsors and pro drives for helping us out. Donating all these prizes and goodies to attract a bunch of racers from all over to help join and fight a great cause for a great women. We couldn't do it without you. And my biggest thank you goes out to Adam Neildling!! You are awesome man and none of this would have taken off without you. I really appreciate everything you have done.
GONNA BE THE BIGGEST RACE OF THE YEAR WITH HUNDREDS OF PRIZES AND A BUNCH OF ITEMS FROM THE PROS.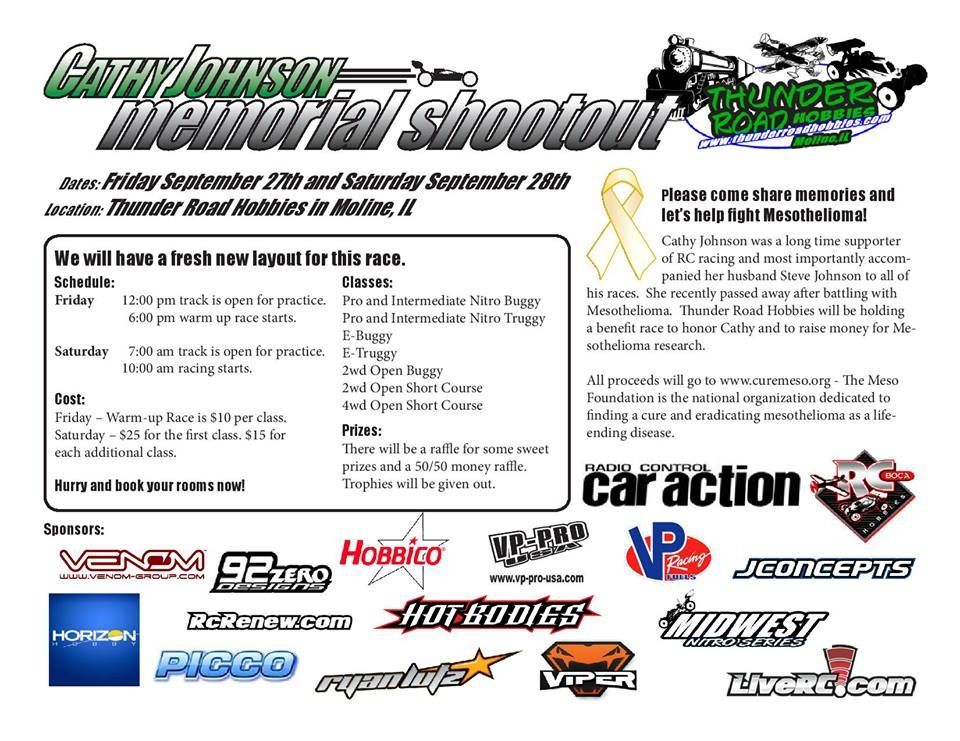 09-09-2013, 04:34 PM
---
SPEECHLESS!!!

TY TESSMAN donated his A-main winning Pre-Worlds B44 to the race to be auctioned off with the body signed!!! how cool would it be to own this?
09-09-2013, 08:03 PM
Tech Addict
---
He also sent a worn t-shirt autographed.
09-09-2013, 08:29 PM
Tech Master
---
Can we sign up on rcsignups and pay when we arrive?
09-09-2013, 09:22 PM
Tech Addict
---
Yes you can. I would prefer that.
09-10-2013, 02:19 PM
---
09-16-2013, 11:34 AM
Tech Initiate
Join Date: May 2013
Posts: 28
---
2 weeks tell the race!!!! Who is excited???? We are currently looking at 150 to 200 races from across the Midwest. Including Michigan Ohio and more. Should be a awesome time!!!!
09-16-2013, 12:14 PM
Tech Regular
Join Date: Dec 2012
Location: Darien, Il
Posts: 407
---
Saweeet can't wait for this one, going to be an awesome day!
09-16-2013, 02:18 PM
Tech Master
---
All signed up!
09-16-2013, 06:56 PM
---
braaaaap, still working on my Hotbodies donation should be in next week.
09-16-2013, 11:14 PM
Tech Addict
---
I'm so excited to be apart of this race. I hope everyone has a great time. Please remember 2 things... Sat will go well into the night. We never expected this big of a turn out. Next would be if you have a generator you will need to bring one. We do have power but with a turn out this size we will make the hobby shop black and since it will be open all weekend for the racers it will also be open to the public.

Also all items will be raffeled off except the pre worlds winning ty tessman b44 buggy. That will be done in a silent auction... So bring some cash. It's all going to a great cause.
09-17-2013, 06:54 AM
Tech Master
---
Thanks for the update. I've now requested off sunday lol. By the way. Whats the tire choice at thunder road for 4x4 SC and 1/8 buggy? Never been there so I'm curious what to bring
09-17-2013, 07:09 AM
Tech Addict
---
Buggy tires are impacts I beams and losi digits. Not sure about sct.