Old Kyosho and Schumacher projects
05-16-2016, 09:03 PM
Old Kyosho and Schumacher projects
---
My neighbor just gave me two of his old cars from the 80's. He used to race way back when and just handed them to me free of charge. Pretty excited about my first vintage builds. Thanks Jack!
[IMG]
[/IMG]
This is a Kyosho Rocky from what I can gather. Don't know why the front body post is so long.
[IMG]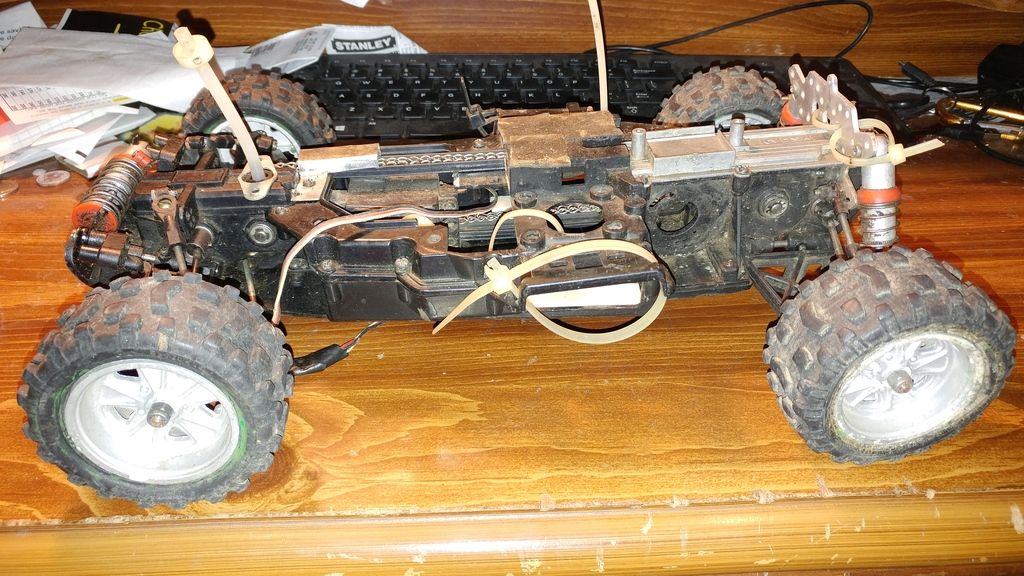 [/IMG]
Love the wheels.
[IMG]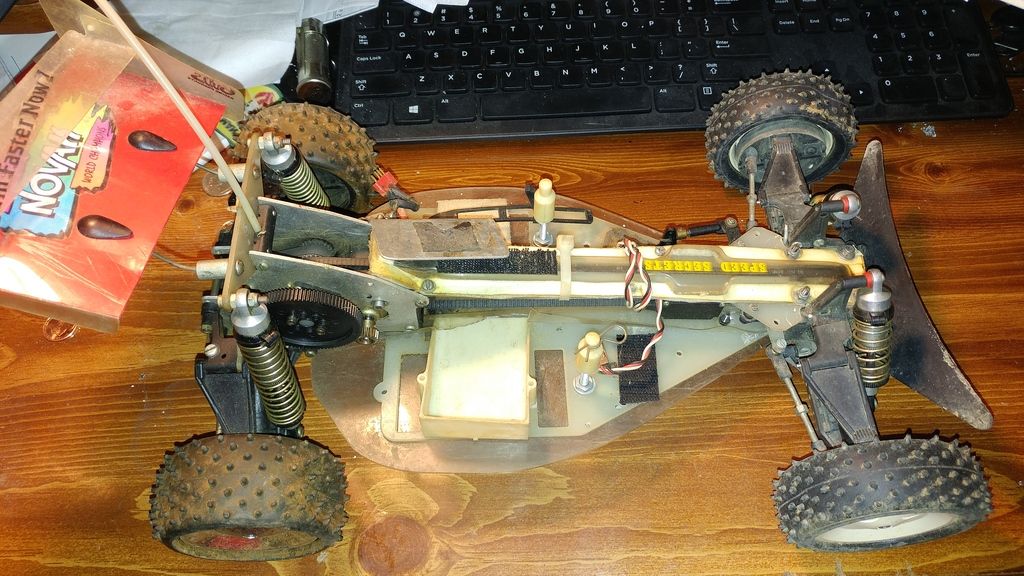 [/IMG]
I believe this is a Schumacher Cat XLS. Belts everywhere!
[IMG]
[/IMG]
Those crazy hub carriers look like drum brakes.
Pretty excited about bringing these old rigs back. Going to get them cleaned up and put a shopping/searching list together.
__________________
05-18-2016, 03:53 AM
---
I loved my old cat. That rubber band front end was awesome. I never broke a thing in that car and raced the daylights out of it. Nice score!
05-18-2016, 07:19 AM
---
Ha! I didn't know what you were talking about with rubber band front end and just looked it up. Pretty neat.

Really could've used that on my SX3.
05-18-2016, 02:57 PM
---
Genius. Pure genius. I don't see it on this one, but I remember both of my Cats (top cat and I can't remember which other one I had...) also had a rubber ring set up on the wing.
05-18-2016, 08:47 PM
---
So Here's where I'm at so far. Went through the Kyosho and cleaned it up as much as I could. Needs a bunch of stuff, poor thing was beat to a pulp. Shock shafts are bent, hinge pins too, top plate is melted for some reason lol, and a broken rear A arm. Should be able to source most of it from ebay.
[IMG]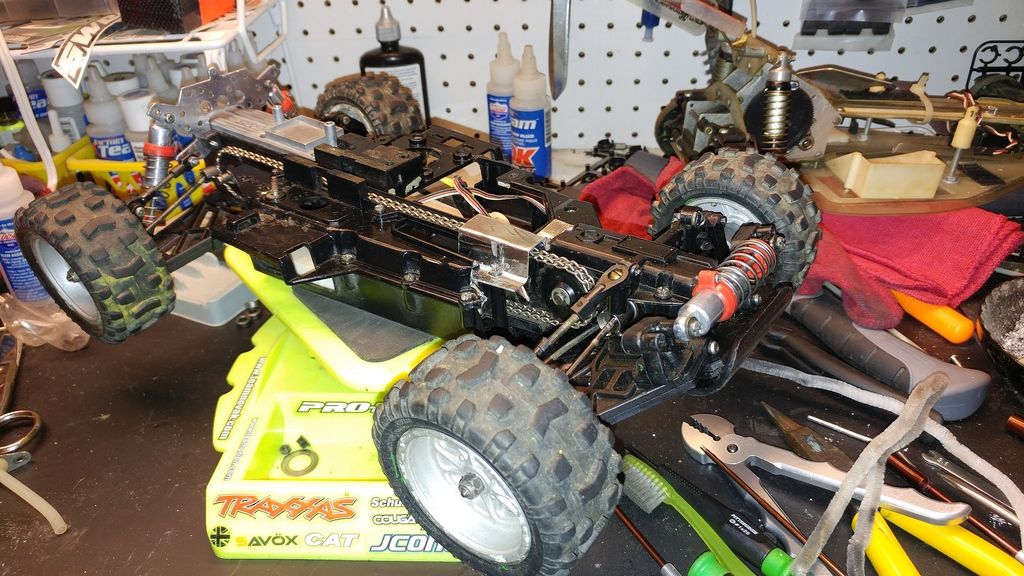 [/IMG]
Now onto the Schumacher. This thing is probably ~30 years old and has less slop than my B5M. The shocks still have oil in them! Really impressed with the quality of this thing so far. Just started tearing into it, aside from the aforementioned drum-hub carriers, it uses a weird star drive thing on the wheels. Not even sure how to get the carriers off yet. lol Parts are much harder to find but it seems to need way less than the Kyosho.
[IMG]
[/IMG]
Front hub. kooky!
[IMG]
[/IMG]
This part has me concerned, I hear tell of 3 diffs back here somehow.
05-19-2016, 06:15 PM
---
The cat is coming along. Very fussy to put together, you losi 22-4 guys have nothing to complain about. lol
[IMG]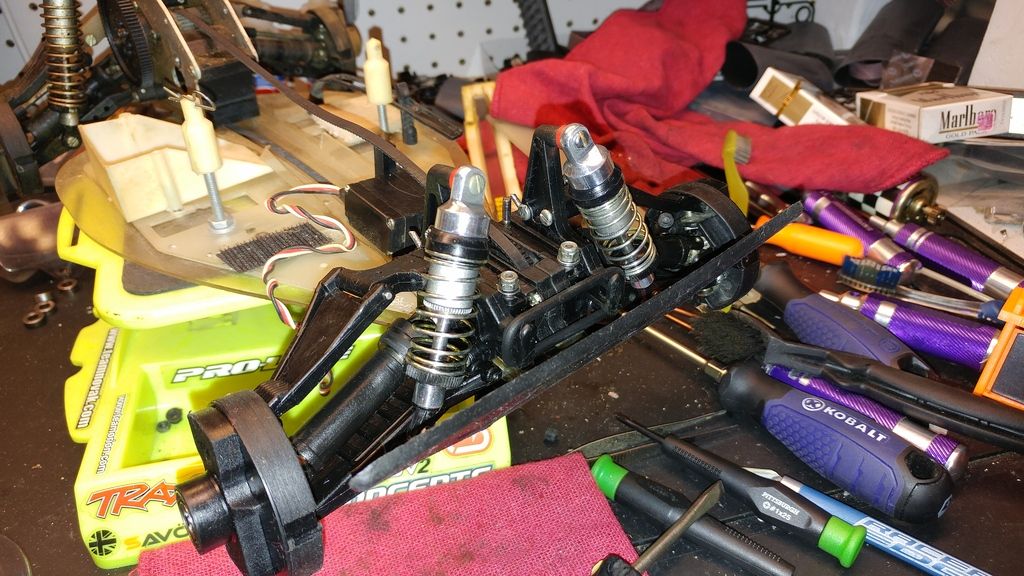 [/IMG]
Front end all cleaned up. Doesn't seem to need anything other than tightening the front diff.
[IMG]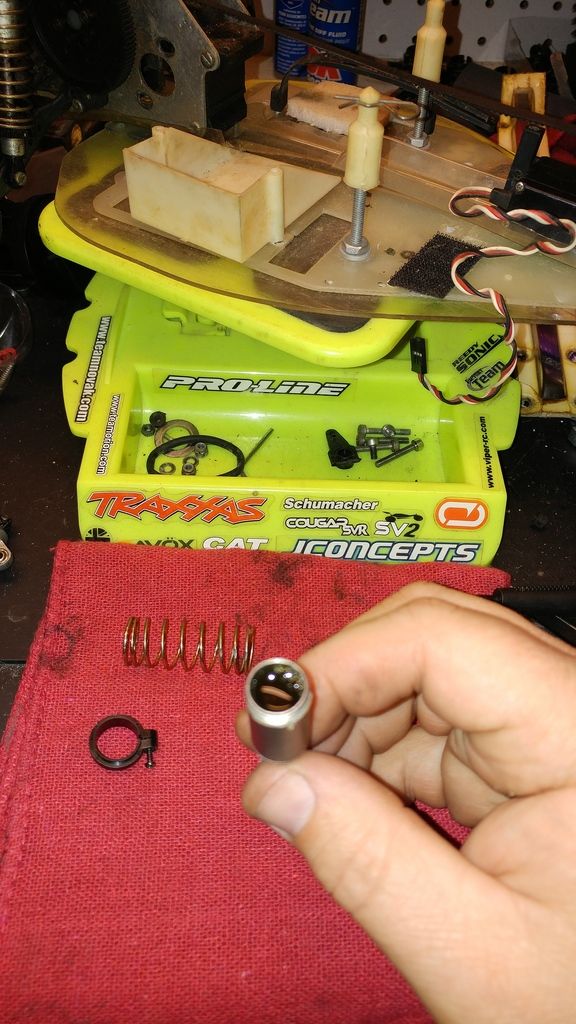 [/IMG]
The shocks were still full of oil.
[IMG]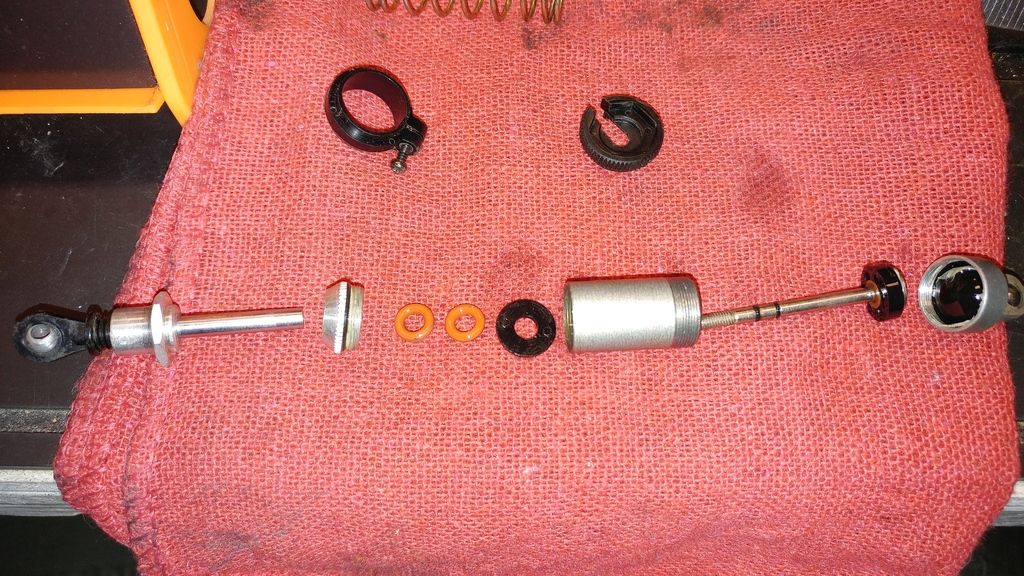 [/IMG]
This took me way too long to figure out. The shaft is a 2 piece affair, the inner shaft on the right threads into the outer shaft on the left. Couldn't get the eyelet off, maybe it is all one unit...?
[IMG]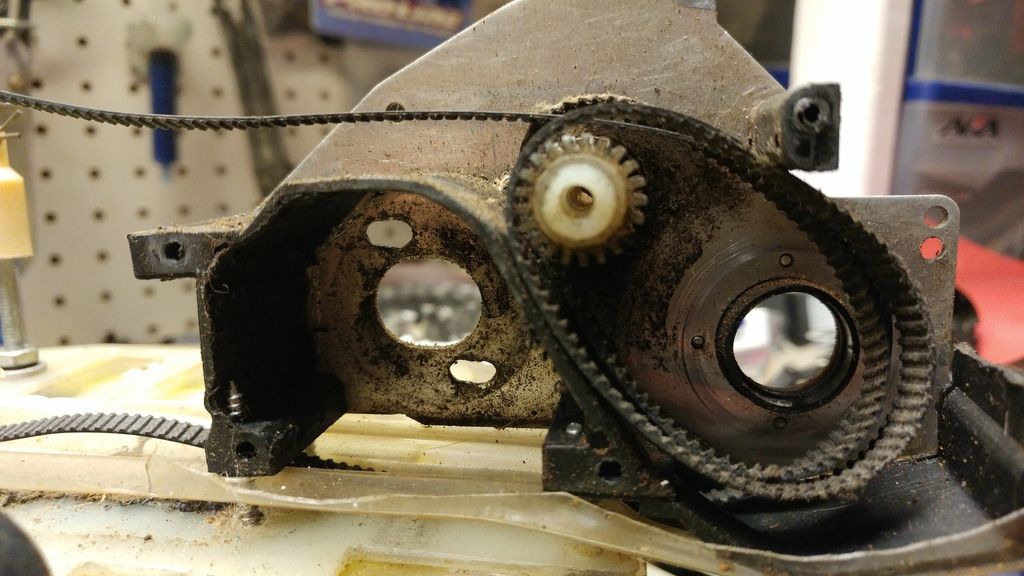 [/IMG]
Next up. Crusty goodness. Love to find a new set of belts, these are fraying and the long one is stretched and twisted.
[IMG]
[/IMG]
Love this feature, it would be pretty cool to have this as an option on the modern hyper-speed 4wd's of today.
That's it for now.
05-19-2016, 06:32 PM
---
Love that front end. Why that disappeared, no idea.
05-20-2016, 09:18 AM
11-13-2016, 07:42 PM
Tech Master
Join Date: Nov 2007
Location: Christiansburg VA
Posts: 1,068
---
That is the Trinity single piece diff (and should have a matching layshaft). The stock diff was 3 pieces (each belt ran on its own ring). The original diff and layshaft (similar design to the diff) were a nightmare and many Trinity units were sold.
Hell when I built my XLS I built it new with the Trinity parts.
If you end up with any leftover Cat parts please let me know. Mine could use a refresh.
Currently Active Users Viewing This Thread: 1
(0 members and 1 guests)
Posting Rules
You may not post new threads
You may not post replies
You may not post attachments
You may not edit your posts
---
HTML code is Off
---