My home made track in Wellington, OH
09-08-2015, 05:42 PM
Tech Adept
Join Date: Apr 2015
Location: wellington, Ohio
Posts: 120
My home made track in Wellington, OH
---
Been getting into RC pretty hard this year and I now have a collection of Tekno .3 vehicles. Figured I might as well build a track to keep my time in this hobby at a maximum while also spending time with my wife and little one.
First few pictures are the original layout. I just recently built it and I'm ready for a good rain, rolling it again, then laying out the tile. It should be fun! Original layout was about a 19 second lap time. New one should be a few seconds more.
Mark
Original layout.
New layout under construction.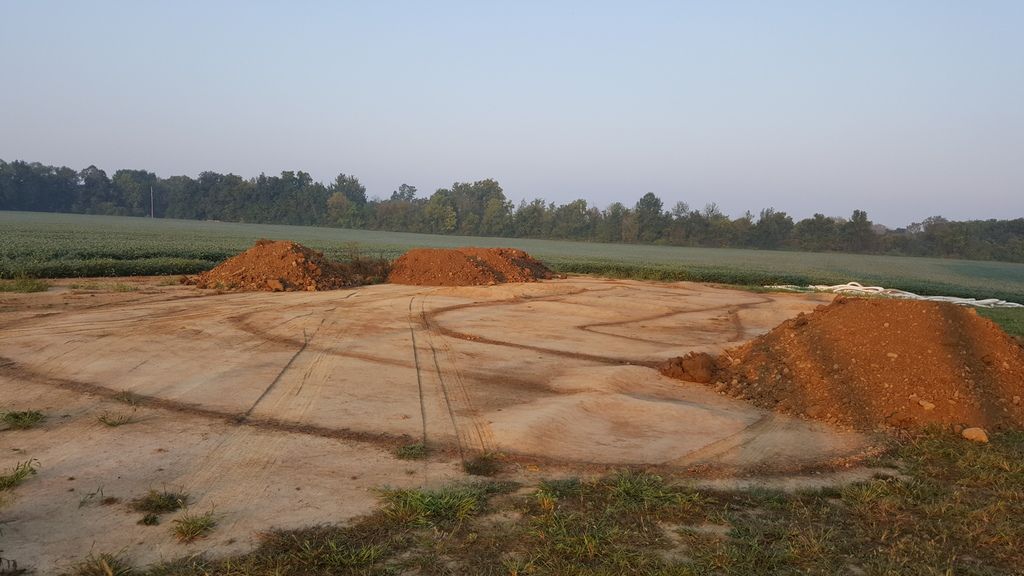 Put this new triple in the back instead of a big double. SCT's should be able to triple, if not, they can single, then double.
09-08-2015, 05:46 PM
Tech Adept
Join Date: Apr 2015
Location: wellington, Ohio
Posts: 120
---
-Should start in the back straight away
-180 banked turn into a triple
-another big double after the triple, should have plenty of room to clear with SCT, truggy does it no problem.
-probably another 180 turn, or maybe a small multiple turn section which rolls into 2 off camber mounds.
-More turns and 180's after that to work on braking and picking good lines.
-Now in front of the drivers stand (not up yet) with a larger table top with a jump in the center.
-Goes to a corner box in the lower left corner, then back to the straight.

Mark
09-21-2015, 12:54 PM
Tech Initiate
Join Date: Jan 2013
Posts: 23
---
Looks nice.... Did a good job. Have you thought about having people over to run with you? Is it big enough for a 1/5 scale losi 5t? I know of 4 of us that have 1/5 scale trucks and buggy. We our always looking for a place to run...
Currently Active Users Viewing This Thread: 1
(0 members and 1 guests)
Posting Rules
You may not post new threads
You may not post replies
You may not post attachments
You may not edit your posts
---
HTML code is Off
---