5Likes
Newman's Raceway
03-08-2018, 09:16 AM
Tech Adept
Join Date: Jun 2011
Location: Texas
Posts: 103
Newman's Raceway
---
New track opened up in the old Firestone building in Brenham, Tx. Cool place to run on road and 2wd Buggy
05-02-2018, 01:26 PM
---
Last Sunday I stopped by there with a friend as we were just passing through town from a weekend of camping in the hill country. We got there right as 2wd buggy was starting. It's the first carpet track that I've ever seen in person that was running offroad. I'm an old school dirt guy but it looks really fun. The track is small enough that it's easy to see all of it. That's something I have a big issue with on larger tracks. My depth perception goes to crap really fast and I can't tell where the car is. The speeds in 17.5 look like it'll be pretty easy to keep a car in one piece during a wipeout. Time to race is nearly non-existent for me and it's a 2 hour drive, but it certainly looks like a fun place.
05-03-2018, 05:03 PM
---
Thanks, guys. I am going to check this out. I live NW Houston and Brenham is a lot easier for me to get to than Houston tracks. Never seen a carpet track, and its been years since I've done 2wd buggy. But having a smaller track my eyes can handle sounds good. Hopefully, the drivers stand is low too. You guys have a link or addy to the exact location?

[[b] Edit: found it on LiveRC. I will plan a drive out there. ]

Regards,
AC
---
Last edited by AHR43; 05-03-2018 at

06:55 PM

.
05-04-2018, 04:38 PM
Tech Master
Join Date: Nov 2010
Location: Cedar Park, TX
Posts: 1,003
---
It's possible I'll be out there for test n tune on Thurs night. I'll just have my Euro Truck, though.
05-04-2018, 04:50 PM
---
Yeah RJ. Looks like the Thursday TnT may be what I do as well. Put a cell call into the track today and left a message. Have not heard back yet, so not sure about track status. Owner is probably just busy with other stuff. Planning a drive there next Tuesday to check the track out. Do not have a car that will run there, but will buy a 2wd buggy if it looks o.k. Interested, but skeptical. Been burned by too many tracks in my time with this hobby.
AC
05-04-2018, 05:28 PM
Tech Master
Join Date: Nov 2010
Location: Cedar Park, TX
Posts: 1,003
---
Arnie, this place is legit! I've been there one other night for TnT. Brad Newman, the owner, is a stand up guy. Tyler Morgan is on hand if he's not available. Weekends are tough for me to make it out as we're usually racing at Thornhill on Saturdays. That may change in the summer. My job brings me to Houston several times a month and if I time things right I can drop by Newman's on the way home on Thursdays.

As for running 2wd buggy, you'll need to get a set of Proline Primes. Traction is UNBELIEVABLE on the black carpet!
05-06-2018, 05:02 PM
---
Thanks, RJ. Right you are. It is the real deal. Did the drive to check it out today. A.O.K. by me. And, yep, PL Primes are the spec 2.2 tire for the track. Now to get a 2wd Ebug.

Oh, and thanks, kstorm. Without your OP posting of this thread, I'd a missed this track.
05-11-2018, 09:57 AM
---
Here's a pic I took during offroad racing a couple of weeks ago.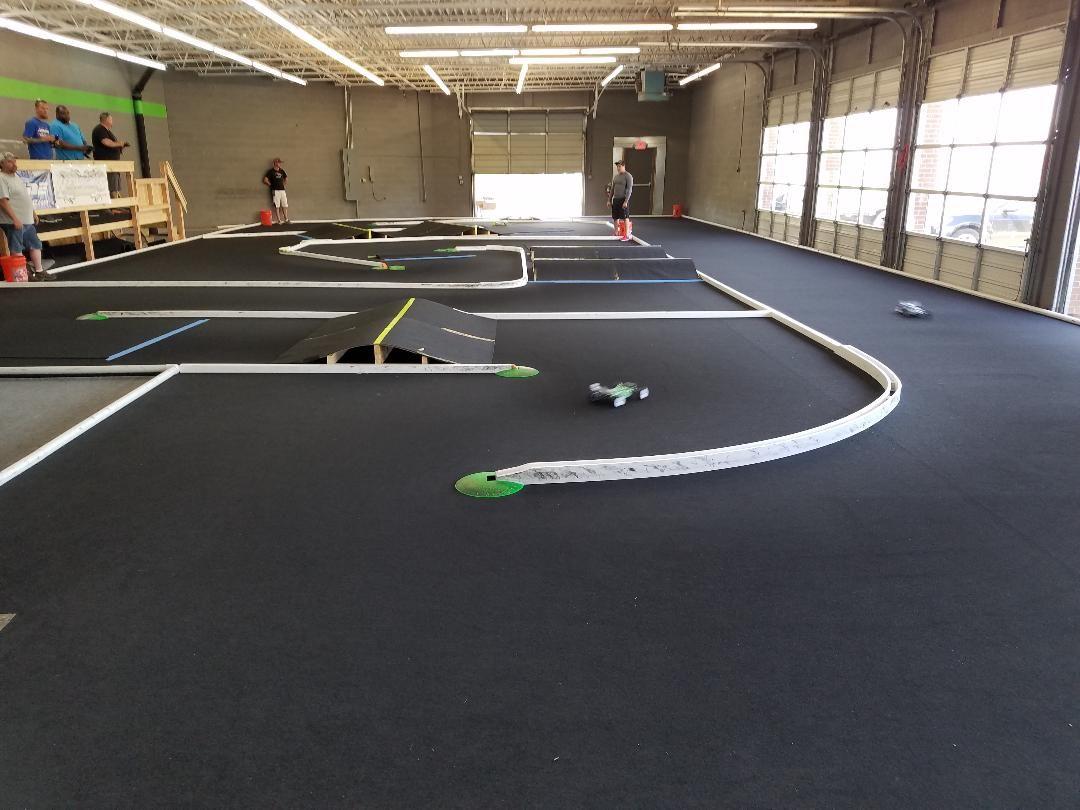 08-13-2018, 05:54 AM
Tech Regular
Join Date: May 2014
Location: Pearland, TX
Posts: 435
---
We just started the Texas F1 Series this weekend guys and it was a huge hit. 17 F1s and 1 missing. The next season should be even bigger! People are already talking about running the next one.
08-14-2018, 05:40 AM
Tech Regular
Join Date: May 2014
Location: Pearland, TX
Posts: 435
---
Scratch that, the owner has decided to close the track.
08-14-2018, 01:46 PM
---
After years of wanting to get back into racing, I finally built a car just for this track. Several of us were going to get back into it again. Not anymore I guess. None of us are into 1/8 scale so there's a contingent of us in Houston that still aren't going to be involved. It sucks.
Currently Active Users Viewing This Thread: 1
(0 members and 1 guests)
Posting Rules
You may not post new threads
You may not post replies
You may not post attachments
You may not edit your posts
---
HTML code is Off
---