Chickasaw Trace R/C Park - Columbia, TN
01-11-2012, 09:46 PM
Chickasaw Trace R/C Park - Columbia, TN
---
Chickasaw Trace is a public park in Columbia, TN featuring an R/C off road track, flying field and mountain bike trails.
The park is open 7 days a week, 365 days a year. Hours are basically sun up to sun down.
The track is built more for 1/8 scale but cars like the Mini Eight and Mini E Revo handle it just fine. Nitro cars are welcome to run any time.
**No club affiliation or admission fees required to run here. You do not have to ask anyone for permission or pay any money to use the track.**
We do not have permission from Maury County Parks to hold organized racing events. The required permits and insurance are being looked into but the track will remain a practice/recreation track for now.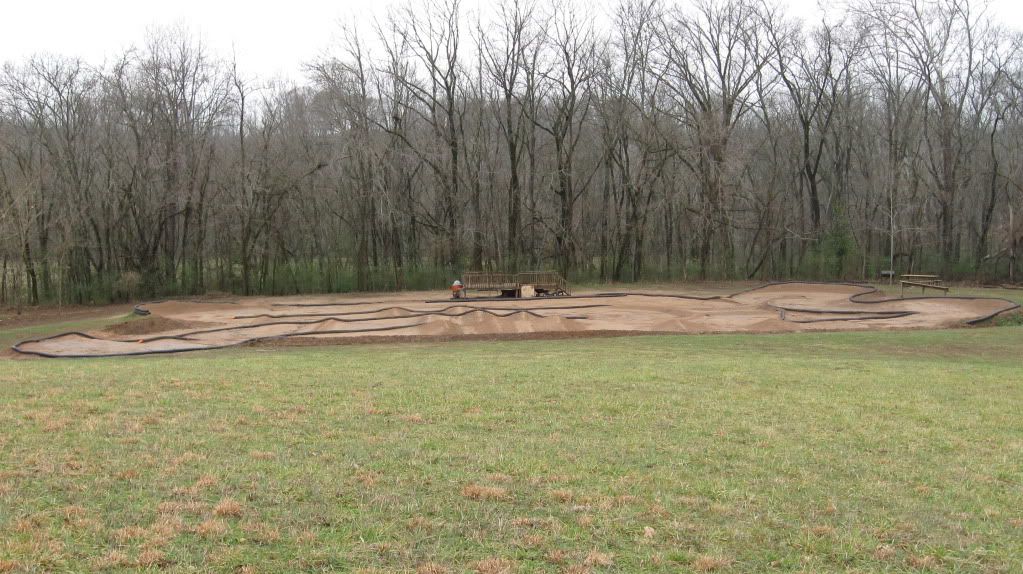 Directions:
Columbia residents: Chickasaw Trace Park is located on at
1417 New Hwy. 7 in Columbia, TN
, almost two miles past the intersection of New Hwy. 7 (Santa Fe Pike) and Industrial Park Road.
From I-65: take Exit 46 and go west on 412. Continue on 412 for 11 miles and exit right on New Hwy. 7 and right again at the end of the exit toward Dickson. Entrance to the park is approximately 4 miles on the left.
From I-40: take Exit 172. Go south on Hwy 46 that eventually becomes Hwy. 7. Stay on Hwy. 7 south for approximately 20 miles. The park is on the right just after the village of Athendale.
Some recent footage:
http://s1221.photobucket.com/albums/...t=Jan12012.mp4
---
Last edited by Square Wheels; 02-19-2012 at

08:38 AM

.
01-14-2012, 03:38 PM
01-14-2012, 04:05 PM
01-15-2012, 07:57 PM
01-15-2012, 11:42 PM
Tech Initiate
Join Date: Dec 2011
Location: Nashville, TN
Posts: 43
Love this track
---
This track has been changing alot in the last few months. I was there last week helping with the back section of jumps and I had so much fun running my rc8e. There's a really big jump with a great landing now. I have made the drive down from Nashville several times now and am planning on coming as much as my time allows. Just wanted to recommend it to anyone who hasn't been or who hasn't gone in awhile.

Brad
01-16-2012, 11:19 PM
---
A picture of the track and driver's stand was on the front page of Monday's Daily Herald newspaper.
TJ, Alex, Aaron, Jerry (I think), and a couple of kids were in the picture, up on the driver's stand. They got a good shot of Jerry's (I think) 1/8 buggy in the air.
01-18-2012, 03:54 PM
---
Track is mostly dry, parking lot is still wet.
01-18-2012, 11:53 PM
Tech Initiate
Join Date: Dec 2011
Location: Nashville, TN
Posts: 43
---
I'm planning on coming down this Saturday....hopefully it'll still be dry. I got my rc8e shock fixed finally.
01-18-2012, 11:56 PM
---
David, Brad, nice to see you guys here.
I got in a few laps before work today. Only a couple of corners were really muddy: turn 1 and the turn at the top of the hill.
Aaron ( do I have his name right? ) was out there working on the track, as usual. He's put in a lot of hard work out there.
Weather is supposed to be nice this Sunday.
01-20-2012, 04:12 PM
---
The track really looked good this afternoon. Aaron has really put a lot of work and money into it this week and has everything looking great. If it rains and is to wet to run on I will post it.
01-21-2012, 08:15 AM
---
Track is wet I am sure. Had a lot of rain last night. I am headed that way to check it out.
01-21-2012, 09:29 AM
---
Again the track surprised me on how dry it was. I swept what little water was on it off and walked all the track without getting muddy. The parking lot is a mess above and below so I would avoid those areas today. Sunday looks better but I think I will run some later this afternoon.
01-21-2012, 11:15 AM
---
Very muddy today, IMO. Going to hold off until tomorrow but will probably only have time to run one pack. Have to be in Nashville at 2pm.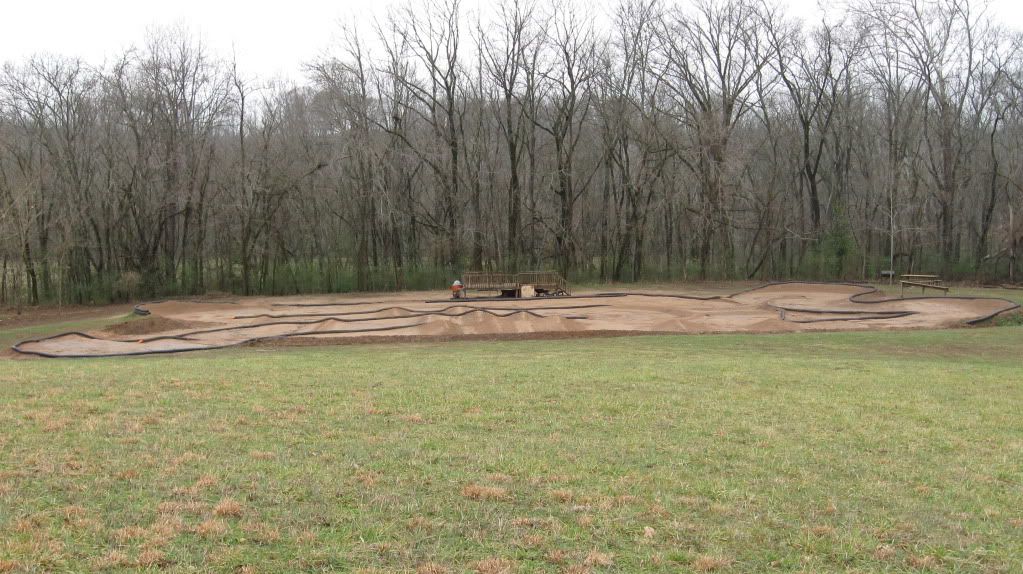 Aaron has done some really nice work on the jumps.
See y'all tomorrow.
01-22-2012, 05:23 PM
01-22-2012, 05:43 PM
---
Looks like you took as much dirt home as I did.