Castle Creations Mamba/MM/MMM FACTORY Q&A thread!
05-22-2008, 03:12 PM
---
theprocess - try red wire A, white wire B, black wire C. Ive run white wire A, black wire B, red wire C for quite a while now, little over 6 months with no problems whatsoever.

if you get cogging with the above mentioned wire setup, maybe change back to firmware 1.09 & see how that goes for you. it could also be the quality of the motor wires, are they brand new or have you used the motor wires that came with mm?
05-22-2008, 03:41 PM
---
here are my settings, & my motor wiring
everything is basically stocko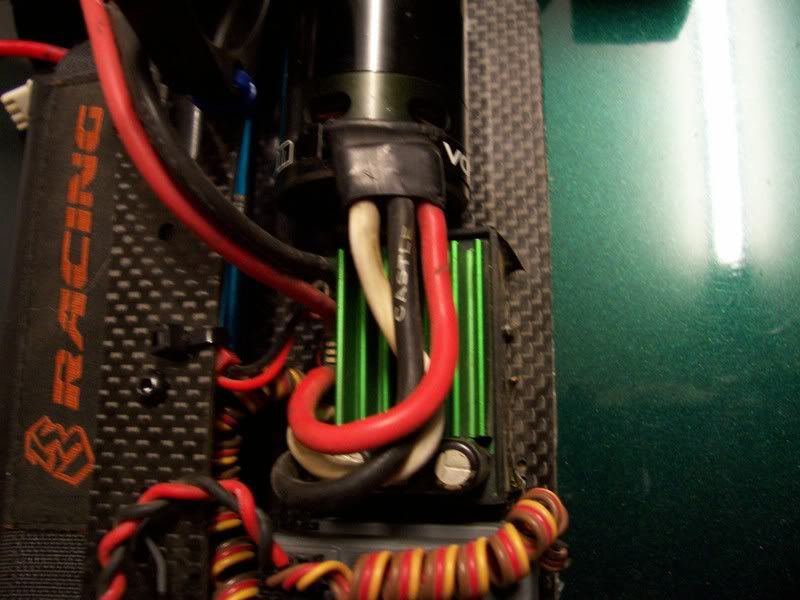 it could also come down to what type of batt, batt plugs, etc. i had a problem with my mamba max where the switch would not engage to the on position properly, which would cause cogging, simple solution for that was to cut the thing off & solder the wires together.
I also had a problem with what batt plugs i was using. for the esc i was using a deans, but on the batt i was using a venoms style 'deans'. i noticed after a full run the venom plug would be very hot, & the esc was not getting the full power of the batt (orion carbon 3200). i since changed to real 'deans' for the batts & that fixed the problem...
05-22-2008, 04:11 PM
---
ok so i know yall say dont use the 6900 or 7700 motors on 3s lipo. but why? i was thinking put a 6900 with 3s in my TC. swap my old LRP system into my buggy or something probably. i think that be sick fast.
05-22-2008, 11:48 PM
---
3s lipo w/6900/7700 exceeds the max rpm the motors can withstand, you could go ahead & try it, just at your own risk!!

I've seen some ppl running 4s lipo with the 4600...
05-23-2008, 07:11 AM
Tech Adept
Join Date: Sep 2007
Location: Canada
Posts: 183
---
Thanks Drift Demon.

Checked all the things you mentioned. Ive given up on trying to mate the MM esc with Orion motors. Just cant get it to work at all.
05-23-2008, 08:50 AM
Tech Legend
Join Date: Sep 2001
Location: Castle Mamba Max Pro. Feel its power!!!!!!!!!!
Posts: 21,206
---
05-23-2008, 11:31 AM
Tech Master
Join Date: Sep 2007
Posts: 1,029
05-23-2008, 02:33 PM
Tech Legend
Join Date: Sep 2001
Location: Castle Mamba Max Pro. Feel its power!!!!!!!!!!
Posts: 21,206
---
05-23-2008, 02:46 PM
---
yeh i was worried about the RPMs.... and yeh i dont have 4s lipo. do have 3s though
05-23-2008, 03:13 PM
Tech Master
Join Date: Sep 2007
Posts: 1,029
---
Originally Posted by
wyd
We do have a guy racing dirt oval in the 13.5 class using MM and the Duo 13.5. It only hesitates on ake off bu like my Orion once rolling it works great. The guy don't mind because he burned up a few other brand speedos and so far the MM has been the only one he didn't mess up (Sooner or later I imagine he will though)
I wonder how he has such good luck, I tried it with horrible results. When it would start it would take a minimum of 2 seconds to move sometimes as long as 5 seconds I tried all different settings with nothing really changing on either motor I tried.
05-23-2008, 03:51 PM
Tech Legend
Join Date: Sep 2001
Location: Castle Mamba Max Pro. Feel its power!!!!!!!!!!
Posts: 21,206
---
He might of had a second delay but that was about it. I have roughly the same type delay as well. I don't think I had anything special done as it worked about the same with my IB4200 packs and with my 4900 Trakpower packs.
Righ now I run offroad mod and it isn't a problem since I use Castle moors or I could use the Tekin Sensorless motors as well with no problems. I don't really go to ROAR races so running other motors at this time is not a problem but I know for some alot of touring car and dirt oval tracks run 13.5 classes so I see it would be a problem.
05-24-2008, 04:50 PM
Tech Regular
Join Date: Nov 2007
Location: Flanders, Belgium
Posts: 357
---
just an idea I had:
Why not making the software in the MM (of sidewinder) in such a way that you can actually tune up, not one but several personal programs.
Then you would only need a small button on the ESC with which you can the personal program you need.
This way, you would have the advantages of the very nice Castle Link-software (easy to use and program) ... and the advantage that you do not need to take a laptop to the competition, just in case your ESC needs some adjusting (as do LRP, Novak ... ESC's do)
Would be a great system I think.
Also, one other personal note: I prefer the linking via the servo-wire (through a small adaptor), which is very easy, over the use of a USB-port.
I know that I can use something as Velcro to attach the ESC and by so, making it easy to take out of my buggy (as I do with my receiver) but I prefer attaching it in a solid and permanent way. Also, my MM is attached to a little Aluminiumplate (*) and this helps cooling my MM by conducting the heat. The use of Velcro, which insulates the ESC, would prevent this.
(*) I made a little mod to my X10. (
pic here
05-25-2008, 10:11 AM
Tech Fanatic
Join Date: Feb 2007
Location: Springfield, MO
Posts: 946
---
Just a question,

I have a MM, and I haven't updated the software(fear of the dreaded BIOS lock). Does the software installed have reactive timing? where the timing advances as the RPM of the motor advances?

Also, will CC join the ranks of the Sensored clan?
05-25-2008, 05:12 PM
Tech Legend
Join Date: Sep 2001
Location: Castle Mamba Max Pro. Feel its power!!!!!!!!!!
Posts: 21,206
---
IF you look at downloading and decide to do that it shows you all the new updates before it updates so you can easily decide to not do the update if you don't want to.
As for the speedo you never know what Castle has up their sleeve. All I know for sure is they are always working on updating and new products overall.
Normally Castle won't promote stuff until it is very close to coming out as not to have people wait 6 months to a year like some companies like to do. If and when a product is very close to completion they will let everyone know for sure.
05-26-2008, 10:18 AM
---
is that why we waited so long for the MMM??? haha.