Best Tools: Hex and Nut Drivers, Screwdrivers ... etc.
05-05-2006, 11:35 AM
Tech Regular
Join Date: Nov 2005
Location: RC Madness, CT
Posts: 302
---
Mmm... almost forget MIP and Losi tools! I have my MIP set for more than 10 years and they are great but now I prefer the aluminum handles. Time to upgrade! Anyone uses Yokomo ones?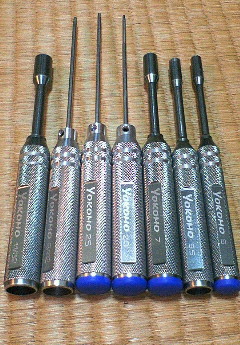 05-06-2006, 01:06 PM
Tech Initiate
Join Date: Apr 2006
Location: San Francisco, CA
Posts: 26
I'm still using allen keys with sore thumbs and want real hex tools for my TC4! Should I get The RD Logics or Associated set?
05-08-2006, 11:44 PM
Tech Master
Join Date: Oct 2005
Location: San Diego, CA
Posts: 1,463
---
Originally Posted by Stampede
Losi tools are great. They do take up a little more room in your tool box.
I've had mine for years, work great. The Ti. Nitride tips really last.
05-09-2006, 08:04 AM
Tech Fanatic
Join Date: Sep 2004
Location: Fremont CA
Posts: 879
---
Originally Posted by Mike Schumacher
Which company make the best tools besides HUDY? I'm thinking to get a set of Team Associated hex driver set because they're inexpensive comparing the ones from HUDY.
try the Hudy line of profi tools same tips just a cheper handle but I like them better snice you an grab them better. just my.02
05-12-2006, 09:52 AM
Tech Elite
Join Date: Jul 2005
Location: Philadelphia, PA
Posts: 3,121
---
The AE tools are a great choice, IMO, for the money. The tips are made well, and the smaller ones have held up longer than my Dynamite or Integy tools. AE also offers the ball hex sets, which are great for getting into odd spots on a chassis.
The MIP tools are another great choice. The only downside is the tips are non-replaceable. You can send you entire tool back to MIP, and they will regrind the tip onto the shaft.
If you can afford them, get a Hudy set. You may also want to look at Hard Tools -
http://www.phenixdist.com/index.asp?...ATS&Category=7
05-21-2006, 11:46 AM
Tech Elite
Join Date: Feb 2005
Location: SoCal
Posts: 3,542
---
INTEGY HEX DRIVERS RULE! BEST BANG FOR YOUR BUCK!
05-25-2006, 11:12 AM
Tech Master
Join Date: Apr 2004
Location: Grave Yard
Posts: 1,302
---
Anyone tried 3racing or EDS?
05-25-2006, 11:37 AM
Tech Adept
Join Date: Dec 2005
Posts: 146
---
i had the integy they were ok had the racers edge they were ok but you have to buy an extra wrench so you can tighten all the set screws or borrow someone else's have the ae tools they have the best overall feel of any i have used
06-14-2006, 07:09 AM
---
Originally Posted by Car Breaker
Anyone tried 3racing or EDS?
i've been using 3racing for almost 2 years now and they are good,but i recently purchased a 2mm and 0.05 speedmind after a tip off and must say that these are the most exact fitting i've used so far
i had a screw that was partially stripped and tried various drivers without success as my 2mm 3racing driver is worn out. a friend had a sm 2mm that removed it like he was taking out a new screw
12-10-2021, 10:36 AM
Tech Regular
Join Date: Sep 2011
Posts: 309
---
Currently Active Users Viewing This Thread: 1
(0 members and 1 guests)
Posting Rules
You may not post new threads
You may not post replies
You may not post attachments
You may not edit your posts
---
HTML code is Off
---