Back at it again! Bye bye zenoah power. hello lipo
11-24-2014, 08:53 AM
Tech Adept
Back at it again! Bye bye zenoah power. hello lipo
---
So about a year ago I bought the catamaran hull from my cousin. I bought it dirt cheap.(Taco bell and mtn dew cheap) so I doesn't own me anything so I held on to it. Finally I've decided to do something with it.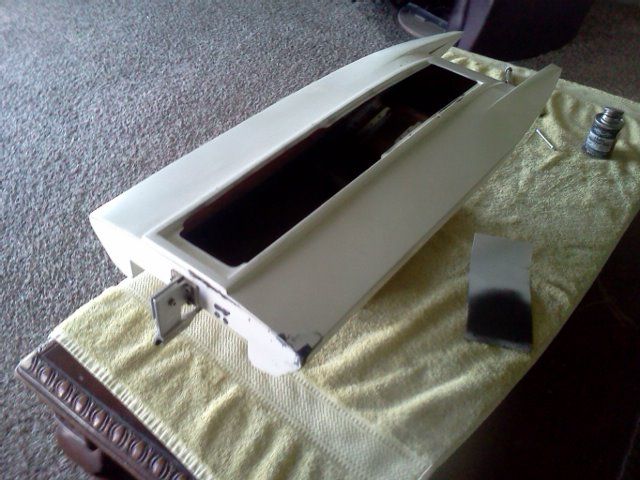 This is what it looked like when I first got it
This is what it looks like today.
Its a Hydra Sport hull. I was originally powered by a gas weed Wacker engine. But I've decided to convert it to electric due to the fact that I have extra electronics just lying around.
The first bit of work that needed to be done was to remove the old mangled drive shaft.
These are the pictures of after I cut the shaft housing out with my Dremel tool.
Photos of test fitting the new 5mm driveshaft.
Test fitting motor plate soon. I opted to go with a 550 size motor which I have a velineon system that I'll be putting in this. I'm not sure where the motor should be. Worried about to much wait in the rear.
This is the plate I got
Also purchased the rudder system, driveshaft, and motor mount from EBay. I'll try to find links and prices asap.
Sorry for the photos and the quality.
Just moved and haven't set up my RC bench yet. All photos were taken with my Droid Maxx.
11-25-2014, 07:51 AM
Tech Adept
---
any body know where i could get a top for this boat? having a hard time finding one
11-25-2014, 08:23 AM
Tech Adept
11-25-2014, 08:26 AM
Tech Adept
---
wait i believe i meant 540.. not 550
11-25-2014, 08:36 AM
---
11-25-2014, 09:10 AM
Tech Adept
---
Originally Posted by
roadrashracing
really? i was told (on a different forum) that a 1/8th size system would be way to big!?!?!?!?
11-26-2014, 06:00 AM
Tech Addict
Join Date: Oct 2011
Location: Kalamazoo, MI
Posts: 512
---
That hull never had a gas engine in it as that's a nitro engine motor mount.
The brass tube has to be much longer as it has to go all the way to the strut.
It's going to need a much bigger motor. Go into the OSE forum site and ask them what it'll need.
The dual rudder setup is overkill.
Currently Active Users Viewing This Thread: 1
(0 members and 1 guests)
Posting Rules
You may not post new threads
You may not post replies
You may not post attachments
You may not edit your posts
---
HTML code is Off
---