★☆★ Portable Charging Station ★☆★
11-18-2013, 11:37 AM
---
Very cool project. You have inspired me to start on something similiar in the near future.

A quick word on computer airflow dynamics, you guys are both right and it's just 2 schools of thought really. Some go for positive pressure (more intake than exhaust) and some are designed for negative pressure (more exhaust than intake). Servers are a bit of a different beast (hot/cold aisles). It might be worthwhile to see what system works best in each application (a tall eatx tower case is going to have much different flow characteristics than a cube itx case is going to have much different flow than a laptop).

What kind of ps were you able to source that was small enough to fit in the case and crank out 60amps? I apologize if you answered this previously as I have been following it from the beginning and have slept since then!

Keep up the good work man!

PS. Digging the M5 wagon love, if they still imported them would have given my current ride a run for the money at checkout time (CTS-V Wagon)
11-19-2013, 03:51 AM
Tech Master
---
Originally Posted by
mkiiina
Very cool project. You have inspired me to start on something similiar in the near future.

A quick word on computer airflow dynamics, you guys are both right and it's just 2 schools of thought really. Some go for positive pressure (more intake than exhaust) and some are designed for negative pressure (more exhaust than intake). Servers are a bit of a different beast (hot/cold aisles). It might be worthwhile to see what system works best in each application (a tall eatx tower case is going to have much different flow characteristics than a cube itx case is going to have much different flow than a laptop).

What kind of ps were you able to source that was small enough to fit in the case and crank out 60amps? I apologize if you answered this previously as I have been following it from the beginning and have slept since then!

Keep up the good work man!

PS. Digging the M5 wagon love, if they still imported them would have given my current ride a run for the money at checkout time (CTS-V Wagon)
The PSU im using is a Delta unit meant for servers, just modified for 12v use. Yeah I wish there were more M5 wagons in the states, it would help not having to convert a 540 wagon. To be honest, the CTS-V is one nice looking ride and ive contemplated it before but I keep going back to the BMW..
12-13-2013, 09:48 PM
Tech Master
---
I haven't done much updating and that is because there hasn't been much progress on the charging unit. I have something else that i'm currently working on and so the charger is on a break. I really don't want to, but if someone wants to take over where I left off, make me an offer and if its decent, ill consider. I hate taking a break from projects but none the less, another has taken its place for now. I will update again once I decide to open this pandoras box once more.
12-14-2013, 05:36 AM
Regional Moderator
Join Date: Jul 2006
Posts: 2,664
---
12-18-2013, 01:10 PM
Tech Master
---
Originally Posted by
CarbonJoe
The one pictured has the front end from an E39. BMW only made one E39 M5 wagon, for a BMW executive. There may be some conversions floating around, but BMW never imported an M5 wagon. Notice the dark colored one has an AC Schnitzer badge on the side. The white one is just a 528 or 540 wagon with aftermarket wheels.
Yeah, I don't remember ever seeing M wagons imported, it was most likely a face conversion. Also, I think I found that one on a euro forum so im not sure at all. Personally, If I had the 540 wagon, I would do the M face lift. Not to make people think its an M but simply because I think M parts are much higher quality and look far better. Its just a "body kit" in essence. On the other hand, I could see myself buying a Cadillac CTS-V wagon.. For some reason, I think they are very aggressively styled and with the proper exhaust, they sound amazing..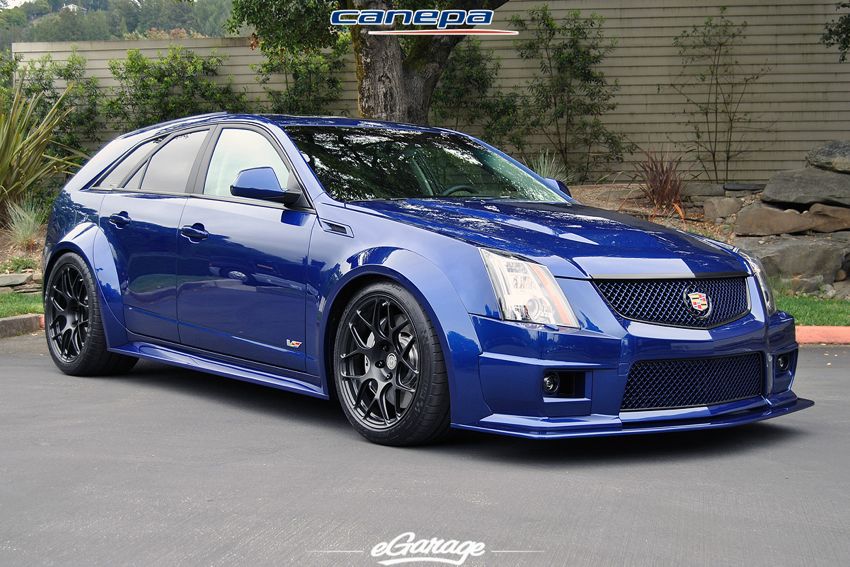 Currently Active Users Viewing This Thread: 1
(0 members and 1 guests)
Posting Rules
You may not post new threads
You may not post replies
You may not post attachments
You may not edit your posts
---
HTML code is Off
---