New Products from Radiopost Korea!!
05-12-2010, 05:18 PM
Tech Fanatic
Radiopost USA
---
Here are a few pictures i took of thier prototype transmitters. Let me know what you guys think and any input from would be greatly appreciated. We want to make products the racers want. They have been making modules and receivers for Airtronics, Futaba, JR and Hitec with great success. They were geared towards Helicopters and Planes but are now focusing on onroad and offroad cars. Please look forward to great products like lipo batteries, servos, ESC, chargers and other pit electronics. Thank you for your input.
Regards,
Eric Kim
[email protected]
Color LCD screen transmitter with high response 2.4gHz technology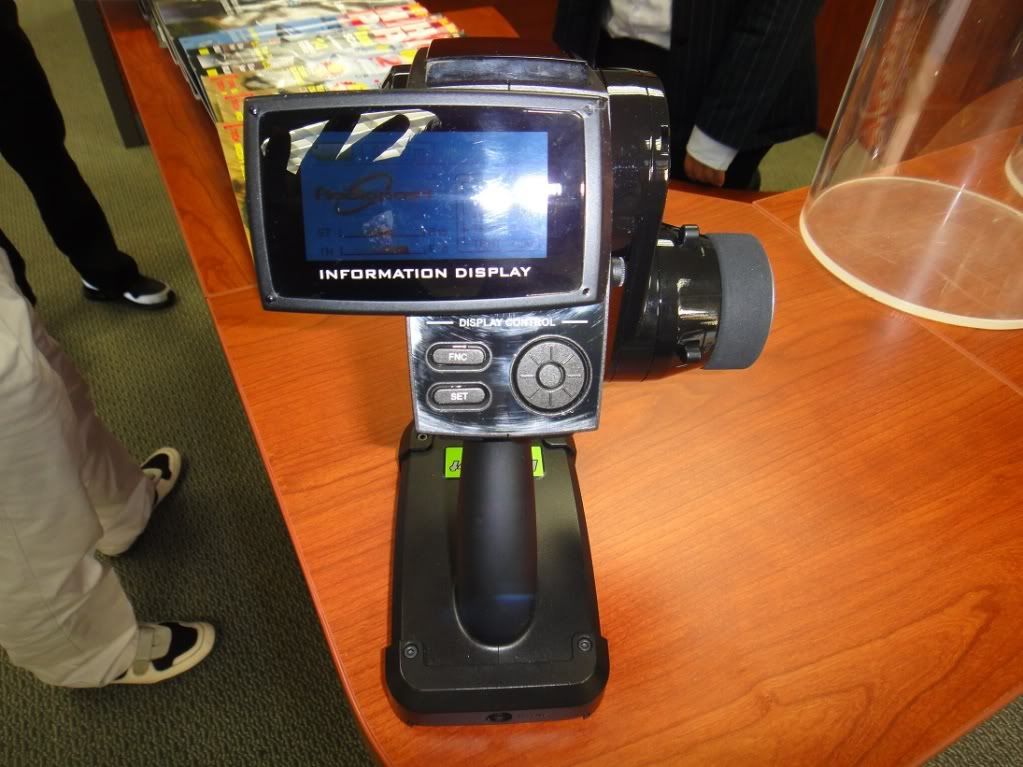 ---
Last edited by ekim628; 10-13-2011 at

05:57 PM

.
05-13-2010, 02:21 PM
Tech Adept
Join Date: Jul 2008
Posts: 108
---
cool.
05-13-2010, 03:35 PM
Tech Fanatic
---
ETA on the transmitter will be early July. Also there is news of a cool telemetry system they are working on. Just simple things serious racers need like motor temperature on screen (you set max temp and transmitter will beep) also lap counting system
05-13-2010, 05:28 PM
Tech Elite
Join Date: Nov 2002
Location: NY/FL
Posts: 3,378
---
Eric, are you talking about a personal lap counter or a Timing system to compete with AMB ??
05-13-2010, 05:36 PM
Tech Master
Join Date: Aug 2009
Posts: 1,315
---
I'm all for different and innovative radios. Love my Nomadio Sensor, but since they have gotten out of the hobby RC line it might be time for something new.

Make sure it has a good backlight on the screen, and the settings menus must be easy to navigate. Also, make sure the wheel is solid, the Nomadio Sensor has the issues with a certain piece on the wheel always breaking (luckily mine hasn't yet, knock on wood).

Finally, I really like being able to connect my Nomadio to my PC for adjusting settings and customizations, so that could be a feature you include with your radios.
05-13-2010, 06:58 PM
Tech Elite
Join Date: Mar 2003
Location: The Sky
Posts: 2,556
---
Hey Eric,

Post more pics and the details pls. I m interested.
05-13-2010, 09:41 PM
Tech Regular
Join Date: Dec 2008
Location: Euro-Thrash
Posts: 400
---
How much will it cost? How much for extra receivers? How many model memories?
05-13-2010, 09:56 PM
---
Where will it be available in here in Korea and will the price be similar to the US price or inflated like a lot of other Korean products are here?
05-14-2010, 12:21 AM
Tech Fanatic
---
Hi guys. So happy to see all this interest and suggestions. I am not tech savy nor do i have a degree in electronics or engineering, thats why RCtech is cool because i can gather all this information you post and send it to the engineers in Korea
Thanks for your help and we will try to make a innovative yet user friendly radio.
Evoracer-
It is going to be a receiver function meaning it will be a telemetry option like voltage monitor, Motor temp monitor and car speed. I will find out more detailed information and let you know.
Simplechamp-
Yes it will have a bright color LCD and i will make sure they have a sturdy yet smooth wheel. I dont think it will have a computer hook up but that can be something we can look into for the future. Thanks for your suggestions.
dameetz-
I will post more pictures tomorrow
RossoTorro-
Price is TBD. The recievers will be the ones we already sell. I will ask about the model memory and post it on this forum.
Knitewolf-
Hello, they will distribute to all the hobby stores that accept our product line. Pricing wise I dont see why they would make it more expensive than the US counterpart since its made IN korea.
Thanks guys and I hope to answer all your questions to the best of my abilities
05-14-2010, 03:21 AM
Tech Regular
Join Date: Jun 2008
Posts: 278
---
those radios seem very large and possibly top heavy. they remind me of the futaba 3pk and that thing was very heavy and felt top heavy.

i dont know if any other radios have this but an adjustable low battery alarm since there are many different battery types. maybe have presets for specific battery chemistry and the the option for a custom one from 5-12V (or whatever the radio voltage range is) in .1V increments
05-14-2010, 03:52 AM
---
Thats what you would think... but thats not the case. Imported products are so expensive here it drives up the price of domestic products. Many electronics made in Korea are often cheaper for me to order from the US oddly enough. There are a few exceptions with R/C products and I hope that radio will be one of them.
Just as an example my Samsung plasma cost almost twice as much here as it would have in the US. For R/C even the new Gmade R1 costs $10 more here than in the states (free shipping though) and usually Gmade parts are cheaper here.
Anyway I'm interested to hear more about them. How many channels are they? I'd like to see an easily accessible 3 position switch that could be reached with the thumb on the hand holding the Tx, so I can operate my dig on my crawler with it.
05-14-2010, 10:18 AM
Tech Adept
Join Date: Jul 2008
Posts: 171
---
curious about price as well
05-14-2010, 10:37 AM
Tech Addict
Join Date: Jun 2006
Posts: 515
---
i would like to see the manual for this thing.
05-15-2010, 02:13 AM
Tech Fanatic
---
Benben10-
The wieght of the top is not as heavy as you think. Since this is a prototype the whole thing is very heavy. I guess we all have to wait until a functioning model comes out.

KniteWulfe-
They have 5 ch and 6 ch receivers for surface and up to 10 for heli and planes. I dont know what a 3position switch is. I never operated transmitters other than for 1:10 scale on road and off.

Morbo-
Price will be available soon. They need to sort out some stuff in Korea R&D center

Skyblueblue-
Manual is not out since these Tx are not out yet. Pictures are just prototypes for now
05-15-2010, 09:24 PM
---
A 3 position switch is a switch that has 3 positions. A regular switch is ON/OFF but for dig units we need an easily accessible thumb switch that has 3 settings with adjustable end points. Think a switch with "on", "middle" and "off" like the spektrum DX3r but in a better location closer to the left hand thumb. It looks like there are some buttons right where I'm thinking in those photos but a switch would be better.