2.4 Radio Interference any solutions ?
04-15-2019, 10:23 PM
Tech Rookie
Join Date: Apr 2019
Posts: 2
2.4 Radio Interference any solutions ?
---
My local club have had a fair amount of crashes recently with some of them being straight complete loss. just no control and them flying off and going into fail safe with a somewhat pattern in certain areas.


I'm not sure if this is a higher rate than normal (some will be down to gear failure) but some of these models have been really nice models with alot of time spent on them with really good engines and radio gear end up just flying off and being found in pieces half a mile down field.


is there any proofs that RC planes causes interference to other users ?


we have a suspicion that a 2.4 g tower near our club is blasting out 2.4g radio waves and disrupting signals which causes complete radio control loss


this is what happened to my other RC plane it was in total radio control loss,if it weren't for the fail safe method my plane would have crashed ,my rc plane cut of its engine and started to glide and was about to touch the power lines


a few months back we had a same indecent happening one of my friend was hovering his quad copter in our club that to he was hovering to so low but at sudden he lost control of his copter and started to fly on its own after few heart thumping seconds we got back the control and it was a terrifying experience for him ,
04-16-2019, 01:14 AM
Tech Champion
Join Date: Aug 2007
Location: Holland
Posts: 7,704
---
Time to call an organisation to do a radio signal check on your field. They can meassure frequencies and their power.
04-16-2019, 05:45 AM
Tech Elite
Join Date: Mar 2011
Location: Austin,TX
Posts: 3,491
---
What brands of radios are these folks using that are having fly-aways?
Are they all using direct sequencing?
I agree that using a spectrometer would be a good idea, but a quality tool can cost around $30K if you want to get reliable readings.
Safest bet is to invest in a quality brand of radio system that has the highest number of FHSS frequencies that you can afford:
https://www.rchelicopterfun.com/RC-Spread-Spectrum.html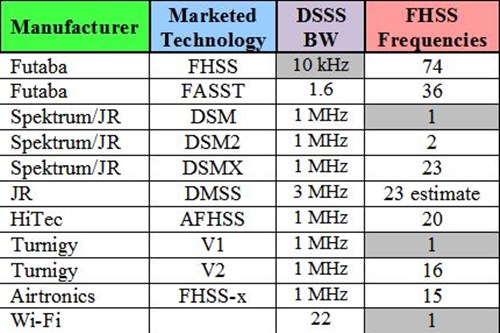 04-17-2019, 04:17 AM
Tech Rookie
Join Date: Apr 2019
Posts: 2
---
thank you billdelong will try
Currently Active Users Viewing This Thread: 1
(0 members and 1 guests)
Posting Rules
You may not post new threads
You may not post replies
You may not post attachments
You may not edit your posts
---
HTML code is Off
---