Motor Dyno torque curves
02-22-2019, 08:33 PM
---
Rotor inertia versus drive train inertia

everything that the rotor drives should be less than 45 times the inertia (through the gearing) of the rotor inertia. Its not a power thing it is a control or electronic or harmonic thing. Very small changes in rotor inertia and thusly gearing and its inertia can make it very difficult to control the motor with an ESC. Check the ratio. Do not think of it in terms of power. Do not get confused by people taking authority away from this ratio by comparing masses or differences in power or torque.


02-24-2019, 07:08 PM
---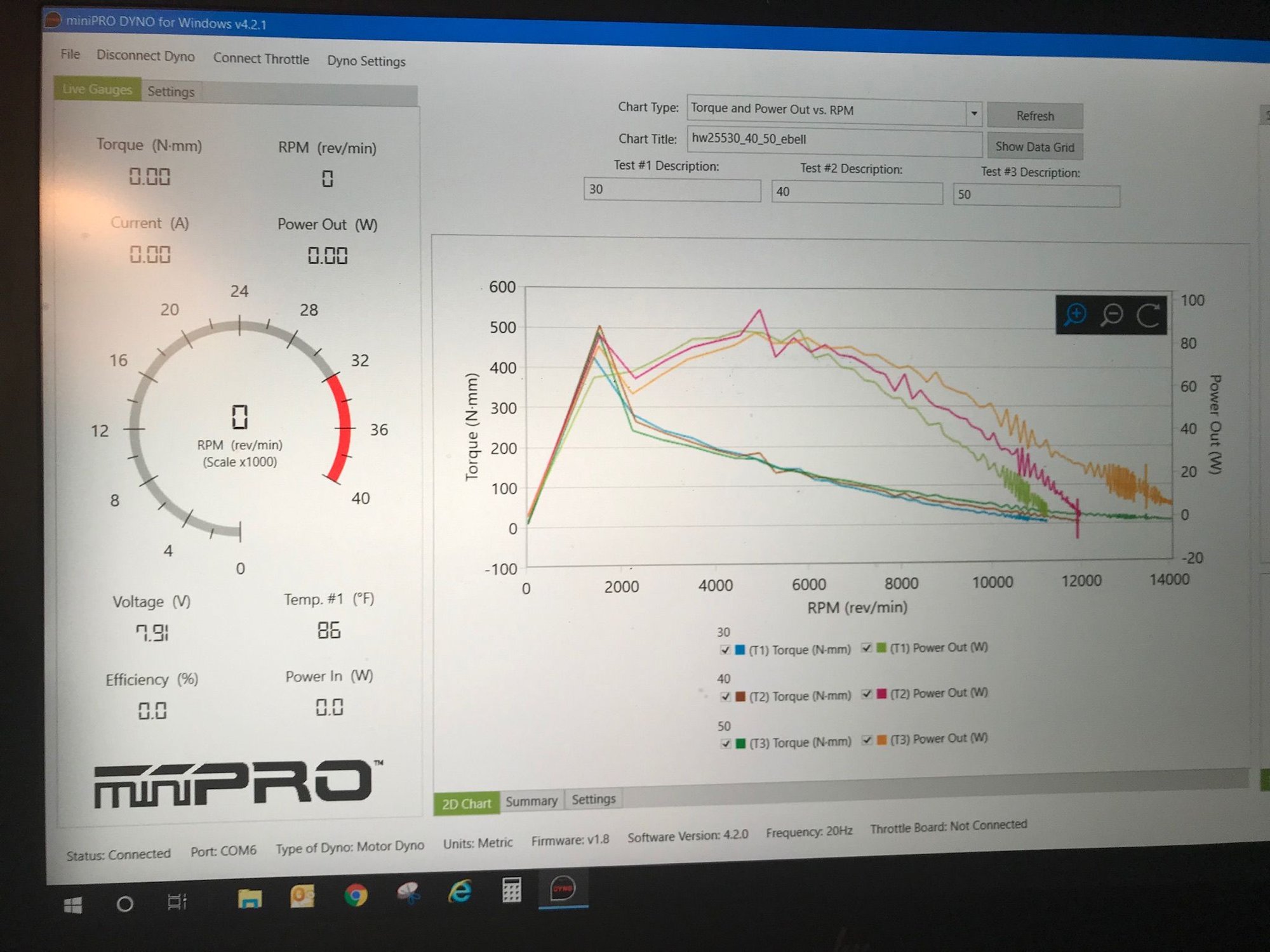 Hw25.5 v10
03-14-2019, 06:50 PM
monster 21.5 motor dyno versus same on chassis
---
Same motor and timing. The difference is one curve is for the motor only and the other is the motor on the chassis on a chassis dyno
03-14-2019, 06:55 PM
---
The back to back doesnt quite make sense to me yet. Having higher low rpm torque on the CD doesnt make sense.
A couple potential explanations:
the configuration change in the logging that scales the chassis and motor dyno is off.

03-17-2019, 04:37 PM
Tech Regular
Join Date: Feb 2007
Location: Calgary, Canada
Posts: 497
---
There are more variables that influence results on the chassis dyno vs a flywheel. Belt tension, bearings, tire slip, tire diameter etc....
In addition, gearing would influence/affect results. The FDR of the flywheel is 2:0 on the mini pro, and if your FDR is 4.4 in the car, when running the chassis dyno, then the motor has to work harder to move the same flywheel. Which could explain why it peaks more showing more power... There could also be different formulas that are used to calculate the power to compensate for variables. Not sure if you can input the FDR that is on the chassis dyno which could be why it doesn't make sense.
03-17-2019, 08:29 PM
---
yea im looking forward to quantifieng the physics so I can make sure belts arent slipping and friction is minimized. I didnt look hard but when i changed the setup from motor dyno to chassis dyno I dont remember seeing a place for my FDR. It could be there. Unless it is basing speed off the roller speed which is not the units I care about. Iíll get to it as soon as i get some time.
Currently Active Users Viewing This Thread: 1
(0 members and 1 guests)
Posting Rules
You may not post new threads
You may not post replies
You may not post attachments
You may not edit your posts
---
HTML code is Off
---