Bought myself a Futaba T7XC transmitter.
12-18-2018, 12:06 PM
Bought myself a Futaba T7XC transmitter.
---
I did get some money back from taxes so it was time to replace my old T3VCS. I do have a T4GRS I have got through a review for a magazine but athough it is a good transmitter it feels a bit plastic and small. I only use it with my Tamiya F1 I race just a few times a year.
Futaba T7XC 7-Channel 2.4GHz Transmitter Combo including R334SBS Rx (P-CB7XC) - Ripmax Ltd
The T7XC is basically a 7PX pistol transmitter in a stick version and looks stunning. From what I saw with rubber hand grips giving a better feeling in the hand than the T4GRS. It comes with the new 334SBS receiver and has many transmission modes to work with, the fastest mode wil work with 760uS servo's that for now I have no itention to work with.
I hope before the weekend it will drop on my door mat.
12-19-2018, 01:30 PM
---
Well, it was a very quick delivery...
I am impressed, nice color screen, booting up with music, a very easy menu and feels good in the hand, better tham the T4GRS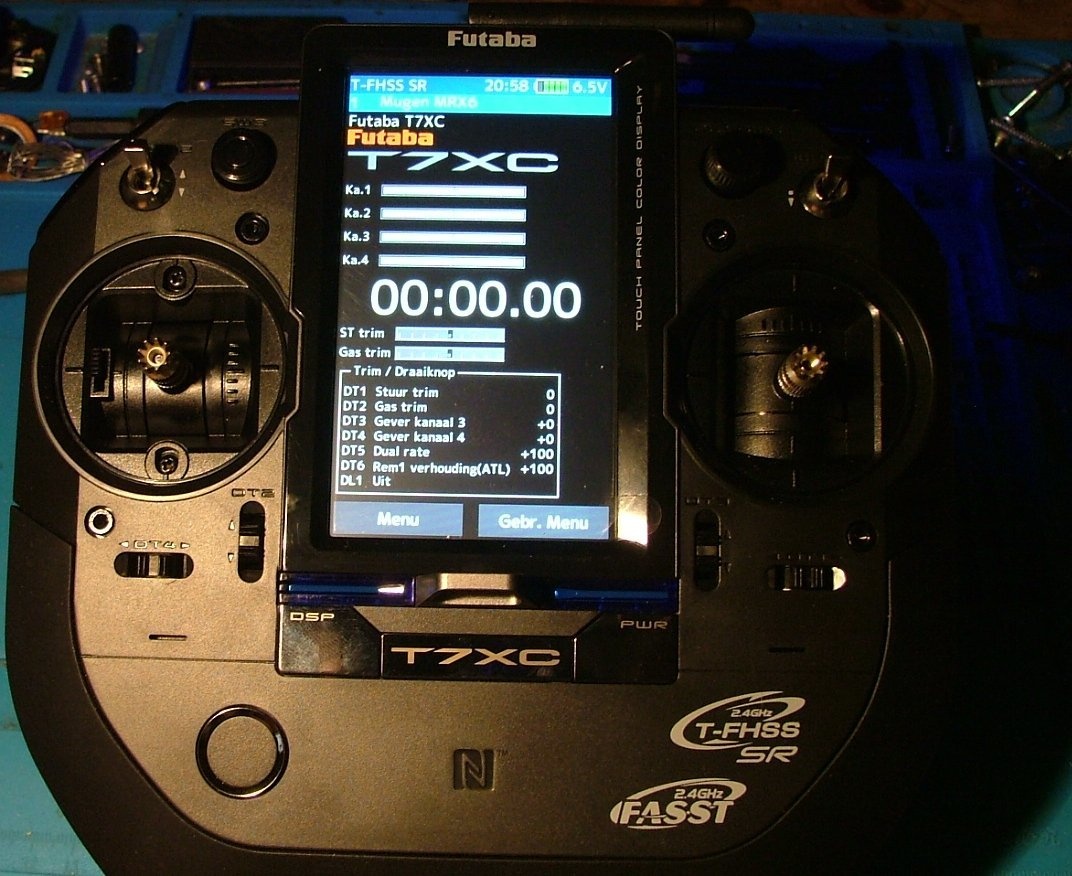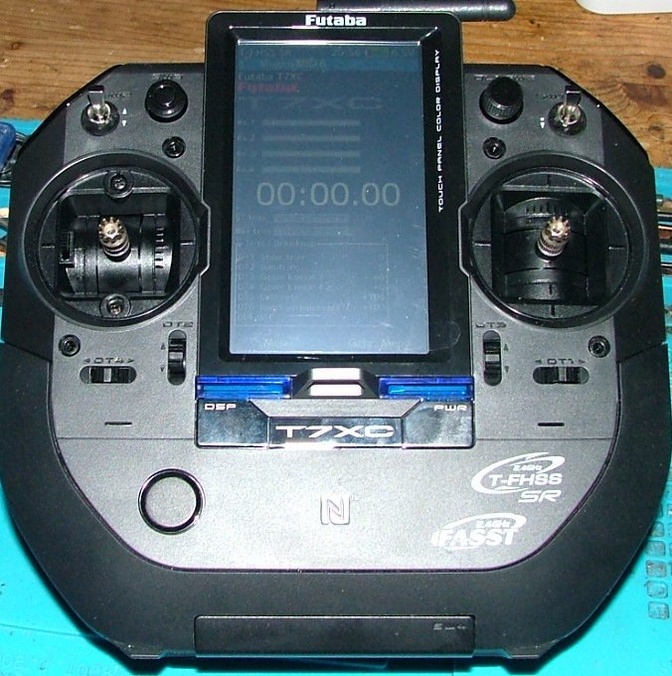 I made some screenshots with my portable osciloscope of the servo signal in several modes.
T-FHSS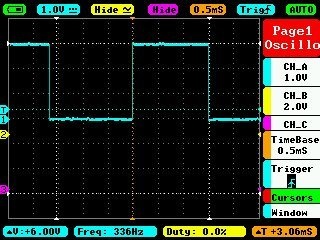 T-FHSS SR in normal mode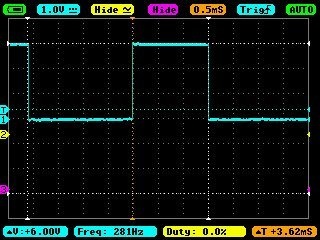 T-FHSS SR in SR mode
That last one needs other type servo's, so called 760usec servo's but its quick with almost 1msec framerate.
12-21-2018, 08:48 AM
Tech Fanatic
Join Date: Nov 2005
Location: Los Angeles Ca.
Posts: 974
---
Roleof,
I've always been partial to Futaba and just picked up a 7PX. They really did their homework and it's the best I've owned so far. I'm sure your going to enjoy your new system for many seasons!
12-31-2018, 12:25 PM
---
One thing I did not like is the handle. It is a flat piece of carbon that does not feel nice in the hand.
Lucky it is screwed to the transmitter so it can be replaced by something else. So I went for a piece of 10mm round aluminum. Made 2 slots in it for 2 short carbon stripsand and some screw holes.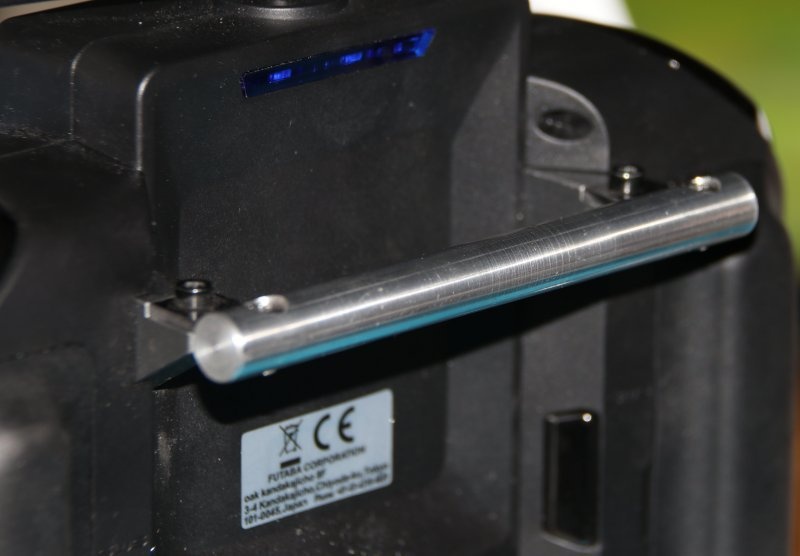 Polished the bar of aluminum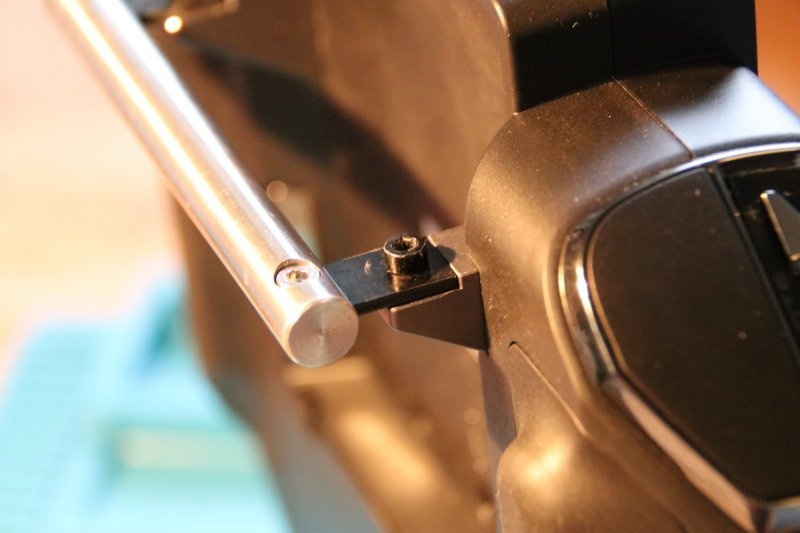 Now it feels much better in the hand to carry the transmitter and it is personalized.
01-06-2019, 02:31 PM
---
I can not tell from the inside but from the outside it looks like it.
I have the bag with my F1 and the T4GRS nearby, tomorrow I will take out the transmitter and put them side by side.
01-08-2019, 12:32 PM
---
Yes, the sticks of the T7XC are the same as used in the T4GRS, they even feel the same.

I did also measure up the distance between the sticks, with the T7XC they are 1.5cm further away from each other than with the T4GRS which is more comfortable for a big guy like me.
01-08-2019, 12:41 PM
Tech Regular
Join Date: Dec 2011
Posts: 492
---
if you ever want to sell that 4GRS, i might be interested in buying it for the right price
01-09-2019, 03:58 AM
01-11-2019, 05:13 AM
Tech Regular
Join Date: Aug 2010
Posts: 346
---
I've been thinking about getting the T7XC for a while. I currently have 3GR 2.4GHz with additional push buttons that I added on the shoulders that I set to Dual Rate for the steering. It is so much easier to adjust in race having the left shoulder Dual Rate down and the right shoulder Dual Rate up.

Does the T7XC have shoulder buttons that can be assigned? From the manual it looks like DT6 and DT5.

Would you be able to check and see if it is possible to set the up and down buttons independently such as DT6 down to Dual Rate down and DT5 down to Dual Rate up? Or is it only possible to assign DT6/DT5 to Dual Rate.

It looks like a great TX.

One last question if you don't mind. The T4GRS is not compatible with FASST, but do you know if older FASST receivers such as R603FF and R203GF will still work with the transmitter in FHSS or S-FHSS? It would be one reason to skip the T4GRS and go straight to upgrading to the T7XC as all my current receivers will be compatible.
01-11-2019, 09:42 AM
---
There are buttons everywhere as also on the top corners, there are even buttons on the back.
The manual:
http://www.ripmax.de/media/download//7/x/7xc-e.pdf
Regarding FASST, I never had used it but I believe there are 2 systems. The transmitter has a FASST option and regarding the list on the Futaba site these FASST receivers are compatible:
R603FF
R603FS
R604FS
R614FF
R614FS
R614FF-E
Also your S-FHSS is listed.
See here:
https://www.futabarc.com/receivers/f...ss-compat.html
The T7XC is not listed but it is basically the same as the 7PX
03-12-2019, 09:53 AM
Tech Regular
Join Date: Aug 2010
Posts: 346
---
I've gone for it and ordered myself the T7XC! It should be arriving tomorrow.
Having read through the entire manual it looks like one of the best radios on the market! From the diagram below on Futaba's website, FASST is a faster protocol than T-FHSS SR when using standard digital servos.
Have you tried any of the Futaba SR servos? I was thinking of trying the S9570SV.
03-12-2019, 10:44 AM
---
I have not bought any SR servo's, the price is not interesting for a fraction more speed. I buy my Savox 1257 for just 60 euro. But I loce to try the Xpert 800Hz serco's, the specs do look awesome.
03-14-2019, 11:26 AM
---
I can not tell, I have no experience with the Sanwa