cheap on-road roller or sct
07-07-2011, 07:24 AM
cheap on-road roller or sct
---
so i am tired of trying to get parts for my sons thunder tiger sparrowhawk. would like to get him a different car, looking for something fairly cheap, could even need some repair as long as it is something with good parts availability.

i have good local parts availability for HPI and Associated something as basic as an e-10 would be fine since he just plays on the road beside my house.

dont need any electronics.

would also be interested in cheap sct roller.

i have paypal and lots of crawler stuff for trade also have a novak 3.5 brushless motor for trade

pm pics and price shipped to 65801

i have not done much on this site, have more feedback on rccrawler.com under same username

thanks
Charles
07-07-2011, 07:46 AM
Tech Initiate
Join Date: Jul 2011
Location: Australia
Posts: 41
---
Originally Posted by
slowtocrawl
so i am tired of trying to get parts for my sons thunder tiger sparrowhawk. would like to get him a different car, looking for something fairly cheap, could even need some repair as long as it is something with good parts availability.

i have good local parts availability for HPI and Associated something as basic as an e-10 would be fine since he just plays on the road beside my house.

dont need any electronics.

would also be interested in cheap sct roller.

i have paypal and lots of crawler stuff for trade also have a novak 3.5 brushless motor for trade

pm pics and price shipped to 65801

i have not done much on this site, have more feedback on rccrawler.com under same username

thanks
Charles
Hi mate if your interested in nitro I'm selling a team magic G4 team kit roller but I live in Australia . I am selling it for 120 ono . I am willing to post it registered post
If you go on the forsale forum down the bottom to Australian racing all pics are there
07-07-2011, 07:50 AM
Tech Initiate
Join Date: Jul 2011
Location: Australia
Posts: 41
---
07-07-2011, 07:59 AM
Tech Lord
Join Date: Mar 2011
Location: Kalispell Mt
Posts: 11,090
roller
---
i have a traxxas bandit
07-07-2011, 10:27 AM
---
07-07-2011, 11:13 AM
Tech Initiate
Join Date: Feb 2010
Posts: 45
---
I have a associated sc10 roller for 90bucks
07-07-2011, 11:29 AM
Tech Master
Join Date: Oct 2010
Location: Socal Ca 909
Posts: 1,884
---
Never mind it just sold sorry-I picked this up and don't have use for it. It's on raid but was told it's nit common. Just cleaned motor and it idles but still needs work. Or just throw in another motor and go. It's complete minus dx.
http://www.rctech.net/forum/r-c-item...dan-nitro.html
Pm if interested thanks oh and if you have lipos, I'm up for trading
---
Last edited by Titian2010; 07-07-2011 at

01:18 PM

. Reason: Sold
07-07-2011, 03:30 PM
---
just looking for electric.

things i have to trade
Novak 3.5r motor
venom creeper tranny
el nino mrc chassis
losi comp crawler chassis (setup for moa with carbon fiber electronics tray)
Stock esc and motor from xxx-sct
---
Last edited by slowtocrawl; 07-07-2011 at

04:30 PM

.
07-07-2011, 09:52 PM
Tech Master
Join Date: Dec 2008
Location: Rancho San Diego, CA
Posts: 1,009
---
I have an on-road roller. It is a Redcat Racing on-road roller...an HPI knockoff. Comes as you see it with chassis, wheels, and a beat up Porsche body.
$60.00 shipped in the upper 48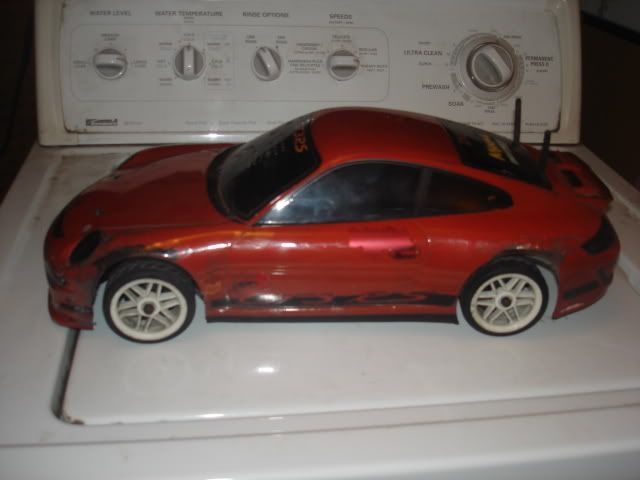 07-08-2011, 02:47 AM
Tech Rookie
Join Date: Jan 2008
Location: Kingsville, ON
Posts: 9
---
PM Sent.
07-12-2011, 05:17 PM
---
Mahabe found what I wanted. Thanks for all the offers. I will post back If deal doesn't work
Currently Active Users Viewing This Thread: 1
(0 members and 1 guests)
Posting Rules
You may not post new threads
You may not post replies
You may not post attachments
You may not edit your posts
---
HTML code is Off
---