B5M decked out ARTR with a custom lucky 13 graphics silencer body
05-29-2016, 05:39 AM
B5M decked out ARTR with a custom lucky 13 graphics silencer body
---
It is time to part with this awesome little car, I need to rebuild my turbo on my real car
. It runs great and is set up with stock in mind, however with pucks, the light chassis, your receiver, and transponder the car will easily match any competition. It does come with a load of new and used spares to easily get you by any possible maintenance for the next while. The car has always had a schelle chassis protector on it, the chassis is in great condition but has the typical scrape wear on the rear end from low ride height.
Go to this listing, I bumped an old thread sorry!! CLICK HERE
Savox 1257 Servo (as fast as the day I bought it)
Orion R10 (Has a novak switch installed because the original one failed, includes a new cap pack)
Reedy Mach 2 17.5 OR 13.5 (runs strong, and has never been over 130 degrees)
SMC 4300 Lipo (slight puff runs strong)
Broken In Dirt Webs (amazing for any clay anywhere ever)
Mod List:
AE Gray Front Springs
AE Blue Front Springs
AE Front Axles with Clamping Hexes
AE Anodized Aluminum Screws
AE Lightened Motor Plate 4 Gear
AE Hard Spindle Carriers
AE B5 Rear Arms
AE Aluminum Rear Ballstud Mount
AE Aluminum Rear Hubs
AE Aluminum C Mount
AE Aluminum D Mount
AE Aluminum Topshaft
AE Aluminum Rear Hexes
Exotek Flight Battery Holder
Avid Evo Drive Plates
Lunsford Titanium Turnbuckles
Racer's Edge Aluminum Servo Horn 25t
Schelle Ceramic Transmission Bearing set (maintained, and will last a really long time if you clean and oil them)
NIP Spares
91352 FT 12mm Piston 3x1.4 set
91488 3x21 Shock Shaft
91516 FR Shock Tower B5M
91429 Idler Gear
6581 3/32 Carbide Diff Balls
91398 Front Arms B5
91531 Wing Body Mount
91371 Front Brace
91492 12mm v2 bleeder gasket
91391 Steering Set
91471 Clear Wing
Other Included Stuff
Avid Schelle Lockout plate used once
Avid spare white and red slipper pads
Avid Ceramic Thrust Bearing
Spare Avid/Schelle 81t, and original AE gears
Proline Trifecta Wing (you have to drill out the wing mounts to accept screws in order to use this)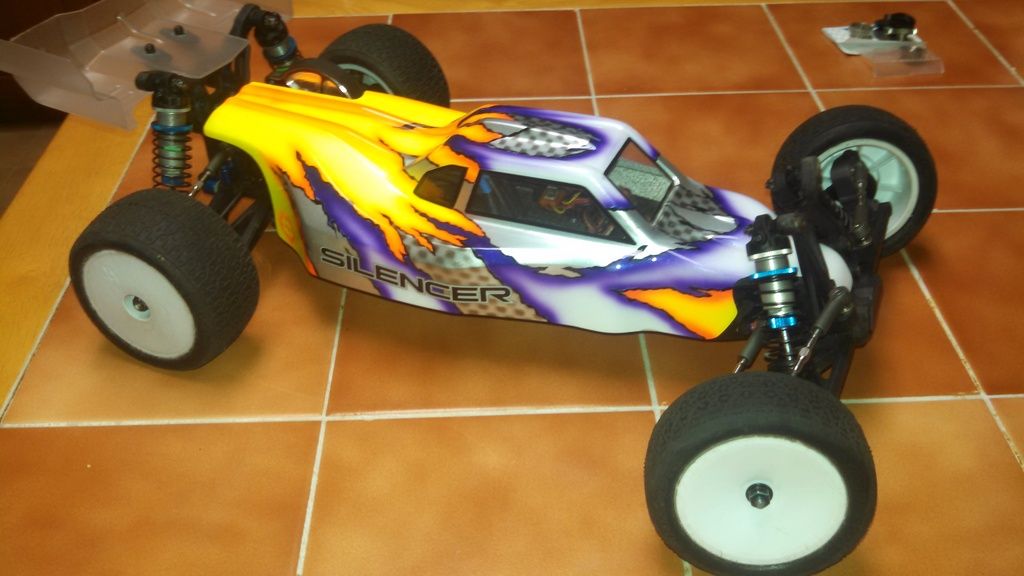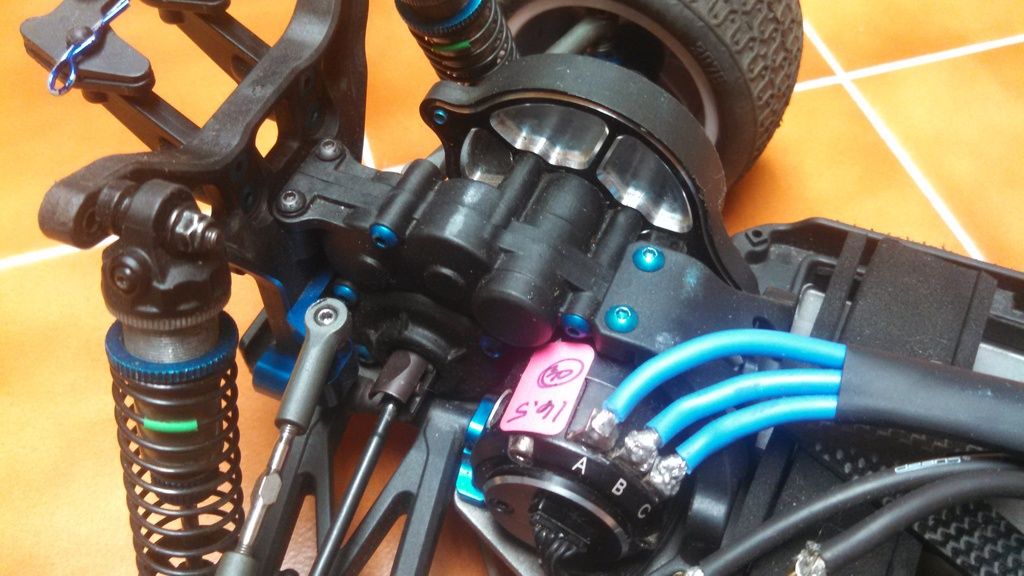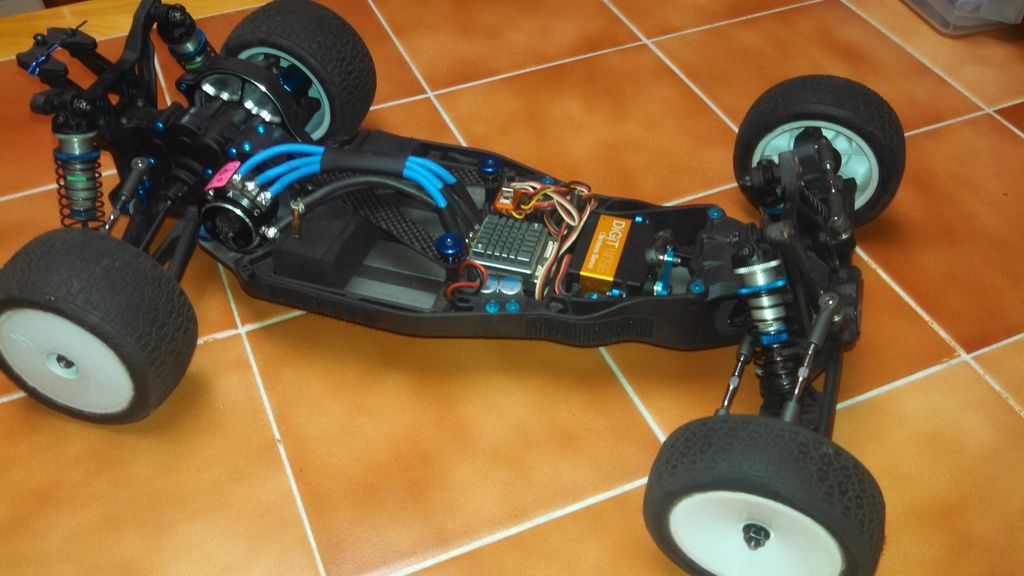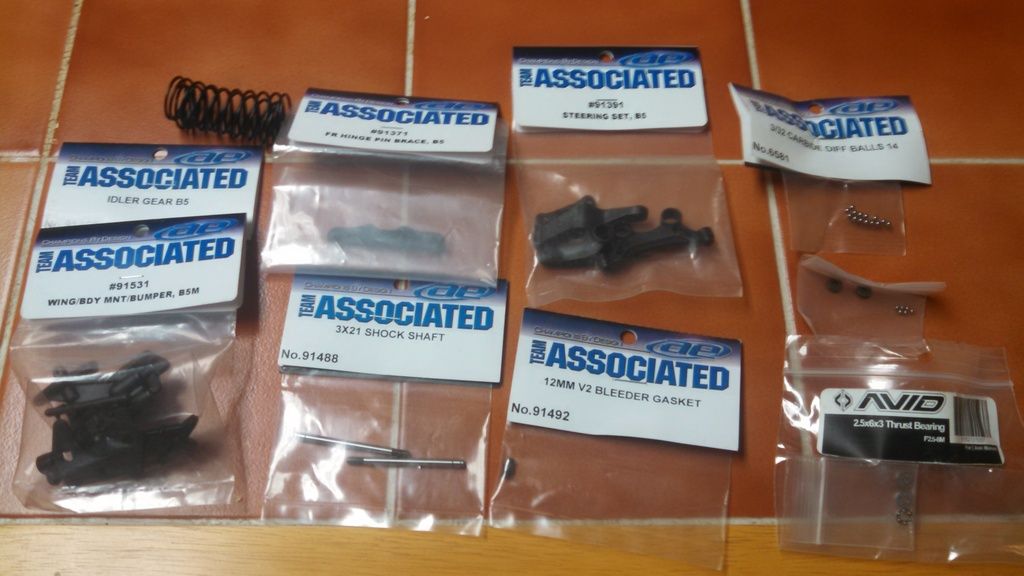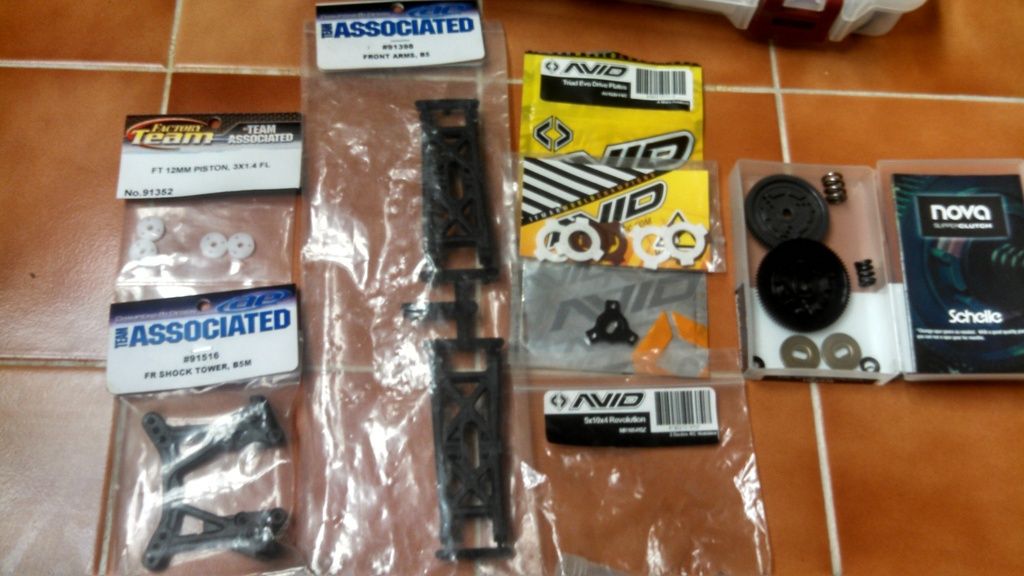 ---
Last edited by Nemaris; 02-28-2017 at

05:53 PM

.
05-29-2016, 03:59 PM
Tech Apprentice
Join Date: May 2013
Location: Hutto, TX
Posts: 97
---
Ill take it!

PM Inbound.
05-31-2016, 10:34 PM
---
BUMP! I will include a Team Orion Program Card to the bundle, and a NIP set of Dirt Webs for $430
06-01-2016, 10:31 AM
Tech Master
Join Date: Jul 2006
Location: Duluth,MN
Posts: 1,774
---
Bump you up!
The "I'll take it" guy didn't come thru eh?
06-01-2016, 10:11 PM
06-08-2016, 09:23 PM
---
BUMP! Price Reduction, also the inclusion of the orion program card, and the NIP dirt webs in the price.
06-14-2016, 09:41 PM
---
Price Reduction
06-20-2016, 08:57 PM
---
Bump! Price Reduced!! Let's find this guy a new home.
06-27-2016, 08:13 PM
---
Bump! I will now include the SMC 4300 pack, as well as the 4000mah pack in the bundle price!
07-21-2016, 01:17 AM
---
BUMP! Price reduction.
07-21-2016, 01:38 AM
Tech Adept
Join Date: Jan 2016
Posts: 171
02-09-2017, 10:23 PM
---
Bump!
02-28-2017, 05:49 PM
---
Wrong bump, apologies.
---
Last edited by Nemaris; 02-28-2017 at

05:51 PM

. Reason: Wrong post.
Currently Active Users Viewing This Thread: 1
(0 members and 1 guests)
Posting Rules
You may not post new threads
You may not post replies
You may not post attachments
You may not edit your posts
---
HTML code is Off
---