Electric Converted T-Maxx Roller
10-10-2013, 06:53 PM
Electric Converted T-Maxx Roller
---
I have an Electric Converted T-Maxx roller. I've been working on this off and on for a year. I got it to a roller recently and my Tekin motor is too big and I lost interest. The transmission is the fwd only single speed with all new gears. New slipper clutch and 3 new spur gears (64-68T) and 2 new pinion gears (19-21T) . New A-arms in the front, new RPM rear bumper, extra stock rear bumper, battery straps, 2 tires are in good shape and 2 are worn. 5 extra traxxas servos (some mounting clamps are broken). All hardware is RC Skrewz brand and the motor mount is the how2rc low mount. This truck was the 2.5R and has been completely rebuilt, I just lost interest in this project.
$130 shipped
I'm also willing to trade for a 1/10th scale motor/esc combo as well as an on road roller or buggy roller.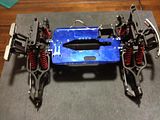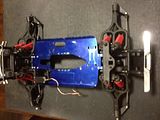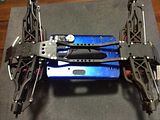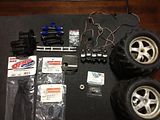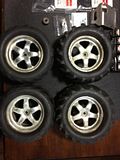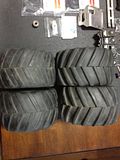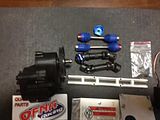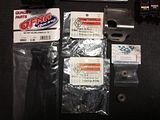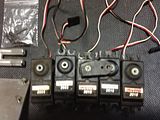 ---
Last edited by redskull1944; 11-06-2013 at

09:27 AM

. Reason: Added trade info.
10-11-2013, 02:32 PM
---
TTT, pm replied
10-12-2013, 08:13 AM
---
BUMP, still available make an offer. I'm open to trades
10-13-2013, 08:20 AM
---
TTT
10-14-2013, 11:53 AM
---
TTT
10-15-2013, 07:13 PM
---
BUMP
10-15-2013, 10:38 PM
Tech Adept
Join Date: Oct 2013
Posts: 158
---
What is the part number of the servos?
10-16-2013, 04:29 AM
---
3x 2018's and 2x 2055's
10-16-2013, 10:10 AM
Tech Adept
Join Date: Oct 2013
Posts: 158
10-16-2013, 05:20 PM
---
TTT

There is also a 2055 on the truck, so really 3x 2018's and 3x 2055's.
10-17-2013, 06:57 PM
---
BUMP taking offers and trades
10-18-2013, 04:20 PM
---
^^^
10-19-2013, 01:13 PM
---
TTT
10-20-2013, 09:24 AM
---
good morning time for a bump, make an offer I want this gone
10-22-2013, 09:46 AM
---
^^^