gorillamaxx g3r
08-09-2012, 09:25 AM
Traxxas E Revo gorillamaxx aluminum truck with Tekin motor
---
willing to change motors for a huge Tekin truggy motor!!!!!!!!!!!!!!!!!!
For sale is a nice Gorillamaxx G3R E-Revo. Upgraded from the previous g2r edition with thicker aluminum parts (heavy duty). The battery bays are open so those huge 8000mah lipo batteries will fit with room to spare. I have added a pair of aluminum upper shelves (removable with 4 screws) for the electronics. Proline body is used with a few minor cracks but is still solid. Traxxas 17mm hubs with e-revo / emaxx stock tires in good condition. This truck has been equipped with the modern brushless erevo tranmission, so you know it is strong, solid and brushless ready. Transmission also has 2 speeds ( low gear) for slower serious off road action (ala Traxxas Summit). Comes with traxxas 2.4ghz radio system (to operate the 2 speed transmission). Steering has been upgraded with 208oz torque ( x2 = 416oz ) Metal geared TowerPro digital servos. These E-Revo Gorillamax trucks are rare, and getting harder to find (at least for under $1000). And the G3R edition is the last, thickest and strongest of the series.
Included :
Gorillamax G3R e-revo all aluminum chassis truck.
2 speed E-Revo transmission with shifting servo.
Castle mamba speed controller with a Novak sensored motor.
*************************************
willing to chang motors for a huge TEKIN truggy motor!!!!!!!!!!!!!!!!!!
*************************************
2.4 ghz Traxxas 4 channel radio system.
RPM arms all around.
dual 208oz torque metal geared digital steering servos
Custom upper aluminum decks to hold the electronics (decks are removable)
New E-revo differentials
New e-revo axles (4)
asking $600 shipped complete or $450 - shipped for the roller (wheels / servos / 2 speed tranny only )
at the time it is on ebay without bids. If there is iny serious interest here I could stop the auction before bids start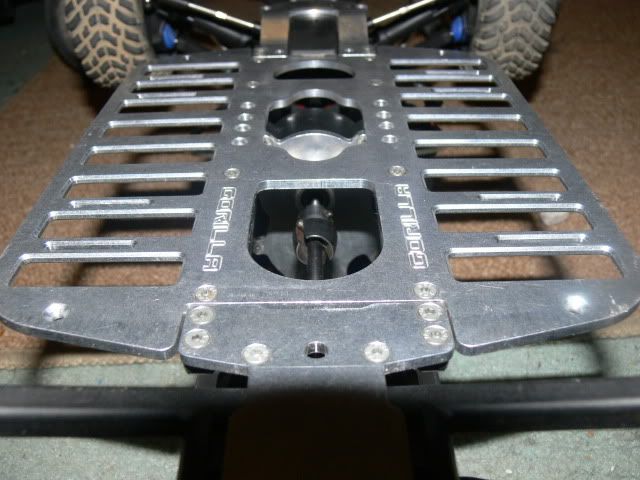 Chassis was once a shelf queen, as you can see it has almost no scratches/ Usage.
---
Last edited by noir522; 08-12-2012 at

10:18 AM

.
08-10-2012, 07:22 PM
---
Still here
08-11-2012, 08:47 AM
---
still available,
08-11-2012, 09:27 AM
---
Beautiful truck but the difference between the G2R and G3R has nothing to do with thickness of aluminum used. The rear top plate on the 2R is one solid piece and on the 3R it's 2 pieces making removal of the rear diff WAAAY easier on the 3R. Can't tell from the pics what you got there but it's a solid truck for a great price. Good luck with the sale.
08-11-2012, 12:09 PM
---
Well your right and wrong. ( I have both trucks) the g3r also has thicker aluminum plate. Even though they no longer make them you can still look up details about the truck on the RC MONSTER web site
The reason I am selling the g3r and not my g2r is cuz the 2r is already set up with an metal tranny and 1/8 scale diffs, and like you said its a pain getting them out. Also my 2r is much older and those darn bottom screws are so beaten and worn it would take a drill to get them out.

NOTE : willing to sub the novak for a tekin truggy motor. Pm me for details.
08-12-2012, 09:57 AM
---
Make me an offer school is starting soon and I need to stock up on some bribing apples.

I believe that tekin is a 1900kv gotta get it out my rc closet and solder it on.
08-13-2012, 08:27 AM
---
Still here
Currently Active Users Viewing This Thread: 1
(0 members and 1 guests)
Posting Rules
You may not post new threads
You may not post replies
You may not post attachments
You may not edit your posts
---
HTML code is Off
---