FS: NTC3 w/some extras
04-18-2012, 10:08 PM
Tech Elite
Join Date: May 2011
Location: Victoria, BC
Posts: 2,130
FS: NTC3 w/some extras
---
This was my first attempt to run nitro last season. fiddled with it a bunch and i think i got it to handle pretty well for this season. Though An offer came up on an NT1 that i just couldn't pass up.
Would like to get $200 usd shipped OBO but lowballs wont even be responded to.
Car is almost RTR. The motor does run, but will need fiddling and tuning to run well. I used it as a backup but never raced it. All you need is a starter, glow ignitor, fuel, and radio gear. ill throw in some used tires.
This car is the Factory team model and has; an Aftermarket chassis, Aluminum rear dif casing, VCS 2 shock caps with bladders which makes building them 10 times easier. Kfactory swingrack, kfactory center bulkhead and brake disc.
There is also a second carcass with a complete front end and usable chassis. some of the screws were a little worn so i left it assembled from my rally project. 4 rally tires and second set of shocks, with slightly longer travel than normal. the longer shocks have vcs2 innards. ones on the complete car are stock.
There is a parts case. most parts are used but still useable. a few transmissions, diff parts, shocks, carbon parts, pipes, Some used LIFE batteries and Two new lipos with bec. the one way is in there but i could only find one outdrive for it. ill try to find it again. as im cleaning my shop.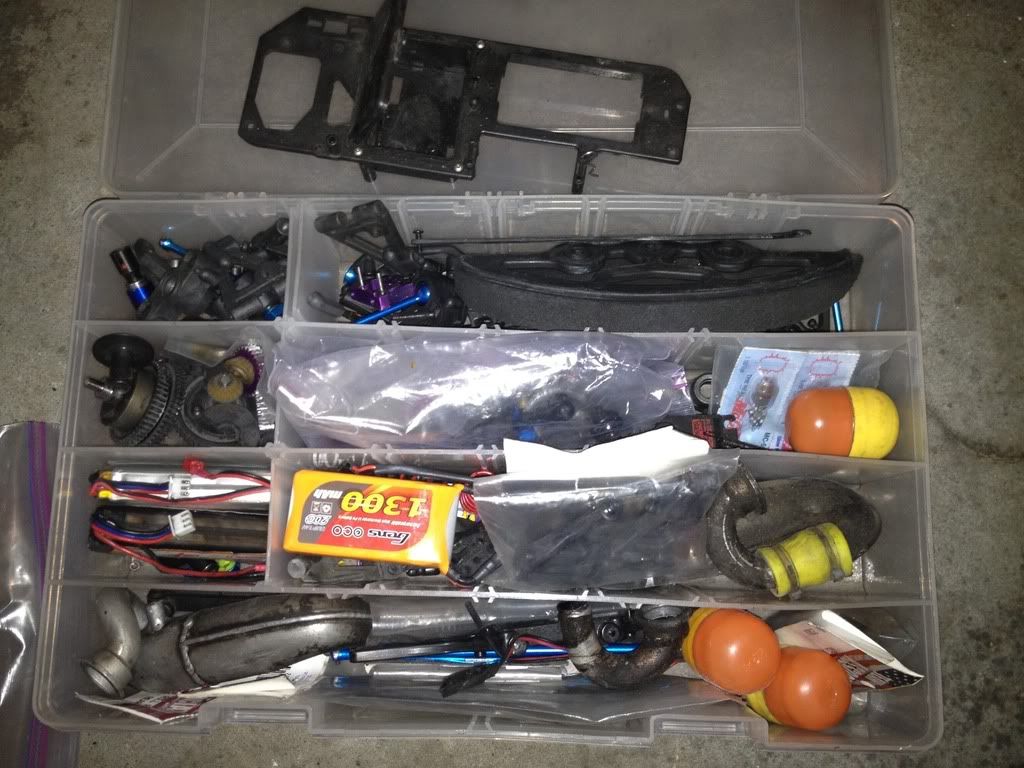 Also Two bodies which are optional, but going in the dumpster if no one wants.
04-26-2012, 09:56 PM
Tech Elite
Join Date: May 2011
Location: Victoria, BC
Posts: 2,130
---
Lets try $160.
pretty good deal for a complete car and some spares. those are life batteries in the box and two brand new lipos.

if you need a starter, i do have the ofna one i was using. the batteries in it are long gone and the push mechanism wasn't working well when i got it, so wired some alligators to the motor and power it with an external lead acid battery.
i was gonna restore it with new batteries as it also has a built in glow plug ignitor just never got around to it.

$185 for all that, as shipping with that in the box will be like $30 for me lol.
Currently Active Users Viewing This Thread: 1
(0 members and 1 guests)
Posting Rules
You may not post new threads
You may not post replies
You may not post attachments
You may not edit your posts
---
HTML code is Off
---