Kyosho mp9 tki2 with upgrades+parts READY TO RACE
11-07-2011, 01:26 PM
Kyosho mp9 tki2 with upgrades+parts READY TO RACE
---
I bought this buggy to have as a second buggy, but I never ended up using it much. I also am not really into the whole racing thing as much anymore, and I really need to pay off my MacBook Pro that I just bought.
Everything on the buggy has only 3 races on it, with the exception of the outdrives and universals. ALL of the meat is left on the chassis, only most of the anodizing is worn off. The buggy itself is super clean, smooth, and tight. I am very meticulous with my stuff. The buggy also has 2 savox hi-voltage servos which are AWESOME, my favorite that I have ran. The engine I am including with this is the Team Orion CRF 3-port with pipe combo and it is not even fully broken is. only 3 quarts through it and it is one hell of a motor! There are some upgrades on the buggy aside from the standard tki2 parts, which include the better gray shocks (the ones that don't wear out), aluminum front c-hubs, center CVD's, and the front battery mount. I am probably forgetting some stuff about the buggy, I will get pictures up as soon as I can.
Whats included:
Kyosho mp9 TKI2 with upgraded shocks, center CVD's, aluminum front c-hubs, and front battery mount
1 HV Speed Savox servo (throttle)
1 HV Torque Savox servo (steering)
1 Team Orion CRF 3-port Motor and Orion pipe (not even fully broken in, only 3 quarts through it-sold
tons of spare parts new and used.
at least 5 sets of GOOD used tires and rims with 80%+ tread (calibers, sevens, city blocks etc)
The only thing you need is your radio equipment and transponder and your ready to go racing! The Kyosho is in my opinion the best buggy out there! It practically drives itself. Any questions, feel free to ask! You can also contact me on my cell at 908-907-5028. My cell is definitely the best way to contact me. Also my email is
[email protected]
Photos:
http://s799.photobucket.com/albums/y...er/mp9%20tki2/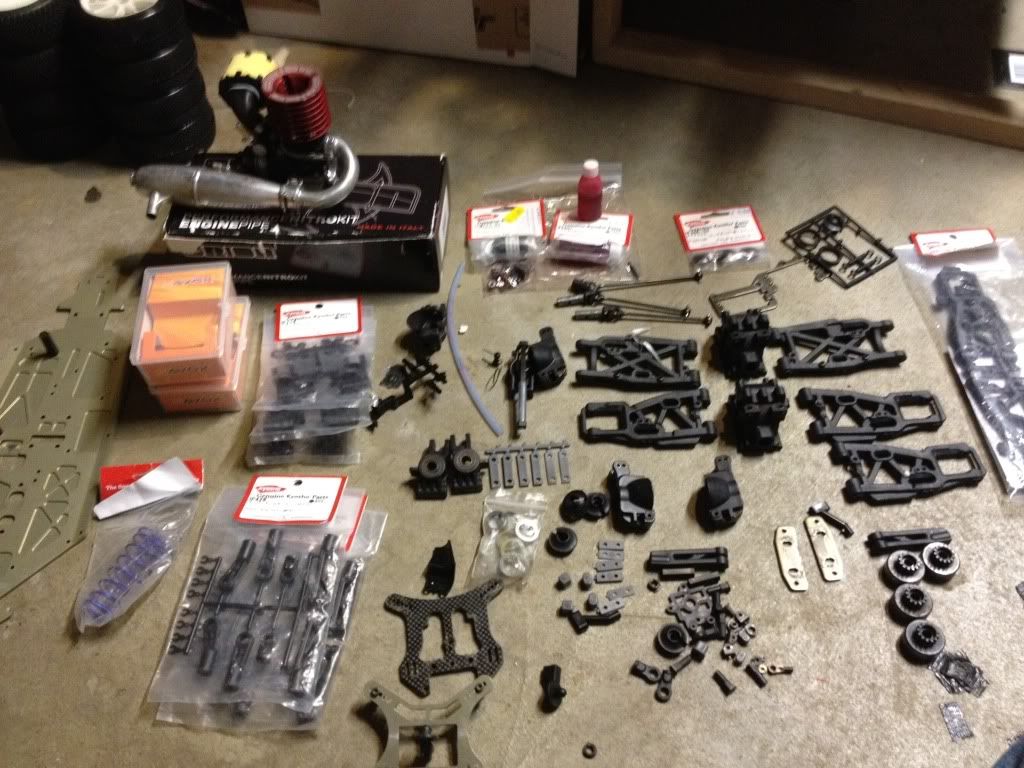 Prices:
Everything: $775
Roller and parts: $625
Tires only: $175
Servos only: sold
---
Last edited by yamahamxracer; 12-29-2011 at

02:06 PM

.
11-07-2011, 06:51 PM
---
I'm not looking to split this up btw. Only way would be if I have a buyer for EVERYTHING BEFORE I start to split it up.
---
Last edited by yamahamxracer; 11-07-2011 at

07:07 PM

.
11-08-2011, 08:08 PM
---
11-10-2011, 10:14 AM
---
11-10-2011, 01:33 PM
---
Also forgot to mention that the turnbuckles have been upgraded to the gold ones, and the front lower arms are the WC ones.
11-10-2011, 06:45 PM
---
Pictures are up! too many to post individually, check out the link. Lets get this stuff gone!
11-11-2011, 06:21 PM
---
Again, I am not splitting this up, unless i have a buyer for EVERYTHING. If there is something you want start making a list in the post by reply saying what you want.
11-12-2011, 08:56 AM
---
11-12-2011, 10:52 PM
---
i need this gone, i have a $3000 bill!! if you help me out, I'll help you out! come on guys
11-13-2011, 03:44 PM
---
ttt
11-13-2011, 06:31 PM
---
make me an offer
11-14-2011, 09:06 AM
---
11-15-2011, 07:20 PM
---
I will be throwing in 3 brand new FULL sets of Jconcepts crowbar tires in the package, 1 full set of sevens with inserts, an extra original tki body, tons of springs, the long rear shocks and setup and whatever else i find, lets get this gone now!!
:ti re:
11-16-2011, 08:02 PM
---
ttt
11-17-2011, 11:05 AM
---