1/8th scale Brushless XTM Rail ran one time
10-31-2011, 01:08 PM
Tech Adept
1/8th scale Brushless XTM Rail ran one time
---
SOLD>>>>SOLD>>>>SOLD>>>>SOLD
1/8th scale brushless XTM Rail - 285.00 shipped. Good buy if you consider what shipping is going to cost me. Price is only for shipped in the CONUSA. Check for shipping price elsewhere.
Have a brushless XTM rail that I bought at the end of my hobby days that I ran one time just to compare it to the xtm rail I had w/ the MM and Neu motor installed. It will come with everything that came new in the box. Along with 2 NEU 4s 3300 lipos I no longer need. Sorry for the lack of picture at this time. Will gather it all up when I get home and take a picture or two for you.
Here's a link to A Main that describes what in the box.
http://www.amainhobbies.com/product_...rce=google_ext
Thanks
If you want it my paypal is
[email protected]
reply to thread payment has been made. PM me with any questions or offers. Will got by order the PMs are received before replies to the thread.
---
Last edited by Geee; 11-25-2011 at

06:34 PM

.
11-18-2011, 06:19 AM
Tech Adept
Pictures finally
---
That sure took a long time to takes some pictures. Forgot this rc was listed until I got an pm about it. Better late the never here are a couple pictures, with the rcfax about it.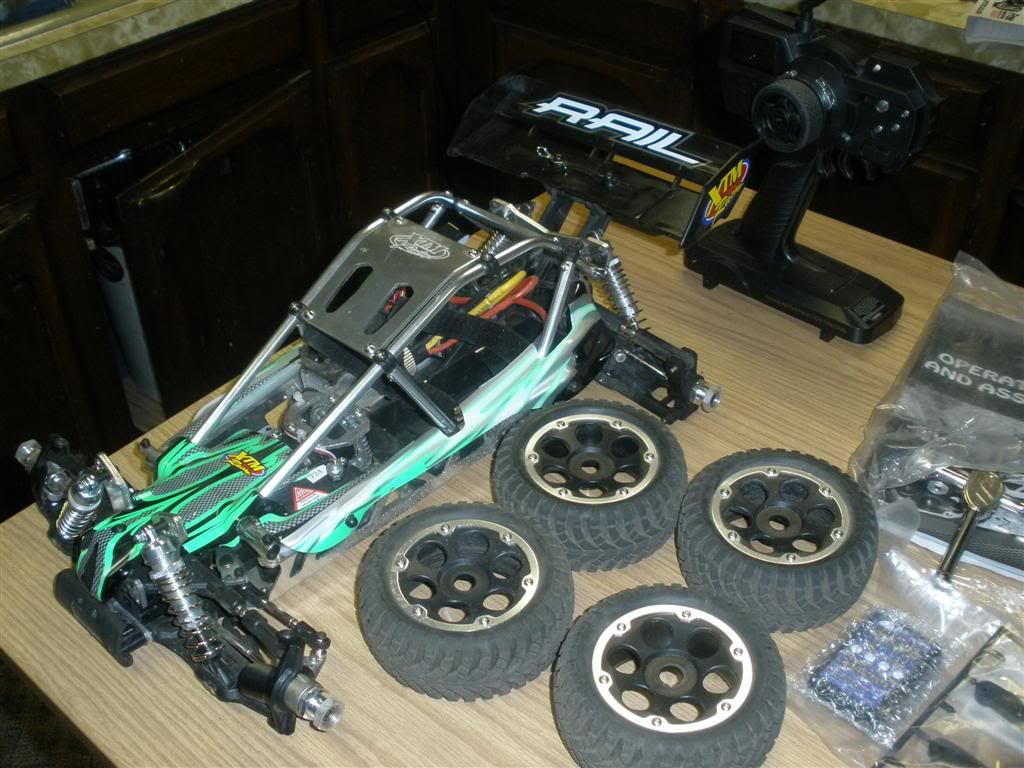 This was the second XTM Rail I owned. The first one I built from parts I gathered off ebay and installed a Mamba Maxx and NEU 1512 1.5d motor in it with some different gearing. I bought this new off ebay thinking I was going to stay in the hobby a little and my Ole Lady (She hates when I call her that) could run one of the rails and I could run the other one. We never got that far due to I found a new hobby. I ran this rail one time just to compare the difference in the stock setup to what I built up. It has since sit and collected dust. It does have some wear from that pack I ran through it. Live on a gravel road and there are some minor scratches on the belly and inside the rear two wheels. The small gravel has a tendency to get in there and get stuck between the wheel and hub. Nothing detrimental to the performance. It comes with all the gear that is in the stock box. Looks to have a programming card in the box for the Speed Controller. It also comes with a MX-sport 2.4ghz controller with I think 10 model memory. Only used it once with the rail. Had my other controllers at one time that I always used.
11-19-2011, 04:07 PM
Tech Adept
---
ttt
11-24-2011, 08:08 AM
Tech Initiate
Join Date: Jan 2007
Location: Middletown, MD
Posts: 41
---
Sent you a PM
Currently Active Users Viewing This Thread: 1
(0 members and 1 guests)
Posting Rules
You may not post new threads
You may not post replies
You may not post attachments
You may not edit your posts
---
HTML code is Off
---