Team Durango DESC410R (roller)
09-12-2011, 08:39 PM
Team Durango DESC410R (roller)
---
Selling as our season is pretty much over and this truck won me my clubs points championship!!!!

DESC410R roller bought new in march and ran this year about 8 races
treserey aluminum diff hoops f/r
center diff conversion
NIP RC Screws stainless steel screw kit
2x bodies
swaybar kit in rear
has all aluminum hinge pin holders (2 updated from plastic) running a 4 in the rear
Gens ace 4800 saddle packs
Comes with lost of spare parts NIP rear bulkheads, front bumper, skidplates
have 4 sets of rims/tires
- 1 race old -soft calibers and soft holeshots on yellow DE racing rims (wider)
- 4 races old - super soft citi blocks and 1 race old - soft wishbones on black durango rims
aluminum diff holder insert (only one side as other was backordered)
sure theres more im forgetting

set up awesome for a rough outdoor track, running 4mm limiters inside rear shock, pretty much a modified version of lutz's outdoor base setup

comes with instructions/box ect

very nice shape, always cleaned and maintained after each race

$280 including shipping to lower 48/canada
---
Last edited by kris88; 09-13-2011 at

03:29 PM

.
09-12-2011, 08:42 PM
Tech Champion
Join Date: Nov 2007
Location: Idaho
Posts: 5,761
---
Originally Posted by
kris88
Selling as our season is pretty much over and this truck won me my clubs points championship!!!!

DESC410R roller
treserey aluminum diff hoops f/r
center diff conversion
2x bodies
2x Gens ace 4800 saddle packs
Comes with spare arms/hingepins/ect ect
have 4 sets of rims/tires
- 1 race old -soft calibers and soft holeshots on yellow DE racing rims (wider)
- 4 races old - super soft citi blocks and 1 race old - soft wishbones on black durango rims
aluminum diff holder insert (only one side as other was backordered)
sure theres more im forgetting

set up awesome for a rough outdoor track, running 4mm limiters inside rear shock, pretty much a modified version of lutz's outdoor base setup

comes with instructions/box ect

very nice shape, always cleaned and maintained after each race

$280 including shipping to lower 48/canada
Have any pictures you can send to
[email protected]
09-12-2011, 08:46 PM
Tech Addict
Join Date: Mar 2011
Posts: 665
---
i will take it paypal please
09-12-2011, 08:56 PM
---
pics, the chassis looks worn but durango black anodizing wears off pretty damn fast, it still has all the same thickness all the way back, a new chassis is just over $50 if it really concerns you. I was going to buy a new chassis and replace all the screws with the stainless RC screws kit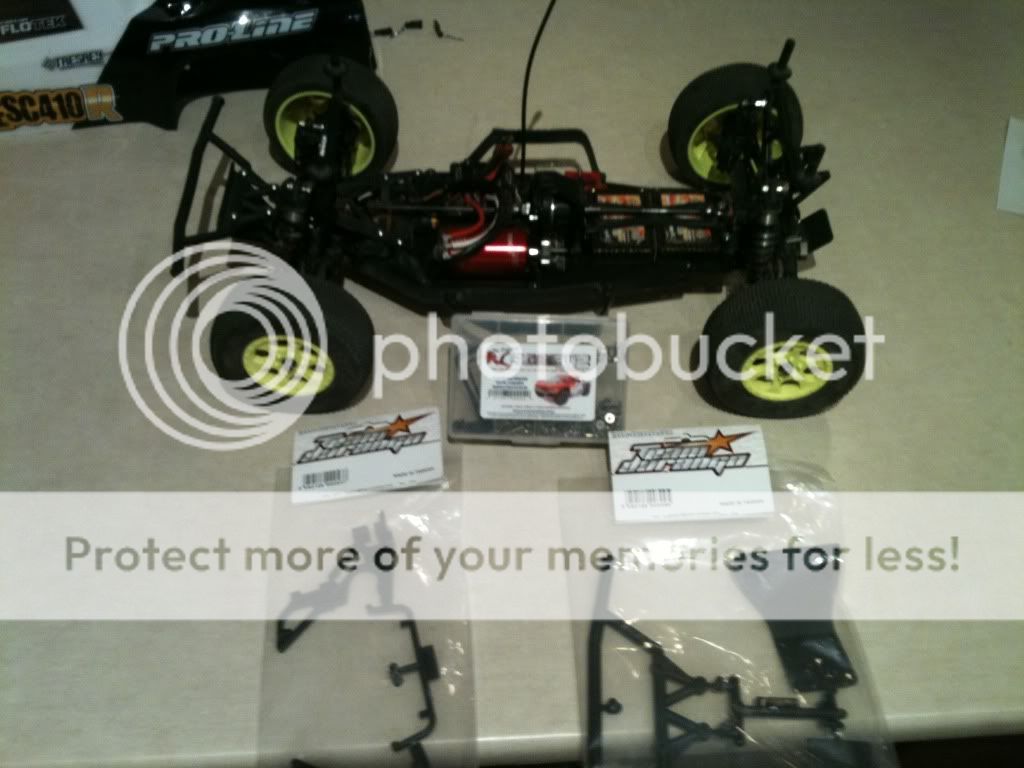 09-14-2011, 11:14 AM
Tech Elite
Join Date: Oct 2008
Location: Earth
Posts: 4,504
---
Payment sent.
09-14-2011, 11:55 AM
Tech Master
Join Date: Nov 2005
Location: Dallas, Tx
Posts: 1,259
Oops...missed it!
---
If any deal falls through let me know. Thx.
09-14-2011, 04:25 PM
---
sold
09-23-2011, 10:46 AM
Tech Elite
Join Date: Oct 2008
Location: Earth
Posts: 4,504
---
Sorry to hear your stuff got stolen. Received the refund.
09-23-2011, 10:50 AM
Tech Elite
Join Date: Feb 2009
Location: Clayton, NC
Posts: 3,728
---
Ouch that hurts! Glad you got a refund though man...
Currently Active Users Viewing This Thread: 1
(0 members and 1 guests)
Posting Rules
You may not post new threads
You may not post replies
You may not post attachments
You may not edit your posts
---
HTML code is Off
---