2 MUGEN MBX5R ROLLER PACKAGES,TONS OF SPARES WITH EACH
04-13-2011, 02:42 AM
Tech Elite
2 MUGEN MBX5R ROLLER PACKAGES,TONS OF SPARES WITH EACH
---
hey guys,
ive got 2 mbx5r roller packages for sale here i will list them both and post pictures below.
each roller are in damn near identical condition with some hopups on each,i will do my best to list them on each one,please look at the pics for each one and if you would like more pics or a pic of something specific just hit me up...thanks for lookin!!
package number 1
MBX5R
appx. 3 gallons on rig(plastics have less than a gallon)
aluminum re hubs
blue springs w/ kit grey springs as well
aluminum re tension rod holder
fr and re alum tension rods
avid bearings throughout car
only thing the car needs is a fr steering rod end(the plastic piece)
spare parts include
diff parts
ex springs
diff cases
plastics
outdrives,axles,center drive shafts,clutch shoes,shock parts,etc etc
set of panther gators tires
car was recently gone through....its ready for your motor/elec. and its good to go....looking to get 175.00 shipped for the entire lot
roller #2
its damn near identical to the first with the same spares
has flex tensions rods installed
aluminum sway bar mounts
aluminum re hubs
TTR brake discs
****NO WING****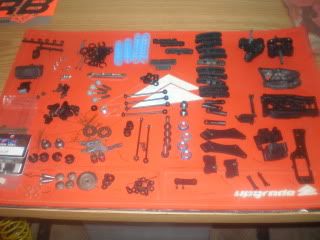 looking to get 175.00 shipped
you can pm,text or email me
559-475-1973
[email protected]
dot com
04-14-2011, 07:42 PM
Tech Elite
---
bump

feel free to make some offers guys...these would make awesome late models for oval racing!
05-22-2011, 01:39 PM
Tech Elite
---
open to offers guys....need to move these awesome buggies
05-22-2011, 05:03 PM
Tech Elite
---
deal pending
Currently Active Users Viewing This Thread: 1
(0 members and 1 guests)
Posting Rules
You may not post new threads
You may not post replies
You may not post attachments
You may not edit your posts
---
HTML code is Off
---