Hyper 10sc with novak 5.5 and a few extras
04-02-2011, 03:33 AM
Hyper 10sc with novak 5.5 and a few extras
---
I have a hyper 10 sc I would like to sell. It has carbon fiber shock towers and strc hardened cva's in the front, also has regular cva's in the rear. It has the strc battery box bracket that allows you to adjust the position of the battery for optimum weight distribution. Your able to move it up to 30mm rearward with adjustment every 10mm. Black ofna upgraded ackerman bar. I built an aluminum bracket to hold the hv esc. The bracket has been bolted down with 2 countersunk screws and looks clean. Whether sold as a roller or with electronics I willl include a new set of calibers.
The novak hv 5.5 has ran flawlessly and the motor has never seen temps above 125, it just always ran cool. You can run the hv esc up to 4s and has always ran great. The steering servo is a coreless 985mg, and works well, 172oz. of torque and .13 transit time. I have taken good care of the truck and only ran at the track. Truck has been great, is very fast, flys nice and balanced, and is very durable, just time to move onto something else.
Will sell as a roller or with electronics. Will only consider trades for a good charger. Something similar to the EOS 0615i duo3 would work. I need something with some wattage to charge 5s 5000mah at 2c (requires about a 300 watt charger). Power supply would be nice, let me know what you have in this regard.
As a roller with no electronics (with new set of calibers) 140.
Novak hv esc with motor 130.
Buy the truck as is with electronics, minus rx for 270 and I will include the coreless 985 servo (its about 60-70 new).
Feel free to pm me or email at
[email protected]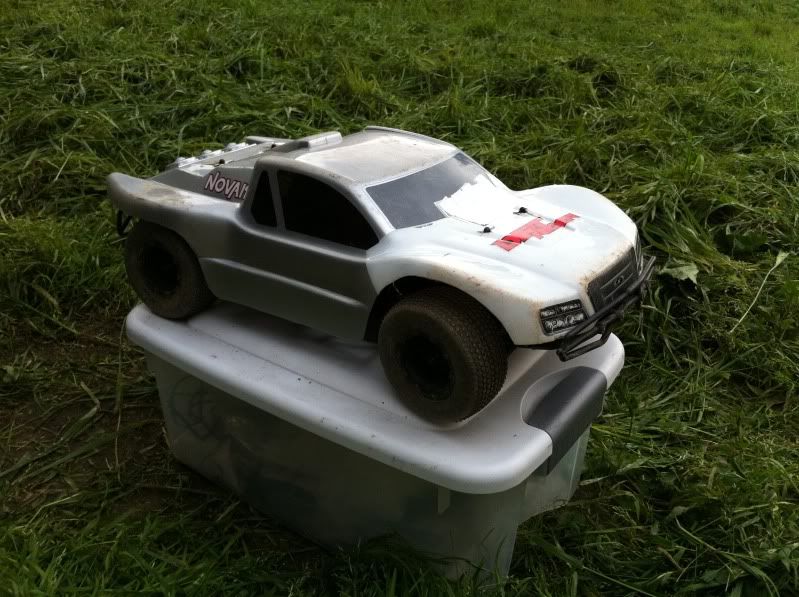 04-02-2011, 06:33 PM
---
I made a mistake! The servo is a hitec 965 which is rated at 134 and .13 at 6v. My apologies, I don't want to mislead anyone.

First 260 shipped takes it with electronics (sans that black glitch buster attached to the front chassis brace). Or pick up locally in socal for 240.
04-03-2011, 10:06 AM
---
I want the roller. You got Pmed!!!
04-03-2011, 05:50 PM
---
All pm's replied to, thanks for the interest.
04-03-2011, 06:16 PM
---
Paypal ready. Let me know!!
04-03-2011, 07:23 PM
---
The roller with tires sold pending payment. Still will have the motor and esc.
04-03-2011, 08:06 PM
---
Roller sold!

Make an offer for the motor and esc if anyone is interested.
04-15-2011, 03:04 PM
---
Payment Sent for the Brushless system and servo!!!!
Currently Active Users Viewing This Thread: 1
(0 members and 1 guests)
Posting Rules
You may not post new threads
You may not post replies
You may not post attachments
You may not edit your posts
---
HTML code is Off
---