nitro engines, pipes and a nomadio for sale
05-17-2010, 09:51 PM
Tech Addict
nitro engines, pipes and a nomadio for sale
---
I ONLY SHIP TO LOWER 48
I ONLY SHIP USPS PRIORITY WITH DELIVERY CONF
I ONLY ACCEPT PAYPAL
NO TRADES AT THIS TIME
i am running nova motors this year so have no need for these. first up is a jx ninja BO1a with lightened head, eb mods head button (also have stock button) motor has just under 4 gallons of sidewinder worlds, engine heater was used nearly everytime it was started, engine runs great, last time it was run was a pnb# and it had no problem going 10 minutes in a losi 8t 2.0.
Looking to get $150 for the jx.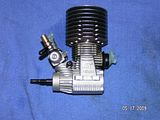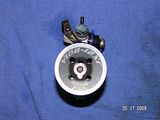 up next is a tuned grp with about 5 gallons of sidewinder worlds 30, motor had tko ceramics installed at the 3 gallon mark and has just been pinched by alan burton at the speed shop. i have run 2 tanks on the bench since resizing, motor should be ready to hit the track, needs 2 tanks or so a little rich then its time to race tune. these motors are probably one of the best ever and now with rody making parts they may again be an awesome mill.
looking to get $75 for the tuned grp, should be good for another 2 or 3 galloms easy.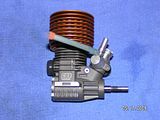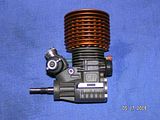 next we have a couple os exhaust pipes. first is an almost new 2050, bought this to run on the jx and never bolted it up, 2060 did me just fine with the eb mods button. pipe looks excellent, has the thread in nipple, should make someone a great pipe.
asking $65 for the 2050
next we have an os 2060, this pipe has been used with a couple speeds and the jx, pipe was just recently cleaned by alan burton using the antifreeze in the crockpot and man what a difference, pipe has been used since and does show signs, but it is still in good condition, bottom is not flat, stinger is not dented or bent, ther is one small ding about the size of this smiley
doesn't seem to effect performance at all as this was the pipe run in atl at pnb with the above jx.
asking $50 for the 2060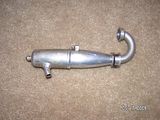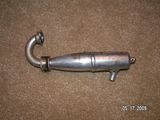 and last we have a nomadio react radio, does not include a transceiver-i always used spektrum micros. this was purchased as a backup from a local racer and i never even put a battery in it. looks excellent with no marksm or scratches anywhere, will include the stock little battery pack.
asking $50 for the nomadio react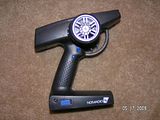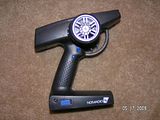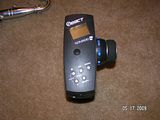 thanks guys, all this stuff is just sitting here not being used, so somebody needs it.
also have a an os speed that would be good for parts that i will post in the near future, along with a mini revo with 4 2 cell lipos.
05-18-2010, 02:45 AM
Tech Regular
Join Date: Aug 2009
Location: Las Cruces, New Mexico
Posts: 419
---
ill take the radio send me your paypal in pm plz
05-18-2010, 04:48 PM
Tech Addict
---
I believe all pm's have been responded to

Thanks
Jason
05-18-2010, 07:19 PM
Tech Addict
---
Jx ninja and os 2060 pipe are SOLD

Nomadio React is SOLD
05-18-2010, 07:31 PM
Tech Addict
Join Date: Mar 2010
Location: Sikeston, Missouri
Posts: 720
---
I pmed you about the OS speed.
05-18-2010, 10:39 PM
Tech Addict
---
Ok guys the jx,2060, and nomadio are all boxed up and ready to hit the mail in the am.

C'mon guys someone has to need a pristine 2050 pipe

Also have a hardcase for the nomadio radios (react, or sensor) radio fits perfect
Asking $35 shipped for the case.

The grp above is a great motor, would be a perfect upgrade from an rtr for someone not wanting to dump a wad on a new mill.


Will be adding more items to the list in the next few days, so please stay tuned.

Thanks
Jason
05-19-2010, 08:28 PM
Tech Addict
---
Jx ninja, os 2060 and nomadio has been shipped!!!
Currently Active Users Viewing This Thread: 1
(0 members and 1 guests)
Posting Rules
You may not post new threads
You may not post replies
You may not post attachments
You may not edit your posts
---
HTML code is Off
---