Traxxas Revo with EB Mods OS 18TM (Trades)
01-04-2010, 08:54 AM
Tech Regular
Traxxas Revo with EB Mods OS 18TM (Trades)
---
****TRADED*****
The truck has been traded .
Its the 2.5 chassis. OS18 TM (EB Mods) with a trinity pipe and FOC. This truck screws. Its also a tight truck. Tranny and Diffs were rebuilt over the summer. Engine has 1.5 gallons on it, still has great pinch. It runs terrific. I have a short video of the last time I took it out if anyones interested I could send the link. Been snowing in NH for a while now, and I just recently built a BB 3.3 Revo and would love to pickup a decent buggy. Losi, RC8, or something like it, maybe a decent truggy even. A roller that has an engine but needs electronics? So thats why I am shopping this one around....
It will come just about rtr, minus fuel, needs a plug, and AA's for the radio. Comes with TRX quick charger as well...
As with Any trades I like to be up front you will need to send me your stuff first, and I will send mine in return I have never screwed anyone, and certainly do not plan to either...... PM me for more info or if you are interested....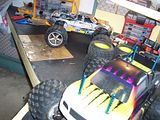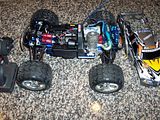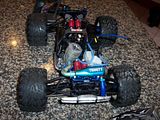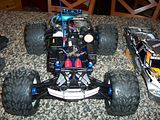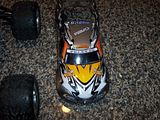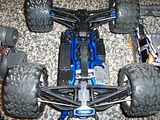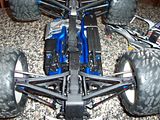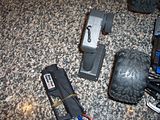 ---
Last edited by traxxasjunky; 01-05-2010 at

06:59 PM

.
01-04-2010, 10:41 AM
Tech Regular
---
I forgot to add that it is setup with a tiger drive, and the rotostart comes with a rechargable battery as well...

I could send the ez start setup with it too, wand and all.
01-04-2010, 12:42 PM
Tech Addict
Join Date: Feb 2009
Location: tn
Posts: 637
---
free bump for a good guy to deal with,I have traded some stuff with him in the past and everything was done or in the conditions he said they would be.
01-04-2010, 01:42 PM
Tech Regular
01-04-2010, 02:57 PM
Tech Regular
---
Here is a quick video of how the truck runs and sounds. It spools up nice and is very quick... Mind you in this video I almost took out a close friend of mine ha ha. But this is the last time I drove it. Shortly after this run I replaced everything that needed to be replaced, gave it a bath, put him up on the shelf, and took the savage out to beat on for a while until the cold weather and snow blew in. My buddy never went behind the ramp again after that close call.
http://www.youtube.com/user/MrTraxxa.../5/7qiQQV3iwp8
01-05-2010, 09:56 AM
Tech Regular
---
bump.
Currently Active Users Viewing This Thread: 1
(0 members and 1 guests)
Posting Rules
You may not post new threads
You may not post replies
You may not post attachments
You may not edit your posts
---
HTML code is Off
---