FS/FT: Exotek M18 w/ 9200kv BL, 2100mAh lipo, S3106, parts
12-06-2009, 08:03 PM
Tech Elite
FS/FT: Exotek M18 w/ 9200kv BL, 2100mAh lipo, S3106, parts
---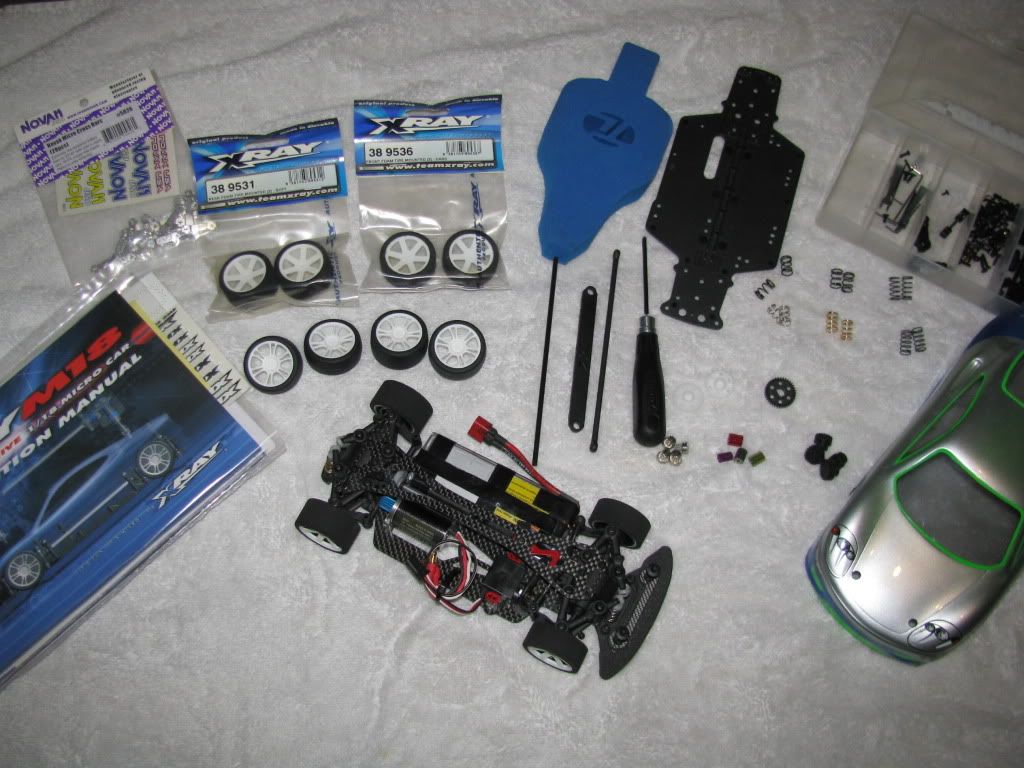 I built this M18 for a run-whatcha-brung class that Jammin Jeff Jones used to put on. It was a no holds barred, barely contained, insane speed run that had everything on track together, from nitro truggies down to little 1/18th scale cars and trucks. It was exciting for all the right reasons.
Anyway, I built this M18 a bit late and never got to run it at those events, which is why it looks so new. I did get one run on the smooth new asphalt at Jackson, terrorizing the oval cars in practice! The sheer speed made me laugh out loud on the drivers stand.
Something this small should not go this FAST!
But that's what a 9200kv motor can do when strapped to a 2100mAh Lipo in a car that weighs nothing!
Everything in the pictures comes with the car! It's got all the original Xray parts that were replaced by the Exotek chassis kit, extra springs for the metal shocks, that nice Xray screwdriver, two sets of Xray foam tires (hard fronts, soft rears), NIP Novak micro-sized battery bars, the stock rubber tires, three delrin spur gears, eight metal pinion gears and the four stock plastic pinion gears, the turnbuckle wrenches, pinion allen head wrenches, factory screws, battery bar, antenae tube, etc. On a side note, do yourself a favor by NEVER adding up the cost of 1/18th scale cars.
I stopped calculating the cost of this car when the price went over $300.....
The highlights of the car include the Exotek R3 chassis kit, Thunder Power 2100mAh lipo with custom fitted lexan hardcase, Dynomite 9200kv sensorless brushless motor, Futaba S3106 servo, metal shocks, metal turnbuckles everywhere, rear chassis bumper, carbon fiber front bumper brace, PRO aluminum adjustable motor mount and extensive gearing selection.

Asking $150 or trade for a perfect condition Tekin RS Pro
(I already have a standard RS, but need a PRO for modified TC)
.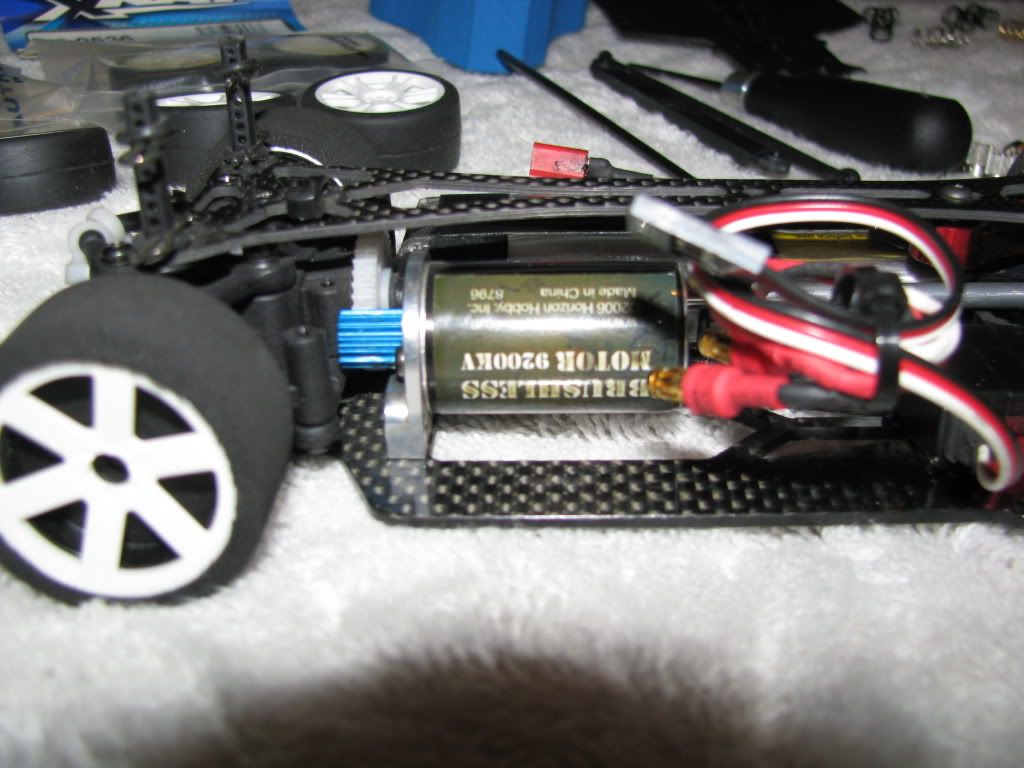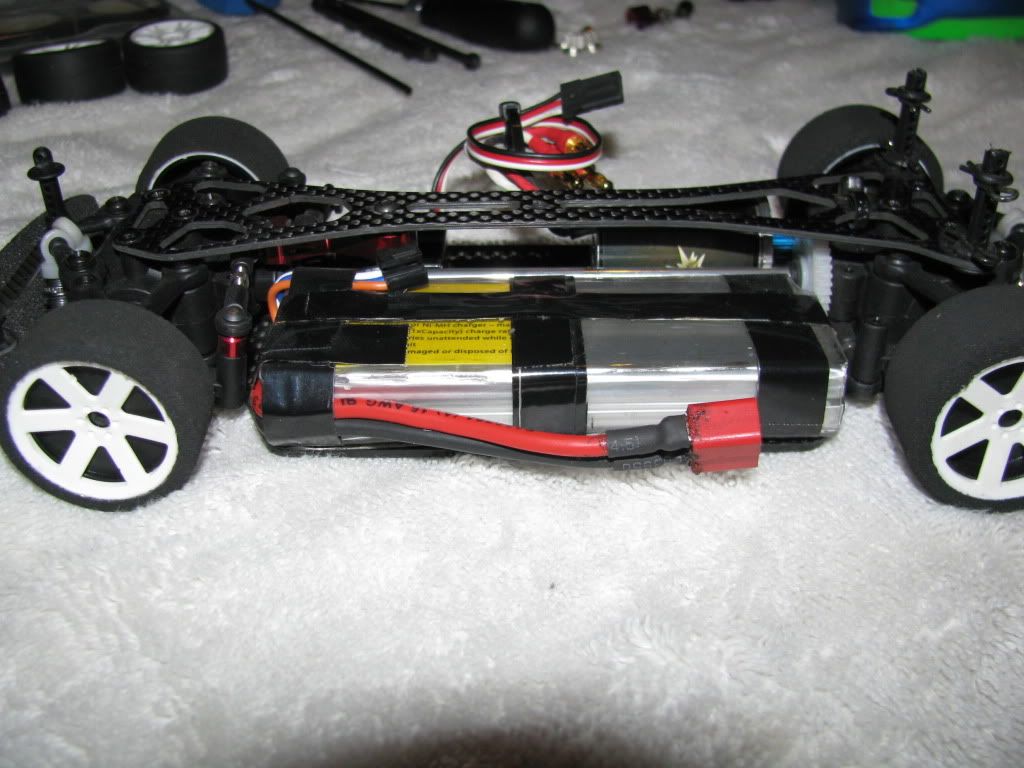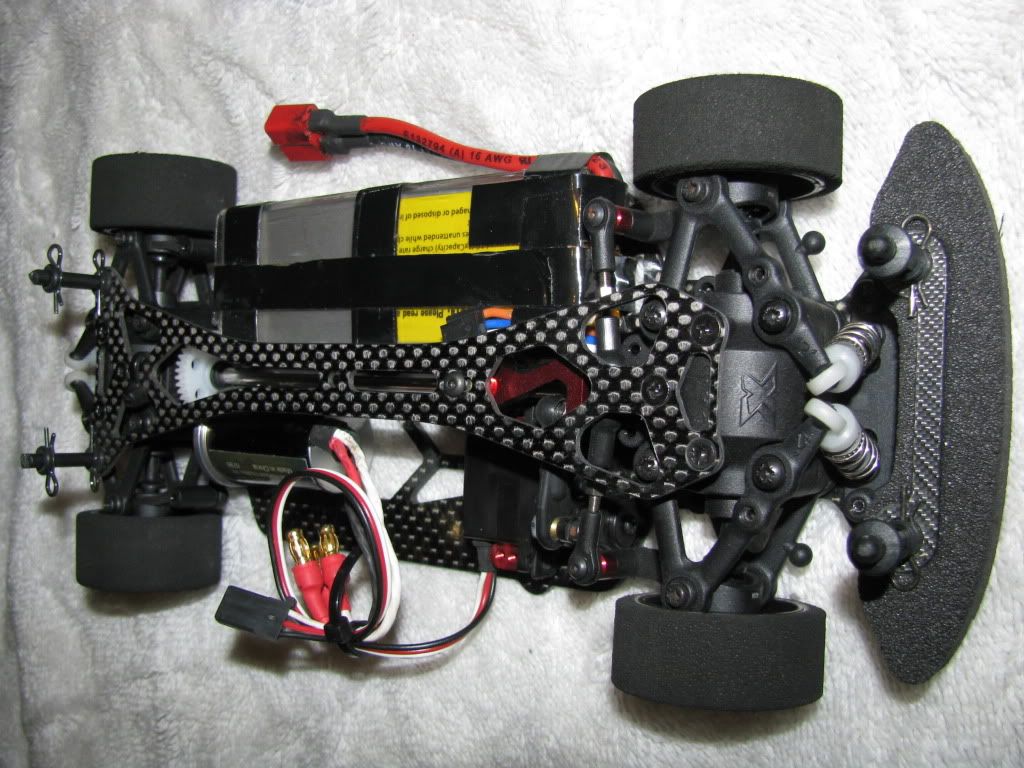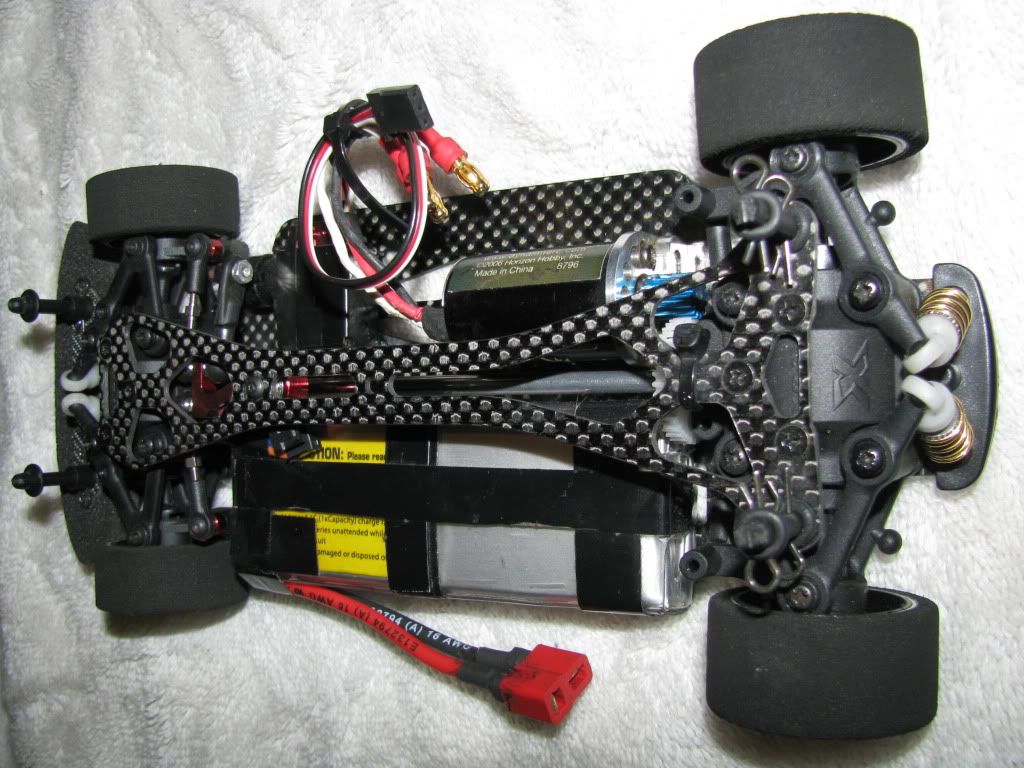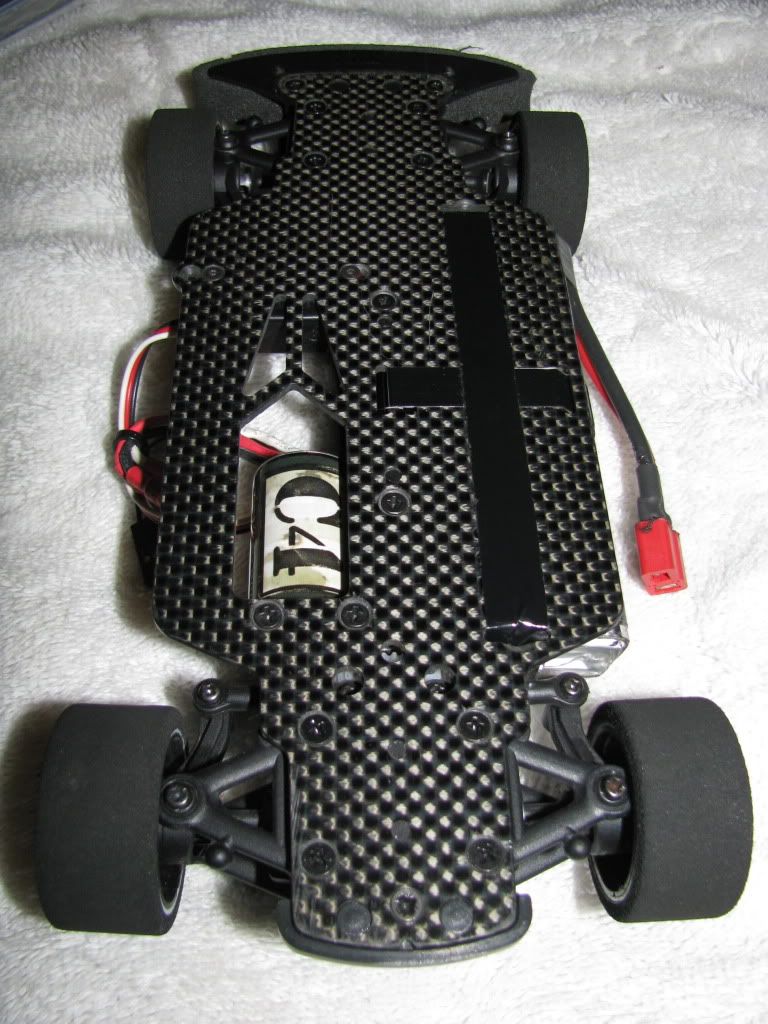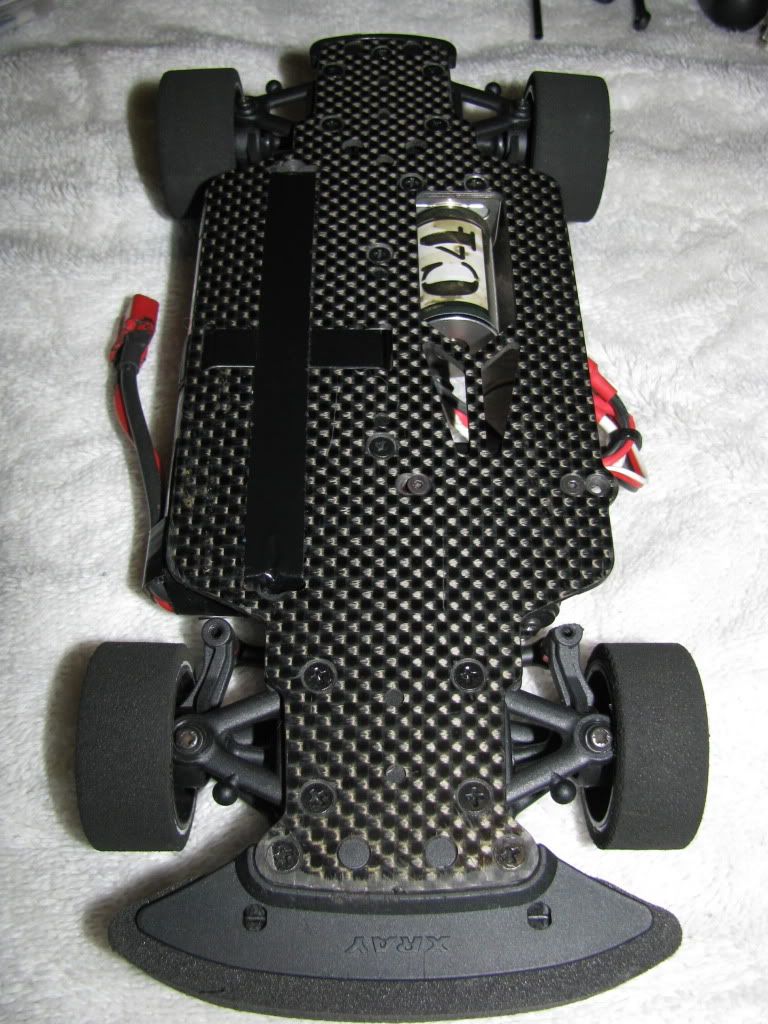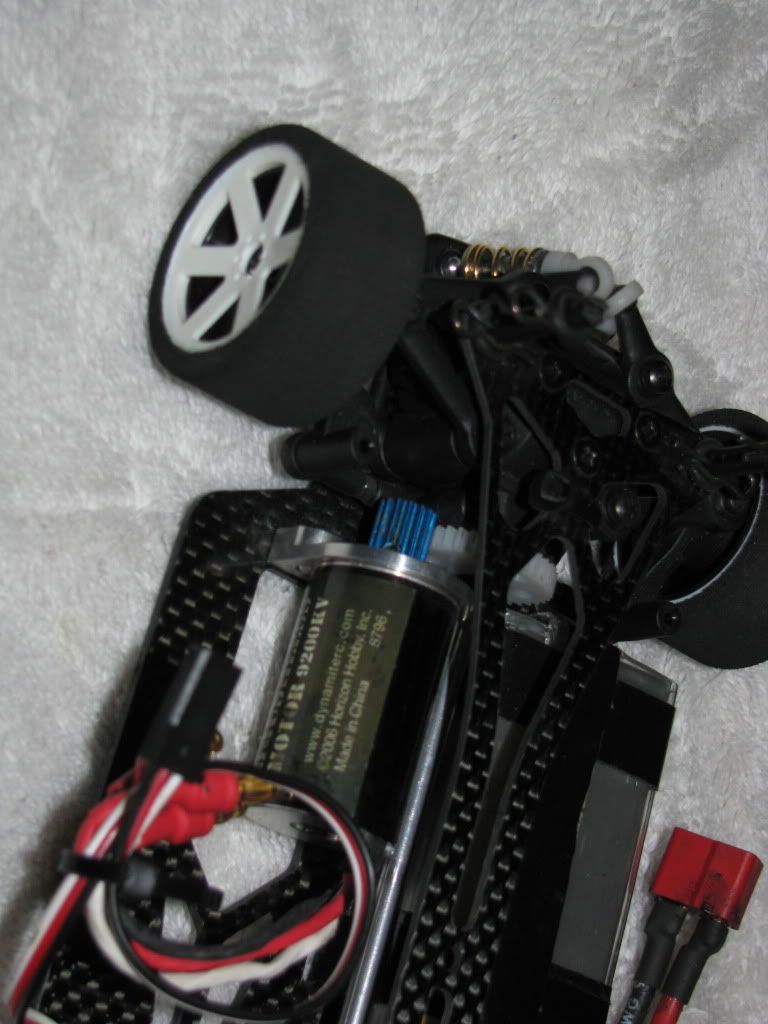 ---
Last edited by Greg Sharpe; 12-23-2009 at

06:33 PM

. Reason: Lowered price
12-07-2009, 02:39 PM
Tech Elite
---
Monday evening dreary sky bump.

FYI, the pack hasn't sat unattended to. It's been cycled and still works like new.
12-08-2009, 08:46 PM
Tech Elite
---
Tuesday pre-snow bump.
12-09-2009, 09:11 PM
Tech Elite
---
Wednesday it's hot as hell without snow but it'll be 21' tomorrow, and that's fahrenheit-bump.
12-10-2009, 05:33 PM
Tech Elite
---
Big 'ole Jersey Shore Guido BUMP!
12-11-2009, 12:47 PM
Tech Elite
---
Friday afternoon before practice at the Horsham weekly nationals Saturday night club race smackdown championship bump.
12-13-2009, 01:12 PM
Tech Elite
Join Date: Apr 2006
Location: Colonia, NJ
Posts: 2,349
---
Bump for a great guy and deal
12-15-2009, 09:15 PM
Tech Elite
---
Yeah, what he said!
12-23-2009, 06:34 PM
Tech Elite
---
Lower price, more naked ladies, less waiting at the cash register, bump.
12-26-2009, 06:36 AM
Tech Elite
---
SOLD!
Currently Active Users Viewing This Thread: 1
(0 members and 1 guests)
Posting Rules
You may not post new threads
You may not post replies
You may not post attachments
You may not edit your posts
---
HTML code is Off
---