Revo 3.3 w/OS 18 TM
05-19-2008, 02:53 PM
Revo 3.3 w/OS 18 TM
---
Traxxas Revo 3.3 W/OS .18 TM---$350 Shipped
This Revo has a ton of Upgrades including:
Integy Front Skid Plate
Integy Center Skid Plate
Integy Rear Skid Plate
Integy Differential Housing Cover
Integy Front Shock Mount
Integy Fuel Tank Cover
Integy Radio Box Cover
Integy Battery Box Cover
Integy Throttle Servo Cover
RPM Front Bumper
RPM Rear Bumper
Traxxas Tubes all around
Tekno Rear Wing Kit
Traxxas Black Wing
OS .18 TM with Aluminum Header and Aluminum Cooling Head w/Tiger Roto-Start---Original OS .18 Head Included
Aluminum Shocks W/Extra Springs
Custom Heavy Duty 2-Stage Air Filter
17mm Hexes
Masher Tires--90% with Black 5 Spoke Rims
Brand New never used Black Traxxas Revo 3.3 Body
Used Blue Traxxas Revo 3.3 Body
Original Traxxas Revo 3.3 Wheels and Tires---80%
Traxxas Radio, Receiver and Servos
Extra Parts Included: set of turnbuckles, 2 easy start harnesses, easy start, 3.3 motor for parts, spare carb, spare pullstart, springs, oils, shock parts, spur gears, and more...plus you get all the original parts that came off of it
.
OS .18 TM has been properly broken in and has just 1 gallon run time including the break-in. Always returned to Bottom-Dead-Center and filled with After Run Oil after each use!!!. You will need your own fuel and batteries. A substantial amount of money invested---take it for half the price. HUGE SAVINGS!!!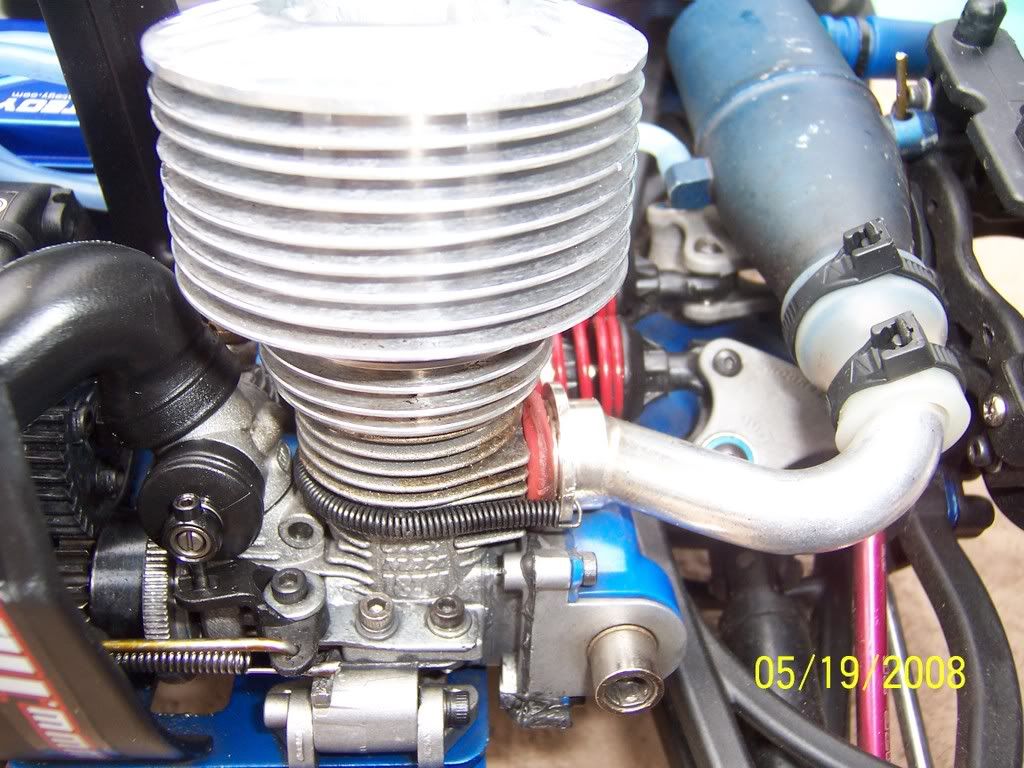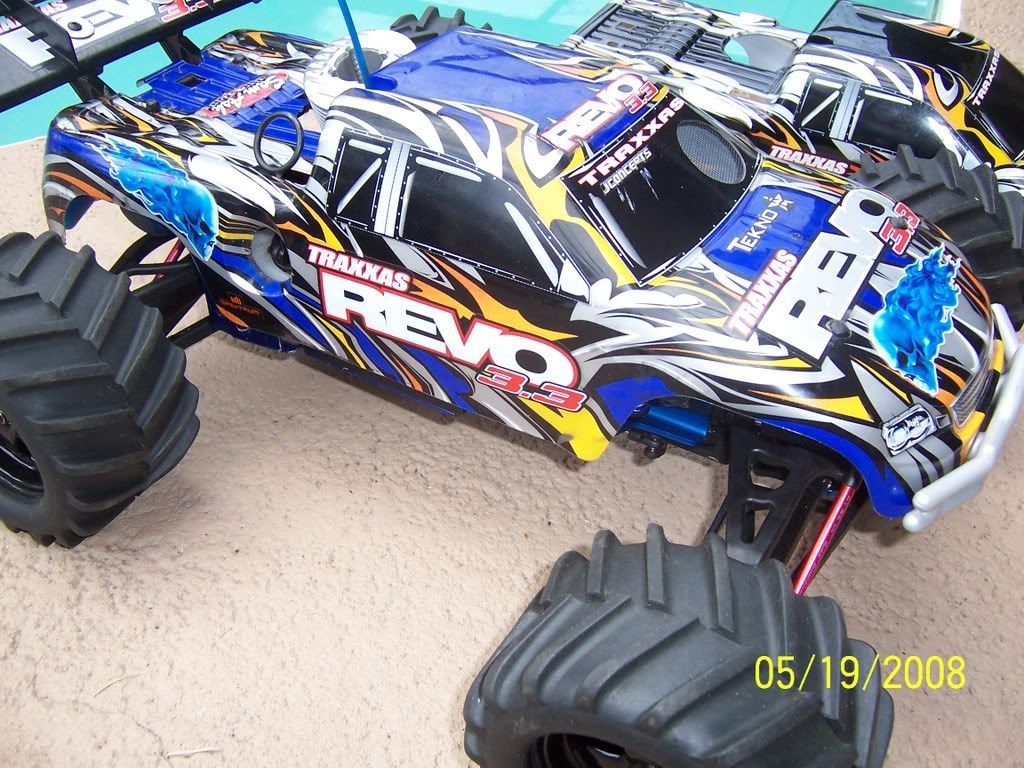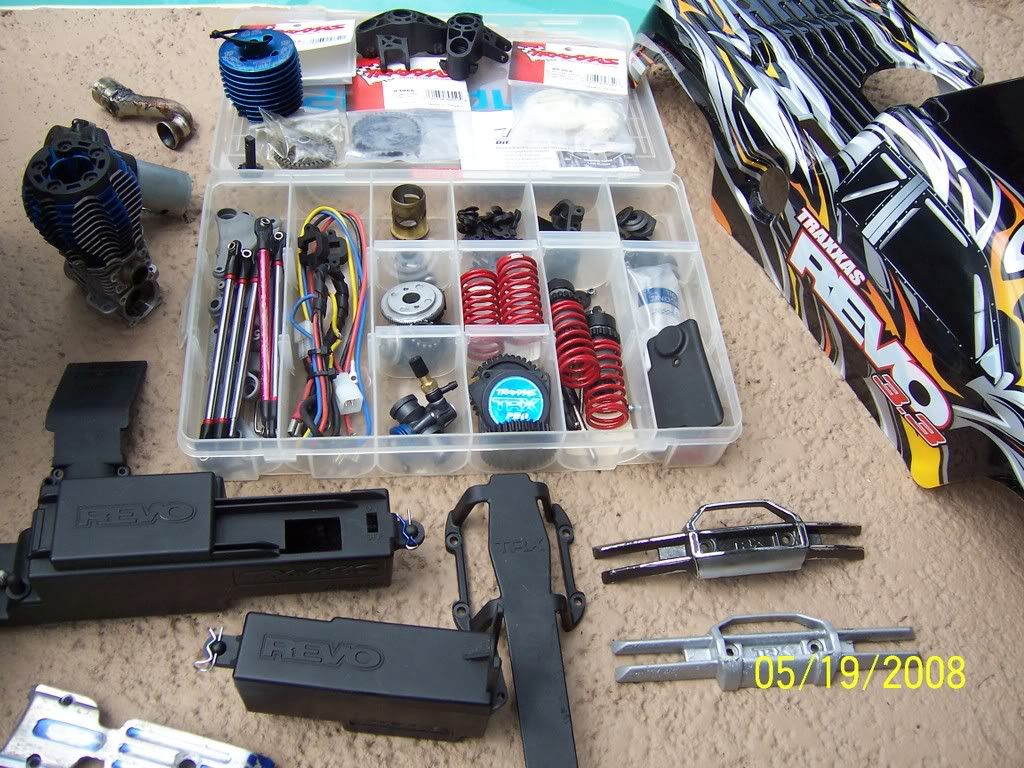 05-19-2008, 04:21 PM
Push Button Starter
---
Forgot to mention that I also have the Push Button Starter to go with the package.
05-19-2008, 09:45 PM
PM's Answered
---
All PM's Answered, possible deal pending...
05-19-2008, 10:23 PM
Tech Master
---
Payment is sent...
05-19-2008, 10:25 PM
Pending ECheck Payment
---
Pending ECheck Payment through PayPal.
(Expected Clearing Date: May 23, 2008)
05-22-2008, 06:15 AM
Tech Master
---
The amount was taken off my account:
05/21/2008 PAYPAL ECHECK 080520 5***********W Debit -$***.00
---
Last edited by Viat; 05-22-2008 at

06:29 AM

.
05-23-2008, 08:27 AM
Tech Master
---
My part is done. I just checked my email and here what i got:
Dear Viat******* G*********,
Your PayPal payment by bank transfer to d*********
[email protected]
for $***.00 USD has been processed and automatically credited to the PayPal account of the payment's recipient. Thus, this transaction is completed.
Waiting for shipping.
---
Last edited by Viat; 05-24-2008 at

07:36 PM

.
05-26-2008, 10:13 PM
Tech Master
---
Guys, this seller CAN NOT be completely trusted, because when Friday my payment has cleared he promised to ship it that day, but at the end of the day when I sent him PM he answered with the lamest excuse that his tire blow and he could not make to the USPS and told me that he will ship it Saturday. BUT at the end of the Sat. only after another PM from me he told me that he can't except my offer and refunded my money.
All that week he was complaining this and that and would not ship it a second earlier then the payment would clear because he for some reason dose not believe me that my payment would go through EVEN though I had 7 100% Positive Feedbacks!!!
Now I understand that all this time he was waiting for better deal from somebody else
So he can agree to your deal and then after making you wait .... and then like "... sorry I can't except your offer ... I hope you understand..."
In other words if you decided to trust him, while you are waiting for him to ship it look for other possible deal!!!
The only reason I did not left him Negative feedback is because he Refunded my money.
05-26-2008, 10:19 PM
Tech Regular
Join Date: Apr 2006
Location: LAKE ELSINORE, CA
Posts: 347
---
Atleast you got your money back! thats one good looking revo! he done all the right upgrades! he went with integy but stayed away from the bad stuff! those maxx tires look awesome!
Currently Active Users Viewing This Thread: 1
(0 members and 1 guests)
Posting Rules
You may not post new threads
You may not post replies
You may not post attachments
You may not edit your posts
---
HTML code is Off
---