10th scale buggy tire lot (Losi or AE
05-13-2008, 04:30 PM
10th scale buggy tire lot (Losi or AE
---
Im no longer racing buggy, so I have some tires to off-load. All rears will work on the XXX, but the fronts will not of course.
top left-to-right
Proline wide rib M3's, on AE Proline front wheels, 3/4 rear foam.
Rear holeshot R3's (85%)(could be M3's) on Losi wheels, Trinity Bomb 1 foam.
Rear bowties (3 runs, 95%) (M3 I believe, could be R3), Bomb 1 foam, Proline wheels.
Silver tapers, Proline wheels. These are pretty worn, and only good for practice, motor break-in.
Silver taper fronts, AE/proline wheels, pretty worn as well.
NIP tires/wheels/foam
2x Proline rear wheels
2x Trinity rear foam
2x Holeshots R3's
$45 shipped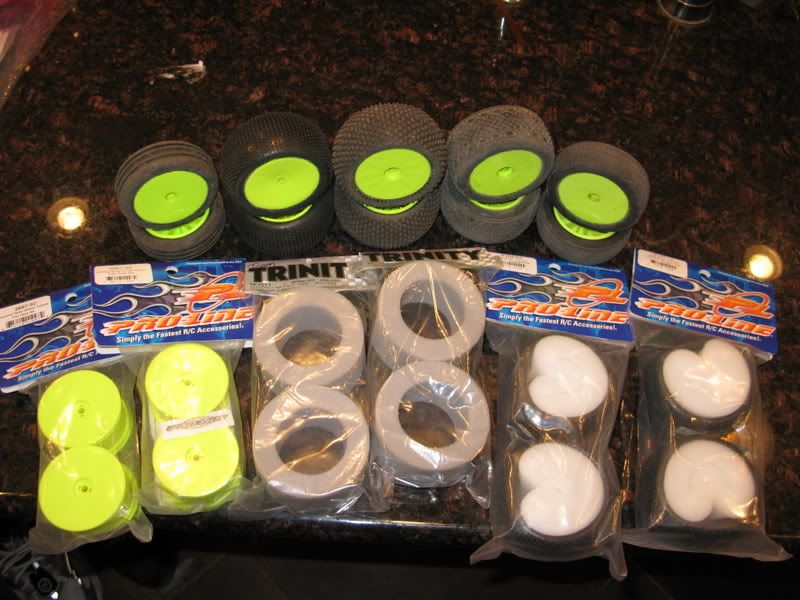 05-13-2008, 09:09 PM
---
up
05-14-2008, 05:19 PM
---
bump
05-21-2008, 08:03 PM
---
Back in town, bump.
05-21-2008, 08:05 PM
---
oops, double post
Currently Active Users Viewing This Thread: 1
(0 members and 1 guests)
Posting Rules
You may not post new threads
You may not post replies
You may not post attachments
You may not edit your posts
---
HTML code is Off
---