Electric 10th scale sell-off (T4 team, Sphere, Transponder, LiPo, Brushless...)
03-08-2008, 09:02 AM
Electric 10th scale sell-off (T4 team, Sphere, Transponder, LiPo, Brushless...)
---
I have edited this post several times to change prices, and finally to remove all the clutter of items I've already sold! TWO things left!
Okay folks, here we have a few items for sale... all of these items were adult owned and raced, and I keep my things in perfect condition.
The team truck for sale first comes with two bodies, both pictured. It will also come with two sets of wheels/tires. The set on the truck in the pictures is Panthers (forgot the name) with firm foams on yellow wheels. I forget the name of the tires, but they're the softest clay compound Panthers that worked at my track. Switch, perhaps?
In addition to the bodies, wheels/tires, and truck, I'll throw in a few random parts I have left, hubs, motor plate, etc. Also, I replaced some of the "team" stuff with factory parts, and all carbon arms/shock towers as well.
The truck currently sits with the Cavalieri "winter nats" setup from 2006. This setup seemed to work the best on all the tracks I ever traveled to that used clay or hardpack. This thing is ready to rock with some electrics!
Let's say $150, because of the extras. Any offers?
I also have a Reedy Neo One brushless motor for sale... I bought it just before the "star" ratings came out, but it was the fastest available. I believe it to be equivalent to a 9-turn. It is silly fast in a 10th scale electric buggy or truck, however. It
will wheelie
unless you're careful or turn it down a bit. I used it exclusively with the other stuff found in this auction, and
never
wanted for more motor in my buggy or truck.
I may not be a professional solderer, but you can probably see I like to keep things super neat. NO sloppy burned plastic here.
Let's say $40? Offers?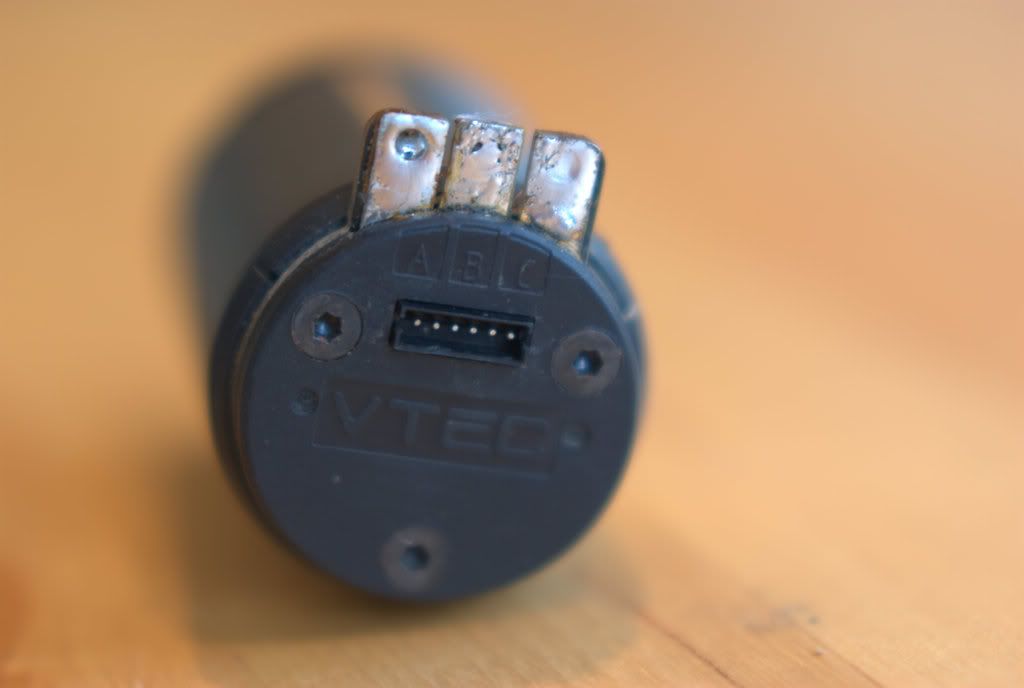 Prices do not include shipping, but I may be flexible, so shoot me an offer, eh? I will try to monitor this sale as often as possible over the weekend, so act fast. Don't hesitate to ask any questions... I'd be happy to take more pictures or answer questions!
Thanks so much for your time!
Cheers,
Maxwell
---
Last edited by floatch; 03-09-2008 at

09:01 AM

. Reason: Removed sold stuff...
03-08-2008, 12:07 PM
---
Yo yo yo, to the top we go!
*
***
*****
*******
*********
****
****
****
****
03-08-2008, 12:44 PM
---
Folks, I am what's commonly known as a "motivated seller." This will be my second trip to the post office today to ship items out.
This is a GOOD thing!
03-08-2008, 01:14 PM
Suspended
Join Date: Nov 2007
Posts: 93
---
interested in trades?
03-08-2008, 01:22 PM
---
Sure, I will trade you this stuff for money!
Just kidding, I don't really want to do any trades. I'm selling this stuff to fund my new hobby, supermoto bikes.
So, if you have a FCR carburetor for a suzuki DRZ400, or a yoshimura exhaust, then we can talk. Otherwise, sorry.
I'm most certainly
not
trying to be a wiseguy, by the way!
03-08-2008, 02:23 PM
---
A few questions about the sphere... It is
not
the sphere comp, just a sphere. It comes with everything included originally in the box, and works perfectly. It does work with brushed, or brushless motors, and is
very
smooth feeling with the included sensor wire.
The part no. is LRP80500
Cheers!
03-08-2008, 02:31 PM
---
03-08-2008, 03:02 PM
Suspended
Join Date: Nov 2007
Posts: 93
---
o well i got some msr racing bars or some dunlop tires
03-08-2008, 03:20 PM
---
Wow! Interesting how many motocross/supermoto guys are into R/C too.

Sorry, but thanks for the interest. The Renthal bars on my bike are cool, but I might be willing to trade for a newish street/hooligan style chest protector, size 7.5 motocross/supermoto boots, or some other random supermoto/DRZ parts.

Thanks though!
03-08-2008, 04:07 PM
---
Lowered price of T4 to $150...

Offers on other stuff will be considered!
03-08-2008, 04:33 PM
Tech Regular
Join Date: Oct 2007
Location: Southeast Missouri
Posts: 285
---
Payment sent Thanks
03-08-2008, 04:43 PM
---
Ok guys, transponder sold, lipo sold, sphere sold, Reedy motor and T4 still up for grabs!
03-08-2008, 07:52 PM
---
*
***
*****
*******
*********
****
****
****
****
03-09-2008, 06:01 AM
---
T4 team and Reedy motor still left, how about an offer?
03-09-2008, 09:04 AM
---
Updated post, removed clutter, super clean T4 here guys!

Titanium turnbuckles, foam always used on ball joints, Factory team aluminum servo mounts, Factory team motor mount, already set up with the Cavalieri winter nats setup, a few extra parts, let's get this thing GONE!

Offers?