View Poll Results: What is your Favorite Airbrush?
Multiple Choice Poll. Voters: 1249. You may not vote on this poll
YOUR FAVORITE AIRBRUSH
08-31-2013, 10:27 PM
R/C Tech Elite Member
Join Date: Jan 2011
Location: Oldfort TN
Posts: 507
---
I haven't went through many pages but I use a devilbiss and have been for about 3 years now even n my 1:1 bikes I paint for customers and it works well on my rc stuff.
10-07-2013, 01:58 PM
Tech Rookie
Join Date: Mar 2008
Location: France , Olrléans
Posts: 7
---
1 use 3 Badger Sotar 2020

2 in fine (0.15)& 1 medium(0.3)
11-17-2014, 02:52 PM
Tech Rookie
Join Date: Nov 2014
Posts: 19
---
I used the Iwata HP-CS and it worked perfect for me, is made spraying liquid mask nicely too!
01-27-2015, 01:34 PM
Tech Apprentice
Join Date: Aug 2012
Posts: 90
---
Iwata eclipse HP-C
02-16-2015, 05:50 PM
Tech Apprentice
Join Date: Jan 2014
Location: Vancouver, BC
Posts: 73
Paasche Talon
---
I have a Paasche Talon, and it's fantastic. Iwata may be slightly better, but for the difference in cost, I went Paasche. It even came with 3 needle/nozzle sizes, and a fan cap. Everything I needed to get started.
03-31-2015, 07:35 PM
Tech Apprentice
Join Date: Oct 2011
Location: San DIego, CA
Posts: 84
---
I started with the china knock offs...they were ok. until I bought an Iwata HP-BCS, world of difference, you can just feel it in your hand.
12-18-2015, 11:55 AM
Tech Adept
Join Date: Mar 2012
Location: Wa
Posts: 156
Time for a change
---
It's time to try something new...taking a break..maybe forever from my badger patriot as I just purchased me a brand new Iwata HP-CS...for $55!!!!

Hopefully I get to try it out this weekend!
01-22-2016, 05:04 PM
Tech Fanatic
Join Date: Aug 2014
Location: Wisconsin
Posts: 856
---
Just getting started with airbrushing, but I went with a cheap $12.99 Chinese special. It actually looks really nice, not cheap or chintzy feeling. The name on it is hd-130 and it sort of looks like they were trying to copy an Iwata.
Anyone use this one before?
05-03-2016, 01:02 PM
Tech Rookie
Join Date: Mar 2016
Posts: 4
---
Iwata HP-C Plus | Sotar 2020... 20 years of use still wouldn't use anything different.
07-20-2016, 10:32 AM
Tech Regular
Join Date: May 2015
Posts: 389
---
I just started airbrushing and purchased a Master g23-3. It works well at times depending on the color or how thin it is or something, but a lot of times it needs CONSTANT cleaning to keep a steady flow of paint flowing out nicely.

I'm thinking about upgrading to Iwata HP C or something. When I look at the parts diagram for nicer airbrushes they all seem to be the same simple parts. What exactly makes them different in regards to paint flow --needle nozzles, caps, needles, buttons, etc ?
08-13-2016, 03:15 PM
Tech Initiate
Join Date: May 2016
Location: Orange County, California
Posts: 49
---
I thought I would run through the brushes I use for my paint jobs. I come from more of a airbrush illustration background but I have a number of RC bodies under my belt so I thought I would share my tools with the community.
My first brush was an Iwata HP CS. It was a great all around brush, the one that receives the most recommendations around here and for good reason. It was a solid brush and I really enjoyed using it. I'm sort of weird though, I appreciate airbrushes as impressive feats of engineering so naturally I decided to branch out and try some other models, styles and brands. I sold the HP CS but I wish I had kept it for my collection. I would still recommend it without hesitation. its stellar reputation is well deserved.
My current lineup:
Iwata Revolution HP M2
Lets face it, airbrushes can be very intimidating tools for someone who has never held one before. Confusion on how they work or how to control them keeps many from attempting to paint their own bodies. If your only concern is painting RC bodies and you have no interest in learning how to control a precision double action airbrush, then I will strongly recommend the single action Iwata M2 which can be found for around $100 on amazon. Yes it looks funky but it is really comfortable in the hand (even better if you attach one of the mini moisture traps for more grip). The .4mm needle is very forgiving if you are learning how to thin Createx style paints. The .4mm needle is also capable of relatively fine detail work and RC painting rarely requires more detail than painting fine drop shadows which this brush can do with shocking ease. Yes, it is single action, turn the dial at the back to control the paint flow and depress the trigger for air. It takes many revolutions of the dial to pull the needle back as far as you can go with a double action so I do consider this to be a precision tool with very exact control over how much paint you are spraying. There are of course some drawbacks. Clearing blockages in the middle of your work can be a bit of a pain because you need to turn the dial at the back to pull the needle out. Disassembly and cleaning the brush is stupid easy, seriously, there is not another brush on the market that is easier to clean. All in all, its a great buy, perfect for first timers who are nervous about the nuances of double action control. I developed a technique where I pinch the trigger between my index and thumb which allows me to gradually release air pressure and control the airflow right on the brush. This takes some practice but its pretty effective. I would have no problems painting a whole body with this brush but I am a little faster with double action. I still use this brush to paint pin stripes and solid sections of my designs but I also use it on drop shadows if I'm feeling lazy. Great brush, highly recommended.
Grex Genesis XGi
If you want to learn how to use a double action, then I strongly recommend the Grex Genesis XGi. In fact its probably the best all purpose airbrush I own. It has some really cool features that makes it a slightly better buy than the Iwata HP CS but it is also a little more money. Build quality is probably equal to most Iwata brushes (seems a smidge better than the HPCS from what I can recall), but the Grex is noticeably less refined than the ridiculously well finished Harder and Steenbeck Infinity I have. What can I say, this is a really solid brush that is very very comfortable due to the removable rubber grip. Beginners can start with a .5mm needle but easily convert to a .3mm or even a .2mm (not recommended though due to Createx/Faskolor brand paint been prone to tip dry and clogging with superfine needles). The needle cap at the front of quickly and easily removable because it is magnetic (brilliant in my opinion). The color cups are also removable and the brush comes with three of them (S,M,L). It is easy to clean and it also has a needle stop dial at the back to prevent beginners from releasing paint past a preset amount (similar in function to the Iwata M2 above). This really is the do it all airbrush. It is crazy underrated and I doubt many painters even know about it which is really too bad because it is really well designed and built. I would say I do 60% to 70% of my painting with this brush. Think of it as a more fully featured and flexible Iwata HP CS for only a little more money.
Harder and Steenbeck Infinity
This brush is stupid overkill for RC painting. This and the Iwata Micron are the Swiss watches of the airbrush world. The built quality is insanely good. you can get needles ranging from .4mm all the way down to a shockingly tiny .15mm. The price is high accordingly but worth it if you are painting a lot. The preset adjustment dial on the back is even better than the one on the Grex because you can pop it in and out with your thumb to switch between a preset needle setting and full needle range. Its hard to describe, youtube it, its awesome. The only complaint I have about it is that it is a pain in the arse to clean due to the high parts count and complication of the design. But it is a thing to behold in form and function. Still, if you only want to paint RC bodies, the other two brushes are a better buy and much more friendly to newcomers. I would say that the Infinity is strictly a fine art illustration style brush but you could use it for RC bodies if you want. Its pretty much the best airbrush in the world. Your paint creations will thank you but your wallet will not.
Hope this helps.
08-13-2016, 05:49 PM
Tech Master
Join Date: Oct 2012
Location: las vegas
Posts: 1,632
---
All of my painting is done with iwata. When I first started, I picked up a master airbrush(~$30) to get my feet wet, but had a few issues with it.
After about a year of the master airbrush, and around 100 bodies painted with it I switched to the iwata eclipse HP-CS. "Wow", what an awesome airbrush. I could get all the parts locally from the hobbyshop and hobby lobby.
I've painted around 600 bodies so far and I just upgraded to an iwata eclipse HP-BS.
I'm using the HP-CS for everything but drop shadows, and the HP-BS just for drop shadows.
The next airbrush I get will be an iwata hi-line series brush that a Rc painter I look up to uses and recommended to me.
Pics.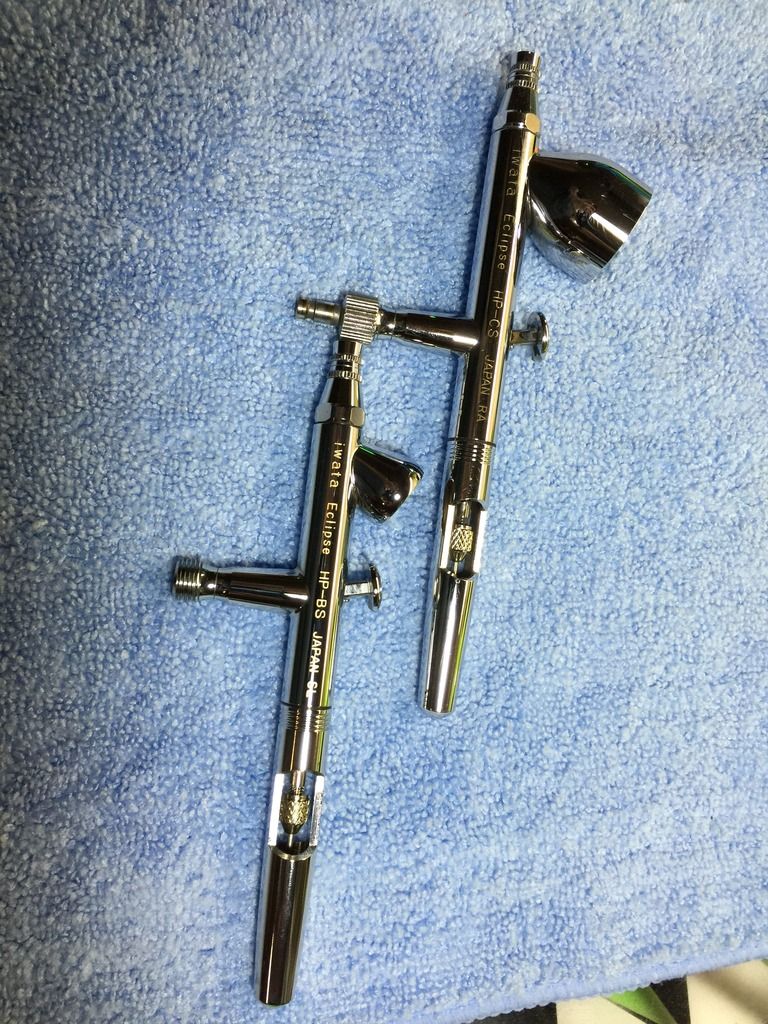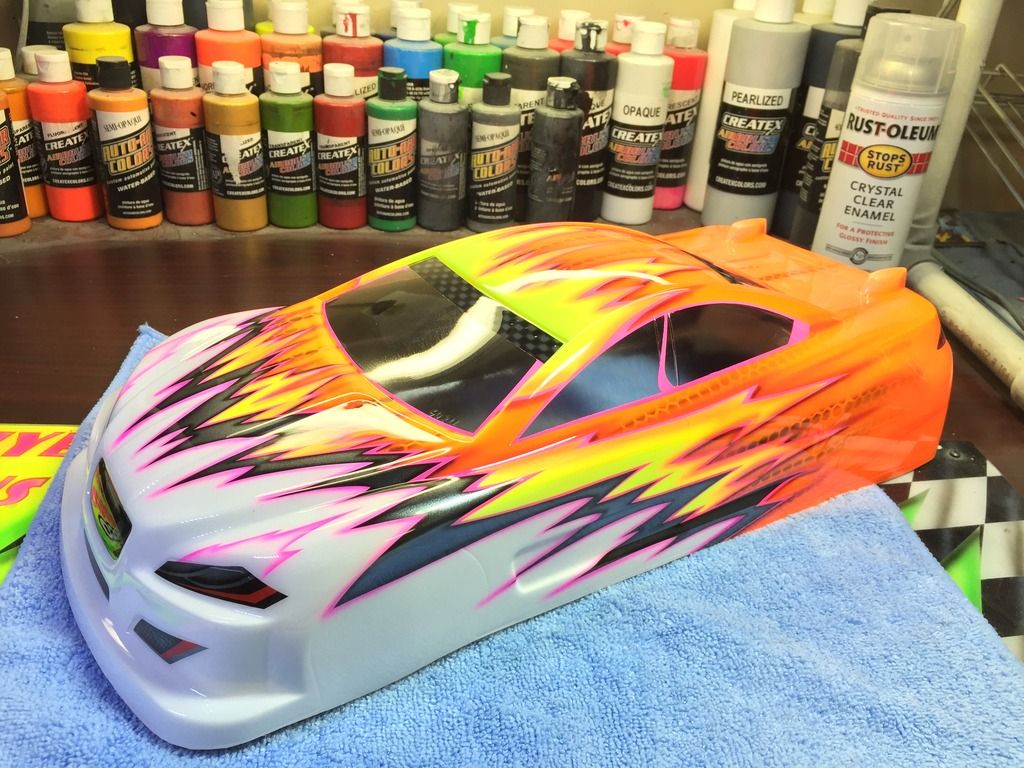 09-14-2016, 02:06 AM
Tech Adept
Join Date: Jan 2013
Posts: 111
---
Iwata hp-cs is amazing can confirm that without doubt!
11-11-2016, 05:31 PM
Tech Master
Join Date: Dec 2010
Posts: 1,486
---
Just used my iwata eclipse HP-CS today for the first time on one of my tanks and it works awesome!
---
Last edited by reptile; 11-12-2016 at

08:02 AM

.