What Airbrush to chose for BEGINNING RC Painting ?
03-16-2014, 09:54 AM
Tech Apprentice
Join Date: Nov 2013
Posts: 53
---
11-13-2014, 03:25 PM
Tech Regular
Join Date: Apr 2012
Location: Miami
Posts: 423
---
DELETED

great help in here
---
Last edited by Silo; 11-14-2014 at

04:53 PM

.
12-30-2014, 08:42 PM
Tech Adept
Join Date: Sep 2011
Posts: 111
---
thanks this is just what I was looking for very helpful info here
02-08-2015, 04:44 PM
Tech Initiate
Join Date: Dec 2014
Posts: 39
---
Can you please update the links for the regulator/water seperator and cleaning station. I'd like to purchase ASAP but the links are dead and I'm not really sure what's a junk brand versus good brand. Thanks.
03-03-2015, 02:51 AM
Tech Rookie
Join Date: Feb 2015
Location: Delhi
Posts: 2
---
That's really nice knowledge about airbrushes.
06-06-2015, 11:35 AM
Tech Adept
Join Date: Feb 2007
Location: North East, England
Posts: 172
---
All the shell on my page have been done with a Veda 180 £25, apart from post #29 onwards which I am using a Iwata kustom cs £145. visually there is not much difference but the iwata is easier, easier to clean which believe me takes up most of your time, easier to use, more consistant and just a world of apart, you can tell it's better quality.

If I was to start again I would deffinately go with the iwata, but £120 more when your starting out is massive especially when you just want to try your hand at it.
---
Last edited by StewyB; 06-14-2015 at

06:42 AM

. Reason: Info corrected
06-16-2015, 01:50 AM
Tech Initiate
Join Date: Jul 2012
Location: St. Louis, MO
Posts: 43
Great info
---
Thanks for this. Having ruined 2 bodies now attempting complex layers with only masking and rattles. I've decided to go the airbrush route. This was exactly what I needed.
06-19-2015, 02:16 AM
Tech Initiate
Join Date: Nov 2008
Posts: 37
paint rack
---
just want to share my paint rack
01-09-2016, 02:27 AM
Tech Regular
Join Date: Jun 2012
Posts: 262
---
Aztec=cash donation!
01-17-2016, 07:48 AM
---
Hey Guys,
just wanting to get started into airbrush. A colleague sells his Satagraph 2 for a very nice rate (thats the main reason I said to myself: BUY
)
This is the compressor (just for the Infos, not the shown set
:
http://www.amazon.com/Professional-A...comrepssor+186
This would be the pistol:
https://www.sata.com/index.php?id=1131&L=11
What do you think of my choice?
Would I need anything else for starters? I am going to buy some faskolor and start training with empty plastic bottles
(As recommended at the airbrush guide here)
01-20-2016, 04:04 AM
Tech Addict
Join Date: Mar 2015
Location: Greenville VA
Posts: 683
---
I personally believe your only as good as your equipment within anything you do.
Painting is especially no exception.
I also understand the value in buying the best from the get go with most anything for potential resale value.
Fact is, if you buy cheap and decide you don't like it, or don't want to pursue the ordeal anymore, you will lose more money buying junk that doesn't hold resale marks.
Do your self a favor and bypass everything that doesn't have Iwata written across it.
Get a decent compressor to. One with at least a half gallon reserve with a good water separator on both the tanks output and one on the brushes input.
You will not regret the money spent!
This is the first set I ever bought and it is super versatile for any paint, regardless of the thickness
Sparmax 5000 compressor/Iwata Kustom TR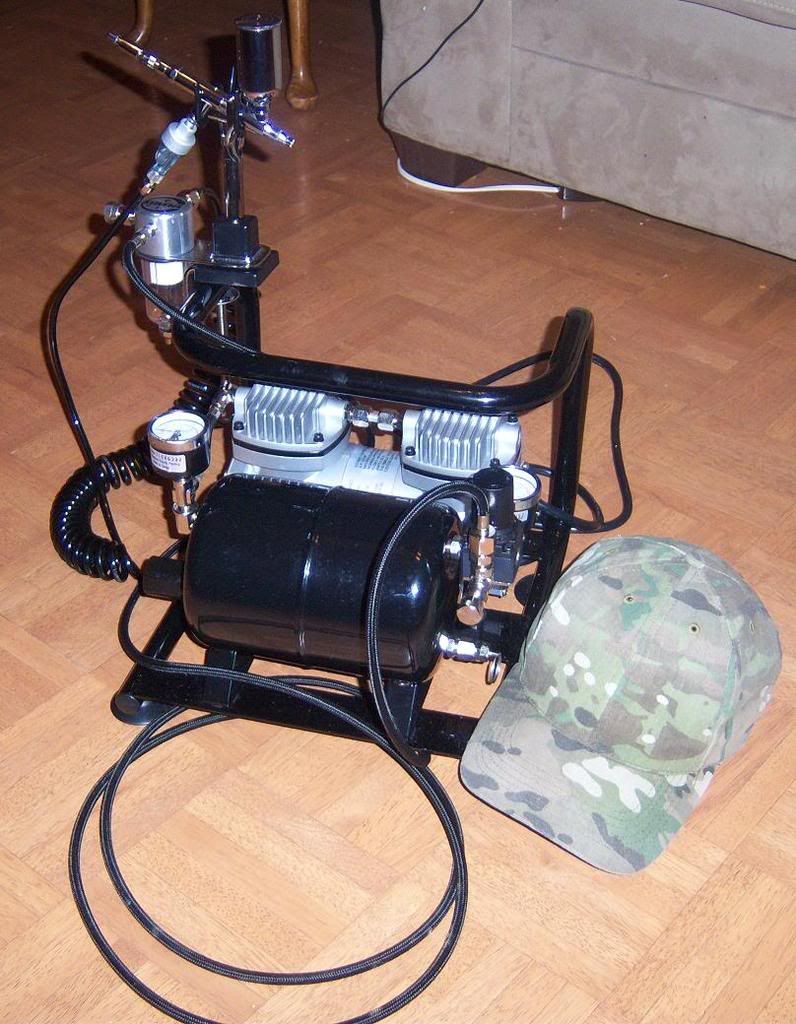 This setup is so good that you can even run heavy based duracoat through it, like I did to paint these custom markers I built for people years back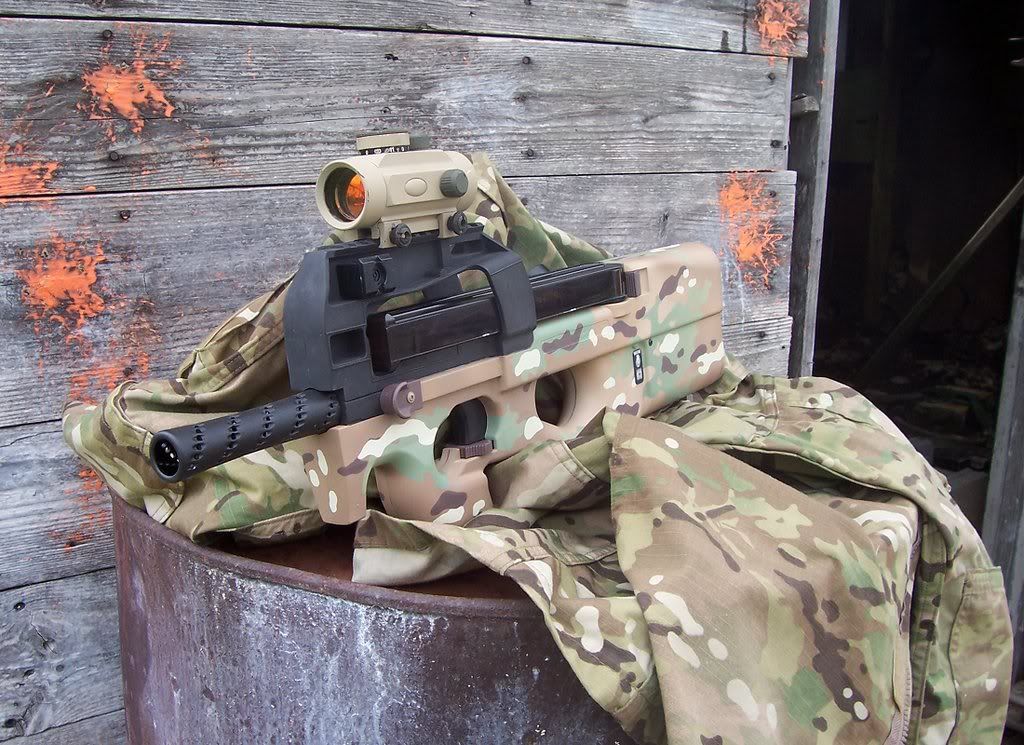 01-21-2016, 10:08 PM
---
Thanks! But I wont spend hundreds and hundreds of bucks just to "try" airbrush. There has to be a 80/20 solution. The Satagraph 2 seems to be a pretty solid pistol, although IWATA is not written upon it.
01-22-2016, 12:23 AM
Tech Regular
Join Date: Jul 2009
Location: Phoenix AZ USA - Paris France
Posts: 412
---
I m not familiar with that brand but .25 will be too small for most rc application. You would only use it to do some very fine details and tiny lines, rivets etc using very liquid paint.
Most applications require .38 to .50 mm tips.
This set has all 3 and is a great gun. I use two of them. They are 6 years old and still shoot like new.
Paasche with 3 tips
As a single .38 tip it s les than 80.
Another option like i wrote mmm almost 7 years ago would be a Master G22 or a G33 with .50mm needle and tips.
They are cheap and reliable and even if you invest in more expensive guns, you can always use them.
Airbrush is like a firearm, 90% of the shot is the shooter and 10% is the gun. Also it is very important to understand that the best Iwata will quickly jam and spatter if you don't spend the time to clean them very well everytime.
Never let paint set in them. Invest in a cleaning kit, it will go a long way.
There are no specs listed on the compressor ?
01-22-2016, 12:32 AM
Tech Regular
Join Date: Jul 2009
Location: Phoenix AZ USA - Paris France
Posts: 412
---
Wow my little write up has 89000 + view i m stoked ...
01-23-2016, 01:10 AM
---
Thanks!
The specs are metric and in german, so hopefully that helps even a little:
Modell 186 | Artikel-Nr.: 163 4208
Bauart: Ölfreier Kolbenkompressor
Ansaugleistung: 23 l
Druck: 4,1 bar / 60 PSI
Tankinhalt: 3 l
Lautstärke: 45 dB (A) bei 1m Abstand Druckminderer mit Wasserabscheider
Gewicht: 5,2kg
Start/Stop Automatik
This is set a local shop recommended:
https://www.airbrush4you.de/airbrush...brush/a-16311/
Its the same compressor and as pistol a evolution silverline (never heard of them).