What Airbrush to chose for BEGINNING RC Painting ?
01-18-2013, 08:36 AM
Tech Addict
Join Date: Jan 2012
Location: menomonie wisconsin
Posts: 541
iwata hp cr revolution first time air brushing
---
i have never airbrushed before and i recently bought an iwata hp cr revolution air regulator and cleaning pot and went to work. i spent 135.00 and was set up with every thing i needed i already had an air compressor. i was very impressed on how easy the iwata was to use. i did not like the pencil style feel in my hand though i think if i was to do it over i would have went with a grex gun style. any ways i made a short video series on my mistakes and what went right if any beginers want to take a look its on you tube type in ( airbrushing rc for beginer's)
http://www.youtube.com/watch?v=f_W_3MqJcHg
. kind of my first videos so cut me some slack. also there is more than one video in the series. so check them out.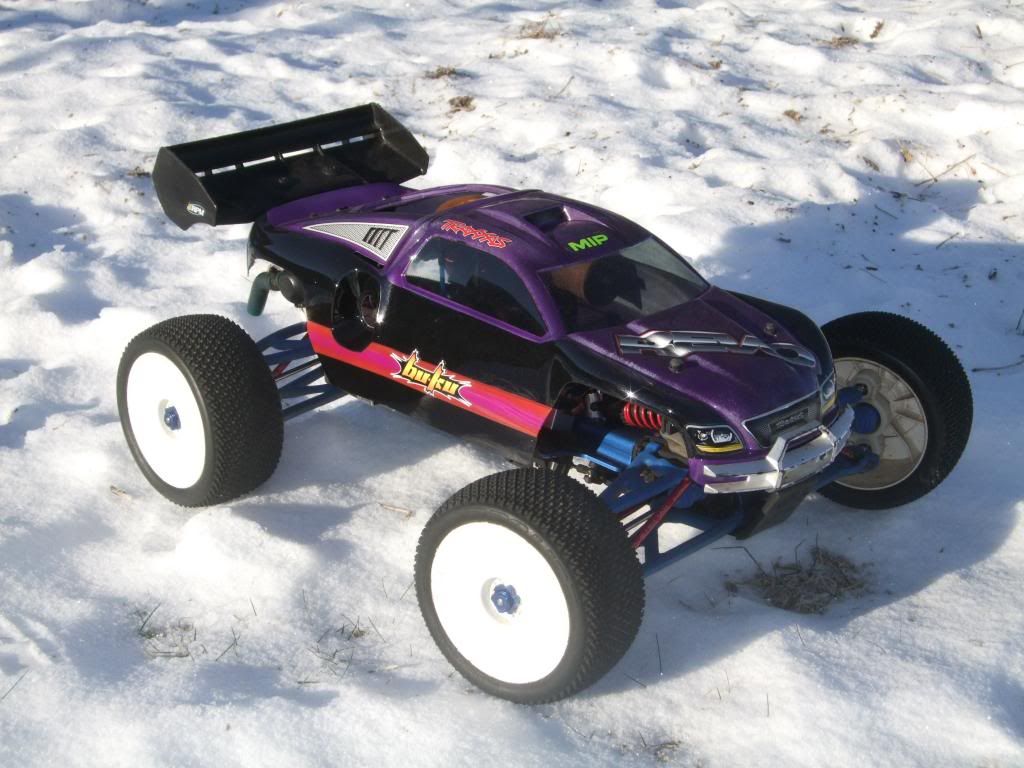 02-11-2013, 01:41 PM
Tech Regular
Join Date: Mar 2011
Location: Howell, NJ
Posts: 357
---
I am a newbie and I have a 60 gallon compressor that I use for my air tools. I would like use this as my air source. I will be running a separate air drop to my air brush area in the garage. What I need is for someone to point me in the right direction in regards to the type of regulator and water trap the would work well for my application. Thanks in advance.
02-11-2013, 02:19 PM
Tech Elite
Join Date: Dec 2008
Location: Naperville, IL 60565
Posts: 2,795
---
Someone else gave this answer recently....
For water traps I use Devillbis Whirlwinds
http://www.tcpglobal.com/autobodydep...DEVHAF-507.jpg
Home Depot and Lowes have similar products. I just put it on the end of my airbrush hose and a quick release on the other end that plugs directly into my compressor. Never had an issue and change them about every 6 months to a year.
You could also get one of the smaller ones that connect directly to the airbrush like this
http://www.coastairbrush.com/proddet...FA-450&cat=301
They work great too. Use both if you are the nervous type
Mine looks more like this one.
http://www.coastairbrush.com/proddet...od=R75&cat=316
03-17-2013, 01:25 PM
Tech Adept
Join Date: Sep 2011
Posts: 177
---
I'm looking at purchasing an airbrush setup for doing some bodies and will probably find some other hobby-ish type uses too. Right now I will be needing to paint 3 Slash MDM bodies very soon and some pan car bodies in the fall. Nothing too fancy now, but plan on more detail as I get used to airbrushing. I was looking at the G23 kits. -->
http://www.tcpglobal.com/airbrushdepot/abdkitG23.aspx
Would there be a better choice for approximately the same $$$. I am planning on using Parma Faskolor paint and maybe some Spastix paint. Should I get a compressor with a tank? Thanks in advance for any advice.
03-27-2013, 09:50 PM
Tech Regular
Join Date: Jan 2011
Location: Zanesville,Ohio
Posts: 288
---
03-27-2013, 09:54 PM
Tech Regular
Join Date: Jan 2011
Location: Zanesville,Ohio
Posts: 288
04-02-2013, 08:07 PM
Tech Regular
Join Date: Aug 2012
Location: Forney, Texas.
Posts: 267
Snap on air brush
---
Does anyone have experience with this brush? Snap on bf105. I currently own and use one. But I feel like I'm not getting the detail out of it I should for a $195 brush?
04-17-2013, 01:02 AM
Tech Rookie
Join Date: Dec 2012
Posts: 4
---
Started using airbrush for practically everything at home... well, not really. But it's great for any painting job.
04-17-2013, 07:25 PM
Tech Adept
Join Date: Dec 2011
Location: Shingle Springs
Posts: 124
---
Just bought a Iwata Eclipse CS. Can't wait to see what I can do with it.
04-30-2013, 05:40 AM
Tech Apprentice
Join Date: Jan 2010
Location: Puerto Rico
Posts: 66
---
I'm looking for a small and quiet air compressor. Any suggestions?
05-27-2013, 10:18 AM
Suspended
Join Date: May 2013
Location: Chandler, AZ
Posts: 1,235
06-14-2013, 10:46 AM
Tech Regular
Join Date: Feb 2010
Location: Arizona
Posts: 393
---
Just picked this up and love it!
Practiced on some old lexan sheets....Doing my first body soon.
07-21-2013, 07:23 AM
Tech Initiate
Join Date: Feb 2012
Location: Spain
Posts: 22
---
Hi, I'm new in lexan body painting, and I have an double action airbrush with 0.30mm nozzle, but when I'm doing a simple design or covering all the surface with faskoat or similar I think the "Master Single Action .8mm" that you recommend in the first page can be a good ally. So I'm looking for one, but I have found some spray guns like this:

The description says:
Air Pressure: 43PSI
Air Inlet : 1/4"
Air Consumption: 4CFM
Cup Capacity: 150ML
Feed Type: Gravity
Fluid Nozzle: 0.5MM-1.0MM
What do you think about? Better or worse than single action 0.8mm? and why?
Thanks for your replys
Best regards.
07-27-2013, 01:42 AM
Tech Fanatic
Join Date: Jun 2006
Location: me, my girl, and... a tiger???
Posts: 795
---
07-31-2013, 12:19 PM
Tech Regular
Join Date: Jul 2012
Location: Mayland
Posts: 494
---
Paint can FTW