Automotive Paint?
04-28-2009, 09:03 AM
Tech Adept
Automotive Paint?
---
I am new to painting rc bodies and was told at my local hobby shop that I could only use lexan paint is this true or can I use automotive type paint? In the newest issue of RC Car Action the readers ride section the guy says he used House of Kolor paints. I was just wondering if they are as bright when painted on the inside of a clear lexan body. Thank you for your help guys!
04-28-2009, 09:14 AM
Tech Elite
Join Date: Jul 2008
Location: Sonoma County
Posts: 2,018
---
I don't know. I heard that some paints eat into the lexan, and make it brittle. I only use lexan paints, so I'm not sure how ture it is.
04-28-2009, 02:43 PM
Tech Regular
Join Date: Aug 2003
Location: NYC
Posts: 445
---
yes you can use House of Kolor paints on lexan and yes the colors are very vivid. I've used it with little issue on my own bodies, although you may want to use an adhesion promotor as it is prone to chipping and flaking on impact although I've found this to be fairly minor and comparable to what you might see with most water based paints.

I'm sure others will chime in on the subject.

If you do go the route of automotive paints make sure you have excellent ventilation and you will need a resperator rated for paints and pestacides.
04-28-2009, 02:54 PM
Tech Apprentice
Join Date: Mar 2009
Posts: 96
---
hok came out with rc paints. maybe that is what was used.
04-28-2009, 03:08 PM
Tech Elite
Join Date: Dec 2008
Location: Naperville, IL 60565
Posts: 2,796
---
Kustom Kolors are/were enamels. They discontinued them after a year.
04-29-2009, 05:08 AM
Tech Adept
---
Well I wouldnt actually be using HOK I have some left over PPG custom mixed paint from my full size truck that I want to use.
04-29-2009, 09:31 AM
Tech Regular
Join Date: Aug 2003
Location: NYC
Posts: 445
---
that should work just make sure to prep the body as normal wash with warm water and a mild dish soap etc etc.
The only extra step I would reccomend would be the use of an adhesion promotor such as " bulldog " to ensure a good bond to the lexan.
04-29-2009, 03:16 PM
Tech Adept
---
Thank you for all the help I will try it out and then let you know how it turns out.
04-29-2009, 06:32 PM
Tech Adept
Join Date: Apr 2009
Location: Kaukauna, Wi
Posts: 112
---
i use auto paints on my bodies with bulldog adhesion promotor and it works just fine. a body i painted for my bud has taken a beating and just a few chips of paint...using bulldog go light on the layer...it will hase and chang the color of the paint... here is my latest paint job with auto paint..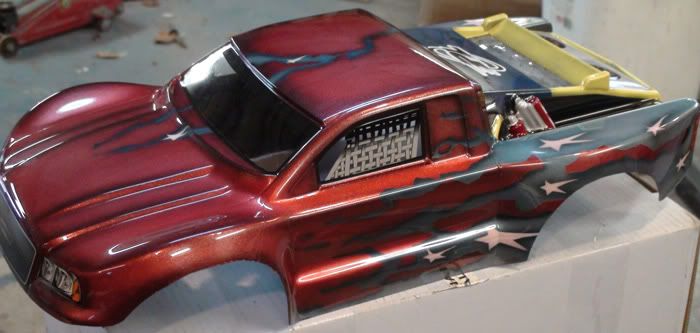 and another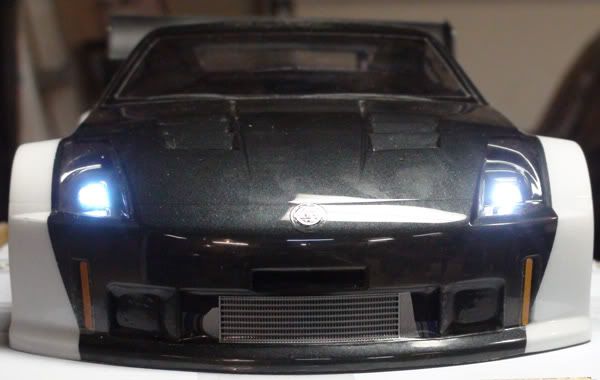 close up of the pearl!!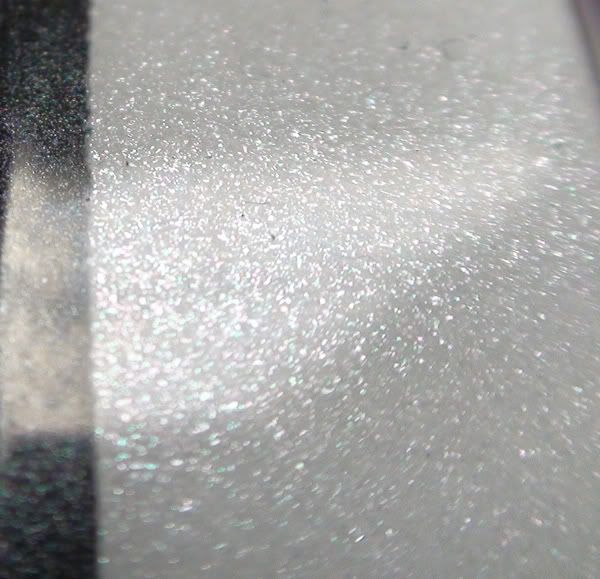 05-03-2009, 08:11 AM
Tech Adept
Join Date: Jan 2006
Location: Lebanon Missouri
Posts: 206
---
I use Dupli-Color's Metal Specks on my bodies with alot of success.Nitro proof and very chip resistant.They are very pretty metallic colors too
05-06-2009, 07:51 AM
Tech Adept
Join Date: May 2006
Posts: 187
---
Lots and Lots of people use automotive euro's on lexan.
I really think there's a lot of hype about "lexan" paints, after all Fascolor is rebaged Autoair.
Its such a small market no one makes paint just for it.
There are a few types of paint they all seem to work on lexan if prepped properly, well I've never tried latex. But acrylic, enamel, and urethane all will work.
01-03-2017, 04:48 PM
Tech Rookie
Join Date: Jan 2017
Posts: 1
---
Have you ever used the colour match? With dupli-Colour did you have to use an adhesive?
01-03-2017, 05:13 PM
Tech Adept
Join Date: Oct 2016
Posts: 140
---
ok this thread is from 2009. but autobody paints are 50 times more expensive to buy and require their own brand reducer to be sprayed out of an air brush. if it is a basecoat clear coat system you have to clearcoat it. another added cost. plus it requires a hardener for it. I'm pretty sure the smallest amount a paint store will sell you is a half pint(8oz). still so much paint you will never run out of it in 20 years. you'll waste 99% of it. all it takes is a few drops(maybe a 1/2 ounce) with it thinned with water to paint an entire car body. I sprayed a new body a few weeks ago and I can't even tell I used any out of the bottle (faskolor by parma) I could probably paint 4+ bodies with this one 2 oz bottle.
dupli-color anything is garbage. I've never had luck with anything they make even brake caliper paint.
also, autobody paints will require you to clean your airbrush with a solvent. water based air brush paint clean up with water.
just buy some faskolor from parma or whatever you can find for rc bodies if you have an airbrush. check out hobby lobby for createx air brush paints. a lot of guys on this forum use it.
http://www.hobbylobby.com/Crafts-Hob...s/c/9-184-1410
then back the paint job with a spray can of rustoleum or something similar.
if you don't have an airbrush look for duratrax spray paint. they bought pactra and is the same paint system as pactra. tamiya makes a ton of colors too.
---
Last edited by burnnitro; 01-03-2017 at

05:32 PM

.
01-05-2017, 10:46 PM
Tech Apprentice
Join Date: May 2013
Posts: 85
---
I agree with burnnitro on the Duratrax paint for the price. As long as you prep and then back the color correctly it will come out fine.
Currently Active Users Viewing This Thread: 1
(0 members and 1 guests)
Posting Rules
You may not post new threads
You may not post replies
You may not post attachments
You may not edit your posts
---
HTML code is Off
---