Newbie questions.
09-14-2008, 10:24 PM
Tech Addict
Join Date: Jan 2006
Location: Beaverton, OR
Posts: 524
Newbie questions.
---
Ok, here is a question for all you painters. How do you come up with your designs ? do you just draw by free hand on the bodies or do you use any kind of program to make a design ?
I have tried to make designs in Adobe illustrator, Flexi and Paint shop pro, but with no succes
i have also tried to draw by hand, but thats a complete dissaster ! i cant even make a stick figure look good !
Ive spent the whole weekend trying to come up with something somewhat decent but no luck
I see all theese cool designs and paint jobs that you guys do and have tried to copy them on paper, but have just given up.
So, do you have any tips, ideas or any kind of help you want to share, please ?
09-14-2008, 10:48 PM
Tech Elite
Join Date: Mar 2004
Location: Phx AZ
Posts: 3,854
---
Like you I find myself quite challanged when it comes to the artistic side. I try to look at lots of sites some R/C some not and try and visualize how a design would work. I started out copying designs forn Roly, WED Jim, and others; and I'm now just starting to be able to come up with designs of my own. Just take ideas and sketch them out the best you can. If you find it hard to draw curves pick up a french curve templete set from a drafting/craft store. I have a set and find them very helpfull in getting nice gracefull curves. As for on the bodies I made lexan copies of the french curves and use those to draw on the car bodies. If you mark a center line you can draw out one side of the design, then use tracing paper to make a templete of the design you just did. Flip that over to the other side of the body, that way each side is the same. Hope that helps some.
09-15-2008, 04:21 PM
Tech Fanatic
Join Date: Sep 2008
Posts: 801
---
you can find inspiration just about anywhere. I look at a lot of commercial design stuff, product packaging, etc. Take the xbox logo for example. Monster energy drink is a popular one. I also used to paint motorcycle helmets, so being around that kind atmosphere can give you some ideas. Try going to google image and search for custom helmet, motorcycle helmet, something like that. Also pick up an import tuner mag or even low rider. Some of those lowrider guys are incredible artists. Also try some textures as opposed to straight color. some are really easy to do and just a little can add a lot to the final piece. Just practice a lot of crazy stuff on a piece of transparency paper or regular paper. Layer one thing over another. Shade in between. That kind of stuff
09-15-2008, 05:14 PM
Tech Elite
Join Date: Oct 2006
Location: Powder Springs, Ga
Posts: 2,734
---
I'm not much of an RC painter, but I do a lot of "skins" for racing games. I used to be ridiculously bad at coming up with my own designs. So I started (like most painters) replicating other's work. I slowly started to figure out what "style" I liked and worked from there. I still look to other people's work for inspiration from time to time.
example :
this was a design I came up with for the game and painted in photoshop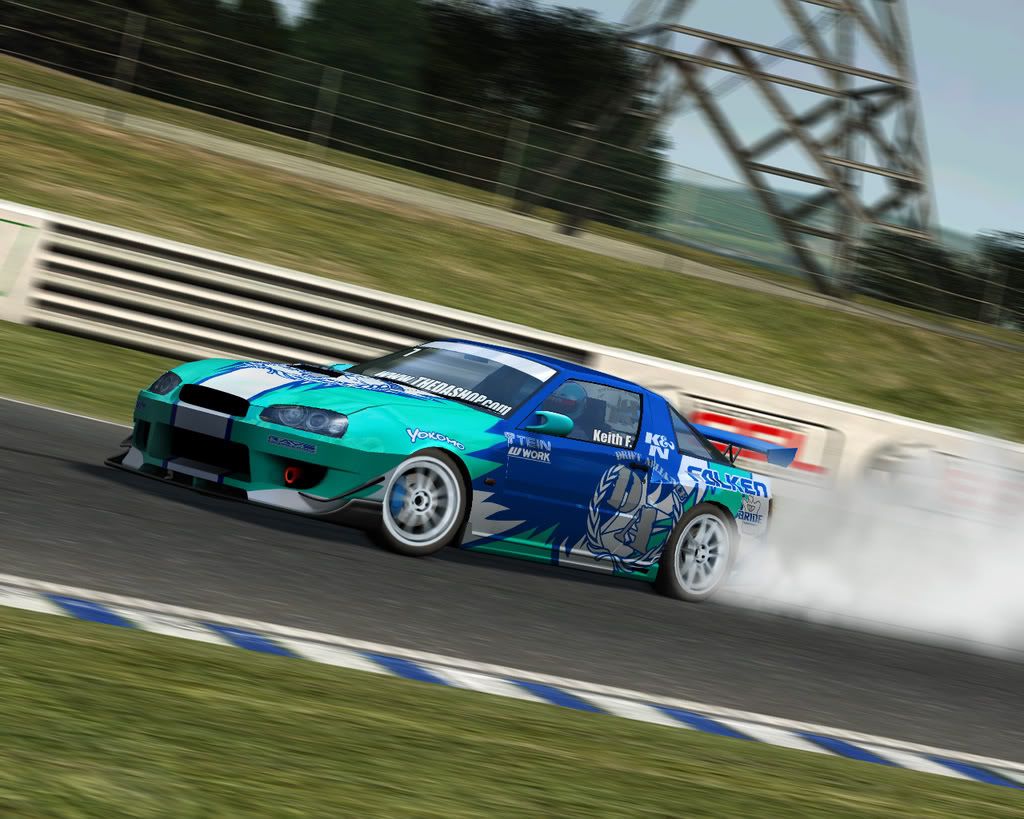 then I adapted it to a Mazda 6 paint template I made:
Then I drew out the masks in photoshop as a template and cut them from blue masking tape. Then came the easy part... painting!
here is the finished product:
here is a paint scheme that I drew up with inspiration from MANY different painters (Roly, Solid, Luck, Jim, so on...)
http://i172.photobucket.com/albums/w...SixK_SpecD.jpg
09-15-2008, 08:43 PM
Tech Addict
Join Date: Jan 2006
Location: Beaverton, OR
Posts: 524
---
Thanks for your input.
I think i know what i want my next paint job to look like, its just a question of how to get my ideas onto paper or the body that is the " problem " like i said, i cant even make a stick figure to look decent
I guess i will just have to try to learn one of my programs so that i can make a " template " that i can follow when i cut the paint mask.
Keep the tips commin
k_Spec_RC : that body looks great !
10-12-2008, 04:25 AM
Tech Addict
Join Date: Mar 2008
Posts: 717
couple of suggestions
---
Hey welcome to the world of creativity. I have not been painting long but I kninda know my way around. I do all my bodies by hand I dont use templates or computer programs. That seems too time consuming. Now mind you a plotter is the ultimate in painting but that kinda takes away the "art" in it. I mean anyone can get out there 500 + dollar plotter burn out a quick design stick it in there and ta da custom. I use the method that auto painters have used for decades.... called hand crafted. That is the fun part if your really going to put out some wild work and have fun doing it. I took a couple pics of a body I did a while back and did a step by step for my website. Here they are I hope this helps. I use stablio pencils you can get at any craft store there cheap last forever and wash off simply with a wet paper towel (for when you have painters block and you cant figure it out or you mess up) once I get my "lines" I like then I come back with a laundry sharpie (also come offthe film with a bit of water if you mess up. Then you have the fun part.Let the cutting begin. Now no matter how your line are on the outside the cuts will not be identical they will be close and hopefully better. Take your time and always use a new blade #11 seems to be the best to "steer" around after you practice a bit. After all the concentration the fun now can start.. painting.start out simply with a good plan an idea will come but remember your new at this so take the time to understand the fundimentals of the craft and you will be painting stellar pieces you never though you could do with drop shadows and precise work it takes time ask any one of these guys that have been doing it. The pics that follow are just to give you an idea I was going to shrink them but the you would not be able to see them. The first pic is the body with the first "layer" second layer and so on.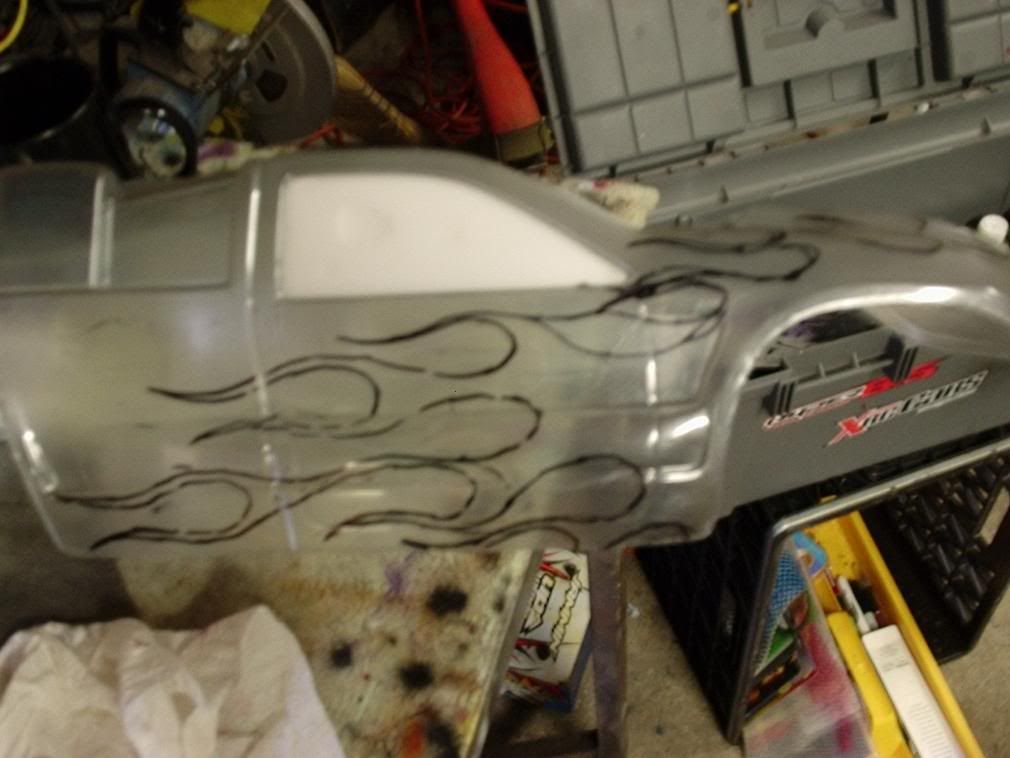 here is first layer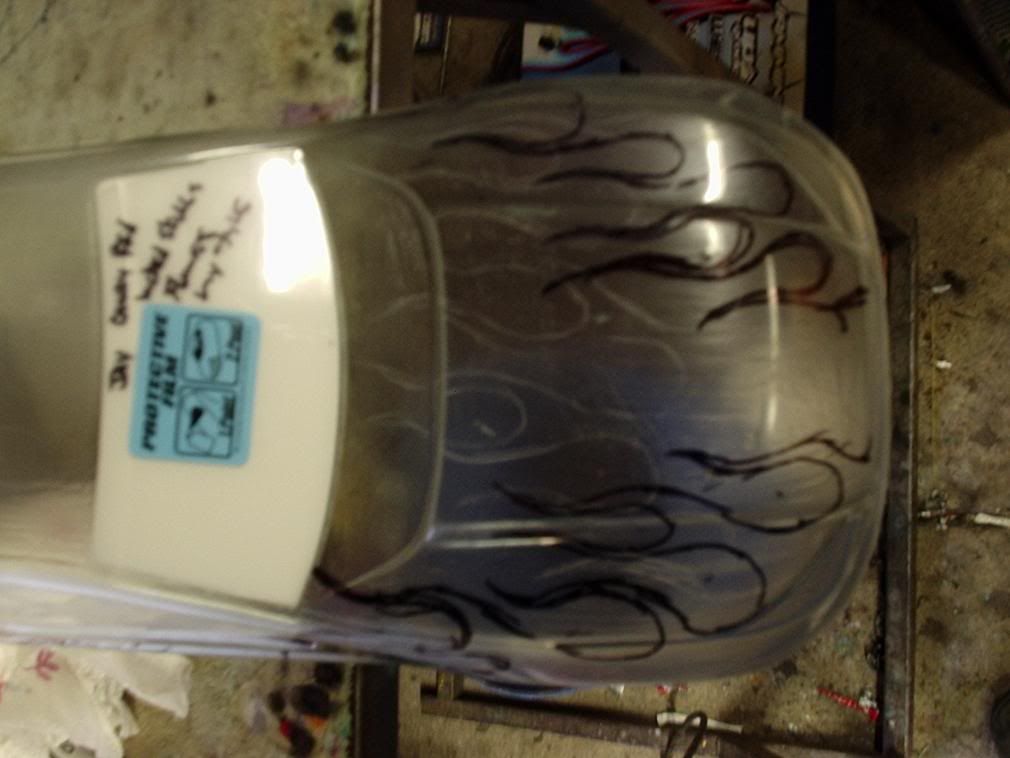 here you can see the white lines that will be the second layer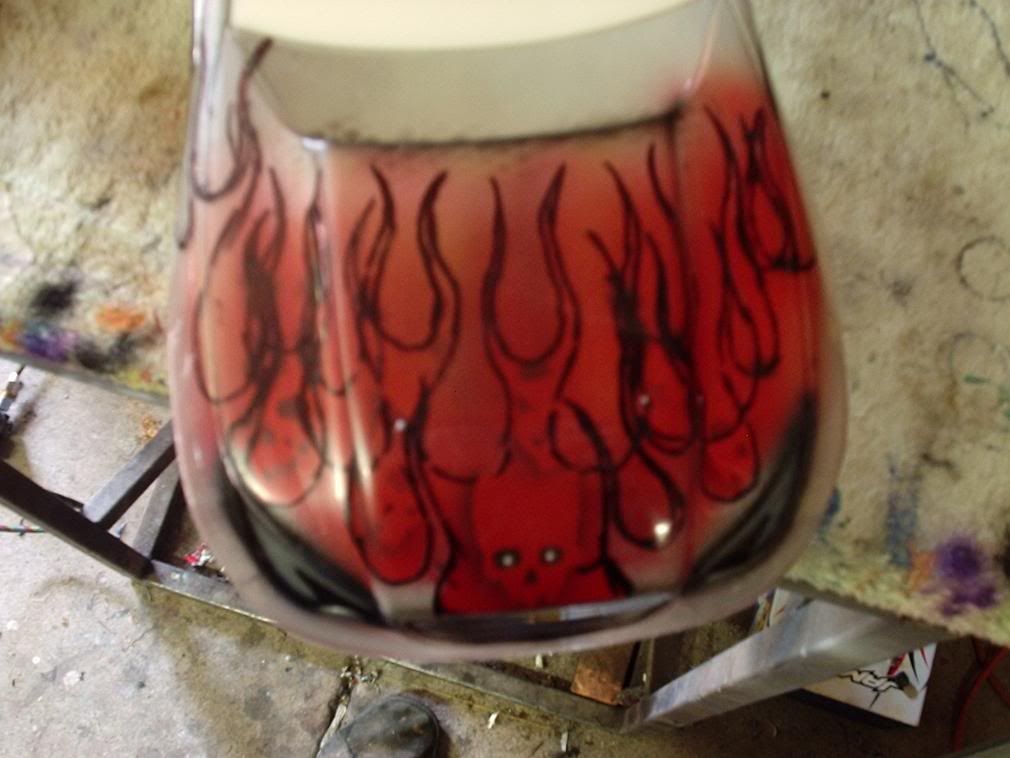 first layer painted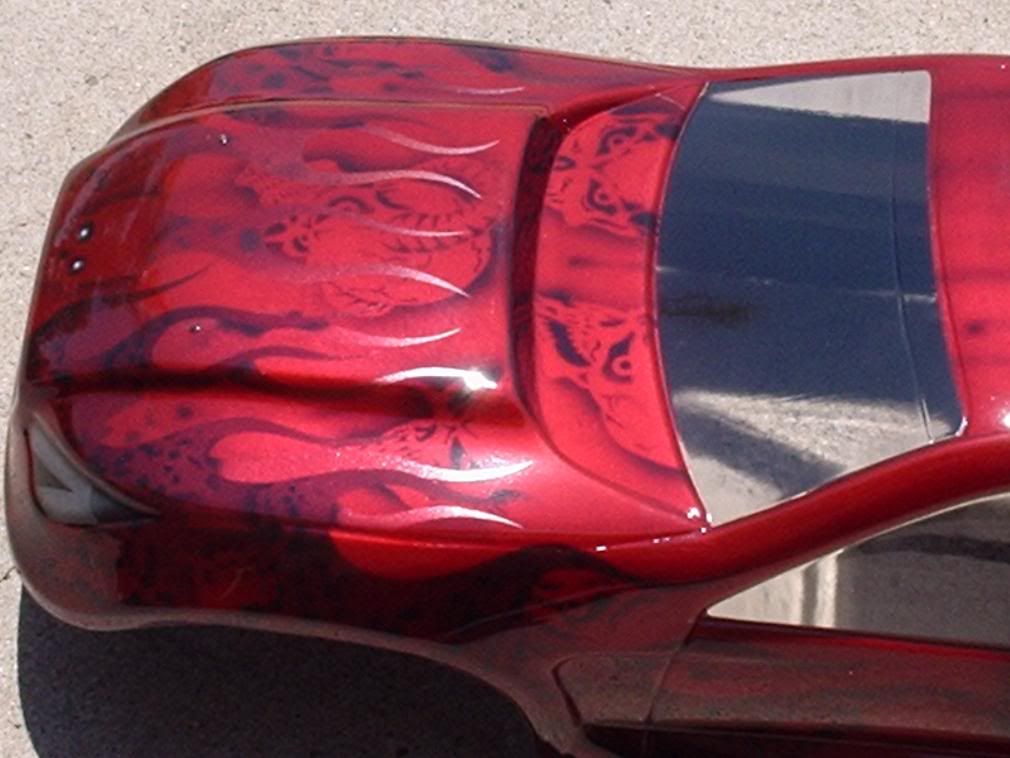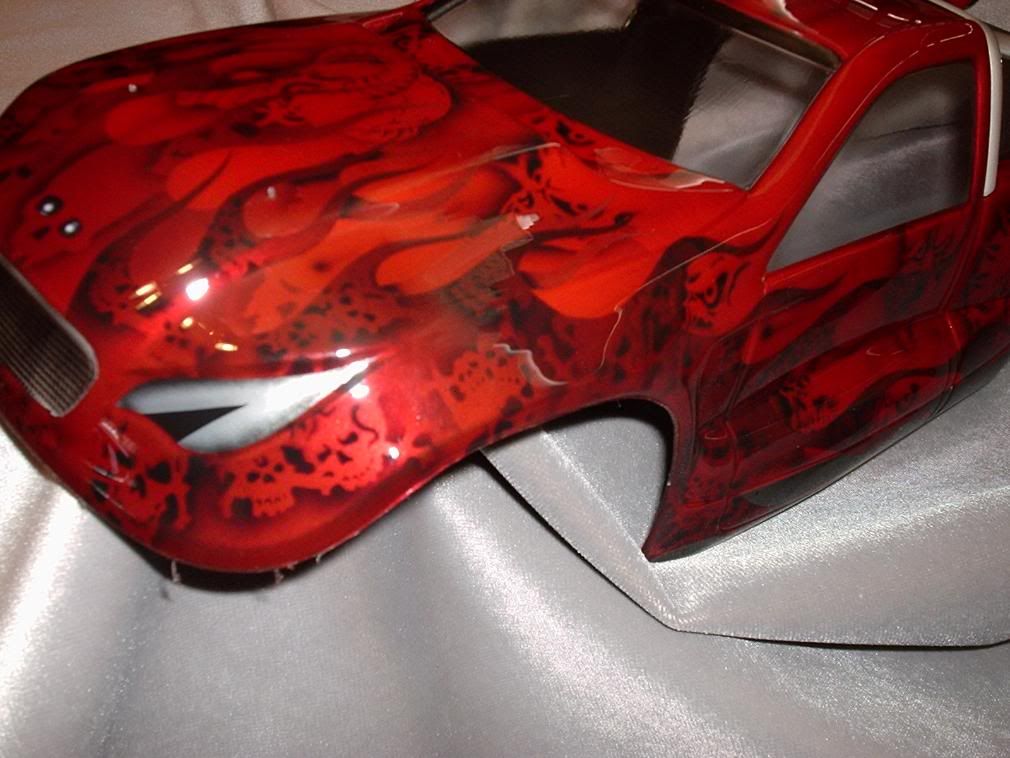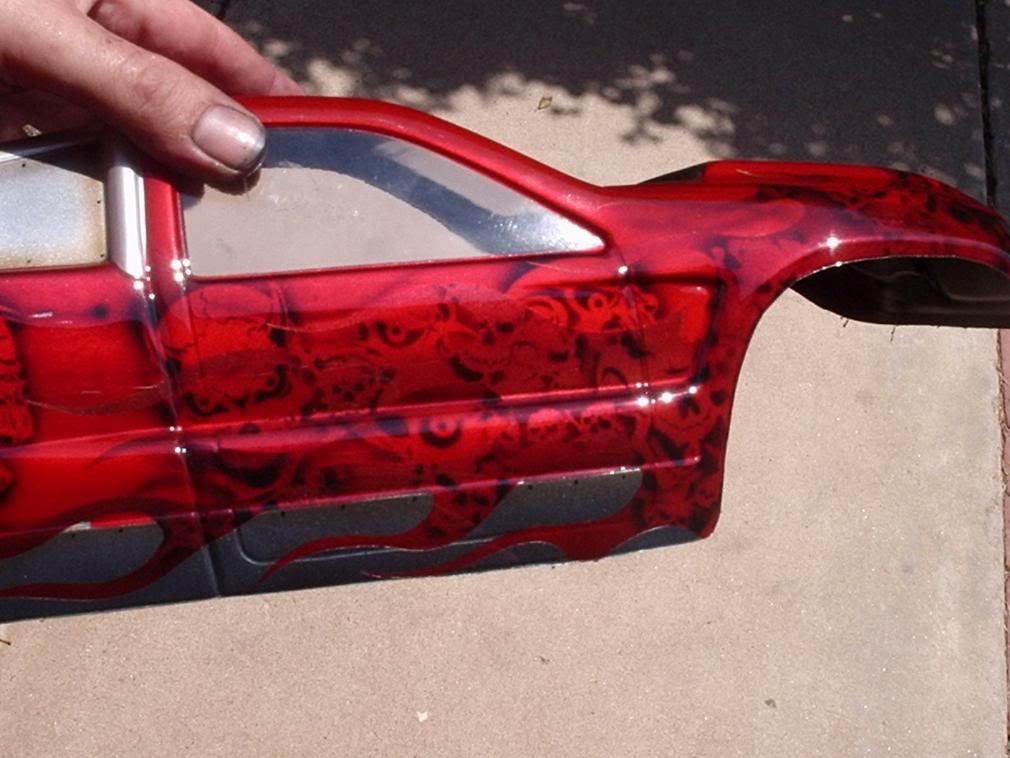 here are a couple finished so you can see what comes of the layout.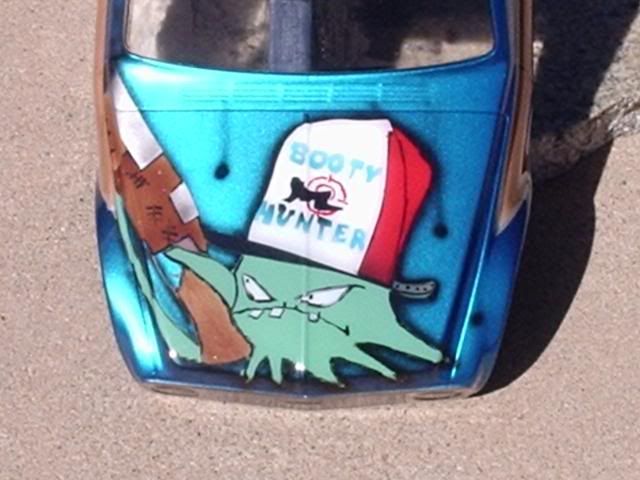 I hope this helps you on your quest for the custom paintjob.I threw the last one in to show what you can do with a bit of patients and creativity and no plotter.Remember the idea is to have fun if it gets aggervating clean your brush and walk away. It will be there when you get back. Also keep in mind that this takes time it will progressively get better. I look at it like playing a new song on a guitar once you practice at it you can play that song all the time.Think of it as an adventure and have fun remember, you will want to paint another and have all yor new ideas on that one. Have fun I cant wait to see how your works come out. Doc
Currently Active Users Viewing This Thread: 1
(0 members and 1 guests)
Posting Rules
You may not post new threads
You may not post replies
You may not post attachments
You may not edit your posts
---
HTML code is Off
---